37
Supplements
Considered
171
Hours
of Research
58
Reviews
Examined
11
Experts
Interviewed
One of the most important recommendations I give all my clients is to consider using a pre-workout supplement for the intense training days.
Whether you're aiming to drop some pounds, or you're in a serious cutting phase to gain muscle definition, a small performance boost from some organic energy could make quite a difference.
In theory, organic pre-workouts should allow you to work harder to get more out of your gym time.
But the problem is that there is a lot of dodgy snake oil out there that you want to avoid at all costs.
So our team got together with some dietitians to come up with a list of organic pre-workouts that we would recommend to our clients.
Our Top Organic Pre-Workouts
1 - 4 Gauge Pre-Workout (Editor's Choice)
Pros
Contains L-citrulline that may help boost nitric oxide
Positive comments that it may help increase focus and motivation
A strong dose of caffeine which may help with fat burning
Reports of good strength and stamina improvements
Cons
Only available in a fruit blast berry flavor
Unfortunately, there's only one flavor available, which makes mixing with food a bit more difficult. Nonetheless, this organic pre-workout is positively reviewed by many users as it helped increase focus and motivation.
2 - Powher Pre-Workout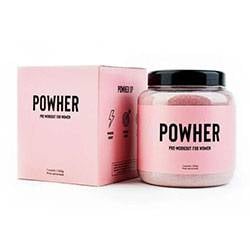 The second organic pre-workout supplement I want to highlight is Powher Pre-Workout, which is specifically formulated for women.
This pre-workout has the advantage that you may not need to adjust the serving size to your body, and it also doesn't come with the same bulking effect of other products.
Just keep in mind that there are some sweeteners added in this organic pre-workout, still all natural though, for better flavor.
Pros
Female pre-workout formula for less of a bulking effect
Claims to give a natural energy boost
A relatively small amount of caffeine to avoid jitters and crashes
Cons
Contains a small amount of sweeteners
3 - Ora Organic Pre-Workout Powder
Ora Organic has created a pre-workout supplement with organic plant-based ingredients, and it comes with all the certifications you need to see.
What's particularly convenient is that you can buy it in boxes of small packets so it can easily fit in your gym bag.
If you're looking for vegan, organic, and natural pre-workout supplements, this is the one to order.
Pros
Formulated with natural ingredients that may help increase nitric oxide for bigger pumps
Available in tubs and convenient single-serving packets
Certified USDA organic and vegan-friendly
Dairy and gluten-free
Cons
Only available in one flavor
More flavor options would be great if you get bored with the same ones easily.
It is also 100% vegan-friendly, and dairy and gluten-free, perfect for vegans looking for a pre-workout.
4 - Organic Muscle Organic Natural Pre-Workout Supplement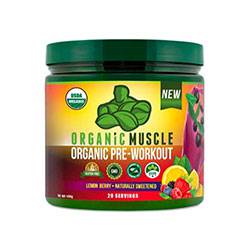 Organic Muscle has created quite a comprehensive list of ingredients including eleuthero root, matcha green tea, maca root, beet root, yerba mate, to name just a few.
Their approach is to keep this organic pre-workout supplement as natural as possible to support natural processes in your body.
The only downside I'd mention with Organic Muscle Pre-Workout is that the company hides behind a proprietary blend.
Pros
The unique pre-workout formula claims to help with energy, pumps, and metabolic boost
Gluten, GMO, and hormone-free for added peace of mind
Suitable for vegans with only plant-based natural ingredients
Contains yerba mate and matcha green tea that may help with detox
Cons
Proprietary blend means you don't know the exact amounts of ingredients
5 - Genius Brand Pre
Another one of the popular organic and natural pre-workout supplements on our team is this Genius product, claiming to provide natural and organic energy.
I personally find that it may be a good option if you plan on taking it later in the day.
With no stimulants or caffeine, it reduces the chances of jitters and sleepless nights.
If you like caffeine in your pre-workout, you can supplement with their Genius Caffeine product.
Pros
Contains L-citrulline and beta alanine that may help with endurance
Positive reviews from users saying they noticed enhanced brain function and muscle energy
Stimulant-free option to avoid jitters
The flavor is refreshing
Cons
May require blending for a smooth texture
I found that this pre-workout doesn't get all that smooth in a shaker, so maybe consider blending it for better taste.
6 - Legion Pulse Natural Pre-Workout Supplement
For some people, a pre-workout supplement has to give both physical and mental endurance.
With Legion Pulse pre-workout, there are quite a lot of positive comments that it may help you stay focused and motivated.
However, you may want to reduce the dose to start with, as it's got a lot of caffeine.
Pros
Claims to boost blood-flow with 8 mg of L-citrulline
Contains electrolytes to help with hydration
Good selection of flavors to avoid getting bored
Also available as a caffeine-free option
Cons
350 mg caffeine is very high so avoid taking it later in the day
Don't make the same mistake I did and take it before an 8 pm gym session!
7 - Nature's Pump Natural Pre-Workout Supplement
What we all liked about Nature's Pump pre-workout is that there are also some added vitamins and electrolytes that may help with muscle performance under stress.
While I did enjoy that natural watermelon flavor, a few more options would have been great.
Pros
Reviews say that it may help with muscle recovery as well
Added vitamin B6 and B12 for muscle performance
Mixes smoothly without the need for blending
Claims to work as a brain nootropic for better concentration
Cons
Only available in watermelon flavor
8 - Do Vitamins PurePump Natural Pre-Workout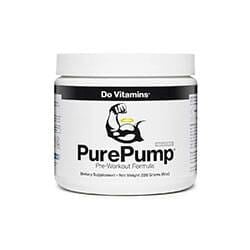 PurePump provides quite a unique blend of BCAAs and vitamins that aim to support consistent muscle function in their organic pre-workout supplement.
For professional athletes, it might also be a good choice due to the third-party testing for purity and quality.
Just keep in mind that the caffeine from green tea is about as high as a cup and a half of coffee.
Pros
A unique combination of proteins and vitamins
Contains no sweeteners or flavors so you can mix it with other food
Labdoor tested for purity and quality
Added 200 mg of caffeine from green tea leaf extract
Cons
Only available as an unflavored option
9 - Garden of Life Sport Organic Pre-Workout
Garden of Life has created an organic pre-workout that doesn't just aim to improve your physical performance.
With some known detox ingredients, it might also help you flush out toxins during weight loss efforts.
I would agree with some reviews that said that the taste is a bit on the sweet side.
Pros
Combines ingredients that may support detox and increased blood-flow
A moderate amount of caffeine to reduce jitters
Also available in single-serving packets
May provide a good vitamin boost from green superfoods
Cons
Flavors may be a little on the sweet side
10 - Naked Energy All-Natural Pre-Workout
Naked Energy aims to only include ingredients from natural sources, which includes caffeine.
Rather than source it in anhydrous form, it's included directly from green coffee bean extract.
Keep in mind that this organic pre-workout powder is a bit grainy and the taste is a little bitter, which can be off putting for some.
Pros
A good dose of natural caffeine from green coffee bean sources
Contains amino acids beta-alanine and creatine that may help endurance
Contains added vitamins for muscle performance and immune health
Available as flavored and unflavored to mix into snacks
Cons
Taste is a bit bitter and may require blending
Organic Pre-Workout Supplements Buyer's Guide
After a lengthy discussion and a slightly heated debate, we did manage to come up with 4 things that all of us would prioritize. If your organic and natural pre-workout powder or supplement contains the following, you could be setting yourself up for good results.
1 - Certified Organic Ingredients
Always look out for something like a USDA certificate that ensures all the ingredients are organic. Yes, there are some less than honest companies out there that add a few organic ingredients along with some that aren't.
2 - BCAAs
Branched-chain amino acids have been shown in numerous clinical trials to support better muscle function and strength. But it's also known to help with muscle repair and recovery, which may help with better results across multiple workout sessions [2].
BCAAs are essential amino acids. The body cannot make them, so a person needs to get BCAAs from their diet or from supplements.
- Adrienne Stinson, Health and Fitness Writer
Related Article: Pre-Workout vs BCAA
3 - Caffeine
Most people are aware of the magic it can do to your brain to get you focused. But caffeine may also work as a fat burner by triggering thermogenesis [3]. It's one of the most effective pre-workout ingredients.
Also read our take on the difference between pre-workout vs caffeine pills.
4 - Formulated For Men Or Women
Ideally, you should pick a product specifically designed for your gender.
Women may especially find that the energy boost and stimulant effects of a regular pre workout could sometimes be too high.
While taking a lower dose is always an option, it's much easier just to pick a gender-specific pre-workout.
Here are some of our favorite pre-workouts for women.
Now, there is one important thing to consider, as well...
How Are Organic Pre-Workouts Sweetened?

Organic pre-workouts are usually sweetened with natural flavors, but some do contain artificial ingredients as well.
Here are some things that may sound like artificial sweeteners, but they are actually natural and often organic:
1 - Stevia
Stevia is one of the unique sweeteners out there because it's a natural substance that doesn't add calories. Sourced from the stevia plant, this has long been a natural way to sweeten food in South America [4].
2 - Monk Fruit
This is another natural product, and some argue it is better tasting than stevia. With zero carbs, calories, and possible antioxidant effects, it's also one of the more expensive options [5].
To make monk fruit sweetener, first, the skin and seeds of the fruit must be removed. The fruit is then crushed and the juice is collected.
- Amanda Capritto, Nutrition Expert
3 - Brown Rice Syrup
While it's natural and often organic, this should not be mistaken as a healthy option. Brown rice syrup contains more calories than regular sugar and, therefore, also has a much higher glycemic index [6].
There are no rewards for guessing that this may not help any weight loss efforts.
4 - Erythritol
This is made from fermented cornstarch and is claimed to be about 70% as sweet as sugar, without the calories and carbs [7]. That does make it more suitable for pre-workout supplements, but some people find it makes them gassy.
Not a pleasant experience at the gym!
5 - Coconut Palm Sugar
I had to be corrected by my dietitian who told me that this is not actually extracted from coconut water, but rather the sap of the tree itself. The sap is then dehydrated into a syrup, and you need to keep in mind that it's quite high in calories.
6 - No Sweetener Option
Generally, I think that it's best to stay away from overly sweetened options. If you don't mind stevia or monk fruit, then those may be a better option. And I would also say that it's as important to avoid artificial sweeteners as it is to avoid high-calorie ones.
Now onto a pressing question.
Organic vs Non-Organic Pre-workouts
Organic pre-workouts are better than non-organic ones as there are some substantial health benefits.
Non-organic pre-workouts mainly contain highly concentrated extracts of different plants, so this could lead to higher concentrations of toxins from pesticides and herbicides.
With certified organic products, you significantly reduce your chances of being heavily exposed to such harmful toxins that, in many cases, build up quickly in your system.
Buying Organic Pre-Workout Vs. Making It At Home
If you look online, you'll find some pretty good recipes to make your own organic pre-workout supplement in the form of a snack.
The problem is that in order to get enough of the good stuff, your snack could quickly turn into a meal.
And do you really want a big meal before heading to the gym?
A better option is to use a concentrated organic pre-workout supplement that could give you the best natural energy boost by using completely organic ingredients. What you get in a small shake could take quite a large meal to achieve otherwise.
Benefits Of Organic Pre-Workout Supplements
When you take organic pre-workouts, there are a few benefits that I have experienced myself and with my clients. Here's what to look out for:
An energy boost that may allow you to lift more in each set or increase your reps.
Added motivation from knowing that you could be getting to your goals faster.
Increased fat metabolism as some thermogenic processes kick in.
Achieve more mental focus throughout the day.
Side Effects Of Organic Pre-Workout Supplements
Even the best organic products could produce some negative pre-workout side effects, which is why I always recommend that you start slowly with a half scoop. Mostly, side effects come down to allergies or intolerances, and this is what you want to look out for:
Bloated feeling
Excess gas
Jitters and insomnia
Energy crashes
Itchy mouth and skin
If any of these appear, then it's best to switch to a different product or check with your doctor about some possible allergies.
Our #1 Recommended Organic Pre-Workout
Usually, we sum up these articles with a single product recommendation. However, since there are two good choices available specifically for men and women, we've decided to recommend both.
For men - I would suggest working with 4 Gauge Pre-Workout. I've seen it work well for people just looking to lose some weight, as well as bodybuilders during a bulking phase.
For women - The product best for organic pre-workout that women would want to consider is Powher Pre-Workout, especially for women who are not looking for serious bulking. With a great formula, it has shown some really good results with my female clients.
As always, let us know on social media how it works out for you.
Our #1 Recommendation
Click For Best Price

Pros
Contains L-citrulline that may help boost nitric oxide
Positive comments that it may help increase focus and motivation
A strong dose of caffeine which may help with fat burning
Reports of good strength and stamina improvements
Cons
Only available in a fruit blast berry flavor
About the author
You may also like