30
Supplements
Considered
147
Hours
of Research
35
Reviews
Examined
13
Experts
Interviewed

Most women seeking to improve their physiques turn to supplements to increase their energy, stamina, and strength during gym workouts.
As a fitness trainer, for years I've been researching and recommending numerous pre-workout formulas to my female clients, learning about their benefits as they pursue an active lifestyle and healthy weight loss.
Today, I've compiled all my data on the topic of best pre-workout supplements for women, and I'm going to share my top picks, so read on to figure out which one is best for you.
Let's start.
Editor's Choice
Cira
Click For Best Price
#2nd Best Choice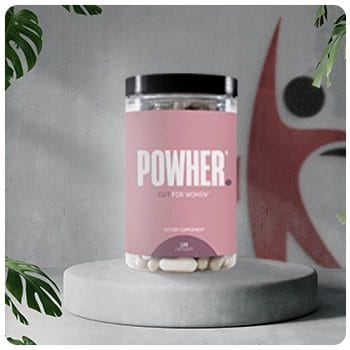 Powher
Click For Best Price
#3rd Best Choice
4 Gauge
Click For Best Price
Our Top Pre-Workouts for Women (June 2023)
1 - Cira Pre-Game Pre-Workout (Editor's Choice)
CIRA Pre-Game is the top pre-workout for women on our list.
Each ingredient in this pre-workout has been purposefully selected to provide you with a good supply of energy by enhancing your focus, strength, and endurance.
While beta-Alanine helps speed up your muscle recovery and muscle growth, Citrulline may help you increase stamina by boosting muscle oxygenation.
Also, the mild stimulants caffeine, theobromine, and L-theanine combine synergistically to promote alertness and vigor, so you can be forceful and sharp during your workouts.
With my current level of fitness, I experienced a slight increase in overall well-being and a noticeable improvement in my workout output after taking CIRA Pre-Game for six months.
Pros
All natural ingredients support more energy and lower fatigue
Good dose of caffeine to boost motivation and metabolic rate
Mixes very quickly with water without leaving a clumpy effect
Available in tasty flavors that aren't too sweet or fake tasting
Cons
Some consumers reported mild, short-term itchiness after consuming the supplement.
The other aspect of CIRA Pre-Game that I appreciate is its Actigin content, which can help your body absorb all of the nutrients in this fat-burning pre-workout.
2 - Powher Pre-Workout for Women
Powher - literally pronounced "pow her" is a premium pre-workout explicitly designed for women. It is focused on promoting stable energy and quicker weight loss.
Toning is the main objective of this pre-workout product and not muscle building. As a result, Powher pre-workout is a creatine-free pre-workout supplement, unlike other products on the market.
Instead, this best pre-workout supplement uses a range of natural energizers aimed at promoting greater stamina, motivation, and strength during exercise.
Pros
Smooth, powerful boost of energy without the side effects
500mg of caffeine amplifier EnXtra
Longer lasting energy
Good choice to lose weight faster
The best ingredients in this pre-workout supplement include the caffeine amplifier EnXtra and the fatigue-crushing Oxyjun. On top of this, coconut water powder helps deliver much-needed hydration to keep you feeling fit and healthy while you train.
The only downside? This pre-workout is only available on the official website, but at least you can take advantage of the 3+1 bundle and free shipping they offer.
3 - 4 Gauge Pre-Workout
The 4 Gauge Pre-workout is designed to increase your stamina and make it easier for you to complete the type of workouts that lead to building muscle mass.
Workouts of any sort are certainly better than sitting around, but many women simply spin their health wheels year after year without making any real progress.
With 4Gauge as one of the best pre-workout supplements, you'll enjoy more vigorous workouts, experience greater endurance, and push through those points in your workout when you used to crash.
Pros
Boosts energy levels to enhance performance
Contains no artificial ingredients or fillers
Doesn't rely on sugar to provide the boost
Low in calories
Cons
May cause an upset stomach
4 Gauge includes L-theanine, creatine, caffeine, L-citrulline, red beet extract, and other common pre-workout ingredients intended to help you burn fat and replace it with lean, resilient muscle. At the same time, it improves blood flow to keep your body well-supplied with oxygen.
However, it only comes in one flavor so you might not enjoy it with plain water. You can still mix it with juice or smoothies as it easily dissolves in liquid.
4 - Transparent Labs PreSeries Bulk Pre-Workout
Bulk Pre-Workout from Transparent Labs PreSeries is loaded with branched-chain amino acids (BCAAs) that stimulate protein synthesis and lay the foundations for powerful and bigger muscles.
Before taking advantage of the muscle-building properties of BCAAs, you first need to engage in the kind of workout that produces them.
For an extra boost, Bulk contains the natural stimulants caffeine and L-theanine, which are known to enhance attention, reduce jitters for sensitive individuals, and induce relaxation.
These ingredients, along with Lean's thermogenic complex, also help enhance metabolic processes and promote fat burning to enable your body to live up to the expectations your mind establishes.
Pros
Addresses and enhances all aspects of your workout
4 grams of essential BCAAs in every serving
Ideal for those seeking to build more powerful physiques
30 mg of zinc per serving to stimulate muscle creation
Cons
Best not used right before sleep
If you're looking for a powerful balance of pre-workout energy from fat burners and muscle builders, then Bulk Pre-Workout should be on your list.
It might not be best to take this best pre-workout product before sleep, especially for those who are sensitive to caffeine.
Get 10% off using coupon code: TOTALSHAPE
5 - Nitrosurge Pre-Workout Powder
When it comes to the best pre-workout supplements for women, you want one that is going to give you a jolt of energy without making you feel jittery, help you break through athletic performance barriers that used to limit you, and allow your body to repair and rebuild your muscles into a stronger, more durable state.
And the best pre-workout supplements can do all of those, just like Nitrosurge which contains ingredients like betaine anhydrous, beta-alanine, L-theanine, and caffeine that helps deliver the pre-workout energy boost you want.
Besides energizing you for the workout ahead and repairing your muscles afterward, Nitrosurge also boosts nitric oxide levels that help increase blood flow to optimize your endurance exercise and provide an impressive pump.
Instead of using creatine supplementation, the manufacturer chose to replace it with betaine anhydrous to effectively increase muscle strength and enhance muscle endurance.
Pros
Boosts nitric oxide levels to boost blood flow
Provides the boost you need to get you going
Promotes effective muscle repair and rejuvenation
Made in the USA
Cons
Has a mild fishy odor, though nothing serious
Produced in a Good Manufacturing Practices (GMP)-certified facility and backed with a 100% satisfaction guarantee, Nitrosurge is the ideal female pre-workout supplement and fat burner for those looking to build muscle and lose fat.
Savings start from 10% this June

6 - RSP AminoLean
Amino acids are the building blocks of life and when it comes to human physiology, it is the building blocks of musculature.
There are 22 different amino acids, but the body cannot synthesize some of these by itself. In other words, it needs to obtain these from outside, typically dietary sources. These are called essential amino acids.
That's where the best pre-workout supplements like RSP AminoLean come in. It helps provide the essential amino acids your body needs to effectively repair muscle tissue in the wake of a strenuous workout.
Pros
Provides the full range of essential amino acids
Helps build leaner, stronger muscles
Includes the natural stimulant caffeine
Helps initiate the fat breakdown
Cons
Contains sucralose (Splenda) for flavoring
But, it doesn't stop there. It also provides the BCAAs (branched-chain amino acids) necessary to build new, stronger muscles the body wants to create now that it knows you're going to need them.
If you're looking to lose weight, RSP also has fat burners that you can try.
7 - Red Leaf Pre-Workout Energizer
Red Leaf Pre Workout Energizer is not made specifically for women, but there is no reason you should let that prevent you from taking advantage of its many benefits.
It provides a jitter-free jolt so that you can readily hit the gym. Like most similar supplements, Red Leaf uses caffeine to create that jolt.
However, with only 40 mg caffeine, this best pre-workout doesn't leave you jittering all over while working out.
Red Leaf is also rich in antioxidants that attack the free radicals in your system that cause cell death and includes plenty of BCAAs to promote muscle growth and recovery.
Pros
Only a moderate amount of caffeine
Plenty of the BCAAs your muscles need
Rich in free-radical-fighting antioxidants
Guaranteed and affordable
Cons
If you're looking for a caffeine moon shot, you'll be disappointed
It's a safe, effective pre-workout supplement for both men and women.
8 - RARI Nutrition Infinity Pre-Workout
The marketing for RARI Nutrition pre-workout supplement is a bit disingenuous, implying that it somehow uses alternative methods of getting you jacked for a workout.
However, these methods won't leave you jittering or cause you to 'crash.'
The fact is, it uses caffeine, just like all the best female pre-workout supplements out there.
But, just because the ads are of questionable value doesn't mean the supplement itself doesn't work.
Besides caffeine, the RARI Nutrition Infinity Pre-Workout supplement also contains L-tyrosine and citrulline malate which help improve focus and enhance the quality and size of your pumps.
Pros
Provides the boost you need prior to working out
Enhances the quality of your pump
Stimulates focus and improves mental acuity
Cons
Pretty heavy on the caffeine
It's also made in a GMP-certified facility and backed by a generous money-back guarantee.
9 - Legion Pulse Pre-Workout Drink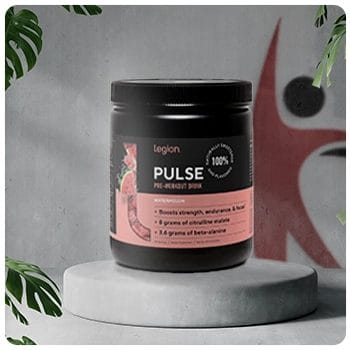 Legion Pulse leans heavier on caffeine than most of the best pre-workout supplements for women on the market.
If caffeine is not an issue for you, that's great, because it's going to provide you with an unparalleled jolt prior to hitting the gym.
If caffeine does tend to get under your skin, you'll need to be careful to use less than the recommended amount. Perhaps it is better to use half a scoop rather than a full scoop.
Thankfully, it also contains plenty of BCAAs (branched-chain amino acids) to improve recovery times and enable the building of larger, stronger muscles.
Pros
One of the most potent doses of caffeine you'll find
No artificial ingredients or fillers
Includes electrolytes that help fight muscle fatigue
L-citrulline for improved blood flow
Cons
No getting around the size of the caffeine dose
It also has the highest dose of L-citrulline which helps improve blood flow. This is crucial to enabling your muscles to answer the call as you attempt to push through and establish new personal bests.
What is a Pre-Workout?
A pre-workout is a dietary supplement that contains ingredients designed to increase the energy levels, endurance, and strength of active individuals as they pursue their fitness goals.
While the pre-workout formula may vary depending on the brand, some of the usual pre-workout ingredients include caffeine, creatine monohydrate, beta-alanine, and BCAAs. It may also include nitric oxide boosters, vitamins, and antioxidants.
The best pre-workout supplement for women is intended to enhance these three things:
Energy - Women eventually need an energy boost during workouts, especially when trying to push through the remaining minutes of an intense session.
Focus - Pre-workouts may provide a slight stimulant to the brain, which may aid in mood and concentration enhancement, as well as anxiety reduction, resulting in improved workout performance.
Endurance - Pre-workout supplements may help women exercise for a longer periods and finish more reps by enhancing the body's natural energy levels.
What Are the Most Essential Ingredients in Pre-workout for Women?

Here are the essential ingredients that a pre-workout for women should have:
Caffeine -

The right amount of

caffeine in pre-workouts

enhances

physical and mental performance

.

Also, it can

intensify muscle endurance which can help you work harder and longer during your sessions.

BCAAs - Branched-chain amino acids leucine, isoleucine, and valine play a vital role in protein synthesis,

and

strengthen

endurance to finish through more intense workouts.

Creatine - Aside from caffeine, creatine is one of the most researched ergogenic aids that helps the body create power during muscle recovery and rejuvenation. It is believed to play a critical role in the production of healthy muscle fibers

during muscle recovery and rejuvenation.

Nitric Oxide (NO) boosters -

NO boosters,

such as L-arginine, L-citrulline, and L-norvaline,

increase blood flow and

oxygen supply

to the muscles, which is

critical for

maintaining stamina during high-intensity

workouts.

Beta-alanine -

This amino acid

helps in the production of carnosine,

a compound that helps control the

accumulation of lactic acid in the muscles

to push through the toughest routines.

Taurine -

Like beta-alanine, taurine is a naturally occurring amino acid associated with better physical and mental performance. It

maintains a healthy balance of electrolytes, leading to enhanced muscle recovery and reduced muscle cramps.
What are the Benefits of a Pre-Workout?
The benefits you can enjoy from taking a pre-workout are increased energy production and endurance and enhanced athletic performance. Its common ingredients—natural caffeine, creatine, and beta-alanine—may help you further maximize your time at the gym [1].
We explain this in more detail below.
Enhanced energy, strength, and endurance
This is probably the most common reason why people take pre-workouts. Ingredients like caffeine, creatine, and beta-alanine contribute to increase energy levels and enhance strength and endurance to help you maximize your time at the gym [1].
Better focus and concentration
Even a small dose of caffeine can help you improve your focus and alertness. It can also help reduce anxiety, enhance memory, and increase metabolic rate [2].
Increased lean muscle mass
While the main role of creatine is to provide constant energy during exercise, it is also associated with higher lean muscle mass, improved endurance, and better muscle recovery [3].
Faster recovery time
It's normal to experience muscle soreness and fatigue after a strenuous workout, but with ingredients like caffeine, creatine, and beta-alanine, your muscles can heal and recover quickly so you can have more efficient workout sessions each time [4].
Increased metabolism
Pre-workouts with added B vitamins may help increase metabolism by aiding the transport and breakdown of fats and carbohydrates [5]. Aside from this, B vitamins like B6 and B12 are also known to help build muscles and increase strength.
Related: Leanbean Fat Burner Full Review
What are the Potential Side Effects of a Pre-Workout?
The potential side effects of most pre-workout supplements for women include:
Trouble sleeping - Too much caffeine may disrupt your sleep patterns.
Dehydration - Other pre-workout supplements often include diuretics, so always drink plenty of water.
Renal failure - If you already suffer kidney ailments, even the best pre-workout supplement options may aggravate them.
Paresthesia (tingling on the skin) - It's a temporary sensation caused by beta-alanine, and although it's harmless. some people might feel weird when they first start taking pre-workout.
Remember to stick to the recommended dosage on the pre-workout product label to avoid any adverse side effects. It's best to consult with a doctor first before taking any supplement, especially if you have pre-existing conditions.
Read our full article for all the potential pre-workout dangers and side effects. Take time to read the article about everything you need to know about bodybuilding and workout supplements.
How to Get the Most Out of Your Pre-Workout?
To get the most out of your high-quality pre-workout, you need to make the necessary changes in your diet and lifestyle. The frequency and timing of intake also matter, but there are many other techniques you can use to maximize the results of your pre-workout supplement.
Here are a few tips to improve exercise performance.
Take it 20 to 30 minutes before working out – It's best to drink your pre-workout before physical activity to allow the body to process the key ingredients properly so you can take full advantage of the benefits from start to finish.
Spring-clean your diet – Eat more healthy and nutrient-dense foods like fruits and veggies, fish and seafood, and whole grains. And of course, it's still advisable to stay away from processed foods, sweets, and refined carbs.
Hydrate with water (or tea) – Water is essential to carry out the reactions and processes inside our body to keep us alive and healthy. So it's never a good idea to wait until you feel thirsty before you hydrate. Have a small bottle or tumbler with you, especially after an intense workout.
Pre-Workout Supplement FAQs
Are pre-workouts for women safe?
Yes, pre-workouts for women are safe due to natural ingredients like green tea extract. A healthy woman using pre-workout supplements as directed should not experience any problems other than perhaps one or two of the mentioned side effects above.
Since these kinds of supplements are not regulated by the FDA, manufacturers have third-party testing companies verify the safety and purity of their products. You can either see a seal from NSF or Informed Choice on the product label.
Also, if it's your first time taking a pre-workout, you want to give yourself some time to see how your body reacts to the supplement. Don't take one serving every single workout day because it may do harm than good.
Will pre-workouts cause insomnia?
Pre-workouts may cause insomnia if you are sensitive to the effects of caffeine. You can try decreasing your dosage or switching to a brand with less caffeine or none at all when this happens.
Should I take a pre-workout with food?
No, you shouldn't take a pre-workout with food. Most manufacturers recommend taking pre-workout supplements on an empty stomach.
This does not preclude you from eating, but eating may neutralize the effectiveness to some degree.
How long before working out should I take it?
You can take your pre-workout supplement 20 to 30 minutes before exercising. However, each supplement will have varying instructions, so make sure to follow what's recommended on the label.
Should I use pre-workout supplements in the evening?
Yes, you can use pre-workout supplements in the evening. However, make sure to take them 5 or 6 hours before you normally turn in. It's not recommended to take it in the evening because its caffeine content can mess up your sleep.
If your pre-workout is caffeine-free though, you're free to take it anytime. However, it's still best to take it on an empty stomach 20 to 30 minutes before your workout to get optimal results.
Can I have coffee as a pre-workout drink?
Yes, you can drink coffee as a pre-workout drink. Apart from being a good source of caffeine, it also has tons of fat-burning properties, especially if you drink it without sugar or cream.
How much caffeine is in a pre-workout?
The best pre-workout contains around 50 to 200 mg of caffeine on average. That's about 2 cups of coffee with around 100 mg of caffeine each.
However, some pre-workouts may go as high as 400 mg of caffeine per serving which is considered a safe and healthy daily limit. Other pre-workouts for women can go as low as 50 mg though. It's best to check the nutrition facts label to know how much you're getting per serving.
What does a pre-workout do?
The best pre-workout with caffeine, beta-alanine, and betaine anhydrous improves your exercise performance, increases energy levels, and enhances muscle endurance.
A pre-workout may also help improve focus if it contains ingredients such as taurine and tyrosine.
Should you take a pre-workout pill or drink?
Choosing between taking a pre-workout pill or a drink will be based on your preference. If you like to feel hydrated, then it's best to take a pre-workout drink. But if want to save time, you can opt for a pre-workout pill that you can simply swallow.
However, you might need to take more pills or capsules to get the same dosage from a pre-workout powder.
Are pre-workouts vegan-friendly?
Most pre-workouts aren't vegan-friendly, but there are a few brands that manufacture products that vegans can use.
If you're vegan, avoid pre-workouts with ingredients derived from animals such as collagen, gelatin, whey, casein, lactose, cysteine, tyrosine, and fish liver.
It's still best to look for a vegan-friendly seal to be sure that none of the other ingredients are sourced from animal sources.
Can I drink coffee while using a pre-workout?
Yes, you can drink coffee while using a pre-workout. But since most pre-workouts contain a certain amount of caffeine, you might want to lower your coffee intake to avoid jitters, insomnia, and anxiety.
Since caffeine tolerance varies from person to person, it's hard to give a one-size-fits-all answer. Make sure to check the amount of caffeine on your pre-workout before you drink a cup of coffee, which typically contains around 100 mg of caffeine. Never go beyond the 400 mg limit per day to prevent adverse side effects.
Can I stack a pre-workout with other supplements?
Some pre-workouts are designed to be stacked with other supplements made by the same brand. Manufacturers ensure that stacking these supplements won't exceed the daily limits for each ingredient so as not to cause mild or serious side effects.
It's more risky to stack supplements from different manufacturers so make sure to check the amounts of each ingredient first before taking anything. It's still best to consult with a doctor if you're planning to stack supplements to make sure that nothing goes wrong.
Our #1 Recommended Pre-Workout for Women Is...
The best pre-workout for women will enable you to get more from your exercise routines and achieve a higher level of overall fitness and health. While many of the ones on our list may serve you well, CIRA Pre-Game Pre-Workout is the one we all thought provided the best results.
I have seen my clients improve their performance exponentially, most likely as a result of the combination of essential amino acids that support muscle function. And with the addition of caffeine, CIRA has provided them with increased focus and a motivational boost to get them through every workout.
You can order yours today and see if it'll make as much of a difference to your training routine as it did for ours.
Our #1 Pre-Workout for Women
Cira Pre-Game Pre-Workout
Click For Best Price
Pros
All natural ingredients support more energy and lower fatigue
Good dose of caffeine to boost motivation and metabolic rate
Mixes very quickly with water without leaving a clumpy effect
Available in tasty flavors that aren't too sweet or fake tasting
Get 10% off using code:

TOTALSHAPE
Cons
Some consumers reported mild, short-term itchiness after consuming the supplement.
Was this article helpful?