27
Supplements
Considered
89
Hours
of Research
96
Reviews
Examined
14
Experts
Interviewed

If you've found this article, then you know the catch-22 of protein powder shakes: milk is too high in fat and carbs for cutting, while most powders with water taste like chalk.
Because of that, our fitness experts set out to research the best tasting protein powders with water so that we won't have to force ourselves to down our morning shakes.
These protein powders are said to be good quality products, and in a way, the flavors are surprisingly good and sweet enough as well.
If you're trying to cut fat and carbs, or if you've got a sensitive stomach, here's a list of our top recommended protein powders that taste good with just water (and ice).
Editor's Choice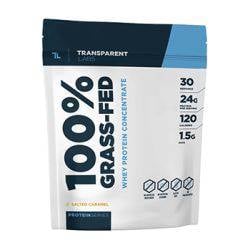 Transparent Labs
Click For Best Price
#2nd Best Choice
Ladder
Click For Best Price
#3rd Best Choice
Swolverine
Click For Best Price
Our Top Tasting Protein Powders With Water
1 - Transparent Labs Grass-Fed Whey Protein (Editor's Choice)
If you're looking for a protein powder that packs a punch while being packed with flavor, then ProteinSeries 100% Grass-Fed Whey Protein Isolate by Transparent Labs should be on your list.
One scoop of this protein powder has one of the industry's highest protein-by-weight ratios at 88%. That's 28 grams of protein per serving!
With all that protein, you think it would taste awful, but think again!
The ProteinSeries 100% Grass-Fed Whey Protein Isolate comes in four yummy variants: chocolate, strawberry, French vanilla, and salted caramel.
To add to that, it doesn't have any artificial sugars and contains all-natural ingredients.
Pros
Comes in four flavors: chocolate, strawberry, french vanilla, and salted caramel
28 grams of protein per scoop
100% Grass fed whey
No artificial preservatives, sweeteners, or colors
Cons
May be pricey for some people
No matter if you are taking protein to lose weight or gain muscle, this delicious protein powder can help you achieve them. It is also gluten-free and contains no artificial preservatives, sweeteners, or colors.
2 - Ladder Whey Protein
When it comes to protein powders with great flavors, Ladder company will never go least.
The product comes in two flavors: chocolate and vanilla.
Ladder uses all-natural ingredients such as cocoa and vanilla beans, salt, and a little sweetener to bring out that awesome taste.
If you want a protein powder that tastes like dessert, then this is it.
Check out our full Ladder protein review.
Pros
CFS Certified
All-natural ingredients
Contains Probiotics
Tastes good even without artificial
sweeteners
Cons
Can be on the expensive side
I love that even if it's mixed with water, you can still taste the rich flavor of chocolate and vanilla.
The best thing about this is that it's not all about flavor. The product contains the optimal amount of essential amino acids and branched-chain amino acids to help repair your body fully.
3 - Swolverine Whey Protein Isolate
One of the most interesting whey flavors I've ever tasted is the honey cinnamon peanut butter from Swolverine.
I'll be honest, this unique flavor is intimidating, especially if you're used to plain, bland proteins, but I didn't regret trying it. It's tasty and filling, and gives me 26 grams of protein per serving.
It blends smoothly and the texture is like a real milkshake.
If you want something simpler, the vanilla flavor is the way to go. Just blend with water, add some ice, and you're good to go. You can also add some fresh fruits for more flavor.
Flavor : Honey Cinnamon Peanut Butter
Pros
26 grams of protein per serving
Also comes in vanilla and chocolate flavors
Low carb content
Includes a digestive enzyme blend for better gut health
Cons
Contains artificial flavoring
The only reason Swolverine isn't up higher on this list is because it contains some artificial flavors. If you're into an all-natural protein supplement, this might not be the best option for you.
4 - BSN SYNTHA-6
If there's one thing BSN gets right time and again, it's flavor.
And, since we were looking for the best product, we turned to the chocolate milkshake flavor from their famous Cold Stone Creamery Series. The peanut butter cookie flavor was a close contender.
When both protein powder and water were combined, it was delicious.
The company claims it tastes like ice cream and mixes like a milkshake. We wouldn't go that far, but for a shake without milk, it was pretty good.
Flavor : Chocolate Milkshake
Pros
Cold Stone Creamery taste
High-protein/low-fat
10g of amino acids for better muscle building
Hi-tech Syntha-6 protein
Cons
Great taste comes with a few extra carbs
However, part of us wishes it were lower in carbs because 15 grams per serving is getting close to our limit per shake (though still under), but the blend of high-protein and great taste earns a spot here.
Also, it's not too sweet, so that's another win.
5 - SFH Pure Whey Protein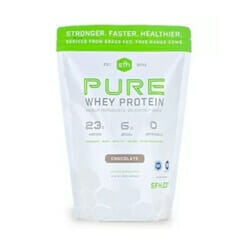 Next up is the cleanest entry on the list. If you're looking for the best, leanest, healthiest powder, then this is probably for you. Pure Whey Protein from SFH lives up to its name.
This product contains 24 grams of protein per serving, only 130 calories, and only 2g of fat and 4g of carbs, which is quite impressive.
It's great for anyone that wants to build muscle while limiting everything else.
It's 100% grass-fed and contains no artificial ingredients. Since it's also clean, it can be easily absorbed by your body, which could lead to better long-term weight loss results especially if you struggle to stay within your macros.
Pros
The Cleanest protein on the market
High-protein/low-carb, and low-fat
No artificial ingredients
Cons
Doesn't taste as good as competitors
Lack of carbs could slow down muscle recovery
Combining this protein powder mix with water provides a lot more breathing room without sacrificing taste even when mixed with water. Of course, this call comes at a price—it doesn't taste as good as some of its competitors. That being said, it still tasted great.
6 - Optimum Nutrition Gold Standard
For something so delicious, chocolate-flavored proteins have a nasty habit of tasting awful when not mixed with milk. With milk—amazing chocolate milkshake. Without milk—chalk and foam.
Optimum Nutrition's great-tasting flavors have a great reputation around the fitness world so we went with their highest rated one for our taste test.
The double chocolate flavor was creamy, delicate, and, most importantly for us, easy on the stomach.
It went down smoothly and without any of that after taste you're used to driving home from the gym with.
My personal favorite is the double-rich chocolate flavor, but some of my clients also rave about the vanilla variant. Speaking of, I've tested and jotted down the list of the best-tasting vanilla protein powders and I highly recommend you give them a try.
Flavor : Double Rich Chocolate
Pros
Powerful chocolate taste
Clean protein
Goes down smoothly
Cons
Would be better without sugar
Double chocolate might be a bit much if not used to it
It's also extremely lean—only 1g of fat and 3g of carbs (1g from sugar) per serving.
7 - Ultimate Nutrition Prostar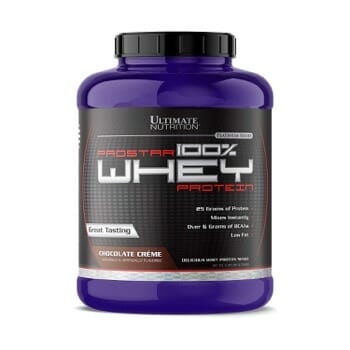 Ultimate Nutrition is well known for their high-quality products at rock bottom prices, but their Prostar whey powder is their first foray into low-carb, all-around proteins for workouts.
They definitely kept up their best quality here, though it left a bit to be desired.
First, it packs 25 grams of protein per serving (quite a lot!) and is very low calorie, fat, and carbs.
Second, it tastes pretty good (especially with ice). In fact, it tastes good enough considering its low price.
Our first morning shake went down great and didn't give us any of that overly full feeling during our workout.
Pros
Low in carbs, calories, and fat
Inexpensive
Mixes well with water
Cons
Contains soy, lactose
Contains artificial sweeteners
However, there are a few things that show why it's a bit cheaper than the competitors. It was a bit hard to mix (there were a few clumps), and it contains a few artificial flavors as well as soy.
It isn't the best protein powder for water, but it's a good choice if you need a healthy source of protein but on a tight budget.
8 - MuscleTech Phase 8 Protein Powder
If we had to choose one word to sum up this product, we would choose: BOOM.
Phase 8 is best known for their 8-hour multi-phase formula: the slow release of amino acids for 8 hours after consumption. In our opinion, this formula makes it one of the top choices of proteins for post workouts.
Milk Chocolate is our personal favorite flavor and we were surprised at how much we liked this one. The flavor is just right and is easy on the tummy, too.
It delivers a standard 26 grams of whey protein isolate, with 5.6 grams of BCAAs and 5 grams of glutamine, per serving.
Pros
Smooth, thick, creamy taste
8-hour sustained release of protein
7 protein sources
Cons
Not suited for people that are lactose intolerant
We'd recommend this to anyone who likes that creamy rich flavor.
9 - Drink Wholesome Protein Powder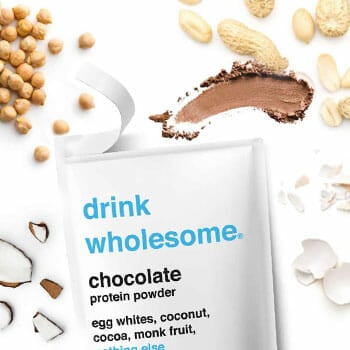 The last on this list is the protein powder by the brand Drink Wholesome.
One thing I appreciate about this brand is its simplicity -- it contains minimal ingredients. No artificial protein sources and flavoring so you consume real food and get your 20 gram of protein dose instantly.
My favorite is the peanut butter flavor but if you're looking for pure protein, go with the unflavored option. It's made of just egg whites for pure, clean, protein serving. And don't worry about it tasting 'eggy' because with their pasteurization process, it's literally flavorless and goes perfect with just water.
Pros
Natural taste
Provides 20 grams of protein per serving
Made from clean and pure protein source
Cons
It doesn't come with a scoop so you have to buy it separately
You can also order sample sizes to see if you'll like it.
Why Mix Protein with Water?
Mix protein with water because as much as we'd love to indulge in the best and most delicious chocolate milkshakes all day, being physically fit means cutting the fluff and pumping your body full of as many clean, healthy nutrients as possible.
Mixing protein powder in water accomplishes two goals:
Your body absorbs proteins faster
It cuts unneeded calories, fats, and carbs out of your diet
If you want to lose weight and gain lean muscle, you have very little nutritional wiggle room.
When you mix whey powder with water, you are getting all of the good with none of the bad, unless you're trying to bulk up. And in that case, you might want to add some milk in there for the extra calories.
Milk vs Water: What's the difference?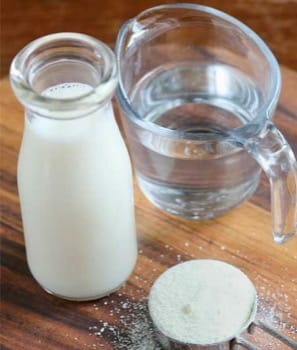 The main difference between milk and water is in nutrient intake. The best protein powder shake with milk will contain roughly 250 + calories, 10 + grams of fat, and 12 + grams of carbs. If you mix it with water, you are looking at roughly 120-150 calories, 2g of fat, and very few carbs per serving.
If you can't take your protein with just water, almond milk is another alternative. It creates a thicker smoothie compared to water while adding only 20-30 calories (depending on the brand).
On the flip side, drinking a shake with milk provides your body with more protein and more carbs, which is beneficial if you are trying to add mass. [1]
Verdict: Unless you're vegan, take protein with milk when bulking and with water when trying to lose weight.
See related posts:
The Best Tasting Protein Powder with Water Is...
Drinking protein powder with water instead of milk keeps you from consuming extra unnecessary calories. Drinking protein powder with water also makes it more important that your protein powder tastes good.
That's why ProteinSeries 100% Grass-Fed Whey Protein Isolate by Transparent Labs is our top recommended product. Their yummy protein powder comes in four different flavors that can fit your taste.
Not only that, 28 grams of protein per scoop makes this protein powder more loaded with proteins than the other products on this list. That means you won't have to worry about not getting your protein macros in for the day, as Transparent Labs is one product that can help you achieve that.
How do you drink your protein powder? Do you mix it with just water, milk, or some other liquid? Let's discuss in the comments, or share your experience with protein powders on any of our social media channels.
Our #1 Best Tasting Protein Powder With Water
Transparent Labs Grass-Fed Whey Protein
Click For Best Price

Pros
Comes in four flavors: chocolate, strawberry, french vanilla, and salted caramel
28 grams of protein per scoop
100% Grass fed whey
No artificial preservatives, sweeteners, or colors
Get the BEST PRICE until the end of July
Cons
May be pricey for some people
Was this article helpful?
About The Author