As one of the most in-demand fitness supplements, there are bound to be countless protein powder options out there to choose from.
One of them is the Personalized Protein Powder by Herbalife. The company says this drink can curb your hunger and help keep you energized.
I decided to try it for a month to see if these claims were legitimate.
Here's my Personalized Protein Powder review.
What is Herbalife Personalized Protein Powder?
Herbalife Personalized Protein Powder is a diet shake that contains a high-quality protein blend that aids your weight management and fitness goals. It may also help control hunger, sustain energy, support adequate protein intake, and help build and maintain lean muscle mass.
Established in 1980, Herbalife is a global nutrition company known for producing industry-leading meal replacement shakes, nutritious snacks, vitamins, sports and energy products, and skin and hair care products to millions of consumers in 90 countries.
It achieves all of the above with its soy protein and whey protein components, which can help curb hunger, thereby making weight loss easier.
Another great thing about this product is that it has zero fat, carbohydrates, cholesterol, salt, sugar, or sweeteners, making it ideal for people trying to lose weight.
This drink has 5 grams of protein per serving and provides all nine essential amino acids.
SUITABLE FOR MEN AND WOMEN
Herbalife Personalized Protein Powder
Check Current Price

Ingredients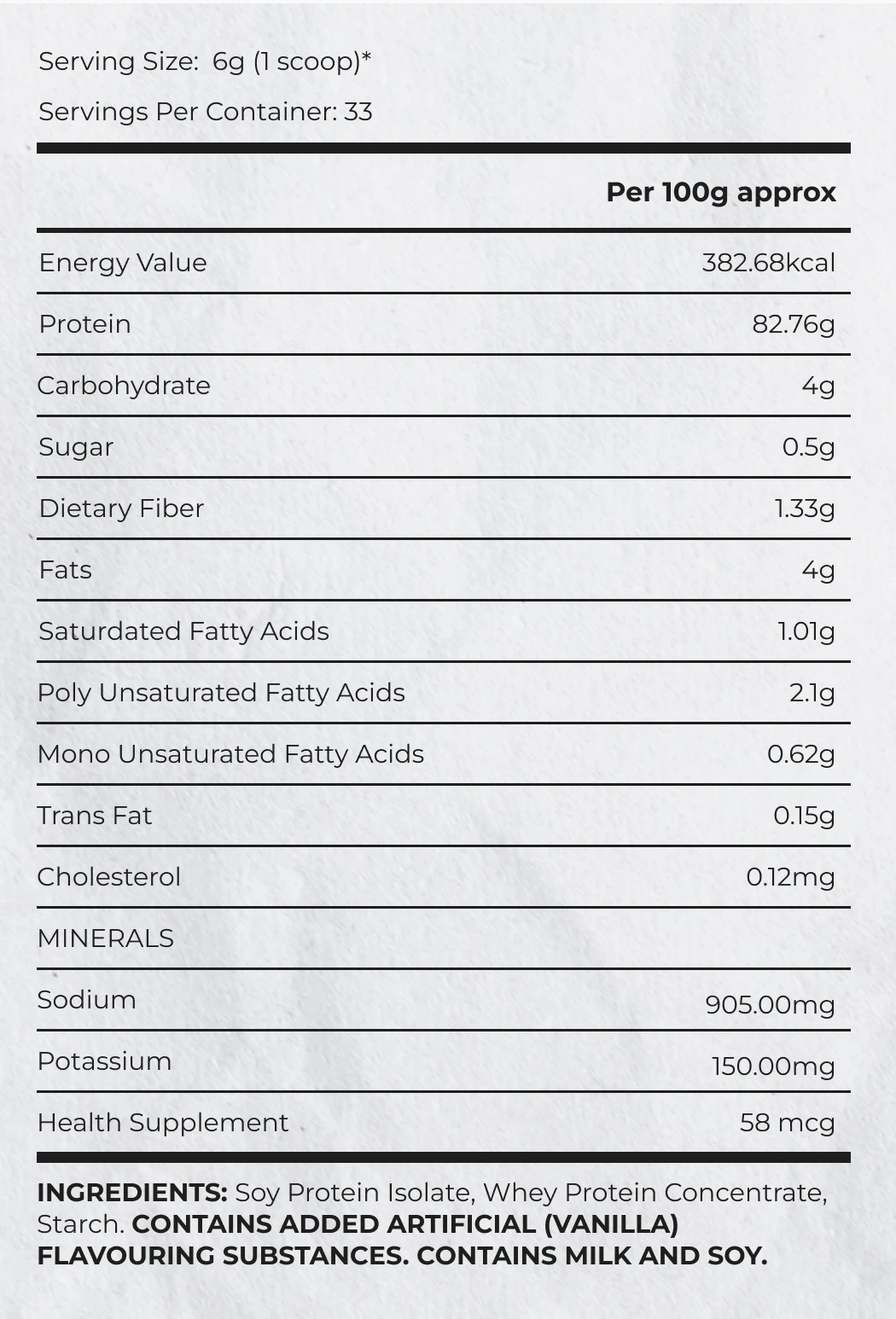 Personalized Protein Powder contains 50 grams of sodium and 25 grams of potassium per serving. Its main components are:
Soy Protein Isolate: This ingredient is made from defatted soybean flakes that undergo a chemical process to "isolate" its protein. This component contains no cholesterol and very little fat, which means it's safe to take if you're watching your weight.
This element is also a complete protein containing all of the essential amino acids your body can't produce. It contains the BCAA leucine - an amino acid that plays a vital role in muscle building.Some studies suggest that soy protein may aid in weight loss. Research has shown that soy protein's effect in losing weight was comparable to that of animal-based protein [1].

Some users had success with using this protein powder for losing weight, especially when combined with a balanced diet. But other people said that it didn't do anything about their weight.
Whey Protein Concentrate: This component is another complete, high-quality protein derived from milk. Studies show that whey protein can help keep you satiated. 

Our dieticians even mentioned that i

t's superior to both casein and soy in reducing hunger. Many users would agree to this as it helped them feel fuller for longer every day.

This characteristic could be highly beneficial, especially if you're looking to lower your calorie intake for weight loss. Bodybuilders and athletes love whey protein because of its muscle-building properties.

But to enjoy these gains, you must be willing to put in the work. Studies show that performing resistance exercises while taking a whey protein supplement increased lean tissue mass building in males [2].

Finally, whey protein digests quickly in the gut compared to other protein types, which can be especially helpful for people with sensitive stomachs or issues with nutrient absorption.
Other ingredients include natural flavors and silicon dioxide.
Other proteins we recommend:
How to Take It?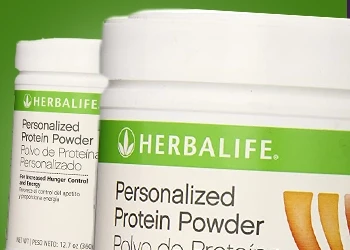 You should take 1 to 4 servings of Herbalife Personalized Protein Powder daily. You can stir this blend into different foods and beverages, such as soups, cereal, yogurt, and sauces.
Herbalife says women can get the most out of this drink's weight loss capability by adding up to two tablespoons of it to their Formula 1 protein shake.
Men, on the other hand, should add up to three tablespoons for maximum effect.
When I drink my morning shake, I usually add two to three tablespoons for a higher protein intake.
Since it's plain, sugar-free, and not at all chalky, it doesn't really ruin the flavor or texture of my shake and my diet too.
It doesn't have the best taste, so I wouldn't recommend mixing it with just water.
Benefits
With soy protein isolate and whey protein concentrate as the main sources of protein, Personalized Protein Powder is a low-carb and calorie powder for anyone who wants a protein boost.
It aims to keep you feeling full longer while building lean muscle mass when consumed with Formula 1 Nutritional Shake Mix.
Although it uses high-quality soy protein and fast-absorbing whey protein, it would have been nice to see muscle-building ingredients like creatine to enhance muscle strength and size and provide more energy.
In protein powders, our dietician suggests looking for additional anti-inflammatory ingredients like omega-3 and 6 fatty acids to support muscle recovery after workouts.
SUITABLE FOR MEN AND WOMEN
Herbalife Personalized Protein Powder
Check Current Price

Pros
Low in calories
Contains no fat, carbohydrates, cholesterol, salt, sugar, or sweeteners
100% vegetarian
Provides all nine essential amino acids
Cons
Unsweetened formula; tastes bland
Low protein content per serving
Soy protein isolate component might pose some unwanted long-term side effects
It contains whey protein concentrate; it might not work for people with lactose intolerance
Are There Any Side Effects?

While soybeans are a great quality protein because of their rich amino acid content, soy's safety—especially its processed form—is hotly contested by many nutritionists.
To create soy protein isolate, soybeans undergo a chemical process that strips them of all the original bean's nutrients. They are then dehydrated and turned into powder.
This process leaves behind substances like aluminum and hexane - elements you wouldn't want to ingest in high amounts.
"Fitness is about so much more than exercise. It's a catalyst for positive change, and it affects every aspect of your life." - Amanda Russell, Fitness Expert
Frequent exposure to high aluminum levels is linked to neurotoxicity, Alzheimer's disease, and breast cancer [3].
Chronic exposure to hexane may cause severe abdominal pain and irritate the respiratory system. This could result in shortness of breath, coughing, burning of the mouth, throat, chest, and even chemical pneumonitis [4].
These side effects are indeed scary. However, they will likely be experienced only by those who consume excessive soy daily.
As for other usual side effects, there were a few users who complained of headaches and stomach pain.
Our clients who tried the product are not particularly lactose intolerant, but there were days when they felt a bit gassy after consuming the product.
How Much Does Personalized Protein Powder Cost?
A canister of Personalized Protein Powder is reasonably priced for 60 servings.
This will typically last you about 1-2 months, depending on your consumption.
Customer Reviews

After poring through review after review, I found that users had differing opinions about this protein blend.
Some consumers didn't seem to mind the unsweetened formula and raved about this powder's impact on weight management.
"This is such a nice addition to any drink! I add it to my coffee, morning shake, and yogurt. It's next to tasteless, but it contains a great amount of protein. It also doesn't have that protein aftertaste that a lot of other shakes have."

- Corissa H.
"Great product that comes at a fair price! The product arrived quickly and it was also well-packed. Using this product has helped me lose 17 pounds in about a month." - Jennifer
Other users reported experiencing side effects with this powder.
"Everyone interested in this product must do their own research before purchasing. I'm trying to lose weight, and my sister suggested this product to me. I got this along with the nutritional shake and as soon as I started taking it, I experienced major headaches and stomach pain. This product contains soy and carrageenan, which both cause major health issues." - Ray
"The label says I can blend this powder to yogurt or other protein shakes. I tried that, but it yielded a thick, paste-like concoction. I will stick with other products that I like better. This is supposed to be unflavored, but I think it tastes bad!" - Vegas Diva
Protein Powders We've Reviewed:
Protein Powder Alternatives
We tested Herbalife Personalized Protein Powder against three well-known protein powder brands to provide a complete review. Here's how it stacked up.
Ladder Whey Protein Powder
Ladder Whey Protein Powder contains substantially more, about five times, protein per serving than Herbalife.
The Ladder consists mainly of casein protein powder, a milk protein that Ladder states provides a blend of fast and slow-digesting proteins. I agree, as no one in our test group experienced any digestive issues.
For a level playing field, we ordered standard vanilla and chocolate flavors for our testing, and we all agreed they both tasted great and mixed well with no clumping. I liked the chocolate as it was reminiscent of darker chocolate with balanced bitterness and sweetness.
As a fitness trainer, I recognized right away the benefits of these protein powders go well beyond building muscle. It is packed with probiotics to help your body absorb amino more efficiently, particularly BCAAs.
Additionally, this protein powder enhanced my workout performance and improved my recovery, much like a pre-workout.
ONNIT Whey Protein Powder
ONNIT Whey Protein Powder offers 20 grams of protein per serving, which is over three times what Herbalife Personalized Protein Powder contains.
Again, I purchased both the chocolate and vanilla for our testing, and the consensus was the vanilla was far superior in taste.
Additionally, many users found a shaker bottle wasn't sufficient enough to get a creamy drink. Using a blender makes ONNIT Whey Protein Powder less convenient than Herbalife Personalized Protein Powder.
Many in our test group reported bloating using ONNIT Whey Protein Powder, which some could counteract by drinking a reduced serving more slowly.
Pricing is lower than Herbalife Personalized Protein Powder, and you can save 20% by signing up for the subscribe and save program on the official website.
Orgain Organic Protein Powder
Orgain Organic Protein Powder may work for you if you are looking for a plant-based protein option. Unlike Herbalife's milk and soy protein combination, Orgain uses a blend of brown rice, chia seeds, and pea proteins.
Both the vanilla and chocolate flavors we ordered for our testing tasted great, and I am eager to try other fun flavors, like cookies and cream, peanut butter, and iced matcha tea.
You'll get 21 grams of protein per serving, much more than Herbalife's 4.96. Our test group liked the taste and had no digestive or bloating issues while taking it.
Like Herbalife Personalized Protein Powder, Orgain Organic Protein Powder is readily available on the official website and other third-party retailers.
I always buy supplements directly from the manufacturer's website whenever possible to ensure I get a genuine product. I can also take advantage of shipping or other discounts and satisfaction guarantees.
Herbalife Personalized Protein Powder: Should You Buy It?
With only 5 grams of protein per serving, this product is relatively low on protein compared to other shakes.
I like this drink because it contains no carbohydrates, fats, or sugars, making it an ideal supplement for people trying to lose weight.
Although Herbalife claims this powder supports appetite control and muscle building, I see no active ingredients—aside from the protein itself—that can help with those.
In my opinion, this supplement would have been better if the brand had incorporated more fat-burning, appetite-reducing ingredients into it.
If I could recommend a better alternative, I'd say the Whey Protein Isolate from Transparent Labs might be worth trying.
It contains a great amount of protein and is recognized as one of the cleanest proteins on the market.
We Recommend This Instead
Transparent Labs Whey Protein
Click For Best Price

Pros
24 grams of protein per serving
Contains no artificial sweeteners or additives
Gluten and GMO-free
Sourced from grass-fed cows
Get the BEST PRICE until the end of September
Cons
May have issues with packaging and shipping integrity
Was this article helpful?