31
Supplements
Considered
88
Hours
of Research
34
Reviews
Examined
7
Experts
Interviewed
As a fitness guy of over 10 years, I can say that I know my way around supplements, including soy protein powders.
They are an essential part of anyone's fitness regimen, so I must recommend only the best to my clients.
We scoured the stores for the best soy protein powders and examined their ingredients and benefits as well as their pros and cons.
If you need some help choosing the best soy protein powders for you, check out our detailed guide below.
Editor's Choice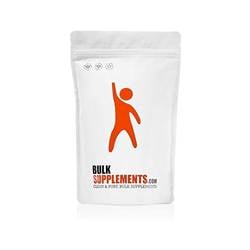 BulkSupplements
Check Current Price
#2nd Best Choice
Naturade Total Soy
Check Current Price
#3rd Best Choice
Bob's Red Mill Premium
Check Current Price
Best Soy Protein Powders (March 2023)
1 - Bulk Supplements Soy Protein Isolate (Editor's Choice)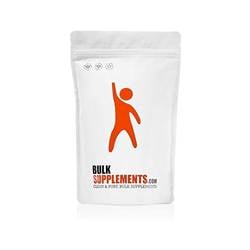 Bulk Supplements Soy Protein Isolate Powder contains 27g of protein derived from soybeans in each 30g serving. It purely contains soy protein isolate which makes it 90% protein by weight.
This soy protein powder is ideal for anyone looking for something simple, pure, and "clean."
Additionally, Bulk Supplements Soy Protein Isolate is not flavored and with the packaging being slim, it makes this one of the most affordable protein powders out there.
Pros
Sourced from soybeans which are naturally rich in protein
Helps increase lean muscle mass while shredding fat at the same time
Helps develop stronger bones
Best taken within 30-minutes after workouts
Cons
Needs to be thoroughly mixed well with any liquid
With only 112 calories and less than 1g of fat per scoop, this vegan and vegetarian soy protein powder is designed to help maximize lean muscle mass building while avoiding fat gains.
You may want to check another article where Bulk Supplements ranked top three on the list as the best protein powder with egg white derivative.
2 - Naturade Total Soy Weight Loss Shake
If flavor is your main criteria in choosing an organic soy protein powder, this weight loss shake from Naturade should come first. This is probably one of the best-tasting protein powders I've ever tried.
One of my female clients swears by this and reports how this soy protein isolate was able to effectively curb her appetite.
However, this soy protein powder is not the best when it comes to protein content, as only serves 13 grams of soy protein per serving.
Pros
May be used as a gluten-free meal replacement
Effective for weight loss
Contains 0 trans fat and cholesterol
Tastes great with water, skim milk, or almond milk
Cons
Has only 13 grams of protein
A bit too sweet for some
Personally, I'm okay with the sweetness and the variety of flavors. But if you're looking for something less sugary, then this soy protein isolate might not be your best choice.
3 - Bob's Red Mill Soy Protein Powder
Bob's Red Mill Gluten-Free Soy Protein Powder prides itself on being a natural alternative to traditional soy protein supplements.
This soy protein isolate product is a nourishing source of protein that is dairy-free, gluten free, unflavored, and unsweetened. It is one of the cleanest soy protein isolate powders on the market today.
That means no artificial chemicals in your protein shake when you choose to add a scoop of this protein powder, which by the way has only 80 calories.
While it may not be enough as a meal replacement, it may still help you lose weight.
Pros
​Only made from two ingredients: isolated soy protein and soy lecithin
Builds and develops lean muscle growth
Great-tasting and can be mixed with shakes and snacks
Cons
​It gave us a gritty texture when mixed ​in a smoothie
​There are other brands with higher protein content
As an added benefit, every product from the company is certified Kosher and is millstone ground at slow speeds, ensuring that the product is nutritionally high-quality.
4 - Six Star Pro Nutrition Soy Protein
Six Star Pro Nutrition Elite Series not only has 100% soy protein, but it also has all nine essential amino acids, which means that it has what you need to help stimulate muscle building and muscle recovery after those high-intensity workouts.
And yes, this soy protein powder is made for high-intensity workouts.
How can we tell?
Because this soy protein powder contains added B6 and B12 vitamins.
Pros
Contains 100% gluten-free soy protein
​Has added B6 and B12 vitamins
Lactose, cholesterol and transfat-free
Contains 4g of fiber in every serving
Cons
Can be too sweet for other people
Made in a factory that also processes peanuts
As endurance athletes, these ingredients help keep blood sugar within the optimal range and protect against anemia during our oftentimes insane workout sessions -- something that other soy protein powder supplements are not able to do.
5 - Universal Nutrition ​Advanced Soy Protein Isolate
Created by Universal Nutrition, Advanced Soy Protein Isolate is an optimum soy protein powder that can be used whether or not you are a serious athlete.
This soy protein powder has the essential amino acids that your body needs to convert protein into muscle.
The 100% water-washed process also ensures that you get the optimal health benefits without any harmful additives.
Pros
Made from 100% water-washed soy protein isolate
Has essential amino acids that the body needs in building muscles
Helps boost the immune system, improves bone health, & lowers cholesterol
Cons
Hard to mix with water or milk
Texture is a bit chalky
By not exposing the soy protein isolate to the ethanol wash which is common with other best soy protein powders, your body gets the high levels of isoflavones that are naturally found in soybeans and consequently, the maximum benefits from soy.
What Is Soy Protein?
Soy protein is a soybean protein that has been isolated. It's created from dehulled and defatted soybean meal. Soy flour, soy concentrates, and soy isolates are examples of high-protein commercial products made from dehulled and defatted soybeans.
Like other common forms of protein supplements, the best soy protein powders have many positives and possible negatives for your health. The Soyfoods Association of America has defined soy protein isolates as the following:
Soy protein isolate can be found in a wide variety of health foods, ranging from protein bars, meal replacement shakes, bottled fruit drinks, meat substitutes and baked goods.
Soy protein isolate is a dry powder food ingredient that has been separated or isolated from the other components of the soybean, making it 90 to 95 percent protein and nearly carbohydrate and fat-free.

- Soyfoods Association of America
You should know that soy is an ingredient in your food if you see one of the following terms on the nutrition label: mono-diglyceride, soya, soja, yuba, TSF (textured soy flour), TSP (textured soy protein), TVP (textured vegetable protein), or MSG (monosodium glutamate).
Though not all textured vegetable protein comes from soy, a good amount of them does, while lecithin can be made from soy, eggs, or corn.
To know for sure what is in your food, you can contact the manufacturer for a more detailed ingredients list. [1]
The 2 Different Types
There are two main ways that soy protein isolate is manufactured and sold: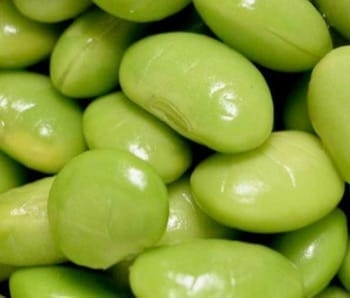 1. Soy protein concentrate - This is formed when the fat is taken out of soybeans, leaving a white flaky substance in its place.
After these flakes are given an ethanol extract to neutralize its pH levels, the substance is solid enough to be sold or used within prepared foods.
Because of the ethanol extraction, it has a low level of isoflavones (plant-derived estrogen), usually around 4% of the initial amount within the bean. [2]
This makes it a smart soy protein supplement for men that are worried about the side effects of consuming estrogen enhancers.
2. Soy Protein Isolate - After the formation of white flakes in soy, the concentrate is processed one more step through centrifugation that extracts the highest percentage of protein by weight.
The isoflavone levels remain higher (35-45%) than in soy protein concentrate because the step of ethanol extraction is skipped. Men that are concerned about estrogen should avoid taking large amounts of soy protein isolate.
The article Whey protein isolate vs. concentrate ​has an in-depth explanation of the difference between the two.
With soy protein isolate containing as much as 90 percent crude protein, one might be excused to think that, given that the economics are right, a more concentrate source can be used as effectively as soy protein concentrate.

- Ioannis Mavromichalis, Ph.D.
Is Soy Protein Bad for You?
Soy protein is not bad for you. In fact, it is generally considered to be suitable for most individuals and may provide health benefits such as weight loss.
In recent years, these soy protein isolate products have been getting a bad reputation. Many people believe that the majority of health claims for soy are actually false and the result of clever marketing schemes from food companies.
Some of their worst claims to the contrary are as follows:
90 to 95% of US-grown soybeans are genetically modifie

d - This means that any soy product you buy is likely to be genetically engineered, and GMO foods have been occasionally found to pose health risks like hormone disruption and fertility problems.
E

strogen levels can get messed up -

Isoflavones from soy can activate your body's estrogen receptors and make your body act as if estrogen is present. Because the structure of isoflavones is similar to estrogen, they can decrease your body's natural levels of estrogen, and mess with the menstrual cycle enough to reduce fertility in females.
You might be ready to swear off soy-based products for good after reading some of the purported negative health effects, but in truth the vast majority of soy protein products are not dangerous and are actually nutritionally beneficial instead.
Overall, soybeans have an impressive nutritional record. Each bean contains 30% carbohydrates (half of which are from fiber), 18% oil, 14% moisture, and a whopping 38% protein.
Research into the benefits of soy protein powders have shown that they can help lower your LDL cholesterol levels by as much as 5%. [​4]
While that might not seem like much, small differences in your cholesterol level can have a big impact on your overall health.
Simply choosing to consume organic soy protein powder reduces your risk of being exposed to estrogen-damaging herbicides.
Likewise, here is a simple way to get rid of the negative hormone effects of soy and instead make it a safe and healthy food source: fermenting it.
The process of fermenting soy destroys the dangerous compounds it contains and makes it both safe and beneficial to eat.
Historically, Asian populations have eaten large amounts of fermented soy while being some of the healthiest and longest-living people in the world.
Other evidence has shown that eating fermented soy can::
Prevent osteoporosis
Reduce risk o​​​​f various cancers
Prevent the development of dementia
Related posts:
Therefore, there is little to no risk for men and women to eat moderate amounts of soy protein isolate as part of a healthy, balanced diet.
In this way, organic soy protein powder can be viewed as one more nutritional diet tool to help you meet your daily protein needs and support weight loss.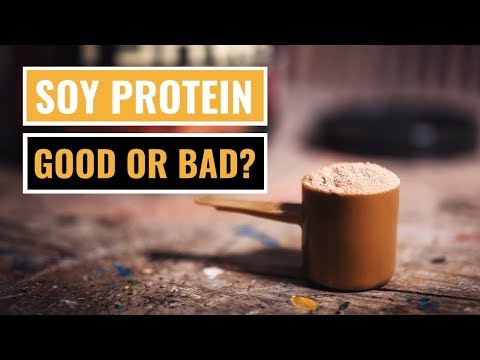 Soy Protein vs Whey Protein
Because whey and soy protein powders have key differences in terms of content and nutritional value, it's important to understand these differences so that you can make the right choice for you.
Whey protein is useful for maintaining bone health, putting on body mass, and repairing muscles after an intense strength workout, which makes it a smart choice for a post-workout snack.
Although it provides you with a good balance of essential amino acids and minerals, it comes from dairy so anyone who is lactose intolerant will struggle to digest it. Other negative side effects can include gas and bloating, cramps, headaches, and general fatigue and exhaustion.
Soy protein is a great alternative protein source for anyone who is lactose intolerant or trying to cut down on their animal-based products. Although whey has long been considered the ideal protein for body building, the truth is that the key benefits of soy are almost equivalent.
Soy protein has been eaten by humans for over 5,000 years and is considered to be one of the highest quality plant-based protein that nature provides. Each bean contains all the essential amino acids necessary for complete health.
The "feminizing" reputation of soy protein is largely unfounded, especially if you take the time to make sure your soy is sourced from high quality, organic sources.
The honest truth is that there is no right or wrong answer here. It's all about personal preference.
For best body building results, whey and soy protein powders should be used together.
In this case, whey and soy protein supplements will keep you in peak physical condition.
Whey contains a large amount of branched-chain amino acids, while soy protein has high levels of arginine (a hormone that stimulates muscle formation) and glutamine (essential for workout recovery).
Recommended post: Whey vs Soy protein
The Best Soy Protein Powder Is?
After months of testing, we've determined BulkSupplements Soy Protein Isolate to be the best soy protein powder of its kind on the market.
This supplement delivers 27g of protein from soy in each serving, ensuring that you get the most bang out of your buck.
Moreover, each scoop only has 112g of calories and less than 1g of fat, allowing you to build lean muscle mass while preventing fat gain.
This product is also an excellent choice for anyone who struggles to digest lactose and/or wants to reduce their consumption of animal-based products since it's vegetarian and vegan-friendly.
Our #1 Recommendation
Bulk Supplements Soy Protein Isolate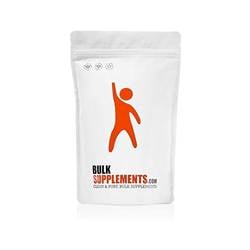 Check Current Price

Pros
Sourced from soybeans which are naturally rich in protein
Helps increase lean muscle mass while shredding fat at the same time
Helps develop stronger bones
Best taken within 30-minutes after workouts
Cons
Needs to be thoroughly mixed well with any liquid
Was this article helpful?