I reached a point where I got sick of shakes and liquid meals and wanted something actually to chew for my breakfast meal. Yet I didn't want to give up a protein-powered diet.
I found the solution in making waffles. Protein waffles. They're healthy and incredibly easy to make, and the whole family loves them.
So get your waffle maker ready, and let's dive into some delicious and protein-filled cooking that'll only take a few minutes.
Quick Summary
The protein waffle recipe comprises eggs, almond milk, vanilla, flour, baking soda, coconut oil, and protein powder.
Mix almond milk, eggs, vanilla, protein powder, and flour in the bowl. Stir while sprinkling some coconut oil in the mixture. Apply some coconut oil to the waffle iron and add some mixture to the waffle iron. Enjoy once they turn golden brown.
Honey, agave, fresh fruits, jam, nuts, and maple syrup are some toppings you can place on your protein waffles.
Whey protein, and plant-based protein are examples of proteins that can be used in protein waffles.
How to Make Protein Waffles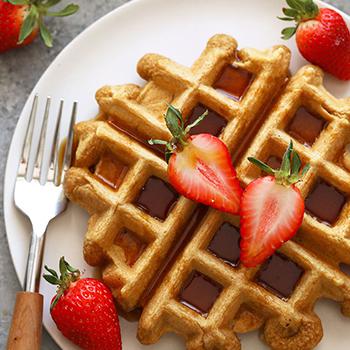 My favorite protein waffle recipe is from Fit Foodie Finds. There aren't that many ingredients in this recipe, and it's simple to make. You just need the basics, like eggs, almond milk, protein powder, a bit of baking powder, and you're done. This sweet treat made from protein powder is a sure hit to kids.
I can break the instructions down into 3 steps:
Step 1: Prep time is minimal, around 20 minutes total time. It's easy to make -- start by whipping out your waffle iron and preheating it.
Step 2: Mix all of the ingredients in a bowl to make a batter. The recipe says to do it in this order:
protein waffles
Step 3: Spray non-stick cooking oil well onto the waffle iron before putting about ½ cup of batter in. When you use a cooking spray instead of lathering batter to it, you'll make smoother waffles. Allow about 2 minutes cook time or check to see if they are golden brown.
Ta-Da! Yummy, healthy waffles straight from the waffle iron. It's a great recipe for those who don't have time to meal prep an elaborate, fancy breakfast.
You should be able to make about 4 waffle servings out of that batter. A bit of warning though, I don't think it'll take you 5 minutes to finish this thing. It's that good.
Each waffle has the following nutrition facts: high-protein content at 12 grams, 20 grams of carbohydrates, 11 grams of fat, and 4 grams of fiber. It has over 200 calories, so if you're on a calorie-restricted diet, you might like to look into a lower calorie option.
If you're not able to eat them while fresh, then you can leave them to freeze for later for a quick on-the-go snack in no time.
Finally, protein waffles that are fluffy and delicious!.
- Lee Hersh, Fit Foodie Finds blogger
Ingredients:
1 cup white whole wheat flour
½ cup plant-based vanilla protein powder
½ teaspoon baking powder
½ teaspoon baking soda
2 large eggs (you can use just egg whites if you prefer)
1 ¼ cup unsweetened almond milk
1 teaspoon vanilla extract
2 tablespoons melted coconut oil (or butter if you prefer)
Recommended post: Is protein powder safe for kids?
Check out this video for another delicious idea ...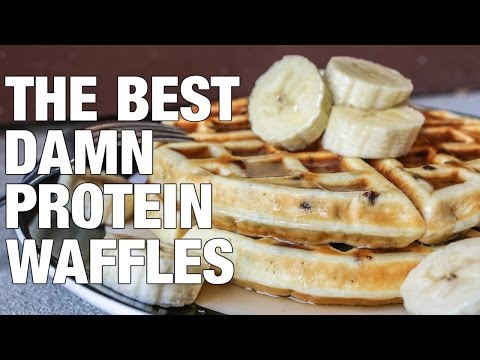 What Toppings Can I Put on Protein Waffles?
The list of toppings to put on your waffles are endless. For many recipes, here are some healthy ideas to consider adding on top of your waffles:
Honey
Agave
Fresh fruit
Peanut butter

Jam
Maple syrup
Dark chocolate
Nuts
What Protein Powder Should I Use for Protein Waffles?
When cooking your own, there are a lot of factors to consider when choosing a protein powder for certain protein waffle recipes. The biggest decision might be if you should get whey or plant-based protein. Here's a quick pros and cons list of both:
Whey Protein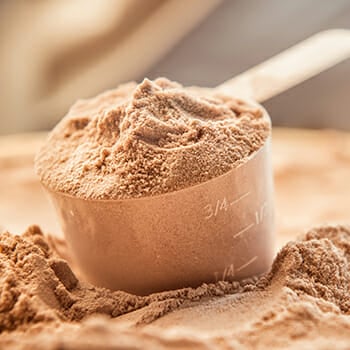 As you all may now, it is a dairy-based product. Whey is separated from the milk and then turned into a powder. There are different versions of whey; concentrate and isolate.
The concentrate has lower amounts of protein compared to whey isolate, so it's something to look into when choosing a whey based protein powder.
Another benefit of whey is that it's a complete protein. You'll find all nine essential amino acids which are great news for your nutritional needs.
If you have any type of dairy allergy or intolerance, then you may prefer pancakes out of a plant-based protein powder.
Plant-based Protein
There are many different kinds of plant-based protein. Some options include protein from the following:
The biggest issue with plant-based compared to whey-based protein is that it isn't always a complete protein.[2]
You may want to look for a protein powder with a blend to ensure that you are getting all nine essential amino acids.
One popular example is rice and pea protein blend.
Regardless, plant-based protein powder can be just as effective as dairy-based protein. [1]
Furthermore, plant protein is a great option for vegans or vegetarians since it doesn't contain meat or dairy. Mixing it with water or nut milk keeps it vegan-friendly.
Can Waffles Be a Good Source of Protein?
Waffles are not usually a perfect protein source if they are store-bought. They may be great if you're not keen on cooking, but nutrition wise, they're not a healthy option.
For example, the popular Eggo Homestyle waffles have 2 grams of protein in each waffle. It yields 100 calories with all the added sugar.
However, you can create your own recipe of a healthy protein waffle with your waffle maker at home that contains a significant amount of protein. I'm going to share with you one of my favorite recipes later, and each waffle is sure to give about 12 grams of protein per serving.
What Other Nutrition Can I Get From Protein Waffles?
A protein waffle can have other essential nutrients, apart from protein. The recipe below is made with 100% whole grains. Whole grains offer a lot of nutrients like:
Iron
Magnesium
Antioxidants
Of course, the exact amount of nutrients will vary depending on what it's made of.
Can I Use a Pancake Mix to MAKE Protein Waffles?
You can use a pancake mix to cook your waffles. What works for homemade pancakes, works for protein waffles as well.
Yes, you can cook more than one pancake with the dry mix, and you can even play around with your recipe.
If you are strapped for cook time, then the pancake mix can easily be turned into waffles using your waffle iron.
You can add the protein powder of your choice, and then you can put the dough in a waffle maker.
Conclusion
A protein waffle for breakfast is a delicious and healthy way to start your day and get a ton of protein. It also has other nutritional value, vitamins, and minerals, depending on your recipe.
It's super simple to make as long as you own a waffle iron to turn your batter to a waffle and cook it within a few minutes' time. You can even make your own protein powder at home.
The hardest decision might be choosing the right ingredients, like the appropriate powder to use for your batter, but once you decide on one that you love, then you're set to make your own high protein waffles recipe using your trusty waffle iron.
Of course, toppings might be the most fun thing to decide on as you can go sweet and fruity or nutty and salty in your recipe. I like to add maple syrup or a little bit of peanut butter on mine. Add whatever topping you like to your recipes as long as you don't mess up your diet goals.
What are some of your favorite recipes? Mine is definitely protein donuts and protein ice cream.
For people with diabetes, don't worry because there are diabetes-friendly protein powders you can use.
Let us know if you have any recipe in mind.
---
References:
https://www.ncbi.nlm.nih.gov/pubmed/25628520
https://www.medicalnewstoday.com/articles/322827.php
Was this article helpful?