22
Supplements
Considered
73
Hours
of Research
51
Reviews
Examined
6
Experts
Interviewed

If you ever scan the shelves of protein supplements, you'll notice that the majority of them contain ingredients derived from animal products. Some of the most common protein sources are whey, casein, and creatine.
These are obviously not suitable for any vegan, but there are very good health reasons to switch to a vegan protein powder even if you have meat and dairy products in your diet.
Personally, I have switched to a plant-based proteins for quite a while, and I have done some testing with pea, rice, and hemp protein.
For this review, I want to focus on the pea protein powders that seem to have become more common.
Through several weeks of research and collaborating closely with a dietitian with over a decade of experience, I've identified the top six pea protein powders that stand out in terms of quality, taste, and nutritional value.
Editor's Choice
Transparent Labs
Click For Best Price
#2nd Best Choice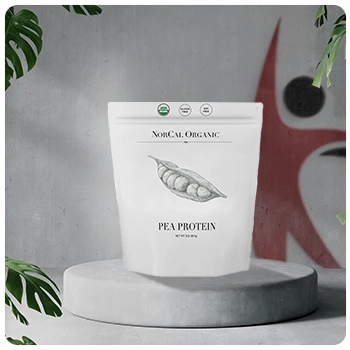 Norcal Pea
Check Current Price
#3rd Best Choice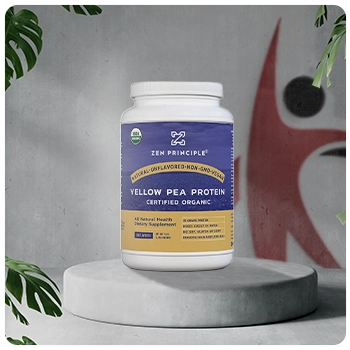 Zen
Check Current Price
Our Top Pea Protein Powders (September 2023)
1 - Transparent Labs Organic Vegan (Editor's Choice)
I have been using this company's products for almost a year now, and this vegan rice and pea protein powder is probably one of my favorites.
What I like most is that they have kept it simple with a blend of rice and pea protein.
According to the manufacturers, there are no additives or artificial sweeteners, and I have to agree with so many reviews that say it's not too sweet or fake tasting.
My personal experience has been very positive, and it continues to support me in my cutting and bulking phases.
The first reason I choose Transparent Labs Pea Protein over all others is the absence of artificial sweeteners, crucial for a high-quality protein source without any extra additives.
The next thing is it contains 24 grams of protein per serving compared to the Norcal Organic pea protein powder, which is second on the list and only has 22 grams.
Pros
24 g protein content from pea and rice
Contains only 3 g of carbs making it suitable for diets like keto
Available in vanilla and chocolate flavors
Gluten-free and non-GMO for peace of mind
Cons
Only available in flavored options
It's easy to mix and doesn't need to be blended, but I would love to see an unflavored option, so that I can mix it with food or a smoothie. Still, it's my top recommendation for the best pea protein powder.
Get 10% off using coupon code:  TOTALSHAPE
2 - Norcal Organic Pea Protein Powder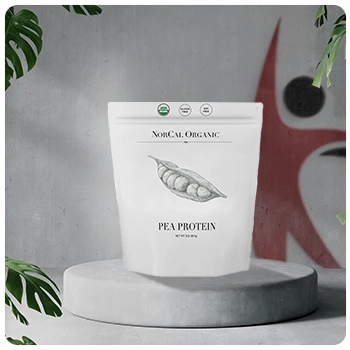 This vegan pea protein powder is one of the most positively reviewed pea protein powders on Amazon, and it has been a go-to option for quite a few people on our team here.
This pea protein powder contains 22 g of protein from organic yellow pea protein isolate and 3 g of fat per serving.
While testing this supplement, I mixed it with grass-fed milk or stacked it with brown rice or hemp to get broader coverage.
If you seek a carb-free pea protein supplement to support a keto diet, Norcal Organic pea protein powder is for you.
When compared to Transparent Labs and Zen Principle protein powders, Norcal powder contains an additional 5 grams of branched-chain amino acids, which can be excellent for enhancing recovery and promoting muscle growth [1,2].
Pros
22 grams of protein including 5 g of branched-chain amino acids
Practically carb-free making it ideal for keto dieters
Claims to provide a very broad amino acid profile
Gluten-free with no added flavor
Cons
Not the easiest to mix in a shaker
The only thing I would say is that you want to give yourself some time with a shaker, as many athletes have reported that it can have a bit of a lumpy texture.
3 - Zen Principle Yellow Pea Protein Powder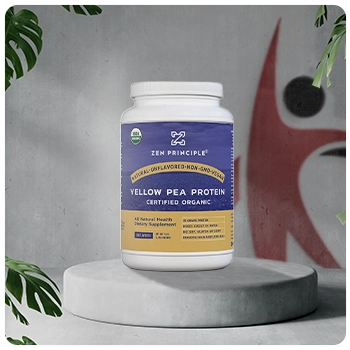 This pea protein powder is another solid way to boost your post-workout protein intake to help with muscle thickness [3].
If you like to be sure about the source of the raw nutritional ingredients, then the USDA certificate of this product will be of interest.
Each serving provides 24 g of quality yellow pea protein, which is easy to digest no matter what sports you're into.
These are essential amino acids that are important for building new muscle fibers, which this interesting study confirms [4].
You may opt for a Zen Principle Yellow pea protein powder if you prefer Certified Canada or USA-grown yellow peas.
Compared to Norcal Organic and Transparent Labs powder, Zen Principle is the only one with Certified Canada and USA-grown yellow peas.
Pros
Each serving contains 24 grams of yellow pea protein
Certified Canada and USA grown yellow peas
Great bulk option available to make it budget-friendly
Gluten, soy, and GMO-free
Cons
Flavors are not that great
The only thing I would caution about is that it isn't the best pea protein powder in terms of taste, but it is very suitable for mixing with meal recipes.
4 - Naked Pea Supplement
Naked Nutrition is one of the bigger companies that make vegan protein powders and other supplements. I have used the unflavored protein powder quite a lot to mix in with some morning shake recipes.
The protein source of this pea protein powder is yellow peas, and with 27 g of protein, it provides the largest amount of all the options on this list.
That makes it especially suitable for athletes and fitness enthusiasts who spend a lot of time at the gym.
Pros
Provides a generous 27 g of premium protein from yellow peas
Includes 5.7 g of BCAA which is helpful with muscle recovery
Claims to come from sustainable farms
Soy and gluten-free with no additives
Cons
Contains some sugar and no dietary fiber
The only downside I found is that it does contain a small amount of sugar. And unlike some of the above options, there is no fiber to help with digestion and hunger cravings.
5 - BulkSupplements Pea Protein Isolate
BulkSupplements has possibly got one of the most extensive product ranges, with all of them available in large bulk orders at an affordable price when you work it out per serving.
I like that it comes in pouches, which are easier to carry in a gym bag, and importantly, it's easy to close the pouches after use to avoid a total mess in your bag.
This pea protein powder really is a no-frills product, which is actually a good thing. They haven't spent thousands on fancy packaging and designs but rather created something that many athletes say is very easy for your body to absorb.
Pros
Contains 21 grams of protein
Available in large bulk-order pouches
Also contains some iron and electrolytes
Gluten, soy and sugar-free
Cons
Only available as an unflavored option
If you prefer a tasty protein shake, you may want to go for one of the other protein powders on this list, as this one is only available as unflavored.
6 - NOW Foods
OK, here's the last recommendation for the best pea protein powder. From a nutrition perspective, it is on the lower side of the amount of protein it provides, with only 12 g per serving.
However, this does make it easier if you aim to take smaller volumes a day.
The family-owned business says that they don't use any chemicals in the extraction process, which is nice to see in an industry where such methods are often used to cut costs.
Pros
12 grams of yellow pea protein per serving
Available in chocolate, vanilla, and unflavored options
Claims to use a chemical-free extraction process
Gluten, soy, and sugar-free
Cons
Doesn't mix as easily as the other powdered options
Of all the pea protein powders on this list, I find this the most difficult to mix, which is why I would recommend blending it with smoothies.
Is Pea Protein Powder Worth It?
Yes, pea protein powder is worth it because it contains all of the essential amino acids, except for methionine.
Among the nine essential amino acids, pea protein has notably elevated levels of leucine, isoleucine, and valine. It is worth noting that lysine aids in the production of carnitine and may also help support immunological function [5].
The main reason for taking a pea protein supplement in the first place is to help with weight loss, build muscle mass (when paired with consistent exercise), and speed up muscle recovery [6].
Whether the protein comes from an animal or plant-based food source doesn't matter so much to your muscles.
But the source can matter to your stomach.
One of the benefits of a vegan protein powder like a pea protein powder is the bioavailability of the protein [7].
Bioavailability refers to your stomach's ability to absorb all the nutrition fully, and when it comes to pea protein, it really is one of the best for your digestion.
Also read: Best Protein Powders for Running
Also, the majority of dairy-based protein powders will extract and isolate the protein using enzymes and chemicals. Over time, this can impact your gut flora, making general food digestion a bit of a problem.
That's why I always recommend an organic stack of different plant proteins.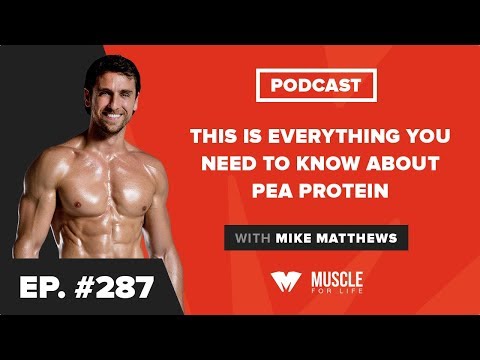 Does Pea Protein Powder Have Side Effects?
No, pea protein powder doesn't have side effects unless you have some rare allergy to peas. It is far more likely that you have some gluten intolerance, and all the above products won't cause a problem for celiacs.
Now, I do have to mention that even organic plant-based protein can cause some stomach turmoil if you take very large volumes of it in one go. While high-performance athletes may require several scoops a day, it's best to spread them out a bit.
Pea Protein Powder vs. Whey Protein Powder
Research has shown that pea protein and whey protein have similar outcomes in measurements of body composition, muscle thickness, force production, and strength [8].
Unlike whey, however, pea protein doesn't provide the full range of all essential amino acids. But it's a minor problem that can be fixed by mixing in some hemp or rice protein.
The main advantage of pea protein compared to whey is that it can be extracted without the need for chemicals. No matter how safe those chemicals are, they can impact your digestion.
Finally, pea protein is also generally lower in calories than whey, which makes it more suitable for most diets.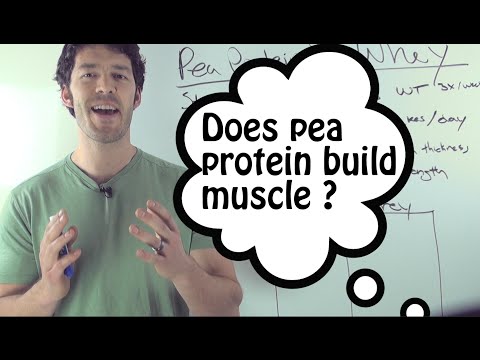 Stacking With Other Plant-Based Protein Powders
I mentioned in the previous section that stacking vegan protein powders is a good idea. By combining pea and rice protein, you will get the full range of essential amino acids.
Taking hemp protein can also solve the missing link in plant proteins because it is the only plant-based option with a complete protein profile.
I also like to switch things around a little just to ensure that my body doesn't get too used to just one source of protein.
FAQs
Is Pea Protein Powder Good for You?
Yes, pea protein powder is good for you as it is rich in amino acids that are easy to digest. Pea protein powders are the most popular source of protein for vegans as well as non-vegan athletes as a replacement for whey.
Is Pea Protein Hard to Digest?
No, pea protein is not hard to digest, but many people confuse this topic because it does take longer to absorb than whey. One reason for this is that whey has often been extracted using chemicals that partially break it down, but this isn't necessarily a good thing.
Does Pea Protein Cause Inflammation?
No, pea protein doesn't cause inflammation, and a lot of research actually points to the opposite being the case. Some people often misunderstand the fact that large doses of pea protein can cause bloating, but that is not the same as inflammation.
Does Pea Protein Make You Gain Weight?
No, pea protein doesn't make you gain weight. Generally speaking, plant-based vegan protein is actually less likely to cause weight gain because it contains fewer calories.
Which Pea Protein Powder Should You Pick?
I have read through more online review comments than I can count, and there just seems to be one product I constantly go back to: Transparent Labs Organic Vegan Rice and Pea Protein Powder.
From a nutrition perspective, this pea protein powder has everything you need without any of the crappy baggage that so many protein powders have these days.
While I personally don't stick to a vegan diet, I still think it is a better idea to consume a pea protein powder than relying on casein. Give it a try and let us know on social media how it worked out for you.
Our #1 Recommendation
Transparent Labs Organic Vegan
Click For Best Price

Pros
24 g protein content from pea and rice
Contains only 3 g of carbs making it suitable for diets like keto
Available in vanilla and chocolate flavors
Gluten-free and non-GMO for peace of mind
Get 10% off using code:

TOTALSHAPE
Cons
Only available in flavored options
Was this article helpful?