28
Supplements
Considered
63
Hours
of Research
71
Reviews
Examined
14
Experts
Interviewed

A walk down the aisle of a local health food store is all that's needed to realize that the supplement market, the protein supplement market particularly, is bursting at the seams.
It can be hard to figure out which protein powders are actually good for you and which are just an agglomeration of various artificial ingredients intended to appeal to your taste buds.
If you're looking for an all-natural type of protein that will provide optimal benefits with few if any side effects, then hemp protein powder is your best, most reliable choice.
And that's true whether you're lactose intolerant or just want to take a break from the assault of chemical additives present in many other types of hemp protein powders.
Editor's Choice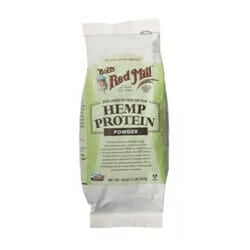 Bob's Red Mill
Check Current Price
#2nd Best Choice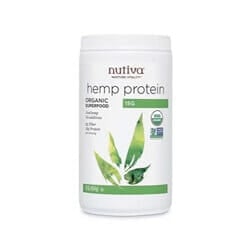 Nutiva
Check Current Price
#3rd Best Choice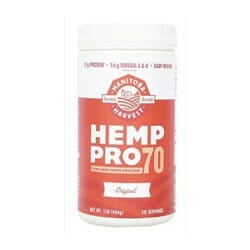 Manitoba Harvest
Check Current Price
Below is our list of the best hemp protein powders on the market today.
Our Top 5 Hemp Protein Powders
1 - Bob's Red Mill Hemp Protein Powder (Editor's Choice)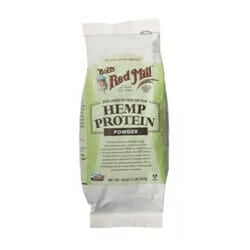 This protein powder is perhaps the most reliable source of plant-based protein powder there is.
And when it's derived from organic grain of good quality, it has an even better nutritional value.
Bob's Red Mill Hemp Protein Powder strives hard to be the perfect supplement. While its somewhat grainy texture prevents it from claiming the accolade "perfect", it's nonetheless pretty close.
With a light nutty taste and a robust load of amino acids and other vital nutrients, you're going to feel the difference in the quality of ingredients make when you choose Red Mill for your hemp protein shake or smoothie.
Pros
Mixes well and tastes great in water or milk
Light nutty taste that's great for smoothies
Natural organic protein from trusted sources
100% gluten, soy and GMO-free
Packed with essential amino acids
Additionally, Bob's Red Mill Hemp Protein Powder is 100% free of genetically modified organisms, soy, and gluten.
2 - Nutiva Organic Hemp Protein Powder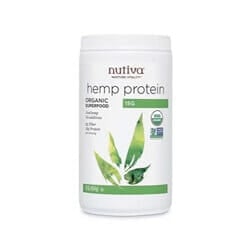 If you are vegan, you are well aware of how challenging it can be to obtain enough protein in your diet without partaking of dairy or animal food products.
Even some of the most popular supplements use animal-based sources for their protein. However, that's not the case for Nutiva Organic Hemp Protein Powder.
Nutiva's protein powder takes the nutritional high-road by sourcing their protein from hemp seeds.
It is known to be relatively effective, and Nutiva doesn't require buttressing from genetically modified organisms in order to deliver its complement of BCAAs, essential omega 3 and 6 fatty acids, and low carb goodness.
Pros
Contains essential fatty acids omega 3 and 6
USDA certified organic
Contains no genetically modified organisms (GMOs)
Vegetarian and vegan-friendly
Cons
Like many protein powders, it won't win any taste awards
With 11 grams of protein per serving, Nutiva Hemp Protein Powder helps you fill a vital nutritional gap and lets you rest easy knowing you haven't violated the terms of your vegan lifestyle.
3 - Manitoba Harvest Max Protein Hemp Protein Powder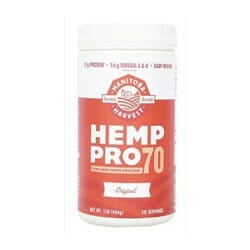 Each serving of Manitoba Harvest Hemp Pprovides up to 20 grams of pure hemp protein with no genetically modified organisms used as fillers, no hidden animal products, and very low carbs.
It makes particularly tasty protein shakes because its own subtle flavoring doesn't get in the way of or compete with whatever fruit or other ingredients you want to add.
Harvest Hemp Protein Powder is also vegan-friendly and certified kosher, with no dairy or soy.
This hemp protein powder is an ideal choice for everyone, from busy on-the-go professionals to bodybuilders and other athletes for whom sheer physical strength is a primary concern (as opposed to say runners who have different nutritional needs).
Pros
4.5 grams of omega-3 and 6 per serving
Mixes well with yogurt and cereal
Contains no GMOs
Certified kosher, vegan and organic
Cons
Not particularly high in fiber
While the product is advertised as being high fiber, it's really more moderate in fiber (3 g per serving) when compared to the competition, but that's nitpicking.
4 - Natera Hemp Protein Powder 3-6-9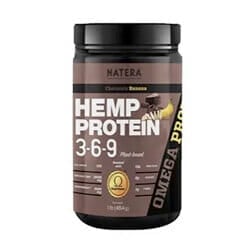 If you're looking to add some much-needed protein to your diet, Natera Hemp Protein Powder delivers a favorable blend of all-natural protein, nutrients, and antioxidants.
Natera not only helps you maintain optimal muscle strength and tone but also helps shorten recovery time after strenuous workouts.
Vita Activate has formulated their Natera Hemp Protein Powder without the aid of soy, dairy or animal products. It is one of the few truly vegan-friendly protein supplements on the market today.
Pros
Vegan-friendly and gluten-free
Packed with antioxidants
No artificial preservatives or flavorings
Zero cholesterol and zero THC
Cons
The flavor of greens can be off-putting to some
It also contains antioxidants, essential amino acids, as well as omega 3 and 6 fatty acids.
Indeed, Natera is a hemp protein powder you can rely on whether you're a vegan needing to top up your protein intake or a bodybuilder looking to get shredded for an upcoming competition.
5 - Orgain Organic Plant-Based Protein Powder
Update: Their newest formula has removed hemp from their ingredient's list.
Orgain is a pretty well-known producer of dietary supplements and has built a solid reputation for playing things straight and delivering high quality products at reasonable prices.
Their Organic Plant-Based Protein Powder uses all natural plant-based materials buttressed by a slew of valuable nutrients and has both a texture and flavor that's a cut above the competition.
They don't achieve their palatability through trickery or loading up on artificial flavors, enhancers, or sugars. Instead, they take the time to research and develop ingredients that complement each other while still delivering the nutritional benefits you're after.
Pros
Organic plant-based protein
An ideal dietary supplement to augment a busy lifestyle
Certified USDA organic
100% gluten, soy, and dairy free
Cons
Some might find the texture a bit chalky
Each serving here is completely dairy-free for the lactose intolerant and contains just 13 grams of carbs and 150 total calories for those who may be on low-carb diets.
What is Hemp?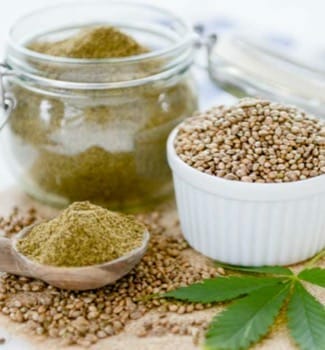 Hemp protein is derived from the seeds of the hemp plant. When transformed into protein powder form, it comes packed with antioxidants, minerals, fiber, and heart-healthy unsaturated fats. The protein derived from hemp is unusually pure and bioactive. [1]
In addition, it is typically easier on the palate than most animal-based proteins. As a result, it does not need a plethora of artificial additives to mask its flavor, as many animal-based protein supplements do.
It is high in essential omega 3 and 6 fatty acids and a vital source of gamma-linoleic acid as well.
This type of protein is thought to be beneficial for people with diabetes, ADHD, MS, rheumatoid arthritis, heart disease, skin allergies, and those struggling with obesity. [2]
What are the Benefits of Hemp Protein?
Reduced risk of cardiovascular disease, high blood pressure, and high cholesterol are only some of the benefits one can enjoy from taking hemp protein. It provides nutritional benefits for people suffering from a variety of conditions. [3]
It delivers these benefits by:
Boosting the immune system - Hemp is known to contain globular proteins that are building blocks of a healthy immune system.
Improving digestion - Many protein powders derived from animal products are hard on the digestive tract because they're loaded with GMOs and artificial additives to make them more palatable. Hemp protein powders are pure, easily digested, and more bioactive.
Increasing energy levels - Essential omega 3 and 6 fatty acids produce twice the energy as carbs once they have been metabolized.
Repairing muscles - Hemp protein contains every essential amino acid necessary for muscle repair following strenuous workouts or general over-exertion.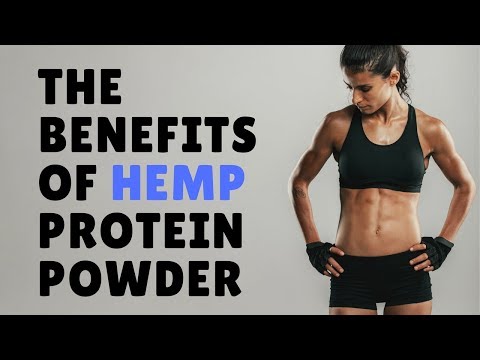 Any Side Effects To Be Aware Of?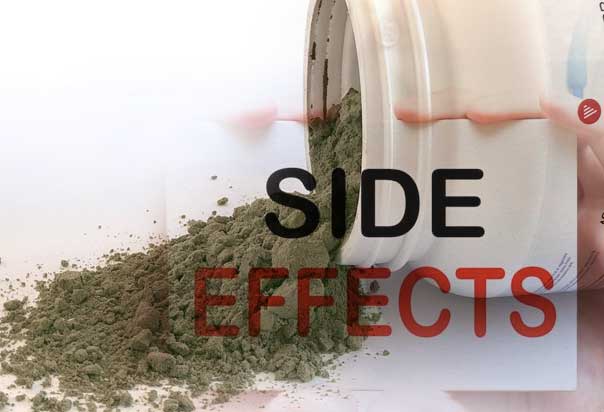 Hemp protein may have side effects, including mild cramping, bloating, and possibly diarrhea.
Any changes in diet run the risk of creating side effects, whether or not the element added to or subtracted from the diet is healthy or not.
When it comes to hemp protein, essential purity and high degree of bioavailability minimize any potential side effects.
Hemp Protein vs Whey Protein
Whey protein is a byproduct of cow's milk. As such those with lactose intolerance, vegetarians and vegans will want to take a pass.
Beyond its problematic sourcing, however, whey protein in its powder form commonly contains a proprietary mix of artificial preservatives, genetically modified organisms as well as sweeteners and flavor enhancers.
Hemp protein, on the other hand, is plant-based and as such is safe for virtually everyone. In most cases, it doesn't rely on artificial ingredients or GMOs to boost its flavor or its potency. [4]
FAQ
Can hemp protein powder make you fail a drug test?
No, hemp protein powder cannot make you fail a drug test because it doesn't contain any substances that are classified as psychoactive drugs.
While hemp belongs to the same plant family as marijuana, it doesn't contain the same hallucinogens that would be picked up during blood or urine tests.
Can hemp protein make you high?
No, hemp protein cannot make you high as the hemp plant doesn't contain any of the substances that are common in marijuana plants. The plants may look similar, but hemp simply cannot deliver the THC that is sought after as a drug.
Does hemp protein contain CBD?
No, hemp protein doesn't contain CBD and shouldn't be considered a CBD oil or supplement. Hemp protein is quite literally the isolated amino acid range without any of the other byproducts contained in the plant.
Is hemp protein powder good for weight loss?
Yes, hemp protein powder is good for weight loss because it provides a full range of essential amino acids, which is very uncommon for plant-based proteins. At the same time, it acts as a great filler to help you reduce food cravings, especially after a tough workout session.
Our #1 Recommended Hemp Protein Powder is...
These types of hemp protein powders belong to a family of plant-based proteins that display high degrees of purity and effectiveness without causing the periodic nasty side effects that accompany protein powders sourced from animal products.
Hemp protein powders like that from Bob's Red Mill help deliver the vital protein required by athletes, fast-growing youngsters, busy professionals under the dietetic gun, vegans and more.
Bob's Red Mill Hemp Protein Powder is also an ideal supplement for those who need to watch both their calories and carbs.
All the hemp protein powders on our list will produce the results you're after with the help of proper diet and exercise.
Our #1 Hemp Protein Powder
Bob's Red Mill Hemp Protein Powder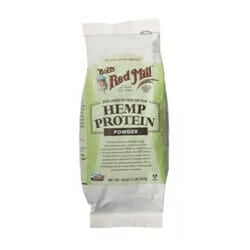 Check Current Price

Pros
Mixes well and tastes great in water or milk
Light nutty taste that's great for smoothies
Natural organic protein from trusted sources
100% gluten, soy and GMO-free
Packed with essential amino acids
Was this article helpful?
About The Author