Whether you work out every day or confine your exercise to running three times a week, drinking supplements can help you reach your performance goals.
But not every type of product is right for every individual. Some folks are averse to using animal-based products, while others have allergies to some additives like gluten or soy.
For them, vegan protein powders are an effective solution.
So, I gathered an expert team of dietitians, nutritionists, and trainers. We spent several months testing out vegan protein powders. Here's the ultimate list of the best plant-based protein powders available today.
The Best Vegan Protein Powders
Editor's Choice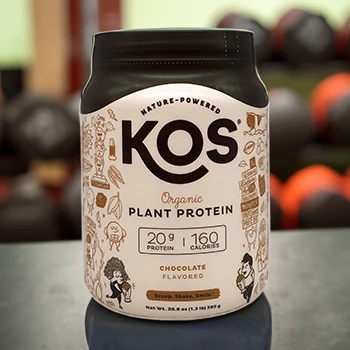 KOS Organic Plant Protein
Click For Best Price
#2nd Best Choice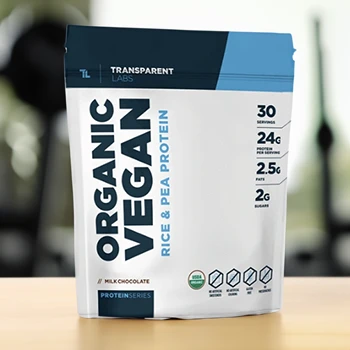 Transparent Labs
Click For Best Price
#3rd Best Choice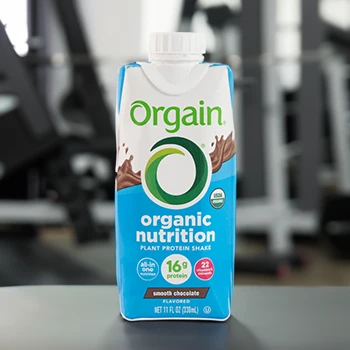 Orgain Organic
Click For Best Price
Our Top Vegan Protein Supplements (December 2023)
1 - KOS Organic Plant Protein
(Best Overall & Gluten-Free)
Along with 20 g of pea protein, the KOS formula includes several vitamins and minerals like Vitamin E, zinc, potassium, and vitamin B12.
KOS wants it to be more than just your average protein powder but also a multivitamin, making it suitable as a meal replacement one or two times daily.
I remember the first time I tried KOS. I felt energized after my workout, and its flavor caught my attention.
You can order directly from the manufacturer's website, giving you options to save a little money through multi-bottle purchasing or their subscription service.
Additionally, KOS stands behind its product with a 60-day window to request a refund if you find the product unsatisfactory.
Pros
Many positive reviews stating it is easy to mix and tastes great
It is a soy, dairy, and gluten-free, organic product
All-in-one protein powder and multivitamin and meal replacement
Cons
The ingredient label lists tree nuts which could be a problem for individuals with food allergies
2 - Transparent Labs Organic Vegan
(Best Organic & Non-GMO)
fter a few weeks of using Transparent Labs Organic Vegan protein powder, I understood why it's one of the most raved products on the market today. With 24 grams of protein per serving and being GMO, preservative, and gluten-free, it quickly became a staple in my post-workout routine.
It doesn't contain lactose or any dairy and its derivatives. It also uses all-natural ingredients, including organic sweeteners and flavorings, apart from its 100% organic rice and pea protein contents.
The right mix of rice and pea protein makes quite a smooth and very blendable texture, which I really enjoy. I find that this one has the consistency that I like the most -- a quick shake on my blender bottle and I'm good to go.
Pros
Completely devoid of dairy products
24 grams of high potency plant protein in each serving
Has all organic ingredients
Dissolves easily in your favorite beverage
Cons
Costs a little more but it's worth it, especially if you buy in bulk
Get 10% off using coupon code:  TOTALSHAPE
3 - Orgain Organic
(Cheapest Option)
When I first stumbled upon Orgain Organic, I felt like I'd found the supplement I'd been waiting for. Not only did it cater to my vegan lifestyle, but it also seemed like the perfect product for anyone keen on boosting their overall health. After a month of use, I can confidently say it lived up to my expectations and kept me full for hours.
There's no longer a need to rely on its animal-based variants that are often weighed down by chemical additives and genetically modified organisms.
This vegan supplement is certified organic by the USDA and contains nothing but the essential, plant-based protein you need to build stronger, leaner, and more durable muscles.
Pros
Organic protein powder from peas, brown rice, and chia
Keto and vegan friendly
100% non-dairy protein powder free of gluten, soy, and GMOs
Certified USDA organic
Cons
Need to be sure you mix it thoroughly
4 - Vega Sport
(Best for Athletes)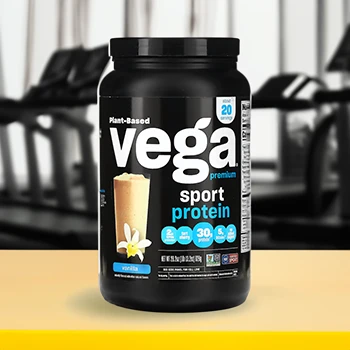 I've experimented with various plant-based proteins, but Vega Sport, with its mix of pea, pumpkin, sunflower, and alfalfa seeds, has been a game-changer for me. The blend not only tastes great but also provides the essential nutrients my body craves after a rigorous workout.
This vanilla protein powder boasts an impressive array of branched-chain amino acids (BCAAs) that are vital to helping muscles recover from a strenuous workout in a vegetarian way.
This supplement is also chock-full of probiotics which help create and support a healthy digestive system.
This is one of the best vegan protein powders to help you achieve the lean, sculpted body you're after, as it gives you extra energy and enhances muscle recovery.
Pros
Low in saturated fats and certified vegan friendly
Contains only 6 grams of carbs per serving
Completely free of genetically modified organisms (GMOs)
Is a premium plant-based pea protein
Vega Sport is a pure and effective supplement that's thoughtfully produced to uncompromising quality standards and, unlike many of its competitors, it's also affordably priced.
5 - Optimum Nutrition Gold Standard
(Best for Muscle Gain)
I've always been a fan of Optimum Nutrition, or ON as many of us call it. When I tried their Gold Standard 100% Organic, I was pleasantly surprised by how easily digestible it was and how it tasted better than most brands I'd tried before.
This vegan product is the smart choice for those who don't eat meat or meat byproducts, those with blood sugar issues and those who are lactose intolerant.
But don't let that fool you. This is no specialty supplement. Anyone interested in achieving a stronger body and better overall health can benefit from this ON protein supplement.
Pros
Ideal for bodybuilders
Certified vegan and USDA organic.
Gluten and GMO-free with no artificial ingredients
Lots of BCAAs for optimal post-workout recovery
Cons
We were not impressed by the chocolate flavor
Not cheap
It's loaded with BCAAs, free of gluten and dairy products and certified organic the USDA. It costs a bit more than some others, but the results you achieve will justify the expense.
6 - VeganSmart
(Best With Probiotics)
I was introduced to VeganSmart Protein Powder by Naturade by a fellow gym enthusiast. With its blend of five different plant-based supplements and a rich supply of branched-chain amino acids and 22 vitamins, my recovery time improved significantly, and I felt more energized during my workouts.
Also, this vegan supplement contains both probiotics and prebiotics but doesn't include any iffy ingredients like genetically modified organisms, artificial coloring, or sugar substitutes.
The diverse range of nutrients and the added fiber content were game-changers for me.
This vegetarian protein powder promotes a healthy digestive system, contains six grams of fiber per serving.
It produces a vegetable protein shake that goes right to work repairing muscles and setting you up to make the most of your next workout.
Pros
All-in-one vegan protein shakes.
A dairy-free protein powder that's also free of soy, cholesterol, and GMOs
Loaded with probiotics and antioxidant
Aids in rapid post-workout recovery
Cons
They could use some help in the flavor department.
7 - Nuzest Clean Lean Protein
(Best for Weight Loss)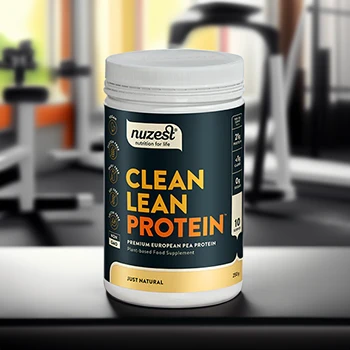 The organic vegan protein powder business has taken the supplement industry by storm because it provides a more easily digestible, easily utilized form of this supplement to help vegans and non-vegans alike achieve the results they're after in the gym.
After giving it a try, its purity and effectiveness quickly made it one of my favorites. The smooth texture and easy digestibility were standout features for me.
Each standard serving contains 25 grams of high-quality pea protein powder, one of its most easily digestible forms.
That's important because the more easily a supplement is digested, the more quickly and effectively it can go to work.
Pros
100% free of genetically modified organisms
Each 25-gram serving contains 21 grams of protein
Low in carbs and fat and gluten-free
No sugar added
Cons
Contains a bit more sodium than some will be comfortable with
Not the cheapest vegan friendly protein powder out there
8 - Performance Lab® Protein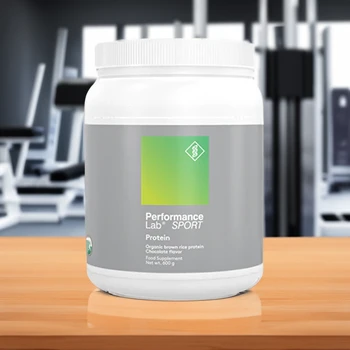 I remember the anticipation when I first got my hands on Performance Lab® Protein. And boy, did it live up to the hype. It's 100% natural, organic, and vegan-friendly. After using it consistently, I noticed a significant boost in my muscle recovery. And the taste? Simply delightful.
And it packs a powerful 20 g punch of protein in every serving.
It's made exclusively from USDA-certified organic whole brown rice. Brown rice protein is clinically shown to be as effective as whey for muscle growth.
After a month of use, I found it to be as effective as whey for muscle growth, and the taste was unexpectedly delightful.
Pros
The cleanest protein powder on the market
A potent 20 g per serving
USDA Organic-certified
Low calorie (100), low carb (2 g), low fat (1.2 g)
Mixes easily in a shaker bottle
Cons
Only available via their site
How We Tested Best Vegan Protein Powders
Here's how we chose the best vegan protein powders:
Taste
To ensure a comprehensive assessment, our team sampled each vegan protein powder in various forms: mixed with water, blended into smoothies, and incorporated into recipes like protein pancakes and oatmeal.
We looked for a pleasant flavor profile without any overpowering artificial tastes.
The texture was also a crucial factor; we favored powders that blended smoothly without leaving a gritty or chalky residue.
Ingredients
We prioritized powders with clean, natural, and minimal ingredients. The source of the vegan protein (e.g., pea, hemp, soy) was noted, and we also checked for the presence of any fillers, artificial preservatives, or unnecessary additives.
Special attention was given to the amino acid profile to ensure a comprehensive range of essential amino acids.
Additionally, we looked for any added benefits, such as superfoods, vitamins, or digestive enzymes.
Price
We compared the price per gram of pure protein for each vegan protein powder to gauge its value for money. While some premium brands might offer additional benefits justifying a higher price point, we ensured that there were options available for every budget.
We also considered the size of the packaging and the total number of servings provided, as bulk options often present better value in the long run.
Is Vegan Protein as Good as Whey?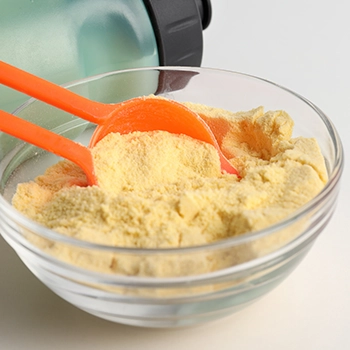 According to an article on Shape website, vegan protein is as good as whey for people consuming plant-based foods [1].
Having tried both vegan protein and whey, I can confidently say that vegan protein holds its own, especially for those on a plant-based diet. From my personal experience, vegan protein is not only easily digestible but also gentle on the stomach, making it a top choice for many.
In addition, a study published on the ResearchGate website says that plant-based flavored protein powders won't cause distress to those who are lactose intolerant [2].
It almost never contains GMOs or other shady ingredients meant to boost its effectiveness.
Is whey protein vegan? That's a question on a lot of people's minds.
That answer is "no," and that's because whey is derived from milk.
Since vegans do not consume foods derived directly or indirectly from animal sources whey then cannot be considered vegan.
Even though whey protein is an excellent option for workout and weight loss goals, depending on how your body tolerates it will determine which type of protein is best for you. If you want a carefree, worry-free option that you know won't give you tummy issues, plant protein is the way to go.
- Ideal Raw
Buyer's Guide
Source of Plant-Based Protein
Plant-based protein powders can be made of pea protein, hemp protein, or soy protein. Let's take a look at each vegan diet protein source below.
Pea protein - Considered by many to be the best, most efficacious form of plant-based protein, it is known to be a great source of lysine and arginine. It is also typically low in cholesterol and is known to stimulate collagen production.
Hemp protein - This is derived from hemp seeds, which are naturally high in protein and that contain most of the essential amino acids needed to build and repair muscle. Calcium, magnesium, iron, and potassium are also found in generous amounts in this ingredient [3].
Soy protein - This one's a bit of an outlier because, while it's vegan, soy can also create unwanted side effects in some people. Nonetheless, if soy consumption is not an issue for you, you'll find soy to contain all nine essential amino acids and to be one of the best supplements for piling on the muscles [4].
Amino Acid Profile
A complete protein source contains all nine essential amino acids. While many plant sources might lack one or more essential amino acids, blends often ensure a complete profile.
Check the label to see if the powder offers a full spectrum of amino acids.
Additional Nutrients
Some vegan protein powders offer added benefits:
Superfoods and greens - Ingredients like spirulina, chlorella, or kale can provide additional nutrients.
Digestive enzymes - These can help with protein absorption and reduce digestive discomfort.
Vitamins and minerals - Some powders are fortified to make them more of a comprehensive dietary supplement.
Sugar Alcohols
Sugar alcohols, often found in sugar-free and low-carb products, are a popular alternative to traditional sweeteners. While they provide fewer calories than regular sugar and can be beneficial for those monitoring their sugar intake, they come with their own set of concerns.
For some individuals, consumption of sugar alcohols can lead to digestive issues, including gas, bloating, and diarrhea, especially when consumed in large amounts. This is because sugar alcohols are not fully absorbed by the body and can ferment in the large intestine.
Additionally, while they have a lower glycemic index than sugar, they can still impact blood sugar levels, which is a crucial consideration for diabetics.
FAQs
What is the best vegan protein powder to build muscle?
The best vegan protein powders to build muscle are hemp and pea protein. Soy-free hemp protein contains a full range of amino acids, while pea protein powder is one of the fastest to be absorbed by your body, which means you get the most benefits when you need them.
Is too much vegan protein powder bad for you?
Yes, too much vegan protein powder is bad for you because your stomach can end up struggling to process it all. If you significantly exceed any protein supplement, it can cause bloating, nausea, cramping, and headaches. Always make sure to check the label and calculate your dosage.
Is it okay to take vegan protein powder every day?
Yes, it is okay to take vegan protein powder every day if that's what your exercise routine requires. However, if you take regular rest days, then there is no benefit from taking a protein supplement, and you're better off saving money and using them during your high-intensity days.
Is vegan protein powder healthier?
Yes, vegan protein powder can be healthier for a lot of people. This is especially the case for athletes with food allergies or intolerances that make it difficult to digest specific proteins.
Are there any side effects to taking vegan protein powder?
There can be side effects to taking vegan protein powder, but these are mainly due to ingesting excessive amounts or an allergic reaction to some of the ingredients. It's always best to check the label for any element you may be sensitive to, as reactions can be unpleasant.
Recommended posts:
Best Protein Powders for Pregnancy
Our Verdict on the Best Vegan Protein Powder
After several weeks of testing and receiving a ton of positive feedback, KOS Organic Plant Protein is my go-to protein powder.
It's easy to mix, and the decadent chocolate quickly became my favorite flavor.
I love that I can use it traditionally as a protein powder to aid muscle repair and recovery and as a healthy meal replacement option.
If you are looking for a solid, vegan protein powder to fuel your workouts and rest days, give KOS a try.
Our #1 Recommendation
KOS Organic Plant Protein (Best Overall & Gluten-Free)
Click For Best Price

Pros
Many positive reviews stating it is easy to mix and tastes great
It is a soy, dairy, and gluten-free, organic product
All-in-one protein powder and multivitamin and meal replacement
Cons
The ingredient label lists tree nuts which could be a problem for individuals with food allergies
Was this article helpful?