As a fitness trainer, I've tried so many supplements over the years, and with the help of our resident dietitian at Total Shape, I'm now able to pinpoint exactly which ones work and which ones don't with a simple glance.
Let me say how hard it is for ladies to find a fat-loss and strength-building supplementation product designed just for them, as most of the market is aimed at men.
So when I recently came across Powher, a pre-workout for women, my curiosity got me digging through online reviews and testing it myself for a couple of months.
Let's have a look at whether it's really worth it.
Total Shape's Score : 4.9/5
4.9/5
Product Effectiveness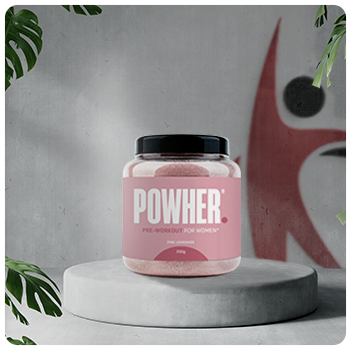 Female-focused pre-workout

Sources caffeine from natural sources

Offers a 90-day money-back guarantee

Only available in Pink Lemonade flavor

Only available on the official website
Enextra

Oxyjun™

Rednite

Coconut Water Powder

L-Tyrosine

L-Citrulline Malate

Naturally-sourced caffeine

Beta-Alanine Carnosyn
Increases power and muscle strength

Promotes fat loss

Boosts energy levels

Improves alertness and focus
What Is Powher?
Powher is a pre-workout designed to help women harness energy while maintaining their mental alertness throughout the day.
It uses natural caffeine and other stimulants to deliver these benefits.
My experience with the product shows that it can help with your performance and stamina when exercising, making it easier for oxygen to pump around your body efficiently.
Fitness enthusiasts can enhance their cardiovascular endurance and fuel their tough workout sessions with Powher, a blend of fitness supplements rich in vitamin B12, amino acids, and fat burners, making it an ideal choice for those seeking an extra boost in their fitness journey.
Powher is manufactured by the company called Ultimate Life known for female-focused workout and fat burner supplements.
Who's It Made For?
This product is made for women. The company claims that Powher is ideal for women, supplementing their workout to achieve the "Victoria's Secret" body that they desire. It is supposedly designed to help increase energy and focus while improving women's gym performance and strength training.
We've seen many pre-workout reviews online, and Powher stood out because of its ingredients list, which is detailed in the next section.
About The Brand (Ultimate Life)
Ultimate Life aims to provide natural solutions that meet the demands of modern active women by manufacturing vegan-friendly, non-GMO, and gluten-free pre-workouts.
The England-based supplement company manufactures two premium supplement brands, LeanBean and Powher, in FDA-registered facilities that rigorously follow the GMP (Good Manufacturing Practices) requirement for manufacturing companies.
Knowing Ultimate Life's noble purpose enables anyone to experience the beneficial effects of its products without having to worry about the safety of their supplements.
Powher Pre-Workout Ingredients
There are a lot of ingredients to get through in Powher pre-workout supplement, so let's run down the list.
1. Enextra
Enextra is a combination of extracts, including Alpinia galanga, which is considered to be a natural caffeine source.
According to a study conducted by OmniActive Health Technologies, enXtra supplementation improved alertness, reaction time, and correct responses, reducing errors [1].
2. Oxyjun™
According to research conducted by Robert N. Girandola, Ed.D., from the University of Southern California, and Shalini Srivastava, from Enovate Biolife, Oxyjun™ may improve endurance and cardio output, supplying oxygen to the muscles quickly [2].
3. Rednite
This nitrate-rich beetroot contains high levels of antioxidants and may help to improve neuromuscular efficiency.
According to a study in Food & Science Nutrition, dietary nitrates found in beetroot have been shown to positively affect physiological reactions, reduce the risk of cardiovascular and cerebrovascular diseases, and replenish energy for athletes [3].
4. Coconut Water Powder

Coconut water may help boost heart health, weight reduction, and metabolism due to its high electrolytes, vitamins, and minerals such as calcium, sodium, magnesium, and potassium [4].
5. L-Tyrosine
This amino acid can be great for maintaining a positive mood and endurance because it helps increase dopamine, epinephrine, and norepinephrine levels.
A study found that L-Tyrosine administration can have neuro-cognitive effects on reactive and proactive response inhibition in healthy older adults [5].
6. L-Citrulline Malate
L-citrulline malate is an amino acid known for increasing strength and power if you're looking to up your fitness game [6].
7. Caffeine
Caffeine is known to improve concentration and focus, especially when taken in the appropriate doses [7].
8. Beta-Alanine Carnosyn
Beta-alanine is known to enhance performance and recovery, which may help stave off neuromuscular fatigue for much longer than normal [8].
Other Ingredients
Other Pohwer pre-workout ingredients include taurine, vitamins B5 (pantothenic acid), B6, and B12.
Powher's combination of ingredients provided my clients and me with extra energy and stamina during our workouts. The itchy effects of beta-alanine, on the other hand, caused an uncomfortable feeling after the supplement had taken effect.
As a nitrate-rich supplement, which is an organic caffeine source, Powher has been making the rounds as a pre-workout for women doing resistance exercise in the gym.
3 Powher Pre Workout Benefits
Taking Powher pre-workout at least 30 minutes before your workout improves your physical performance and fitness exponentially, allowing you to enjoy the following benefits.
1. Increased Strength
Powher enhances strength by boosting protein synthesis, which helps maintain and increase muscle mass. It's an essential benefit, especially when you're having a hard time gaining muscle.
Moreover, because of the high antioxidant content contributing to greater neuromuscular efficiency, muscle strength may increase dramatically. It could also reduce muscle soreness after exercising.
2. Boosted Energy
Powher boosts energy by improving mood, attentiveness, and focus.
Furthermore, most people who have increased focus may experience less fatigue, resulting in increased energy levels and better physical performance. Take note: the caffeine content could cause jitters or sleep loss for people sensitive to this ingredient.
3. Faster Weight Loss
Powher can promote fat loss by improving endurance, increasing cardiac output, and increasing muscle oxygen supply. Furthermore, it can improve workout performance, extend workout time, and boost power output, resulting in more lean muscle development and faster weight loss.
I've observed many of my female clients taking Powher increase their strength and vigor during our sessions. Likewise, after trying it myself, I noticed it increased my mental alertness and improved my mood throughout the day.
Powher Pros and Cons
Pros
Helps boost muscles without giving a "bulky" or "manly" look
Increases energy, alertness, and attention during workouts
Natural, healthy sources of caffeine for prolonged energy boost effects
Noticeable gains and results
Cons
Low in citrulline compared to similar products
Contains an artificial sweetener in its formula
Side Effects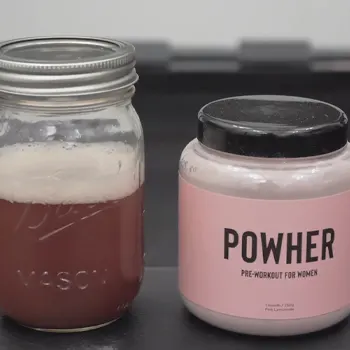 Thankfully, there aren't many side effects to report about this pre-workout supplement from Ultimate Life, although it should be noted that research into its side effects seems to be limited.
The Powher formula, while mostly natural, does contain an artificial sweetener, which may not react well with some people who are following a more organic diet.
Furthermore, despite the product's claims, there is only limited evidence that Enxtra, Oxyjun, and Rednite do what they claim to do.
This doesn't mean that they will necessarily have any negative effects on you. Still, some of the Powher pre-workout ingredients may be entering your body without having any real benefit.
Taste
Powher pre-workout is only available in Pink Lemonade flavor.
It uses artificial sweetener to achieve the flavor, but in my experience, the powder smells sour (think raspberry or grapefruit).
But after mixing it with water, the sourness fades, and it tastes kind of like watermelon, which I like.
Is Powher Pre-Workout Better Than Other Leading Pre-Workouts Today?
Powher Pre-workout may not be the best compared to other leading pre-workouts today, such as Transparent Labs, 4 Gauge, and Gorilla Mode.
Powher contains artificial sweeteners not found in the other supplements mentioned. Also, the label does not disclose the calorie content.
Transparent Labs and 4 Gauge are reputable supplement brands known for their transparency and all-natural ingredients. Furthermore, 4 Gauge contains little caffeine, making it perfect for female physiology.
Finally, Gorilla mode helps improve mental focus and attention in stressful situations, which many women deal with daily. And our repeated trials with this product show that clients love it. But unlike Powher, Gorilla's marketing seems to target men.
Overall, analyzing your preferred ingredient options is vital. Powher may be one of the best pre-workout supplements for some of my female clients, but you can only confirm that after trying it yourself.
Where Can You Buy Powher?
You can buy Powher pre-workout from the official website to enjoy discounted packages and free shipping.
Its company website also offers the same packages you will find on the brand website.
I got mine through this link, and I got the three-bottle deal. I saved a lot of money by getting a free bottle with free shipping.
How Much Does Powher Cost?
Before you buy, read Powher pre workout reviews to find out if it's one of the best pre workout supplements for you. Remember to complement it with a healthy diet and consider its differences from traditional pre workout formulas, such as the absence of non-essential amino acid.
Based on 1st hand experience, Powher pre-workout costs relatively less compared to other pre-workout supplements in the market. The brand also offers the product in bulk so that customers can enjoy at least 10% savings.
You may choose from the following bundles:
1 bottle - $45
2 bottles - $90 (free shipping to US and UK)
3 + 1 bottles - $135 (free shipping worldwide)
On a per scoop serving, I think that the Powher pre workout price offers an excellent value.
Other popular pre-workouts on the market:
Shipping and Returns
Powher from Ultimate Life ships worldwide through their US and UK distribution centers.
Customers from the US and the UK get free shipping with the 2-bottle package, while customers worldwide get free shipping with the Ultimate Package (3+1 bottles).
Powher also offers a 90-day money-back guarantee.
Use Powher pre workout supplements for 90 days consistently, coupled with regular exercise and a healthy diet, and if you don't see any significant improvements in your body, you can get your full money back.
How To Take Powher?
You should take one scoop of Powher pre workout powder and mix it with approximately eight ounces of water. Stir until the powder is well blended into the water and ready to drink.
I advise my female clients to take Powher at least 20 to 30 minutes before working out. In my experience, taking this pill half an hour before working out at the gym has helped me avoid bloating.
According to the label, one bottle of Powher pre-workout has 25 servings, which is already good for about a month's consumption.
Each scoop (approximately 10 g per scoop) contains all the natural ingredients Powher mentioned earlier. It can boost focus and performance during your exercise regimen.
Transparent Labs
Click For Best Price
Pros
Sustains energy levels
Increase blood flow to the muscles
Improves physical performance
Enhances endurance
Raises mental energy levels
Cons
Some customers find certain flavors unappealing
High beta-alanine dose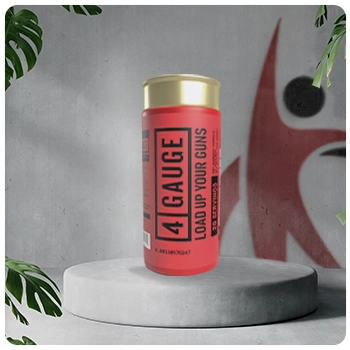 4 Gauge
Click For Best Price
Pros
Significantly enhances muscle pumps
Increases endurance and energy levels
Boosts focus and motivation
Increases blood flow
Improves stamina
Cons
Only available in one flavor
More expensive than many other similar pre-workouts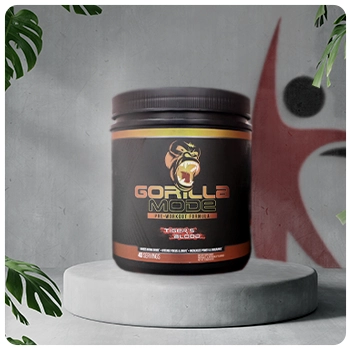 Gorilla Mode
Click For Best Price
Pros
Boosts endurance and strength
Increases energy levels
Enhances focus and mental sharpness
Improves pumps during workouts
Shortens recovery time
Cons
Might not suit people with a caffeine sensitivity
Uses sucralose
Powher Reviews
James - UK Natural Bodybuilder and Fitness Writer
Powher should have a place in every fit girl's supplement stack. It provides energy with its natural ingredients and uses high quality 'branded content' not found in 90% of pre-workouts on the market.

- James Caird, UK Natural Bodybuilder and Fitness Writer
Rachel - WomensBlogTalk
Rachel from WomensBlogTalk also felt really good when trying Powher pre-workout. She said she had "one of the best workouts in a long time" and didn't feel the jittery feeling or the "crash" like any other pre-workouts for women.
Mary
All in all, I would really recommend that you try Powher if you are finding it difficult to get results in the gym. My exercise routine befitted greatly mainly due to the fact that I was more motivated to work out in the first place. The amazing results speak for themselves!

Mary, Powher User
FAQ
Powher is safe to use and is manufactured according to GMP standards. The product is made in FDA-registered facilities and labs in the US, so you can rest assured that the product has been checked meticulously for safety and consistency.
What Does Powher Taste Like?
Powher pre workout powder tastes like Pink Lemonade, featuring notes of watermelon and raspberry. The taste is considerably sweet, and many people find it to be preferable to the more bland and neutral flavors that many supplements opt for, such as coconut water powder.
Will Powher Help With Weight Loss?
Powher pre workout powder may help with weight loss and fat loss. Its main goal is to increase women's energy, endurance, and focus during exercise, and these effects may very well help them reach their fitness goals, including better athletic performance.
Can I Stack Powher With Other Supplements?
Yes, you may stack Powher pre workout powder with other supplements. But to get the best and most efficient results, we recommend that you take the product on its own. Stacking complex pre workout supplements together can sometimes lead to unwanted side effects, and Powher already contains a long list of beneficial ingredients.
Does Powher Have Caffeine?
Yes, Powher pre workout supplements contain a small amount of caffeine. To boost caffeine's thermogenesis and stimulant effect, Powher also included a natural caffeine amplifier in its formula. This means that you'll get the same effect with lesser caffeine intake.
How Much Pohwer Can I Take At Once?
Taking one 10g scoop of Powher pre-workout powder should be enough to experience all its benefits, so consuming anything beyond that is unnecessary. If it's your first time taking a supplement or if you're particularly sensitive to some ingredients, you might want to start with a 5g dose for the first few weeks and work your way to the recommended dose.
Does Pohwer Have Creatine?
No, Pohwer pre-workout supplements have no creatine. It claims to improve motivation and endurance without including muscle-pumping ingredients like creatine, which can make you look bulky.
Should You Buy Powher?
Before you buy, discover how Powher supplements can support your exercise performance, fuel intense workouts, and preserve muscle tissue, making it one of the best pre-workout choices for you.
Powher pre-workout supplement is a good product that can help women's physical performance and energy increase, making it easier for them to accomplish their fitness goals and build their bodies up without looking too "manly."
We have seen positive results from this Powher pre-workout review, including increased focus, reduced blood pressure, and a lot of fat loss.
This is why we're not shy to recommend Powher to any woman who wants to improve their performance in the gym.
This is a yes from us.
We Aprove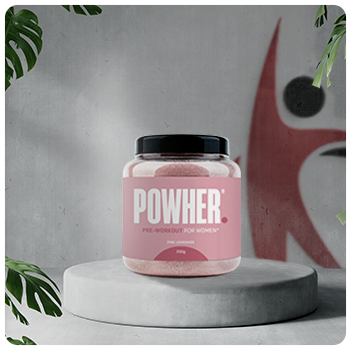 Pros
It contains a significant amount of caffeine for muscle endurance and strength
Longer lasting energy without the jitters due to the caffeine and L-theanine combination
No proprietary blends or artificial sweeteners
Vegan-friendly pre-workout supplement
Get the BEST PRICE until the end of December
Cons
Some more flavor options would be great to avoid getting bored of it
Was this article helpful?