It shouldn't be a great secret that the LPGA tour has attracted some of the hottest athletes from around the world.
And the attention these women have gained in the last couple of years has done a lot to build awareness and following of women's golf.
So, we decided to ask our readers and followers to send in their recommendations for the hottest female golfers in the world right now.
And we asked not to allow current winning streaks or world rankings to influence it.
Quick Summary
Some of the hottest female golfers include Carly Booth, Paula Creamer, Valaria ochoa, Nikki Garrett, Sophie Horn, and Lucy Robson.
These golfers pay a lot of attention to their physical appearance, the kind of meals they eat, and their overall body fitness.
Some of the mentioned golfers take supplements to help them attain and maintain their body shapes.
The 20 Hottest Female Golfers
20. Carly Booth
And finally, Carly has got enough votes for the hottest female golfers. This Scottish star from the home of golf and a family of professional golfers started practicing when she was a very young girl. We're likely to see a lot more from her in the coming years.
View this post on Instagram
19. Paula Creamer
Here's another American star golfer, and we're a little surprised Paula isn't further up the list. But that shows you how much competition there has been here [2].
She's known for pushing the boundaries of how short the skirts can be, which hasn't found many complaints from fans.
"Find a good teacher that will keep the game fun. Work hard, and don't be afraid to have success or disappointment. That is what golf is all about."

- Paula Creamer
18. Veronica Felibert
Our readers must have things for long legs, as Veronica is another pro golfer not to be shy about showing them off both on and off the golf course.
She's originally from Venezuela, and there's usually a lot of eyes following her around.
17. Kathleen Ekey
Kathleen is an American professional golfer, and she's done well for herself since turning pro in 2009.
She also loves showing off those amazingly long legs and has a smile that never leaves her. Unfortunately, she's also married, so hard luck there for all you hopefuls.
16. Valeria Ochoa
Valeria deserves to be on this list of hottest female golfers, and you just need to take a look at some of the more revealing photos she has shared over the years.
She might not be the best woman to have played golf, but she could still be one of the most enjoyable players to watch.
View this post on Instagram
15. Jessica Korda
Jessica became a pro golfer in 2011, and she's from a family of star athletes. Her sister is also a professional golfer, and her dad Petr Korda was a professional tennis player.
She has also started building up quite a following on Instagram, where you can follow more than just her golfing achievements.
14. Nikki Garrett
Nikki has been an established LPGA tour golfer since 2005, and she plays on the Ladies European Tour.
The most attention-grabbing thing she has done in recent years is a photo shoot in high heels with golf clubs and quite a revealing outfit.
View this post on Instagram
13. Sophie Horn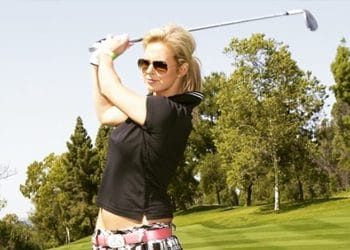 Sophie is one of the hottest women full stop, not just in the world of golf. She does a lot of modeling, and some of those photoshoots involve her wearing not a lot of clothes, with or without a golf club. These are some of the primary reasons she has a massive following on their social media platforms in the first place.
I have to admit, she's not that active as a female golfer anymore, but with an Instagram feed like hers, she's welcome on this list.
12. Maria Verchenova
Maria Verchenova is a rising golf talent and the first Russian to join the Ladies European Tour. She set an Olympic record at the Rio Olympics with a 62.
She's also done a lot of modeling, and this is probably what has earned her a spot on this list of hot women golfers.
View this post on Instagram
11. Lucy Robson
Lucy is a British college golf star who played in South Florida. Even though she's technically not a member of the pro tour, she has reached a similar golf model celebrity status on social media.
People close to her also believe she would give most women golfers a tough time in an LPGA tournament.
View this post on Instagram
10. Belen Mozo
Belen Mozo is a Spanish pro golfer who predominantly plays on the Ladies European Tour.
She also had a lot of success in her amateur days, where Belen Mozo won the British Ladies Amateur Championship.
Look out for this Spanish female golfer on TV, and I'm sure you won't miss those tanned long legs.
View this post on Instagram
9. Anna Rawson
Anna is our first Australian golfer, and she has spent most of her professional career on the Ladies European Tour.
At 40 years old, she's also the oldest female golf player on our list, but you wouldn't believe that if you looked at her recent photoshoots. She looks fresh out of college golf.
View this post on Instagram
8. Sharmila Nicollet
At 6'1", Sharmila Nicollet is the leading female professional golfer from India, and she has also become the most photographed golf player in the LPGA tournament.
Some also argue that she's one of the fittest female golfers, and we can thank her dedication to workouts for her incredibly hot appearance. We do not doubt that her consistency with her routines built her confidence to carry herself with more elegance.
View this post on Instagram
7. Michelle Wie
Michelle made quite a name for herself when she started her pro career as an LPGA golfer trying to qualify and compete in men's events [1].
Unfortunately, she didn't have that much success there, and she went back to focusing on her LPGA tour event performance and encouraging young women to get into the sport.
6. Blair O'Neal
Blair made her breakthrough on the reality show "Big Break: the Dominican Republic," where she ended up winning and then making it onto the pro tour as a female golfer.
But you've probably also seen her as a host on the Golf Channel and even in a few model gigs since she's one of the hottest golfers in the golf world.
View this post on Instagram
5. Lily Muni He
This young star from China started playing golf at a young age and became a professional female golfer at just 18 years old.
And while she has won a few tournaments, it's her social media presence and revealing photoshoots that have attracted a whole lot of attention, making her one of the hottest golfers in the golf world.
View this post on Instagram
4. Cheyenne Woods
With Tiger Woods as a famous uncle, there's no wonder Cheyenne Woods took to playing golf at a young age.
She was possibly the most successful female American golfer as an amateur with 30 wins, and she made the successful transition to the LPGA tour, where she won the Ladies Masters. It makes her one of the best female golfers around.
View this post on Instagram
3. Lexi Thompson
Lexi is a well-proportioned goddess, but she doesn't just have physical appearance talent.
She was the youngest ever female golfer to qualify for the U.S. women's open at just 12 years old. And she turned pro at age 15, one of the youngest female golfers around.
View this post on Instagram
2. Sandra Gal
This came as a bit of a surprise for us, but there are a lot of fans of German LPGA tour female golfers.
Sandra is originally from Germany, and it's possibly her height at 6'0" and those incredibly long legs that have made her one of our hottest women golfers in the LPGA tour at least.
View this post on Instagram
1. Paige Spiranac
Paige has had some success as a professional golfer, but it's her social media following that sets her apart.
She's a full-on online influencer and media personality, and this has taken center stage over the golf courses of the world, making her one of the hottest female golfers around.
View this post on Instagram
Who's Your Favorite On This List of Hottest Female Golfers?
The list of hottest female golfers could probably have kept going on, but I think this covers some amazingly beautiful women, even beyond the LPGA tour.
And I'm also sure more hot female golfers will gain an LPGA card in the coming years which will make us update this list again.
Was this article helpful?