I've been digging through articles, videos, and social media to find out all about the hottest female swimmers in the world, from Olympic medalists like Amanda Beard to sexy synchronized swimmers like Bia and Branca Feres.
Besides their drop-dead gorgeous looks and toned and sexy figures, these competitive swimmers have exceptional swimming skills and career accomplishments.
In this list, I'm going to highlight 15 of the hottest female swimmers in the world.
Let's go.
17 Hottest Female Swimmers
Diving into the world of competitive swimming, we encounter a pool of talent that is as impressive in skill as it is striking in poise.
These 17 female swimmers not only cut through water with unparalleled grace and power but also embody the epitome of athletic beauty and determination.
17. Laure Manaudou
Laure Manaudou is not just a marvel in the water but also a radiant beauty.
This retired French swimmer, an Olympic, world, and European champion, has effortlessly graced the list of the most stunning women swimmers alive.
Holding world records in freestyle events ranging from 200 to 1500 meters, her prowess is unmatched. Her allure is enhanced by her rich French and Dutch heritage.
 

View this post on Instagram

 
16. Aleksandra Gerasimenya
Aleksandra Gerasimenya is not only an aquatic sensation but also a breathtaking presence.
Aleksandra's mastery of the freestyle technique is evident in her fluid movements and rapid turns. Her powerful strokes and unmatched speed have made her a formidable competitor.
With a staggering 31 medals under her belt, including two Olympic silver medals from the 2012 London Games, her achievements are awe-inspiring. Nine of those glinting accolades are gold, with her latest victory in the 50-meter butterfly in 2013.
 

View this post on Instagram

 
15. Franziska van Almsick
She is a world-renowned swimming legend who won her first Olympic medal at age 14. She clinched ten Olympic medals overall.
Yet Franziska's rise to fame wasn't without challenges; she faced early career setbacks, but her resilience saw her bounce back stronger.
Franziska van Almsick's longevity in the sport is something I often discuss with my clients. At 43, her continued radiance and legendary status remind us that age is just a number and the glow of good health and fitness is timeless.
In 1994, she won the title of world champion and broke the eight-year record in the 200-meter freestyle, which stood until she beat it in 2002.
Franziska van Almsick is now an ambassador for amateur and elite sports.
 

View this post on Instagram

 
Related Articles:
14. Lilly King
The stunningly beautiful Olympiad Lily King from Indiana, United States, has an impressive record in swimming.
She won two gold medals in the 100-meter breaststroke and in the 4x100-meter medley relay in 2016. Also, she recently competed in the 2020 Tokyo Olympics, where she clinched two silvers and one bronze for three events.
Lilly has often spoken about the mental pressures of competitive swimming, highlighting the importance of mental strength in the sport.
 

View this post on Instagram

 
13. Charlene, Princess of Monaco
One of Europe's most loved royals, Charlene, Princess of Monaco, deserves to have a spot in our top 15 hottest female swimmers.
This blonde beauty is also a fearless athlete who won three gold medals for South Africa.
She competed in the 4×100m medley team at the 2000 Summer Olympics, with the best finish in 5th place. Charlene, Princess of Monaco, retired from her sports career in 2007.
Charlene's achievements in the early 2000s played a role in shifting the media's perception of female swimmers, focusing more on their skills and less on their appearance.
 

View this post on Instagram

 
12. Kristina Lum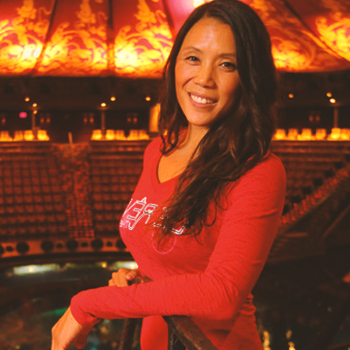 Kristina is a famous synchronized swimmer who won two medals for the USA.
Lum also participated in synchro swimming at the 2000 Olympics, with her best finish in 5th place.
She was inducted into the US Synchronized Swimming Hall of Fame.
11. Zsuzsanna Jakabos
Zsuzsanna Jakabos' stature and success are a testament to the diverse body types in athletics. As a personal trainer, I use her example to show my clients that strength comes in all shapes and sizes, and every body type has its own unique advantages.
She is a 32-year-old Hungarian swimmer who has also performed flawlessly in several Olympic games, including the recently concluded 2020 Tokyo Olympic Games. Her greatest finish was sixth place in the 4200m freestyle relay in 2008 and 2016.
Zsuzsanna Jakabos is also a world champion who won ten medals at the European Championships.
With her slender figure and height of more than six feet, she can pull off modeling without a doubt.
 

View this post on Instagram

 
10. Haley Cope
Haley Cope has stunning looks and a sexy figure, absolutely deserving a place here on our list.
She is also a competitive athlete—a silver medalist and record-holder in the 50m backstrokes at the 2004 Summer Olympics and eight world championship medals.
Cope last competed in 2004, and now she has focused her life on her family and children.
9. Bia and Branca Feres
Next on our list are these Brazilian-born beauties and synchro swimmers, Bia and Branca Feres.
The Feres twins started practicing synchronized swimming at the age of 7.
Although they failed to make the team in 2008, at the 2016 Summer Olympics, they finally made it to the women's team synchro swimming.
The Feres twins don't have much success in their chosen sport, but they found success in modeling and acting.
They are even social media queens, having over a million followers on Instagram.
8. Chloe Sutton
Chloe Sutton is a two-time Olympian and a 29-year-old American freestyle and long-distance swimmer.
She's one of the most beautiful women in the swimming sport, having won her first international medal in the open water 10k event at the Pan Pacific Championships at age 14.
Sutton is also known as the first American to represent the United States in open water and pool swimming events.
Unfortunately, she was not able to win a medal in the Olympic sports.
 

View this post on Instagram

 
7. Keri-Anne Payne
Keri-Anne Payne is one of the hottest female swimmers globally and one of the most competitive.
This African-born British open-water swimmer won a silver medal in the first-ever 10-kilometer marathon swim at the 2008 Olympics.
Payne is also a double world championship holder.
She got a gold medal in the 400-meter freestyle at the 2004 European Championships and another gold medal in the 10km race at the 2009 World Championships in Rome.
 

View this post on Instagram

 
6. Kylie Masse
Kylie Masse is a 25-year-old Canadian-born gorgeous swimmer who won the world championships in 2017 and 2019.
She's also a world record holder in 100-meter backstrokes with a time of 58.21 seconds.
She may be young, but she's already a four-time Olympic medalist, having won a bronze in 2016 and another bronze and two silvers in 2020.
 

View this post on Instagram

 
5. Hanna-Maria Seppälä
This beautiful Finnish-born freestyle swimmer swept the world title in the 2003 World Aquatics Championship Games.
Her exceptional talent and determination led her to dominate other world competitions.
Seppälä clinched a silver medal in the 100-meter freestyle and a bronze medal in the 4x100-meter medley at the 2008 and 2016 European Championships.
Before she retired from her 19-year competitive sports career in 2016, she won 17 medals overall.
 

View this post on Instagram

 
4. Natalie Coughlin
Natalie Coughlin is a 39-year-old American female swimmer who's got drop-dead gorgeous looks. But let's not stop there.
She also took the sports world by storm at the 2001 World Championships in the 100-meter backstrokes and 50-meter backstrokes.
 

View this post on Instagram

 
"Daydreaming (during training) is a wasted opportunity. Focus in on everything you do, and that'll keep you in the moment, get you through the training faster, and help you achieve your goals."

- Natalie Coughlin, 12-time Olympic Medallist

 
She also holds several historical feats:
The first woman to finish a 100-meter backstroke in under one minute.

The first US female swimmer to win six medals in one Olympiad (2018).

The first woman ever to win a 100-meter backstroke gold in two back-to-back Olympics.
Coughlin won 12 Olympic medals overall.
3. Flavia Delaroli
This 37-year-old Brazilian beauty, Flavia Delaroli, who has the looks to kill for, is a freestyle swimmer who represented Brazil in the Olympics twice in 2004 and 2008.
Delaroli is known as a national record-breaker, having finished a 50-meter freestyle Olympic pool in just 24.98 seconds.
The Brazilian swimmer won in the 2006 Pan Pacific Swimming Championship Games. She also scooped several medals at the 2003 and 2007 Pan American Games.
2. Amanda Beard
Besides Amanda Beard's attractive looks, she's also blown away by the swimming competitions, starting with a gold Olympic medal at age 14.
She's a seven-time Olympic medalist and former world record holder in the 200-meter breaststroke (long course).
She secured 21 medals overall from major international swimming competitions and received the American Swimmer of the Year Award twice for her achievements.
Besides winning medals, Beard is also a model, host, and book author.
1. Stephanie Rice
One of the hottest women in the swimming sport is an Australian swimmer, Stephanie Rice. She's got the looks to kill for, but her career records are also insane.
Since 2006, she has scooped several medals at the World Championships, but it was at the 2008 Summer Olympics that she won three gold medals. Yes, three gold medals in just one Olympic game.
As if it's not enough, she also set three world records in all these events, including the 200- and 400-meter individual medley.
Rice received well-deserved recognitions, such as World Swimmer of the Year in 2009, and was inducted into the Sport Australia Hall of Fame in 2019.
 

View this post on Instagram

 
Was this article helpful?