Recently while at the gym with my clients, there was a lengthy discussion about which sports require a high level of physical and mental endurance.
The suggestion of Poker got a bit of a chuckle and then a pause as we acknowledged that top-notch endurance is required to compete at a high level. The discussion evolved into who are the hottest female poker players.
Read on to find out who made our list.
Sexiest Female Poker Players
Based on our firsthand experience attending the World Series of Poker events (WSOP), we've noticed a steady increase in female participants over the past decade.
These female poker players know the game and look fantastic playing it.
Drawing from our experience, some may not consider poker a true sport, but we've seen firsthand how these women would disagree. Imagine the mental and physical endurance it takes to spend extensive time at the table.
17. Karina Niki Jett
Karina Niki Jett, a professional poker player, is known for her stylish and glamorous appearance.
Apart from her poker accomplishments, Karina is an advocate for promoting women in poker and often participates in women-only poker events to encourage more female participation.
Her sophistication and allure, combined with her impressive tournament winnings exceeding $500,000, make her an enchanting figure in the world of professional poker.
 

View this post on Instagram

 
16. Lisa Hamilton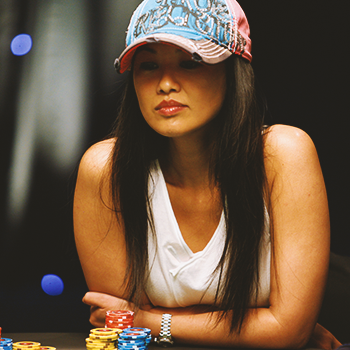 One of the best showings for this dark-haired beauty, who is also known for her strategic gameplay, happened at Bally's in Vegas, where she beat out all but one of the other poker players to take just over $200,000.
Her striking looks, glowing smile, and dominance as a female player make Hamilton one of the most recognizable faces in the poker world.
15. Melanie Weisner
This fiery redhead, who is also a master of bluffing, was introduced to poker by her brother and earned $400,000 while playing part-time in college. Melanie Weisner has won in online poker, where she specialized in "heads-up sit and go."
Weisner looks stunning regardless of what hair color she chooses. We've seen her in brown and red, and with that smile, she looks amazing.
Along with online this beautiful player has achieved success and winnings at poker tables on the European Poker Tour, World poker tournament, and the World Series of Poker, with career earnings of over $700,000.
 

View this post on Instagram

 
14. Kara Scott
Canadian-born Kara Scott, who is also respected for her analytical skills, is popular and known to be one of the sexiest women in the media and poker because of her long dark hair and sultry eyes. Scott has achieved moderate success at the poker table.
Some question her abilities, but Kara Scott did become the second woman to cash-in in consecutive World Series of Poker tournaments (2008/2009).
She placed second at the 2009 PaddyPowerPoker.com Irish Open, one of the biggest tournaments on the European Poker Tour.
 

View this post on Instagram

 
13. Valerie Ross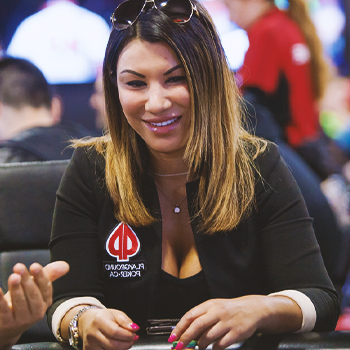 This Canadian hottie , who is also known for her aggressive playing style, has been playing poker online and live since 2005 and has many ventures away from the poker table, including being a columnist for ProPokerCanada magazine, modeling, pursuing her MBA, and working as a sales manager for medical devices.
Along with her stunning body and beautiful looks, Ross is a good sport. In 2013 she lost a prop bet against fellow poker player Trishelle Canatella resulting in a very wet stint in a dunk tank.
12. Lauren Kling
With blonde hair and a stunning shape, Lauren Kling, who is also known for her disciplined approach to the game, clearly prioritizes fitness outside the poker world. She sharpened her skills online before she began to play poker live.
Sharp poker sense and beauty aren't all Lauren Kling has to offer. She has a strong analytical and business savvy that she used as a commentator for the World Series of Poker (WSOP) and opened a company that makes raw-vegan protein bars.
 

View this post on Instagram

 
11. Oanh Bui
The year 2015, which was marked by her exceptional card skills, was the winningest year for Oanh Bui of the Netherlands and the last one of her poker career. After that, Bui ranked 40th in the 2017 World Series of Poker, earning just over $2600.
Eventually, setting the game aside, this dazzling Dutch beauty decided to focus her energy on her modeling career, which proved to be quite successful, given her silky dark hair and enchanting eyes.
 

View this post on Instagram

 
10. Vanessa Rousso
Many beautiful women play professional poker, but few have the earnings that Vanessa Rousso has accumulated. Several magazines have featured this blonde beauty, including Maxim and Sports Illustrated (Swimsuit Issue).
Vanessa Rousso, known as "Lady Maverick," is considered the best female poker player of all time; she is a bit of a shark with a sharp tongue, which has caused a few clashes over the years.
She has a law degree from the University of Miami. Her legal background gives her a unique analytical perspective at the poker table.
 

View this post on Instagram

 
9. Beth Shak
Beth Shak has earnings in the World Poker Tour, European Poker Tour, and the World Series of Poker, with career winnings hovering near $500,000.
The European poker scene has been her toughest, with fewer money finishes than the World Poker Tour and the World Series of Poker.
Like many other beautiful women of poker, Shak has succeeded in television and business. Off all the beautiful women on this list, she is the one well-known for her extravagant shoe collection. Her toned body and long legs show off those shoes very nicely.
8. Maria Ho
Born in Taiwan and currently residing in California, Maria Ho is one of the sexiest female poker players. Accomplished and competitive at and away from the table, Ho is a 2018 Poker Hall of Fame inductee and reality tv actress.
Maria Ho was a contestant on the reality show "The Amazing Race" alongside fellow poker player Tiffany Michelle. Their participation brought more visibility to female poker players in mainstream media.
Standing at 5'2" and hovering around 100 pounds, Maria Ho is petite and sexy with her dark hair and eyes and speaks fluent Mandarin.
She has earned most of her winnings in the World Series of Poker (WSOP).
"Some amazing women have come into the game before my time and during."

- Maria Ho
 

View this post on Instagram

 
7. Trishelle Cannatella
She is best known for her time as a reality television contestant and a Playboy model but has also been successful playing against celebrity professional poker players. She is striking, standing 5'10" with wavy blonde hair.
In 2010 she played in the World Poker Tour Invitational Tournament, placing third and winning $20,000, which makes up most of her career poker earnings.
 

View this post on Instagram

 
6. Tiffany Michelle
Besides her striking beauty, Tiffany Michelle perseveres in poker with solid skills. In 2008 she was the "Last Woman Standing." at the World Series of Poker, finishing 17th of over 6,800 players.
Like many of the other beautiful women on the World Poker Tour, Michelle has crossed over to television and modeling activities, appearing on The Amazing Race (with Maria Ho), Worst Cooks in America, and the covers of Steppin' Out, Ocean View, Rounder, and Casino Player magazines.
5. Liz Lieu
This stylish "Poker Diva" was born in Ho Chi Minh City, Vietnam and now resides in Vegas. She has earned several hundred thousand dollars in winnings throughout her career and loves to shop and give to charity, a hefty 20%.
Liz Lieu retired from professional play in 2010 with five strong years of play preceding that, earning over $800,000. Her 5'4" fit, petite frame, and smile that lights up the room get her near the top of this list.
4. Sandra Naujoks
Like most on this hottest female poker players list, Sandra Naujoks did not take to the game at a young age; this Berlin bombshell is a model turned pro poker player. She began winning quickly, starting online while gaining skills and confidence with the screen name "Black Mamba."
With her drive, the winning continued in live poker games, and she won a European Poker Tour Title, her most considerable success.
3. Johanna Hupfer
Johanna Hupfer isn't a high earner in the poker world, but she is one of the most beautiful female poker players, and her addition to the list is a must. She holds solid poker skills with earnings just shy of $30,000.
Johanna Hupfer's 5'8" slender body is suited to grace a runway over a poker table and, as such, is not seen much at a poker table these days, focusing more on her modeling and acting careers.
2. Lacey Jones
Lacey Jones certainly turns heads when she walks to the poker table. Her blonde hair and sexy brown eyes gained her the nickname "The Poker Barbie."
Lacey Jones has as many brains as beauty, having studied French and Political Science at the University of Arizona.
When not on the World Poker Tour, her activities include modeling, being the face of advertising campaigns, and acting. Her hobbies include watching live hockey, visiting museums, and working out.
1. Liv Boeree
Topping our list is brown-haired, green-eyed British beauty Liv Boeree. Petite at 5'3", but nicknamed "The Iron Maiden," she is a force to be reckoned with at the poker table.
In 2010 Liv Boeree won the main event on the European Poker Tour (EPT) to become the third female poker player to win an EPT title.
Was this article helpful?