Drawing from my rugby background and expertise as a personal trainer, I've seen the demanding fitness levels required in rugby.
This experience has guided our selection of female rugby players who are not just skilled athletes but also passionate and impactful in the sport.
We've put together a list that reflects both talent and dedication.
Who is your standout rugby player? Take a look at our picks and compare notes.
Our List of Hottest Female Rugby Players
Representing top-tier National Teams such as England, New Zealand, USA, and Ireland demands more than just skill—it requires unwavering determination and resilience.
The women we're about to discuss have not only showcased their prowess on the field but have also set benchmarks for upcoming talent.
11. Vicky Fleetwood
I've had the privilege of witnessing Vicky Fleetwood's prowess on the field firsthand.
She redefines what it means to be a front-row rugby player, combining unparalleled athleticism with a dedication that's evident in every match she plays.
Her fitness regimen and captivating pictures from the England camp have solidified her spot as the number one beautiful female rugby player.
 

View this post on Instagram

 
10. Natasha Hunt
Natasha "Mo" Hunt, whom I've admired for her gameplay, represents the English rugby union and currently plays for Gloucester-Hartpury.
Standing at 5'5", this scrum-half has showcased her skills in numerous matches for the England National and the National Sevens teams.
Off the rugby field, she is a qualified teacher.
 

View this post on Instagram

 
9. Kendra Cocksedge
From my time on the field, I've learned never to underestimate a player by their stature. At 5'2", this New Zealand halfback has consistently proven her mettle, earning her a top spot on our list due to her exceptional skills and gameplay.
Kendra Cocksedge is one of the few rugby women on the list that is a dual sport athlete, also known for her cricket prowess, though she arguably has focused more on her rugby game.
After several productive repeat visits to the Women's Rugby World Cup, Cocksedge announced she would retire after the 2022 tournament.
 

View this post on Instagram

 
8. Rochelle Clark
I've had the honor of watching Rochelle Clark, a gem from England, in action. Her representation of the National Team in multiple Women's Rugby World Cup tournaments from 2006 to 2017 is a testament to her dedication and skill.
This 5'8", muscular loosehead prop reached 137 Caps in March 2018, making her the most capped English player in international history, man or woman, at that time.
 

View this post on Instagram

 
7. Margaret Alphonsi
I remember being inspired by Margaret "Maggie" Alphonsi's resilience. As the third player from England on our list, her journey from overcoming a clubfoot at birth to shining as a flanker on the field is nothing short of remarkable.
She was a Rugby World Cup 2015 ambassador and continues to coach. She has also played a considerable role in promoting female participation in sports.
This 5'4" beautiful rugby girl also has a big heart, having been involved with several nonprofits and charities like Peace One Day, Wooden Spoon, Sporting Equals, and SKRUM.
 

View this post on Instagram

 
6. Katherine Merchant
I've seen the dedication of this 5'8" rugby wing who proudly represented England 58 times. Her early retirement due to multiple concussions is a stark reminder of the sport's intensity and the sacrifices players make.
She maintains a high fitness level and prominent muscles that have garnered mixed reviews.
She made our list for her toned body and a strong sense of self to ward off online naysayers.
"Things you don't have to do to lose weight: burpees, running, cut carbs. Things you should focus on: consistency, mix of resistance and aerobic training, balanced nutrition."

- Katherine Merchant, Rugby player
 

View this post on Instagram

 
5. Emily Scarratt
Back to England to highlight one of the tallest female rugby players on this list at 5'11", Emily Scarrat played Center/Fullback for Lichfield, Loughborough Lightning, and the England National Team.
Like many other attractive English rugby women on the list, she left her "day job" as a PE assistant to become a professional rugby player.
4. Cheryl Soon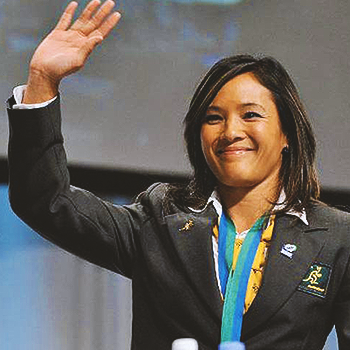 I've had the chance to analyze Cheryl Soon's gameplay. As a former rugby union player for Australia, her contribution as a scrum-half was pivotal in leading the squad to a third-place finish in the 2010 Women's Rugby World Cup.
In 2021 Cheryl Soon was inducted into the World Rugby Hall of Fame. Her straight dark hair and sparkling eyes make her a beautiful sight on and off the rugby field.
3. Ana Poghosian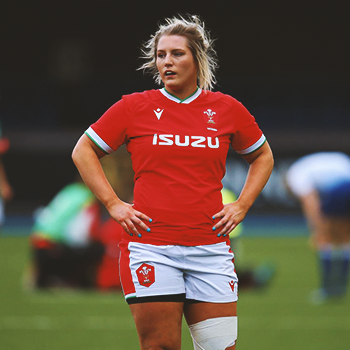 From my interactions and observations, even in places like Georgia where female rugby is still budding, players like Ana Poghosian stand out. Her journey to break barriers and captain the Women's National Sevens Team is a testament to her passion and skill.
Of the rugby women on this list, Ana Poghosian has faced an uphill battle to play the game because although rugby is widespread in Georgia, many think it is not a game for women.
Her 5'8" well-defined body is suited for the forward position she excels at and, as a result, was presented with the Female Rugby Player by UN Women for two consecutive years (2014/2015).
2. Portia Woodman
After playing netball for the Northern Mystics, Portia Woodman brought her 5'7" toned body to Rugby in 2012.
She has earned several medals with the New Zealand team in the Women's Rugby World Cup, Olympic Games, Commonwealth Games, and Rugby World Cup Sevens.
 

View this post on Instagram

 
1. Magali Harvey
Looking across the Atlantic, Magali Harvey represented Canada in the 2014 Women's Rugby World Cup. This 5'5" wing was also named IRB Women's Player of the Year in 2014.
In 2015 she won a gold medal at the Pan American Games as a Canadian Women's Rugby Sevens Team member.
She's at the top of our list for her beautiful smile, stunning body, and energy on the field.
Was this article helpful?