If you have ever watched a match, you know that to play rugby, you must have peak fitness. As a personal trainer, I always want to understand what these elite athletes do to stay in top form for their sport.
I presented the question to my colleagues at Total Shape of who are the hottest female Rugby players and what makes them hot; I got some great names for the list.
Who do you think is the hottest player in Rugby? Did she make our list? Read on to find out.
Quick Summary
Some of the hottest female rugby players include; Natasha Hunt, Rochelle Clark, Emily Scarratt, Portia Woodman, Rochelle Clark, and Cheryl Soon.
The beauty of these rugby players is attributed to spending a lot of hours in the gym.
These female rugby players also create time to dress themselves and apply make-up before stepping out.
Our List of Hottest Female Rugby Players
To play for the top-ranked National Teams like England, New Zealand, USA, and Ireland, you need grit and physical toughness [1].
The following rugby women are not only beautiful but are highly skilled commanding players in their sport.
10. Natasha Hunt
Natasha "Mo" Hunt is an English rugby union player currently playing for Gloucester-Hartpury.
This sexy 5'5" blonde scrum-half has made several appearances on the England National and the National Sevens teams.
Off the rugby field, she is a qualified teacher.
9. Kendra Cocksedge
Don't let her 5'2" frame fool you; this beautiful blonde New Zealand halfback is a top-scoring rugby player on our list.
Kendra Cocksedge is one of the few rugby women on the list that is a dual sport athlete, also known for her cricket prowess, though she arguably has focused more on her rugby game.
After several productive repeat visits to the Women's Rugby World Cup, Cocksedge announced she would retire after the 2022 tournament.
8. Rochelle Clark
Another successful rugby product of England, Rochelle Clark, represented the National Team in several Women's Rugby World Cup tournaments between 2006 and 2017.
This 5'8", muscular loosehead prop reached 137 Caps in March 2018, making her the most capped English player in international history, man or woman, at that time.
Appointed a "Member of the Order of British Empire" (MBE) for her contributions to the game, she currently coaches rugby.
7. Margaret Alphonsi
The third rugby player on our list hailing from England, Margaret "Maggie" Alphonsi, played as a flanker and overcame being born with clubfoot to excel at her sport.
She was a Rugby World Cup 2015 ambassador and continues to coach. She has also played a considerable role in promoting female participation in sports.
This 5'4" beautiful rugby girl also has a big heart, having been involved with several nonprofits and charities like Peace One Day, Wooden Spoon, Sporting Equals, and SKRUM.
6. Katherine Merchant
This 5'8" rugby wing represented her country of England 58 times before being forced to retire after suffering several concussions. She maintains a high fitness level and prominent muscles that have garnered mixed reviews.
She made our list for her toned body and a strong sense of self to ward off online naysayers.
In 2015 she coached the Sri Lanka National Team before shifting her focus to becoming a personal trainer.
"Things you don't have to do to lose weight: burpees, running, cut carbs. Things you should focus on: consistency, mix of resistance and aerobic training, balanced nutrition."

- Katherine Merchant, Rugby player
5. Emily Scarratt
Back to England to highlight one of the tallest female rugby players on this list at 5'11", Emily Scarrat played Center/Fullback for Lichfield, Loughborough Lightning, and the England National Team.
Like many other attractive English rugby women on the list, she left her "day job" as a PE assistant to become a professional rugby player.
4. Cheryl Soon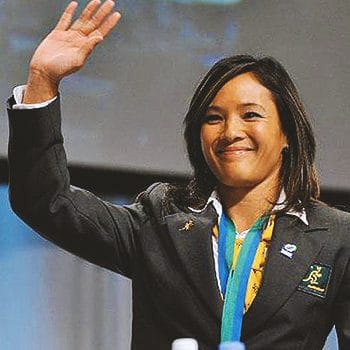 Cheryl Soon is a former rugby union player representing Australia as a scrum-half. She was part of the squad that finished in third place in the 2010 Women's Rugby World Cup.
In 2021 Cheryl Soon was inducted into the World Rugby Hall of Fame. Her straight dark hair and sparkling eyes make her a beautiful sight on and off the rugby field.
3. Ana Poghosian
Though female rugby is less developed in Georgia, Ana Poghosian has broken barriers to become a rugby powerhouse to captain the Women's National Sevens Team.
Of the rugby women on this list, Ana Poghosian has faced an uphill battle to play the game because although rugby is widespread in Georgia, many think it is not a game for women.
Her 5'8" well-defined body is suited for the forward position she excels at and, as a result, was presented with the Female Rugby Player by UN Women for two consecutive years (2014/2015).
2. Portia Woodman
After playing netball for the Northern Mystics, Portia Woodman brought her 5'7" toned body to Rugby in 2012.
She has earned several medals with the New Zealand team in the Women's Rugby World Cup, Olympic Games, Commonwealth Games, and Rugby World Cup Sevens.
She also graced the runway at New Zealand Fashion Week with her rockin' body, which is why she rightfully deserves second place on our list.
1. Magali Harvey
Looking across the Atlantic, Magali Harvey represented Canada in the 2014 Women's Rugby World Cup. This 5'5" wing was also named IRB Women's Player of the Year in 2014.
In 2015 she won a gold medal at the Pan American Games as a Canadian Women's Rugby Sevens Team member.
She's at the top of our list for her beautiful smile, stunning body, and energy on the field.
Hottest Female Athletes in Rugby: Do You Agree?
Rugby is a power sport, and these female rugby players prove they have the tenacity and fitness to play at a high level.
Many of my clients follow rugby and want to reach the fitness levels of these famous rugby women.
To do that, we create a fitness plan which includes diet and exercise, and we usually top it off with an all-natural fat burner, which, in our experience, completes the best fitness trifecta for success.
Make sure to check out the list of recommended fat burners for women that we thoroughly tested ourselves with some remarkable success.
---
References:
https://www.world.rugby/tournaments/rankings/wru
Was this article helpful?