No matter if you're an experienced fitness junkie or you're just starting to flirt with the idea of amping up your fitness, you need to pay attention to what you eat and drink before and after a workout.
My personal favorite pre-workout drinks? Smoothies!
And here are some easy recipes for you.
Quick Summary
The best pre-workout smoothie recipes are strawberry oatmeal breakfast smoothie, matcha coconut smoothie, apple vanilla smoothie, and razzy blue smoothie.
Pre-workout smoothies give you the required energy levels to improve your workout performance.
The different smoothie recipes offer a refreshing take when taking your supplement before exercising.
How to Make the Best Pre-Workout Smoothies
The best smoothies for pre-workout provide a mix of healthy carbs and protein. They're a perfect snack or meal both before and after you work out.
Smoothies are easy to carry and drink anywhere, you can customize them endlessly, and they'll give you an energy boost without making you feel stuffed.
If you want to get the most out of a smoothie, you should drink it at least 30 minutes before a workout and have a healthy snack right after.
You can also drink half of your smoothie before the training and finish it post-workout.
By adding banana and Greek yogurt to pre-workout smoothies, as well as protein powder, these additives have a tremendous amount of nutrition, including potassium, calcium, and quality proteins that boost muscle recovery and growth.
Another tip is incorporating a small amount of spinach or kale into your diet for additional vitamins and minerals.
And even if smoothies help you hydrate, you shouldn't forget to drink plenty of water, too.
Making a delicious smoothie is incredibly simple, but you need to pay attention to a couple of things if you want to reach the optimal fitness performance and recovery:
Pack that smoothie with protein
You've got so many great options such as nuts and nut butter, yogurt, milk, silken tofu, and plant milk. Protein will help you build muscle mass, which is excellent no matter if you're a bodybuilder or just want to tone your body.
Go for energy-boosting add-ins.
Add oats, fruit, and yogurt. Don't shy away from energizing carbs — they're your friend when you're working out.
Sure, you're working out, and smoothies can be healthy but don't make a calorie-dense, sugar-packed smoothie that'll undo all your hard work.
An occasional treat is fine, but don't get into the habit of adding in ice cream or chocolate syrup, and make sure you're consuming a healthy serving. Just remember that:
Related article: What to Do When Your Pre-Workout Stops Working?
"A healthy outside starts from the inside."

- Robert Urich, American film, TV, & Stage Actor
10 Tastiest Pre-Workout Smoothies
Here are ten of my favorite, delicious, and easy-to-make smoothie recipes:
1. Creamy Banana Strawberry Split Smoothie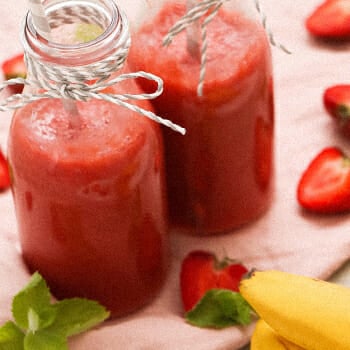 Packed with almond milk, protein powder, flax, chia seeds, banana, and strawberry, this smoothie will put you in a good mood.
Vanilla, honey, and cinnamon give it a flavor boost, although if you put more cinnamon, its taste can be a bit overpowering.
Protein powder enhances the smoothie's creaminess and thickness but also provides an extra dose of muscle-repairing and muscle-building amino acids.
Four servings of this deliciousness require:
One cup almond milk
One chopped banana, frozen
¾ cup strawberries
Three ice cubes
One scoop vanilla protein powder
One teaspoon vanilla extract
One teaspoon honey
One teaspoon ground flax seed
One teaspoon ground chia seeds
½ teaspoon ground cinnamon
Throw everything into your blender and blend until smooth.
One serving should provide you with:
111 calories
10.4g protein
14.4g carbohydrates
1.6g fat
3.1mg cholesterol
94.7mg sodium
---
2. Peanut Butter Banana Smoothie
The peanut butter and banana combo is a classic. You can make one of the most popular smoothies with a handful of ingredients:
Two bananas, broken into chunks
Two cups milk
½ cup peanut butter
Two tablespoons honey, or to taste
Two cups ice cubes
Chug everything into the blender and blend for about 30 seconds or until smooth.
The pre-workout smoothie provides four servings, and each serving should provide you with:
335 calories
12.8g protein
34.1g carbohydrates
18.8g fat
9.8mg cholesterol
202.8mg sodium
---
3. Strawberry Oatmeal Breakfast Smoothie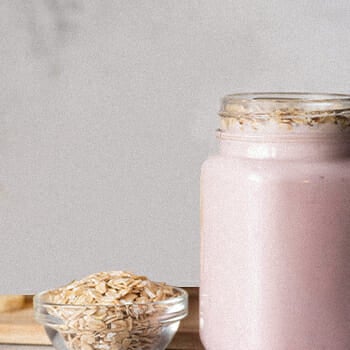 Not only is it a great recipe for a vegan pre-workout smoothie, which makes it perfect for your busy mornings, but it's also very filling.
You could even drink it instead of breakfast, but it's good for any time of the day.
Two servings require:
One cup soy milk
½ cup rolled oats
One banana, broken into chunks
14 frozen strawberries
½ teaspoon vanilla extract
1 ½ teaspoon white sugar
Just blend until smooth and enjoy the flavor.
One serving of this tasty smoothie should provide you with:
236 calories
7.6g protein
44.9g carbohydrates
3.7g fat
65.4mg sodium
---
4. Matcha Coconut Smoothie
Now, this isn't your average green smoothie. It may be packed with antioxidants from kale and matcha, but it gets its sweetness from mango and coconut. It's an incredible energy booster jam-packed with protein from white beans.
To make one smoothie, you'll need:
One banana
One cup frozen mango chunks
Two leaves kale, torn into several pieces
Three tablespoons white beans, drained
Two tablespoons unsweetened shredded coconut
½ teaspoon matcha green tea powder
One cup water
You'll need to blend it for a bit longer than the average smoothies, but the incredible taste is worth the additional 1–2 minute wait.
One serving provides:
367 calories
8g protein
72.4g carbohydrates
8.8g fat
35.9mg sodium
---
5. Apple Vanilla Smoothie
Apples aren't a very common ingredient in smoothie recipes, but they can add lots of flavor to your drink.
For one smoothie, you'll need:
Two small chilled tart apples, sliced
⅓ cup skim milk
¼ cup orange juice
¼ banana, frozen
Two tablespoons vanilla whey protein powder
One tablespoon flax seeds
One ice cube
This one is more calorie-dense, and it'll provide you with:
422 calories
41.7g protein
53.5g carbohydrates
6.9g fat
13.4mg cholesterol
242.4mg sodium
---
6. Razzy Blue Smoothie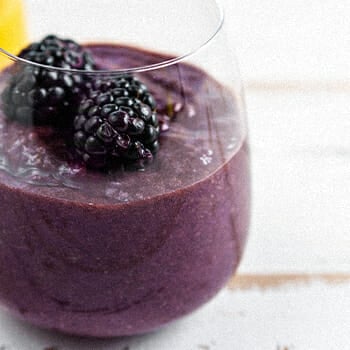 This naturally sweet smoothie packs lots of flair and nutrients. Since it has a good protein and carb balance, it makes a great workout smoothie.
For three razzy blue smoothies, you'll need:
One banana
16 whole almonds
¼ cup rolled oats
One tablespoon flaxseed meal
One cup frozen blueberries
One cup raspberry yogurt
¼ cup Concord grape juice
One cup 1% buttermilk
One serving will provide you with:
262 calories
8.8g protein
44.5g carbohydrates
6.5g fat
8.3mg cholesterol
141.8mg sodium
---
7. Green Monster Smoothie
This smoothie will keep you full for hours, so you may also want to try it as a post-workout smoothie.
What's best is that you can't even taste the spinach because the banana and the nut butter cover its flavor, but you'll get all the benefits from it.
One green smoothie requires:
One cup fat-free milk
½ cup fat-free plain yogurt
One banana, frozen and chunked
One tablespoon natural peanut butter
Two cups fresh spinach
One cup ice cubes (optional)
The green monster will provide you with:
382 calories
23.6g protein
55.7g carbohydrates
9.4g fat
7.4mg cholesterol
328mg sodium
---
8. Tropical Teaser Smoothie
If you miss the sun, beach, and sea, this smoothie will transport you right into your dreams.
For two servings of this summery drink, you'll need:
2 cups vanilla soy milk
1 cup fresh pineapple chunks
⅔ cup frozen cantaloupe chunks
½ cup soft tofu
Two tablespoons lime juice
1 ½ teaspoons coconut extract
You can also substitute cantaloupe with frozen banana chunks.
One serving of this summer in a glass will provide you with:
230 calories
12.5g protein
29.9g carbohydrates
6.9g fat
121.7mg sodium
---
9. Banana Walnut Bliss
The banana walnut combo will provide you with antioxidants and get you energized.
For one serving of this pre-workout smoothie, you'll need:
One cup skim milk
0.50 large banana
0.50 tablespoon honey
1/8 teaspoon vanilla extract
a handful of walnut pieces (or seven halves)
This potassium-rich drink will provide you with:
227 calories
10g protein
5g fat, 37g carbohydrates
5mg cholesterol
130mg sodium
---
10. C-Blast Smoothie
There's a reason I call this one C-blast. This pre-workout smoothie is jam-packed with vitamin C.
You may want to try it if your iron levels are low since vitamin C helps the absorption of iron [1]. It'll also provide you with lots of energy.
Including this smoothie that is high in vitamins into your pre-workout routine enhances energy levels and promotes overall well-being.
Indulge in this delightful C-blast smoothie before heading to the gym and power through your workouts with vigor
One pre-workout smoothie requires:
0.50 large pink grapefruit peeled, seeded, and cut into chunks
1/4 cup pineapple crushed, canned, or fresh
1/4 cup strawberries fresh or frozen (if using fresh, add 1/4 cup [60 mL] ice for extra froth)
1/4 cup non-fat Greek yogurt
One serving of the C-blast will provide you with:
159 calories
7g protein
0g fat
35g carbohydrates
0mg cholester
---
Other delicious smoothie recipes you should try:
FAQs
Are Smoothies Good Before a Workout?
Smoothies are an excellent pre-workout supplement.
They'll provide you with enough energy to push through a hard workout and even do more reps, feed your muscles protein, and pack a lot of nutrients to support your fitness goals [2].
Do You Drink a Smoothie Before or After a Workout?
You can drink smoothies both pre- and post-workout. It all depends on your exercise goals and current health and fitness condition.
If you're not sure which one's the best for you, consult a physician or your trainer.
---
References:
https://www.healthline.com/nutrition/increase-iron-absorption
https://www.maximuscle.com/nutrition/advice/Pre-workout-Smoothie-Ideas/
Was this article helpful?