As an experienced Health and Performance Coach, I often encounter clients curious about the safety and efficacy of mixing whey protein powder with coffee. They frequently ask if caffeine impacts protein absorption.
Through my professional experience and personal practice, I can assure you that this combination is not only safe but also beneficial.
To address these common concerns and share my insights, I've crafted this article to guide you through the process and explain the benefits of mixing whey protein powder with your coffee.
Let's dive in.
Quick Summary
It is okay to mix the protein powder in coffee because you will have a protein boost and caffeine fix in just one simple drink.
For the coffee-protein powder mix, add cold almond milk and a protein powder to the blender and blend for a few minutes. Add some iced coffee and stir before enjoying.
Research by the British Journal of Nutrition shows that there is a possible relationship between drinking coffee and having a lower likelihood of experiencing low muscle mass.
In my opinion, mixing protein powder with coffee is a clever and delicious strategy to boost your daily protein intake, especially for those with a busy lifestyle.
Benefits Of Mixing Protein Powder In Coffee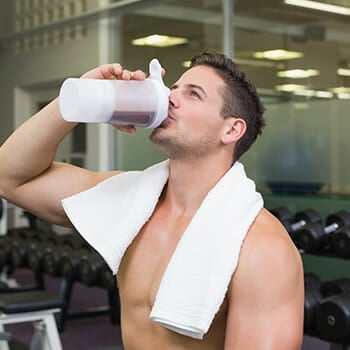 Personally, I found three benefits when adding protein powder to coffee.
Firstly, mixing caffeine and protein in one drink saves time and enhances exercise performance.
This combo boosts muscle recovery and provides lasting energy, ideal for post-workout.
It simplifies my morning routine, especially when I'm rushing post-run to get to work.
Secondly, I actually really like the taste.
And finally, if you want to limit your fat intake by not using a creamer, then a scoop of protein powder may just be the answer you're looking for.
How Does Caffeine Influence Protein Absorption?
There is very little evidence that caffeine influences the rate of protein absorption. The few claims that we were able to find were not backed up by any scientific or clinical studies.
In any case, studies published by the British Journal of Nutrition show that there is a potential relationship between drinking coffee and having a lower likelihood of experiencing low muscle mass [1].
But does that mean there are no negatives to this approach?
Are There Any Downsides?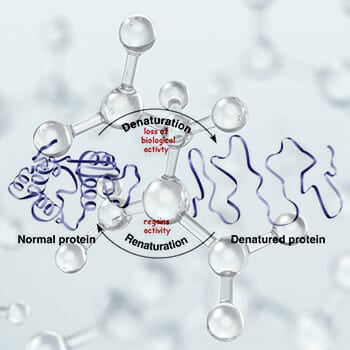 At this stage of my research process, I was at a point where everything seemed to indicate no real issues of blending a hot coffee protein shake to start the day.
However, I did stumble across some scientific information that highlighted concerns that you should take into account.
Essentially, there is evidence that the structure of proteins may slightly change when exposed to high temperatures, as per Livestrong [2]. The technical term is "denaturation" of the protein, but this is only an issue for a few types of amino acids.
Severe heat treatments may slightly affect nutrition and amino acids that are particularly sensitive to heat.

- Frankie Smith, Health Clinician
So, the main nutritional concern is high temperature. Fortunately, there are some ways to avoid that problem, and it doesn't have to involve drinking cold coffee.
How To Mix Coffee And Protein Powder Together?

Here are 4 simple tips you can follow that may make your morning cup of coffee a good protein booster.
1 - Wait for your brew to cool down. As mentioned above, high temperatures may impact the protein structure. What I generally do is start by adding some cold almond milk. I then wait for about another 5 minutes before I add the protein powder.
2 - Use a blender for a creamy effect. If you like the more creamy effect of a latte, then you can achieve something similar without the need for any milk. With a simple stick blender, you may be able to create a pleasant and frothy effect, depending on how many scoops of whey protein you're adding.
3 - Add flavored protein powder. One thing I love doing is adding flavored protein to coffee. For instance, chocolate or vanilla protein powders can significantly enhance the flavor profile of your coffee, creating unique and delicious combinations. The one thing I would advise, though, is not to try it with fruity flavors, as it just tends to make it a rather disgusting experience.
4 - Consider a refreshing iced coffee. Yes, I did say above you won't have to resort to drinking cold coffee. However, I did start experimenting with this last summer. To my surprise, iced coffee is actually quite refreshing after you've done some exercise.
Related Articles:
Best Protein To Mix With Coffee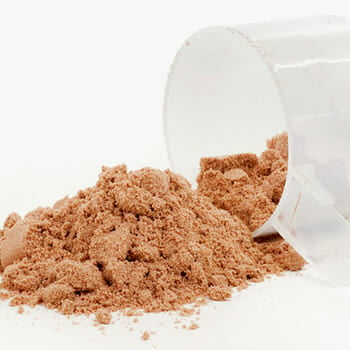 I would generally suggest that you try using whey protein powder to mix with coffee. The reason I like it is that it does create a slightly creamy effect, which means you can avoid using milk altogether.
Coffee mixed with protein powder may be a good idea if you want to start off your day with a mental boost and some essential macronutrients.
However, if you're dairy intolerant, then adding vegan protein powder in coffee is also a good option. Hemp and rice protein are 2 options you may want to consider, with hemp having the benefit of providing all essential amino acids.
FAQs

Is it okay to drink coffee after a protein shake?
Yes, it is okay to drink coffee after a protein shake. However, you want to avoid drinking very hot coffee, as it may have an impact on the structure of the proteins.
Can I put protein powder in hot drinks?
Yes, you can put protein powder in hot drinks, but you may want to avoid very hot temperatures. Freshly boiled water may have a negative impact, so letting it cool down a bit or adding some milk may be a good option.
Is it bad to mix protein powder with coffee?
No, it isn't bad to mix protein powder with coffee. The two substances may have very positive effects by helping you become more mentally focused during your exercise, and providing nutrients to speed up the recovery.
---
References:
https://www.ncbi.nlm.nih.gov/pmc/articles/PMC10244011/
https://www.livestrong.com/article/528865-can-i-heat-whey-protein/
Was this article helpful?