I've been asked a lot about my opinion on the best rice protein. It is a great protein choice, but not every rice protein is made with the best standards.
I took the time to test out and do research on the top rice protein products, so you can save time and money on doing it yourself.
Our Top Rice Protein Powders
1 - Performance Lab Sport Protein (Editor's Choice)
Performance Lab has the only patented rice-sourced protein for athletic performance.
It's one of the best brown rice protein powders if you are looking to boost muscle mass and recovery.
The protein sources come from the world's best organic farms. I was excited to try this out after several of my friends said they had great results, including weight loss.
Pros
Only patented protein from rice
Uses organic brown rice
Claims to be just as good as whey
Absorbs 30% faster than whey
Cons
One container lasts only 20 days
I noticed that my endurance improved, and it curbed hunger pains. It was helpful as I was doing longer workouts that required more energy from me.
The protein content is 20 grams in each serving. Each container has about 20 servings.
2 - ​​Orgain Organic Protein Plant Based Protein Powder
​If clean protein is your aim, then you will like this protein powder. Orgain won Prevention's Cleanest Packaged Food Award.
It doesn't only contain rice protein. It also includes pea protein powder and chia seeds in their proprietary blend.
I'm not usually a fan of proprietary blends, but this one only contains three healthy ingredients.
Pros
Cleanest Packaged Food Award
Powder easy to dissolve
Smooth texture
No additives
Cons
Contains more than rice for proteins
The powder was easy to mix, and it didn't have a gritty texture.
One serving has 21 grams of protein, and there are 20 servings in each container.
3 - ​​Garden of Life Raw Protein & Greens​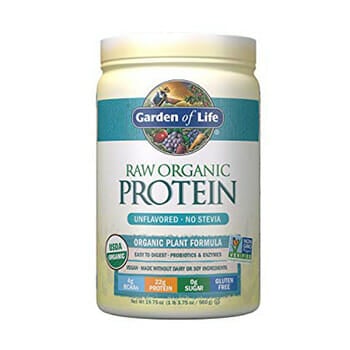 Garden of Life was a recommendation to me as one of the best vegan protein powder options.
The first thing I always look at is the ingredient list. I wasn't too impressed since it contains three different proprietary blends with several ingredients.
It was hard to tell how much of each component I was getting this way.
Pros
Amino acid profile included
Vegan-friendly
Certified USDA Organic
Cons
All of the ingredients are in a proprietary blend
I did like how they added an amino acid profile though. It was easy to see how much of the amino acids I was getting in each serving.
There are 20 grams of protein per serving. One container has 20 servings.
4 - NOW Sports Sprouted Brown Rice Protein Powder​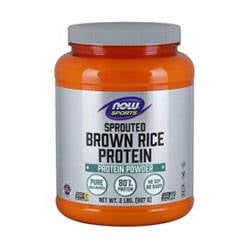 NOW Sports is a family company that has been around for over 50 years.
Their longevity made me think that they would have the best plant-based protein.
​I like how they used sprouted brown rice. Germinated brown rice can lower blood pressure and boost the immune system [1].
Pros
Uses sprouted brown rice
Well-known company
Useful for those with common food allergies
Cons
Small protein size per serving
​I didn't like the small serving size. You only get 4 grams of protein in one serving. It's not enough to make an impact, so you'll have to take multiple servings.
5 - Sunwarrior Protein Classic Plus​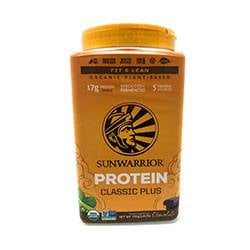 The protein source is a proprietary blend of quinoa, chia seed, amaranth, pea, and rice.
The taste was pretty intense, and I used unsweetened almond milk to help with it.
My favorite part of this vegetable protein powder is that the scoop is in the lid. There's no need to dig around for it or risk losing it.
Pros
One of the most servings per container
Scoop is in the lid
Amino acid profile included
Cons
Proprietary blend of proteins
​One serving is 17 grams of protein, and one container has 30 servings.
6 - Nutribiotic Rice Protein​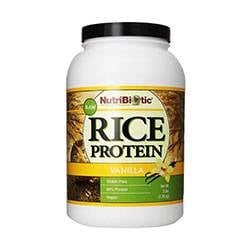 ​If you are looking for only brown rice protein powder, then this may be a good option for you. The only ingredients are rice and natural vanilla flavor.
I like how this plant-based protein marked which essential amino acids you were getting in each serving. I was also happy about the minimal ingredient list.
There are no words that are hard to pronounce here.
Pros
Essential amino acids marked
Only protein is from rice
One of the highest servings per container
Cons
Only 12 grams of vegan protein
​I think it may be one of the best vegan protein options out there.
There are 12 grams of protein per serving. It's a little on the low side, but it could meet the minimum for some individuals. Each container has 90 servings.
7 - Zen Principle Organic Brown Rice Protein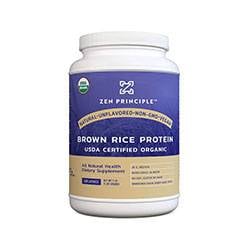 The only ingredient you will find here is rice protein.
It shows too because this protein powder has 27 grams of protein per serving.
There are also 45 servings per container, which makes it one of the higher servings per container on this list.
I would recommend taking this and adding it with other carbohydrates like fruit, milk, or vegetables.
Pros
Only protein source is from rice
Highest protein in each serving
One of the best values per serving
The taste was pretty rough for me. Since it only has rice protein, there was nothing to make it sweeter or more digestible.
8 - ​Growing Naturals Organic Rice Protein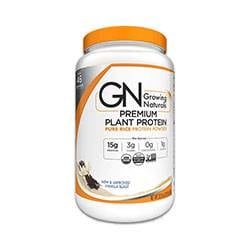 It is a brown rice protein powder suitable for vegans or those with allergies.
Not many protein powders can claim to be certified USDA organic and be as good as whey protein.
I wasn't a fan of the ingredients list as it contains "natural flavors." I mixed it with water, and I thought it was too sweet for my taste.
Pros
Gluten free
Certified USDA Organic
Claims to be just as good as whey
Cons
Not as much protein compared to other protein powders
Each serving has 15 grams of protein, which makes it on the lower end of this list.
9 - Earthborn Elements Organic Rice Protein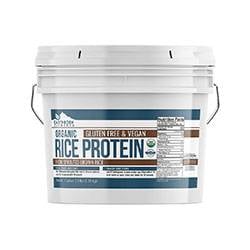 I was pretty impressed with the protein sources for this powder. It contains protein from organic brown rice that was sprouted.
It's the most nutritious brown rice you can get in your protein shakes.
I was excited to try it out. I wasn't happy about the way it dissolved. It had a grainy texture, and it wasn't easy to consume.
Pros
Contains only organic sprouted rice
Best value
USDA Organic
Cons
Grainy texture
Low protein content per serving
The protein content is pretty minimal. Each serving has 12 grams.
However, I did like that each container comes with 151 servings. Depending on how much protein you need per day, the bottom line looks pretty good with this option.
10 - Nutricost Organic Rice Protein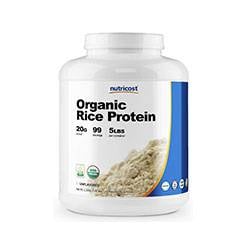 ​A friend recommended this vegan protein powder to me.
I immediately wanted to try it since it only contained rice-sourced protein and no other ingredient.
It helped get my protein nutrition in, and I liked that it was unflavored.
It didn't have an overwhelming taste in my smoothies.
Pros
One of the best serving prices
Only contains protein from rice
No overwhelming taste
Cons
Not clear if they used brown or white rice
The protein content for each serving is 20 grams. Every container has about 99 servings. It's a plant-based protein that will last you for about three months if taken daily.
FAQs
What Are The Benefits Of Rice Protein Powder?
The benefits of rice protein powder include that it's a complete protein. It means that it contains all of the essential amino acids.
One study [2] suggests that rice is just as effective as whey. They both produced the same results in body composition, strength, and muscle recovery.
​How Is Rice Protein Powders Different From Other Protein Sources?
​Rice protein powders are different from other protein sources because it's a complete protein. It's a natural choice compared to other protein sources.
​When Do You Take Rice Protein Powder?
You can take rice protein powder at any time of the day.
Some people believe the best time is before your workout, and others think it's after your workout.
One study suggests that getting enough daily protein is all that matters [3]. I choose to focus on my protein intake rather than what time of day I take it.
​Is Rice Protein Powder Good For Building Muscle?
​Rice protein powder is good for building muscle. Performance Lab even claims their protein is just as good as whey at building muscle mass. It also absorbs faster than whey so that you can receive results quicker.
​Is Rice Protein A Complete Protein?
Yes, rice protein is a complete protein. It does have a low amount of lysine though. It's the reason why you often find rice and pea protein blends. The pea protein helps make up for the lack of lysine.
What's ​Our #1 Favorite?
The bottom line is that vegan plant sources like brown rice protein powders are an excellent option for many people.
It's a complete protein, and it contains no animal products or common allergy ingredients. It's also been scientifically-proven to be just as good as whey at building muscle.
If you are looking to try out it for yourself, then I would recommend trying out Performance Labs Protein. It has high-quality ingredients and can help you with muscle growth and strength. You can check it out here.
Did we miss your favorite rice protein powder?
Performance Lab Sport Protein
Our #1 Recommendation
Only patented protein from rice
Uses organic brown rice
Claims to be just as good as whey
Absorbs 30% faster than whey
Get the BEST PRICE until the end of March
Click For Best Price

About the author