Through my close work with clients dealing with diabetes, I've seen firsthand how vital it is to plan meals or workouts carefully and be mindful of blood sugar levels.
On top of watching their intake of starch, fiber, and carbs, people with diabetes need to resist the sugar urges from snacks, which may seem frustrating.
After sampling dozens of protein bars and gathering feedback on their effects on blood sugar levels from clients with diabetes, I've pinpointed seven types that consistently rank at the top for those managing the condition.
These bars not only cater to those with a sweet tooth but also support fitness goals effectively.
Read on to find out more.
Editor's Choice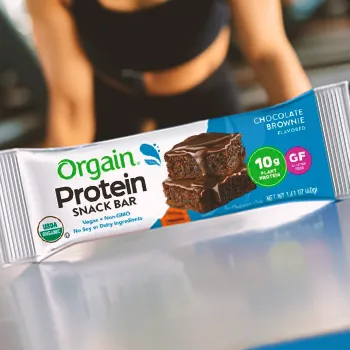 Orgain
Click For Best Price
#2nd Best Choice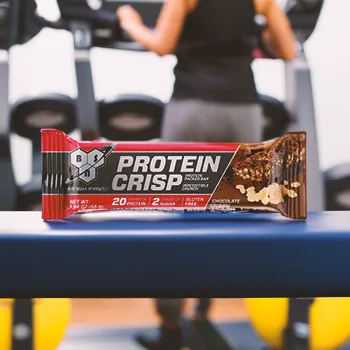 BSN
Check Current Price
#3rd Best Choice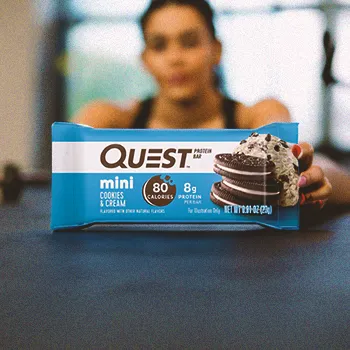 Quest Nutrition
Check Current Price
Our Top Diabetic Protein Bars (December 2023)
1 - Orgain Organic
(Best Overall & Best Tasting)
After recommending the Orgain Organic Protein Bar to many of my clients with diabetes, they've consistently praised its low-carb, gluten-free composition. This bar boasts 10 grams of plant-based protein, 6 grams of fiber, and a mere 5 grams of sugar, making it a top choice among them.
These are lean, healthy snack bars for diabetes to control blood sugar levels.
Personally, the chocolate chip cookie dough and S'mores were my favorite protein bar flavors. I do reach out for the peanut butter sometimes, but nothing beats the classic chocolate chip.
Calories: 150
Protein: 10g
Carbs: 19g
Fat: 5g
Pros
10g of protein and 150 calories per serving
19 grams of carbs and high in fiber
Sugar content is low for better blood sugar levels
100% plant-based ingredients
Comes with a variety of tasty flavors (chocolate chip and S'mores are must tries)
Cons
Low protein amount when compared to other protein bars
These are ideal meal replacement bars for diabetes because of the clean and healthy ingredients.
You might want to read the recommended protein bars for women, where Orgain Organic Protein Bar is also number one on the list.
30% Off Your First Subscription Order until the end of December
2 - BSN Protein Crisp
(Best Protein Bar Rich in Fiber)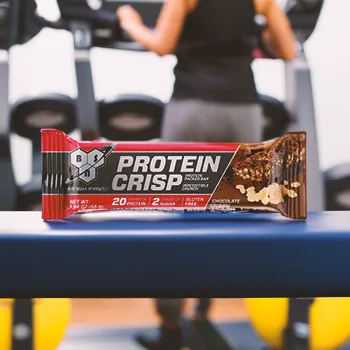 Many clients managing diabetes expressed disappointment with protein bars that felt just like candy. Yet, BSN Protein Crisp Bars has consistently received positive feedback. They emphasize its high protein, low carb content, and the ideal balance it strikes between health and flavor.
Each of these snack bars for diabetes has about 3 grams of sugar, and based on our experience, many folks with diabetes find it manageable and healthy.
Calories: 240
Protein: 20g
Carbs: 24g
Fat: 7g
Pros
Packed with 20 grams of protein, through whey protein isolate
Helps keep you energized on the go
Low in sugar (4g or less) for better or low blood sugar
Satisfies your sweet tooth cravings, guilt-free
Cons
Not vegan-friendly
Quite high in total carbs (24 g per serving)
Many reviewers also claimed that these protein bars for diabetes are perfect for snack because it helps with the sugar cravings.
3 - Quest Nutrition
(Best Pre-Workout and Protein-Rich)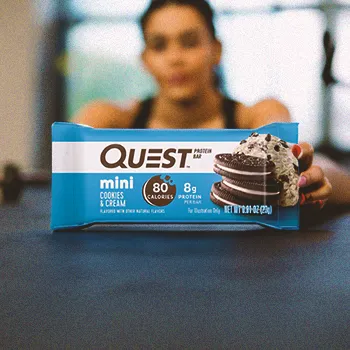 Users have found Quest Nutrition bars to be a game-changer. They provide a balanced amount of carbs and protein, allowing people with diabetes to enjoy a treat without the concern of excessive added sugars.
With 14 grams of fiber per serving, this protein bar has one of the highest fiber content among the snack bars on this list. Based on our tests, it's a great feature since it helps with digestion while ensuring you don't suffer any health drawbacks.
Calories: 200
Protein: 21g
Carbs: 21g
Fat: 9g
Pros
An array of candy bar flavors to choose from
No sugar alcohols protein bars sweetened with allulose
1/10 the calories of real sugar
Ideal pre-workout for diabetics to improve blood sugars
Cons
Texture may not be for everyone
​A few flavors don't work so well
In this case, Quest Nutrition is one of the best protein bars for diabetes because it contains 21 grams of protein.
This snack bar is also sweetened with allulose instead of added sugar alcohols which provides only 1/10 the calories.
4 - Kind Bars
(Cheapest Option)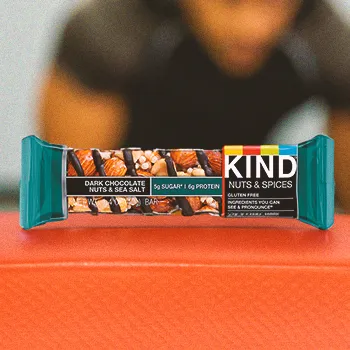 These bars are free from refined sugars and meet dietary needs such as wheat, gluten-free, and dairy-free. That's why my diabetic clients love them.
Based on our observations, they're probably as close as you'll get to 'clean' and healthy protein snacks or meals, and your body will likely appreciate that [1].
These protein bars for diabetes has a low glycemic index, which may help individuals with diabetes control their blood sugar levels.
Calories: 200
Protein: 8g
Carbs: 16g
Fat: 13g
Pros
Available in a wide variety of flavors
No genetically modified organisms
Great texture and equally great taste
Sweetener is from honey and/or dried fruit
Cons
Not as high in protein as others
Whether they have diabetes or not, some people prefer eating protein bars for diabetes for its nutritional value. If you have allergies, you might want to check the label first because the snack bar often contains different types of nuts.
5 - NuGO Slim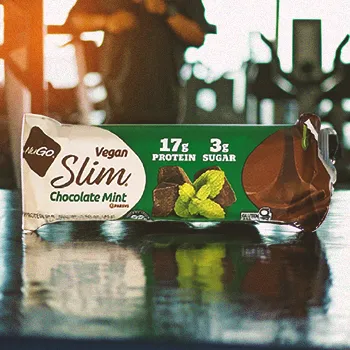 My clients tell me that NuGo Slim Brownie Crunch protein bars are a great option. They're high-protein and low-sugar, aligning well with the needs of those monitoring their blood sugars.
Each protein bar has 2 grams of sugar -- our research indicates that this load is highly manageable, along with 9 grams of fiber to help you feel satiated.
Calories: 180
Protein: 16g
Carbs: 17g
Fat: 8g
Pros
Available in raspberry truffle, dark brownie crunch, and roasted peanut
Only 2 grams of sugar per bar
​No trans fats or high fructose corn syrup
Real chocolate coating
Cons
Can be challenging to find
6 - RX Bar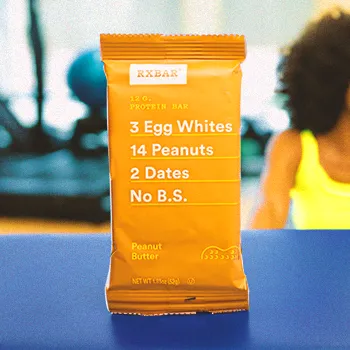 Our investigation demonstrated that the RX Bar may be just what the doctor recommends for diabetics who are looking for sugar-free protein bars for diabetes that also provide a bit of a pick me up during the long day [2].
It is made without GMOs and artificial preservatives. It's also soy-free, dairy-free, and gluten-free. It is also certified Kosher by the Orthodox Union.
Calories: 210
Protein: 12g
Carbs: 23g
Fat: 9g
Pros
Delicious sugar-free protein bars
Produced in certified Kosher facility
5 mg caffeine per bar for energy boost
Subscriptions available
Cons
Those with nut allergies may want to steer clear
RX Bars utilize 5 mg of caffeine to produce the aforementioned 'pick me up' without relying on the sugar alcohols.
Like some of our other protein bars for diabetes, though, if you have nut allergies along with diabetes, you'll want to be careful.
7 - Kashi TLC
(Best Granola Bars)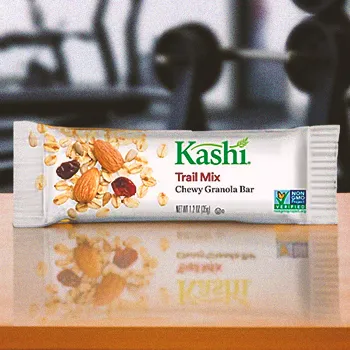 Our findings show that Kashi TLC Chewy Granola Bars are not as high in protein as some of the other items on our list, but they are delicious, contain plenty of fiber, and free of high fructose corn syrup and sugar.
These protein bars for diabetes are packed with plenty of whole grains, sun-dried fruit, and roasted nuts that our body needs every day.
Calories: 140
Protein: 7g
Carbs: 19g
Fat: 5g
Pros
No high fructose corn syrup or sugar alcohols
Sugar-free chewy bars, refined or otherwise
5-7 grams of protein per bar
Naturally low in starch
Cons
Chocolate coating tends to melt, making these chewy bars messier
Not as tasty as some other snack bars
They're also free of gluten, soy, and artificial ingredients. It is perfect for those who want to satisfy their appetite without the added sugar.
Choosing The Top Protein Bar for Diabetics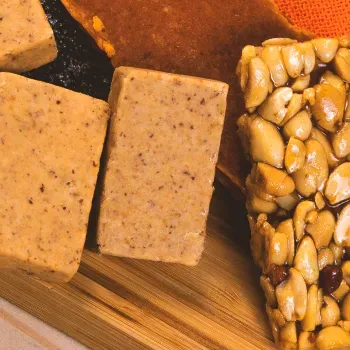 As long as you understand that protein snack bars are not completely risk-free (some contain chocolate, starches, and other ingredients that can cause a spike in blood sugar), then any of the best protein bars for diabetes profiled above should fulfill between-meal cravings [3].
When choosing protein bars for diabetes, it's important to look for:
Quality natural ingredients
Outstanding taste
Nutritional value (low sugar, high in healthy fats and fiber)
No sweeteners [4]
If you want to ensure that the protein bars you have in your pantry are indeed diabetic-free, you can make your own using the best protein powders for diabetics. With this, you can customize your bars to cater to your nutritional needs without worrying about hidden ingredients some brands like putting in as fillers.
Important: Always read the label carefully, look for 5 to 15 g of protein (the more, the better generally), steer clear of artificial ingredients, avoid high-fructose corn syrup, and enjoy.
Other Articles to Check Out:
Be sure to check out this video if you want to learn more ...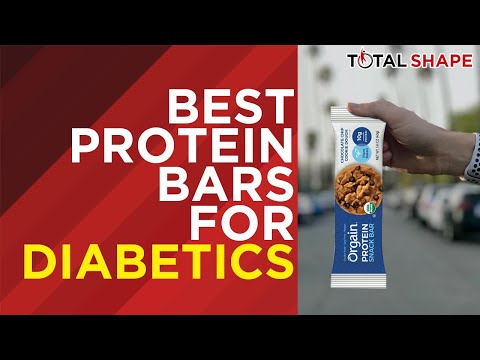 FAQs
What Should You Look For in Energy Bars for Diabetes?
You should look for energy bars for diabetes with less than 10 grams sugar and 30 grams carbohydrates content. At the same time, it should contain at least 5 grams of protein, 3 grams of fiber, and a maximum of 250 calories.
Are Protein Bars Ok for Diabetics?
Yes, protein bars are ok for diabetics. Most protein bars offer an excellent snacking option for people with diabetes because of the significant amount of protein they provide.
Do Protein Bars Spike Sugar?
Some protein bars spike sugar. That's why you should aim for protein bars with less than 15 grams of net carbs since that represents the only safe option for keeping your blood sugar level healthy.
Our Favorite Protein Bars for Diabetics
The best protein bars for diabetics are those low in sugar and have enough protein and carbs you need to stay energized throughout the day.
These are never going to be without risk, as we mentioned, but if you have diabetes, they can help you respond to sugar cravings in a positive way.
The Orgain Organic Protein Snack Bar is an ideal example of the type of well-rounded, healthy snack bars that most diabetics need to maintain adequate blood sugar levels.
It is packed with 10g of premium plant-based protein, 5g of sugar, and also one of the delicious tasting protein bars I've ever tried.
Our #1 Recommendation
Orgain Organic (Best Overall & Best Tasting)
Click For Best Price

Pros
10g of protein and 150 calories per serving
19 grams of carbs and high in fiber
Sugar content is low for better blood sugar levels
100% plant-based ingredients
Comes with a variety of tasty flavors (chocolate chip and S'mores are must tries)
Get the BEST PRICE until the end of December
Cons
Low protein amount when compared to other protein bars
Was this article helpful?