Based on all the different diets that my clients cover, the paleo diet is possibly one of the most difficult ones to pick supplements for.
What's the problem I hear you say?
Well, I spent countless hours talking with dietitians and researching paleo bars. I also personally tested over 40 bars with a group of my clients. An awful lot of them tasted delicious because of a load of hidden and artificial junk thrown in.
However, we were able to narrow things down to some of the best paleo bars for your protein fix.
The Best Paleo Protein Bars
Editor's Choice
Rise Whey
Check Current Price
#2nd Best Choice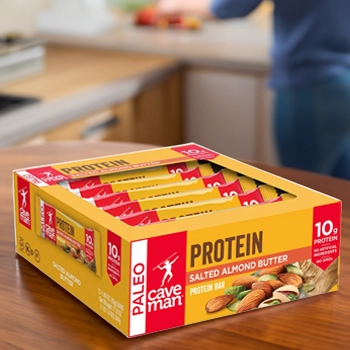 Caveman Foods
Check Current Price
#3rd Best Choice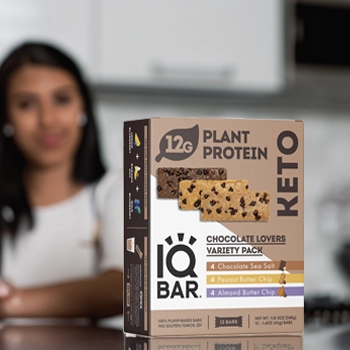 IQBar
Check Current Price
Our Top Paleo Protein Bars (December 2023)
1 - Rise Whey Protein Bar
(Best Overall & Non-GMO)
In our opinion, this is the best paleo bar for the majority of athletes. It was a game-changer for me. Every bite, rich in whey protein, felt like a step towards quicker recovery and muscle building. The clean, no-nonsense ingredient list was a breath of fresh air, assuring me that I was fueling my body with nothing but natural goodness.
It's got plenty of whey protein to possibly help with your recovery periods and muscle building.
With no sweeteners or other crap thrown in, the ingredient list is limited to a few completely natural items.
I would just mention that there is a bit of an aftertaste so make sure to take the paleo bars immediately before a meal.
Calories: 280
Protein: 20g
Fat: 16g
Carbs: 20g
Pros
Large enough to work as a healthy breakfast
Uses only natural ingredients from whole foods
Contains some dietary fiber that may help with digestion
GMO and gluten-free for added peace of mind
Cons
Some more added vitamins and minerals would be great
2 - Caveman Foods Nutrition Bar
(Cheapest Option)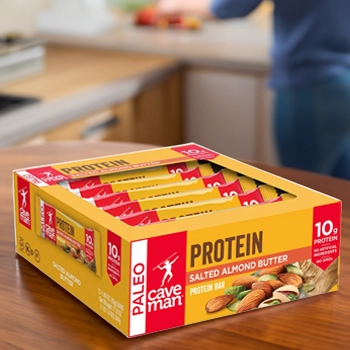 I remember the first time I picked up the Caveman Foods Nutrition Bar; I was intrigued by the catchy name.
My team and I had a good laugh, but the amusement turned into admiration once we delved into the nutritional info. Every bite was a delightful experience, confirming that a cool name was backed by quality.
The paleo-friendly flavors are natural, and it seems like most reviewers favor the almond coconut one.
Calories: 220
Protein: 5g
Fat: 15g
Carbs: 15g
Pros
Dairy and soy-free option to reduce allergens
Claims to contain zero trans fats for a healthier snack
Almond coconut and sea salt flavors seem to be the favorites
Cons
May not provide the full amino acid profile
3 - IQBar Brain+Body Protein Bar
(Best Plant-Based & Low Sugar)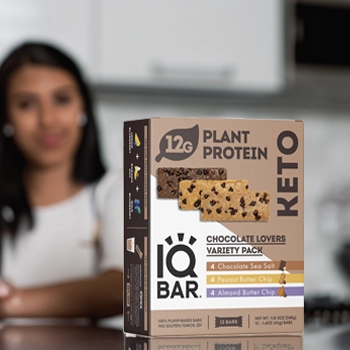 I recall a client who was particularly wary of the sugar content in protein bars. When I introduced them to IQBar, the skepticism turned into appreciation.
Personally, I've enjoyed the chocolate sea salt flavor without worrying about a sugar overload, a balance that IQBar masters very well.
Despite not having all that tasty sugar, the chocolate sea salt and peanut butter chip still seem to have a very popular flavor.
This is a great protein bar for any diabetic.
Calories: 180
Protein: 12g
Fat: 14g
Carbs: 11g
Pros
One of the lowest sugar options to not cause blood glucose
Contains only plant-based protein sources
Available in a wide selection of flavors for more variety
Cons
Some reports that it has a slight stevia aftertaste
4 - Lärabar Gluten-Free Fruit and Nut Bar
(Best for Heart Health)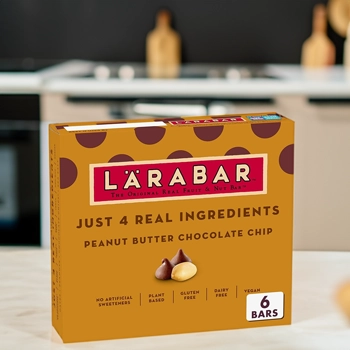 I can't count the number of times Lärabar has been my go-to morning snack. On busy mornings when making breakfast is a luxury, grabbing one of these bars has often been a lifesaver.
The natural fruit and nut flavors give me the energy boost I need to kickstart my day.
With only a small amount of bad fats on the nutrition label, it also looks like a healthy option.
Calories: 190 to 220
Protein: 3 to 6g
Fat: 9 to 12g
Carbs: 23 to 28g
Pros
Comes in a large pack for better value
Low in saturated and trans fats for better heart health
Each gluten-free box provides a good range of flavors
Cons
The protein bars are slightly high in sugar
5 - Amrita Energy Bar
There might not be that many vegan paleo dieters, but there are many good reasons to diversify with plant-based protein bars.
I remember the first time I tried an Amrita Energy Bar. The richness of plant-based ingredients and the energy boost it offered made me a believer in the power of diversifying protein sources. Plus, I felt quite full after snacking on one of these.
Some research suggests that plant protein might be easier to digest [1], so it's good to keep your options open.
Calories: 185
Protein: 7g
Fat: 7g
Carbs: 27g
Pros
Uses only plant-based, gluten-free ingredients
Reports that they are quite filling to bridge gaps between meals
Available flavor options are natural and tasty
Cons
It's quite a high-carb option which may not suit all diets
6 - RxBars Real Food Protein Bars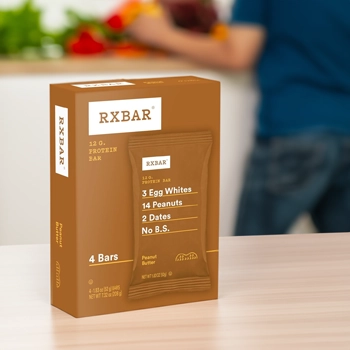 My first encounter with RxBars was a revelation. The use of egg white as a protein source was a novelty for me. Every bite felt like a wholesome, guilt-free treat that aligned with my fitness and dietary goals.
Some studies suggest that this is a more suitable source of essential amino acids to support muscle growth [2].
The only problem is that there's quite a bit of sugar in these, but the apple cinnamon flavor is definitely one to check out.
Still, it's one of the cleanest protein bars which only uses whole food ingredients like dates, almonds, cashews, and apples and skips any artificial sweeteners, flavors, and additives.
Calories: 210
Protein: 12g
Fat: 8g
Carbs: 24g
Pros
Natural whole food ingredients with no unnecessary additives
Uses egg whites as a healthy protein source
Comes in the largest variety of flavors
Cons
Quite a high sugar content that could mess up your diet
7 - Steve's Paleogoods Paleokrunch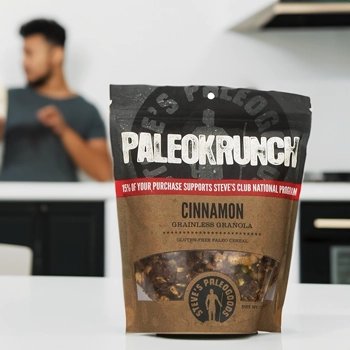 This paleo bar is popular because it claims to contain only natural ingredients.
When I bit into Steve's Paleogoods Paleokrunch, the burst of natural flavors from almonds, pumpkin seeds, and sunflower seeds won me over. It shows that natural ingredients and great taste can go hand in hand.
With just a little bit of sugar, most of the carbohydrates are from fiber, which may explain why they seem to be so filling.
The only downside to this product is that it's only available in one flavor which is Original Grainless Granola. But if you plan to eat it with a flavorful food, then it's a perfect snack partner.
Calories: 209
Protein: 7g
Fat: 13g
Carbs: 16g
Pros
Uses natural granola, pumpkin seeds, and nuts to provide slow-releasing energy
Reports that it may work well as a filling snack
Doesn't have an overly sweet taste due to the pumpkin seeds, making it more healthy
Cons
Currently only available in one flavor option
8 - Aloha Organic Plant-Based Protein Bar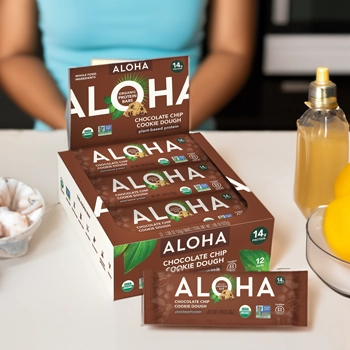 I've always had a soft spot for chocolate chip flavors, so trying the Aloha Organic Plant-Based Protein Bar was a no-brainer for me. Every bite was a delightful mix of my favorite flavor, coupled with the assurance of organic, plant-based nutrition.
The bars also have 14 grams of protein, which could help with most fitness and weight loss goals.
These protein bars are quite popular with the female demographic. Here are some other great protein bars for women.
Calories: 230
Protein: 14g
Fat: 10g
Carbs: 25g
Pros
14 grams of plant protein makes it suitable for vegan athletes
Low in cholesterol and trans fats without compromising healthy fats
Contains a good dose of dietary fiber to fill you up
Cons
Some people say the texture isn't crunchy enough
9 - Bulletproof Collagen Protein Bar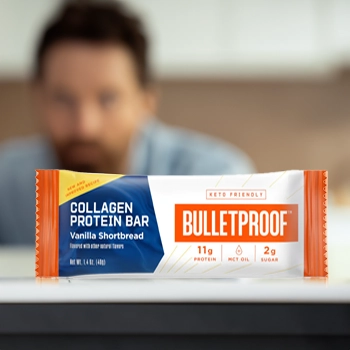 I was as skeptical as anyone when I first tried the Bulletproof Collagen Protein Bar. Beef collagen and vanilla shortbread? Sounds odd, right?
But to my surprise, the flavors melded wonderfully. Each bite was a reminder of the innovation that goes into creating these paleo-friendly delights.
If anything, the flavors seem to be quite popular while avoiding adding tons of sugar to improve taste.
However, with a texture of shortbread, some users say that this bar crumbles too easily.
Calories: 220
Protein: 11g
Fat: 12g
Carbs: 12g
Pros
Bars contain a strong dose of collagen for joint health
Very low in sugar to provide healthier snacks
Good choice of delicious flavors
Cons
Some people found that they crumble too easily
10 - Raw Rev Organic Superfood Protein Bar
Our final paleo-friendly bar recommendation comes from Raw Rev and is another organic option.
The first time I tried a Raw Rev bar, I was looking for something organic yet tasty. It didn't disappoint. The blend of superfoods and protein in a convenient bar made my snacking not just enjoyable, but also nutritionally rewarding.
What's different about this one is that it claims to have some extra minerals and vitamins to support your immune system and metabolism.
With 240 calories and the added extra minerals and vitamins, this could be used as a meal replacement bar.
Calories: 240
Protein: 7g
Fat: 16g
Carbs: 23g
Pros
Simple plant-based ingredients and free of gluten
Has some added minerals and vitamins for immune health
Positive comments about it being quite a filling option
Cons
Not the best choice for high-protein bar
How We Tested Paleo Protein Bars
Here's how we chose the best paleo protein bars.
Taste
First and foremost, we wanted to ensure that the paleo bars were not just nutritious but also delicious. After all, no one wants to snack on something that feels like a chore to eat.
Our team sampled each bar, noting the texture, sweetness level, and overall flavor profile. We also considered aftertastes and how satisfying each bar felt post-consumption. Multiple tasting sessions were held to ensure consistency in our evaluations.
Ingredients
The essence of a paleo bar lies in its ingredients. We meticulously examined the ingredient list of each bar, ensuring they adhered to paleo principles. This meant looking out for any hidden artificial additives, sweeteners, or non-paleo-friendly components.
We also considered the quality of ingredients used, giving preference to bars that sourced sustainably and prioritized natural, whole foods.
Price
While quality is paramount, we understand that affordability is crucial for many consumers. We compared the price points of each bar, considering the value offered in terms of nutrition and taste. This involved breaking down the cost per serving and analyzing if the price justified the ingredients and benefits provided.
We aimed to find bars that struck a balance between cost-effectiveness and premium quality.
Paleo-Friendly Protein Bars - Buyer's Guide

As mentioned above, finding paleo-friendly protein bars and supplements is a bit of a challenge.
But beyond checking if the ingredients are suitable for the paleo diet, there are a couple of things to consider.
Watch Out For Common Allergens
Whether it's gluten, soy, nuts, or dairy you might struggle with, it's always important to look at the list of allergens.
Good protein bars will make it very clear what they contain without needing an advanced nutrition degree, such as a gluten-free indicator.
Even with these labels, it's best to do your own research and determine whether hidden ingredients exist within the protein bars. That way, you know what you're getting for, especially if you already know you're allergic to something.
Don't Ignore The Protein Profile
It's important to not just look at the grams of protein per bar. Yes, for certain levels of fitness activity, you need a maximum dose. But you also have to check the source to ensure you get the full range of amino acids.
That might mean you need to buy a couple of different paleo bars if you're not choosing a whey product [3].
Many consumers report headaches, dizziness, rashes, bloating, nausea, diarrhea, and digestive problems after ingesting artificial sweeteners. These side effects could build up over time and cause serious long term health conditions with regular consumption of processed sugars.

 

- DrPeterOsborne.com
Avoid Artificial Ingredients
Believe it or not, we actually found some products marketed as a paleo protein bar that contained chemical sweeteners and flavors. These should not just be avoided for paleo, but some research suggests that they could mess with your digestive system [4].
Instead, choose natural sweeteners, such as honey, maple syrup, and dates are popular natural sweeteners in paleo bars. Pick paleo bars with nuts and seeds as they are rich in healthy fats, and fiber for better digestion.
Beware of the Environmental Impact
Paleo protein bars, with their natural ingredient lists, pose an interesting subject. Here's what to check when choosing your paleo bars: How sustainable are the farming practices behind the nuts, seeds, and natural sweeteners commonly found in these bars? What about the packaging - is it eco-friendly and biodegradable?
Ideally, you want to choose paleo protein bars that are tasty, nutritious, and sustainably produced.
Check the Nutritional Benefits
Start by flipping the bar over and giving the nutrition label a good read. Look for the protein content; ideally, you'd want a substantial amount to support muscle health. Check the fiber content too, as it aids digestion and keeps you feeling full.
Be wary of sugar levels; even if it's from natural sources, you don't want it to be too high. The ingredient list is your best friend – the shorter and more recognizable the ingredients, the better.
Lastly, watch out for nuts and seeds, which are great sources of essential fatty acids.
The Science Behind Paleo Bar Ingredients
When delving into the ingredients of our paleo protein bars, there's a fascinating science at play. Each ingredient isn't just chosen for taste but is backed by nutritional research.
For instance, the proteins, whether derived from whey or plants, are essential for muscle repair and growth. The natural fibers present aid digestion, acting as a prebiotic, fostering a healthy gut environment. Nuts and seeds, often found in these bars, are powerhouses of omega-3 fatty acids, which are known for their anti-inflammatory properties and brain health benefits.
Even the natural sweeteners, like honey or dates, have their roles – they provide quick energy and contain essential minerals and antioxidants. Every bite is a culmination of careful selection, ensuring that science and taste go hand in hand.
FAQs
Is the Perfect Bar Paleo-Friendly?
No, the Perfect Bar is not paleo-friendly. While we wouldn't classify it as unhealthy, it does seem to heavily rely on highly-processed protein powder that most people wouldn't consider an option for paleo.
Are Quest Bars Paleo-Friendly?
No, Quest bars aren't paleo-friendly due to some use of powdered ingredients. Even though this may make it easier to boost your daily dose, more natural and less processed protein bars are available.
Our Verdict on the Best Paleo Protein Bar
Having tried and tested numerous paleo bars, I can confidently say that the Rise Whey Protein Bar stands out for me.
It's not just about the taste, but the genuine commitment to natural ingredients that resonate with the paleo ethos. Every time I snack on one, I'm reminded of the clean, no-nonsense ingredient list that assures me I'm fueling my body right.
It's become a staple in our office, perfect for those moments when we need a quick energy boost.
If you're on the paleo journey, the simplicity and nutritional richness of these bars can genuinely make a difference. Give it a try, and get all the benefits of healthy snacking.
Our #1 Recommendation
Rise Whey Protein Bar (Best Overall & Non-GMO)
Check Current Price

Pros
Large enough to work as a healthy breakfast
Uses only natural ingredients from whole foods
Contains some dietary fiber that may help with digestion
GMO and gluten-free for added peace of mind
Cons
Some more added vitamins and minerals would be great
Was this article helpful?