Getting enough protein to build muscle isn't easy, and most protein bars are no better than stuffing your face with protein-infused Reese's Peanut Butter Cups (that sounds GREAT right now).
If you're looking for a great on-the-go snack between your job, family, soccer practice, and yoga, a protein nutrition bar is likely your best option.
However, looking for the best protein bars for women for both muscle building and weight loss might be a bit of a challenge, so we happily chewed through the top high-protein, low-sugar protein bars to bring you the five best.
Editor's Choice
Orgain
Click For Best Price
#2nd Best Choice
ONE
Check Current Price
#3rd Best Choice
LivBar
Check Current Price
Our Top Protein Bars for Women (June 2023)
1 - Orgain Organic Plant Based Protein Bar (Editor's Choice)
First up is the company that claims to be "raising the bar on bars". The Orgain Organic Protein bar has a decent amount of protein, is low-sugar, and seriously clean.
With 10 grams of protein, 2 grams of fiber, and only 3-6 grams of additional sugar per serving, it's a lean, healthy snack that's a suitable partner for women on the go.
Although it didn't have as much protein as some of the other bars, it made up for that with its taste.
It's also a vegan, gluten free bar made without soy and dairy.
Pros
Great as a post workout
​​Tastes like a candy bar but still healthy
Very low calories compared to other protein bars
100% vegan-friendly
Soy, dairy, and gluten-free
Cons
High-carb to protein ratio
Sticking to a diet is hard, so it's nice to sneak a protein snack bar in that tastes like a cheat meal but really isn't.
Overall, this is a good meal replacement bar for women because of the ingredients and high carb count. However, it is not as good if you don't have exercise planned for the day.
Pick a 12 pack and keep it in your bag for a healthy muscle building snack to nibble on when driving home from the gym.
30% Off Your First Subscription Order until the end of June
2 - ONE Protein Bar
A protein-packed bar with 23 grams of carbs and 20 grams of protein from milk and whey? Why not?
If you're trying to fight that stubborn belly flab and have more excuses to post your best beach photos on Instagram, then consider this product as one of your top choices.
​With ​only 1 gram of sugar, ​it makes it a great ​protein bar​ choice for diabetics.
It also contains 9 grams of fiber which can help you feel full longer to avoid overeating and snacking.
Pros
Low calories, fat, and added sugar
​​High-protein/medium carb
High in fiber
Great tasting flavors
Protein sourced from milk and whey protein
These gluten free bars contain 220 calories and are low in cholesterol, so they quickly became a top choice for a meal on the go. It's also an excellent option for supplementing your nutrition intake.
3 - LivBar Organic Superfood Bar
Next up is something that's ideal for the very health conscious women. A small, family-run company based out of Oregon, LivBar is created for the purpose that it wants you to "eat real food".
The company is all about health and sustainability, both for you and the environment.
Everything from the 100% best and natural ingredients to the compostable wrapper is on brand.
Pros
100% natural and gluten-free
High in protein for muscle building
Fair trade and locally-sourced
USDA organic
No artificial sweeteners, sugar alcohols, or flavors
Cons
Tastes good but not as good as others
​​A bit higher priced than others
It's also great that the ingredients were locally sourced as well as how clean the taste was. However, it contains only 6 grams of protein per serving, including 8 grams of added sugar and 15 grams of fat.
This protein bar is not actually bursting with flavor like they claim but each is packed with macronutrients just the way your body wants them. That said, it's a good choice for healthiest protein bars.
4 - PROBAR Protein Bar
PROBAR protein bars are packed with everything you need to build those guns and slim that waste. Their bars are 100% organic , gluten-free, and contain no artificial ingredients.
The raw ingredients used in this product helps give your body the fuel it needs for a great workout.
With 20 grams of protein from soy protein isolate and enough dense, raw nutrients in each snack to make up an entire meal (290 calories), it can keep you full for a while.
What we loved most were all of the natural foods: fruits, nuts, seeds, berries.
While it has 3 grams of fiber and zero cholesterol, it has too much added sugar per serving at 15 grams because of the natural sweeteners and syrups used.
Pros
100% clean ingredients and gluten-free
Whole food ingredients for more energy
High in protein for muscle gain
Delicious, natural flavors
No artificial sweetener and flavors
Protein sourced from soy protein isolate
If you're looking for protein that would support fat loss and lean muscle building, the 100% clean ingredients and high-dose of protein are the ideal combo for your stomach and your biceps.
With that, this is one of the protein bars that's a top choice for women in losing weight.
5 - Level Foods Banana Bread
Level Foods created their banana bread protein bars to help push the narrative that "healthy shouldn't be hard." And it certainly seems that way, since these bars are 100% natural - no additives, artificial sugars, and no sugar alcohols.
Each delicious bar contains 14 grams of protein sourced from collagen and egg whites to optimize body repair.
Not only are these bars delicious, but they also help fight stress and support the body and mind balance with their unique adaptogens.
Pros
Fresh flavor
No artificial sweetener, additives, flavors, or sugar alcohols
Helps support both the body and mind
Complete high protein bars
Each bar contains 210 calories, so it's definitely enough to keep you going for a while. It is also completely gluten, dairy, and GMO-free - meaning it's great for anyone with diet restrictions.
6 - Transparent Labs Uncut High-Protein Energy Bars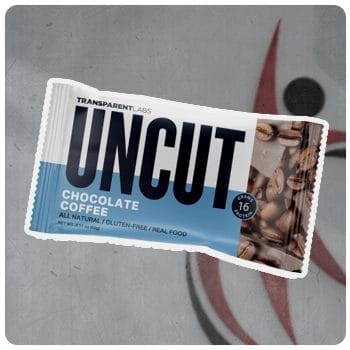 Transparent Labs is known to offer only high-quality products, and their energy bars are no exception.
One Uncut Bar has 290 calories (280 for the chocolate coffee flavor) and a 2:1:1 ratio of carbs, protein, and healthy fats, so it's guaranteed to keep you energized for hours on end.
This protein nutritional bar has an ultra-clean formula made up of wholesome ingredients like organic honey, roasted almonds, and 100% whey protein isolate, so it's as "real" as it could get.
With 16 grams of protein per serving, the Uncut Bar delivers everything you need to grow your muscles and support recovery.
Pros
High protein content
Delicious flavors
100% real ingredients
No artificial sweetener=
Cons
Pricier than other brands
I have used this as a pre-workout snack, and I can say it's one of the best-tasting bars I've ever had.
4 Types of Protein
Of course, life is never simple, especially for women, so you've also got to know which kind of protein you're taking. There are a ton of different kinds.
Whey: The most common protein by far, it is easily absorbed by the body and extremely clean. It's known for growing muscles, boosting your energy, and containing essential amino acids.
Soy: It's rich in arginine which is an acid known for increasing blood flow to the muscles. It's also digested quickly by the body and good for your bones (helpful if you have degenerative bone issues) [1].
Rice: As a 100% plant based protein, it's great for vegetarians and vegans. Brown rice protein also more easily digested and absorbed by the body than whey protein.
Egg and egg whites: This is one of the slower-acting proteins commonly seen in paleo protein bars. It comes from whole foods, though, so you're body can easily use it.
Aside from these mainstays, you may also find casein, milk, or pea protein on some labels. In general, stick with whey protein for most of your fitness goals unless you're a vegetarian or have certain health issues. Regardless, ensure it's gluten free to make the most out of your nutrition bars.
Protein bars typically consist of a protein source, sweetener, and fiber and/or fat for both texture and flavor.

- Grace Ling, Spoon University
How To Choose The Right Protein Bar For You?
To choose the right protein snack bar for you, you have to level with your goals, determine if you want to lose or gain weight, or are just looking for a meal replacement.
Protein snack bars are ideal products for women trying to burn fat, gain lean muscle mass and control their appetite, but they aren't a catch-all solution [2].
There's also a right way and wrong way to take them. Basically, it all comes down to your goals as a woman. Consider the following:
Are you trying to lose weight?: If so, a clean, low-calorie, low-carb bar is a great snack. That also means low in added sugar and fat, so always check the label. Make sure to stick to just one bar per day.
Are you trying to gain muscle mass?: If so, then dig in! High-protein, moderate carb bars should be a staple of your diet. Your body needs a lot of protein to grow. Don't overdo it, though. Natural food should still be the majority of your diet [3].
Are you just looking for a meal replacement to be healthier?: Meal replacements should be higher in calories, as well as protein and fiber since you'll want to be fuller for longer. Of course, the ingredients should also be diverse and healthy, like having nuts, seeds, fruits, etc.
You can achieve the optimal results from eating protein bars, or when taking other supplements, as long as you find the product with the perfect ingredients that suits your needs.
FAQs
Can protein bars help women to lose weight?
Yes, whey protein bars can help women lose unwanted weight. Increasing your protein intake will help suppress hunger and boost metabolic rates. It will also help your muscles recover faster from exercise, which means you can work out sooner at a higher intensity.
By eating less and exercising more, you'll have greater chances of losing weight.
Can women use protein bars as meal replacement?
No, women should not use protein bars as a meal replacement. While these are perfectly healthy and supportive of your weight loss goals, they are not nutritionally complete and can't fully replace one of your meals.
It's best to pair it with a smaller portion of an actual meal or snacks like bananas, avocados, hard-boiled eggs, nuts and seeds, and Greek yogurt.
Are protein bars worth it?
Yes, protein nutrition bars are worth it. They are a simple and tasty snack that will give you a good boost of energy and protein.
If you ever feel hungry after working hard at the gym, eating this snack can satisfy that hunger in a way that will further support losing weight.
What should you look for in a good protein bar for women?
When choosing the best protein bar for women, you should look for one that has at least 10 grams of protein, no added sugar (or at least keep it below 8 grams), is low in carbs (less than 10 grams), and contains some added fiber (the more, the better) to keep your hunger at bay.
Our #1 Protein Bar For Women
According to multiple factors and my own experience, the best protein bar on the list would be Orgain Organic Plant Based Protein Bar.
It is because it has all the necessary ingredients, like 10 grams of protein and some fiber, and it is 100% vegan-friendly.
Additionally, it has very low calories compared to the rest of the protein bars, and it tastes like candy while still being healthy.
You will enjoy eating this protein bar after your workout sessions since it delivers the necessary nutrients for your body to start a recovery process.
Our #1 Recommendation
Orgain Organic Plant Based Protein Bar
Click For Best Price
Pros
Great as a post workout
​​Tastes like a candy bar but still healthy
Very low calories compared to other protein bars
100% vegan-friendly
Soy, dairy, and gluten-free
Get the BEST PRICE until the end of June
Cons
High-carb to protein ratio
Was this article helpful?