23
Supplements
Considered
144
Hours
of Research
46
Reviews
Examined
11
Experts
Interviewed
In my experience as a personal trainer, one of the most common nutritional problems I encounter is magnesium deficiency.
If you've ever gone to the gym on a regular basis and then suffered from muscle cramps in the evening or in bed, that's probably down to a lack of magnesium.
Now, you can get many different supplements with magnesium benefits added in.
But I would strongly suggest that you get a high-quality standalone product to get the best possible results
Our nutritionist helped us do some analysis to come up with this list of magnesium supplements.
Editor's Choice
Transparent Labs
Click For Best Price
#2nd Best Choice
Vitamonk Quad-Magnesium
Click For Best Price
#3rd Best Choice
Dr. Anna Cabeca's
Click For Best Price
Our Top Magnesium Supplements (May 2023)
1 - Transparent Labs Rawseries Magnesium Bisglycinate (Editor's Choice)
This might be the best option for performance athletes and bodybuilders who need a larger dose of magnesium after a tough training day.
There are positive comments about working well for recovery, but it may also help improve muscle contraction during training for a more optimum performance level.
It may also be one of the cheaper ways to boost your magnesium intake.
Check out our full Transparent Labs Rawseries Magnesium review.
Pros
May be a good choice for high-performance athletes
Contains no artificial or GMO ingredients
Simple and cost-effective supplement
Easy on the stomach
Cons
The full dose may require taking three capsules per day
Get 10% off using coupon code: TOTALSHAPE
2 - Vitamonk Quad-Magnesium
Vitamonk has focused on creating a formula of multiple sources of magnesium as your body tends to use different types for various body functions.
By combining magnesium orotate, chelate, malate, and taurate, it claims to promote healthier sleep cycles as well as help prevent heart disease.
And the money-back guarantee allows you to try it out to see how your body reacts to it.
Pros
Uses a blend of different forms of magnesium
Seems to work well for evening time relaxation
Comes with a 60-day money-back guarantee
Cons
May need to be taken with food to avoid gas
3 - Dr. Anna Cabeca's Better Brain & Sleep
This product has aimed to provide the right combination for muscle recovery and performance with added boosts for brain functions.
Some of our team members were taking this while studying for an exam, and they found that they seemed to be able to concentrate better.
It also seems to be easy on the stomach, which may help avoid gas and bloating.
Pros
Comes in a powder form to easily mix with water or smoothies
May work well for improved brain function
Uses magnesium chelate for easier absorption
Cons
Free shipping is only available on larger orders and subscriptions
4 - Performance Lab Sleep
One of the magnesium supplements that we think may work best for all types of athletes is this one from Performance Labs.
It has a simple formula and a transparent label that is aimed to help people get a more restful sleep.
A lot of research points to the fact that better sleep quality should help you to recover faster and perform better in your next training session [1].
Pros
Specifically designed to help with sleep and exercise recovery
Seems to work well to relax muscles
May also improve your overall mood and stress levels
Cons
Free shipping is only available on larger orders
5 - Thorne Research - Magnesium Bisglycinate Powder
Another common reason that our weight loss clients take a supplement with magnesium is to help with blood glucose levels.
And that's one thing we saw in quite a few online comments about this magnesium supplement.
Pros
Many people find it may help with heart health and blood sugar levels
Provided in a convenient powder to mix into food and smoothies
Seems to be easy on the stomach with no reported negative effects
Cons
Only contains one form of magnesium
6 - BioEmblem Triple Magnesium Complex
This is another one of the blended supplement options that should raise your magnesium levels as the chosen types may be faster for the body to absorb and process.
The three types used are magnesium malate, glycinate, and citrate, which may be a good combination to help your muscles relax after a long trip to the gym.
We also liked that it's third-party tested, which should give you a more consistent supplement
Pros
Claims to blend three types of magnesium for faster absorption
Positive reviews that it may help with muscle soreness and muscle relaxation
Third-party tested for purity
Cons
Magnesium citrate may result in some gas
7 - Life Extension Magnesium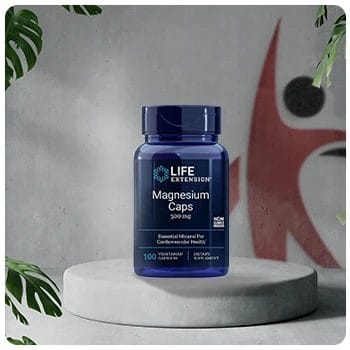 This is one of the strongest magnesium supplements we could find with 500 mg per dose. That might be the best option for some athletes going through intense training.
We also noted positive reviews that it may also help with heart functions and brain activity, which could help you in many everyday work situations.
Pros
One of the strongest magnesium content
Claims to target heart health and nerve function
Should work well for leg cramps
Cons
The capsule is a bit larger than others
8 - Nested Naturals Magnesium Glycinate
This magnesium supplement stood out for us as many users have commented that it seems to be easy to absorb without any side effects.
It may start to improve your magnesium concentrations within an hour to help with faster recovery times.
Pros
Seems to be easy and fast to absorb
Doesn't seem to have laxative impacts
Free from common allergens and vegan-friendly
Cons
It's a bit expensive for a lower dose supplement
9 - Klaire Labs Magnesium Glycinate Complex
Klaire Labs have created a magnesium supplement that a lot of people like because it may give you a bit of an energy boost when you take it first thing in the morning.
It's not one of the strongest options, but that might also help anyone who tends to have a more sensitive digestive system.
Pros
Seems to be easy on the gut
May provide a nice energy boost in the morning
Free from most common allergens with a simple and transparent formula
Cons
May not be strong enough for athletes to significantly raise magnesium levels
10 - MegaFood Magnesium
The final one of our magnesium supplements is another one that might work well for taking in the morning.
The capsules are small, and it shouldn't cause any negative side effects due to the lower dose.
Pros
Tablets are easy to swallow without getting stuck
Doesn't seem to cause any stomach issues
Claims to be tested for heavy metals
Cons
It's a bit expensive for the magnesium levels provided
Buyer's Guide
When picking your magnesium supplement, here's what you need to check.
1 - Forms Of Magnesium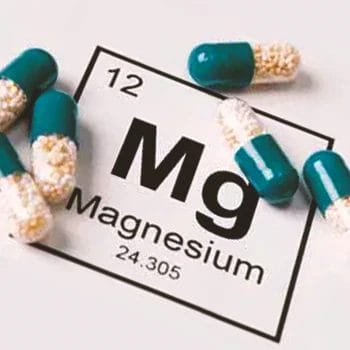 If you've done any kind of research into magnesium supplements, then you've probably noticed that they list different types of magnesium formulations.
Some might only focus on one type, while others combine a few of them for a broader range of benefits.
These are the most common ones [2]:
Magnesium citrate
Magnesium chloride
Magnesium oxide
Magnesium malate
Magnesium sulfate
Magnesium taurate
Magnesium lactate
Magnesium aspartate
Now, we could bore you with a lecture in chemistry and physiology to fully understand what they all do.
But I know that not everyone is as nerdy as I am about all this nutritional stuff.
"An adult body contains around 25 gram (g) of magnesium, 50–60% of which the skeletal system stores. The rest is present in muscle, soft tissues, and bodily fluids."

- Megan Ware, Registered Dietitian
I would just say that some of the types listed seem to be easier to absorb, like magnesium citrate. At the same time, they could also be the ones that cause some gas and bloating when taken in stronger doses.
Whichever one you choose to take, just aim to take a smaller amount for a few days to make sure your body will tolerate it.
Related Articles:
2 - Dosage
The next thing to focus on after checking the magnesium type is how strong the supplement is.
Most adult women should have a daily intake of 300 mg, while men should aim for 400 mg [3].
A lot of that should be achievable with a healthy and balanced diet, but athletes often require a bit more for help with muscle recovery.
But if you just want a small boost to help you sleep better, then a dose of about 100 mg should be enough to help you relax and recover from your workouts.
Always check the labels for the strength, and don't be tempted to buy a max strength one just for the sake of it.
These may cause some digestive issues and should only be taken after checking with a healthcare provider.
What Is The Best Magnesium Supplement?
We tested all the above products in our team and with clients and then looked at the feedback from everyone.
The overwhelming support was for Transparent Labs Magnesium Bisglycinate, as it just seems to help with a better muscle recovery for high intensity athletes.
The brand is known for keeping the ingredients wholesome and effective, while keeping the supplement light and easily digestible.
Order yours today, and then let us know how well it worked out for you.
Our #1 Recommendation
Transparent Labs Rawseries Magnesium Bisglycinate
Click For Best Price
Pros
May be a good choice for high-performance athletes
Contains no artificial or GMO ingredients
Simple and cost-effective supplement
Easy on the stomach
Cons
The full dose may require taking three capsules per day
Was this article helpful?