27
Supplements
Considered
173
Hours
of Research
95
Reviews
Examined
5
Experts
Interviewed

Any healthcare professional will tell you that a healthy liver is important for dealing with a wide range of health issues.
But many people don't realize that even if they don't have chronic liver disease, some regular detoxing could significantly improve their immune system, weight loss, and fitness levels.
To test the theory, we decided to try out some over-the-counter products to see if we could find a suitable liver support supplement with good antioxidant properties.
We spent hours researching liver supplements, and together with a group of our clients, we tested them over a period of several months.
Here's what we found.
The Best Liver Supplements
Editor's Choice
Dr. Anna Cabeca
Click For Best Price
#2nd Best Choice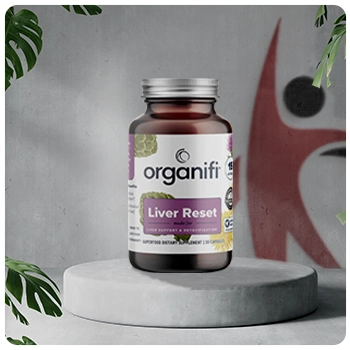 Organifi Natural Liver Detox
Click For Best Price
Our Top Liver Detox Supplements (December 2023)
1 - Dr. Anna Cabeca's Keto-Alkaline Detox Support
(Best Overall & With Vitamin B)
After consulting with our dietitian and personally trying out Dr. Anna Cabeca's formula, I can vouch for its effectiveness in supporting liver function.
The blend not only met our nutritional expectations but also gave me a noticeable boost in energy throughout the day.
It claims to do this by targeting two distinct phases of toxin elimination within the liver.
We also like the unique approach of adding some B vitamins, which according to a study published by the Recovery Village, are known to provide some antioxidant benefits [1].
Primary Ingredient: Artichoke Aqueous Extract
Pros
Should work well to introduce a range of antioxidants for better liver function
Includes vitamin B complex for increased cleansing
Seems to work well for boosted energy levels
Claims to support phase I and II detoxification processes
Cons
Free shipping is only available on subscription or bulk orders
The only downside we noted is that you'll need to place a bulk order or subscription to get the free shipping.
2 - Organifi Natural Liver Detox
(Cheapest & Best for Keto Diet)
Organifi have created a blend of organic Triphala, dandelion root, milk thistle, and artichoke leaf extract, which promote detoxifying enzymes.
Our tests indicated this is a good way to support weight loss, improve your liver health and general wellbeing.
All the ingredients are certified organic, and the company has gone to a lot of effort to avoid any of the most common allergens.
Primary Ingredient: Organic Triphala extract
Pros
Organic certification for added peace of mind
The unique formula claims to be based on scientific research to trigger certain liver function
Free from the most common allergens
Cons
Some people have reported minor stomach issues
Get 15% Off Using Coupon Code:  TOTALSHAPE
3 - Organixx Daily Detox
Having tried the Organixx supplement myself, I can attest to its liver health benefits. The milk thistle seed-based formula felt gentle yet effective, and I also noticed improvements in my digestive health, which was an unexpected and welcome bonus.
A PubMed study has shown that this might help repair liver damage from alcohol consumption and drug use [2].
But it might also help to provide some health benefits for your digestive system and lungs, which could help to ultimately improve your fitness levels.
Primary Ingredient: Organic milk thistle seed
Pros
Comes in a powder form that may be mixed with hot drinks
Seems to provide multiple health benefits for colon, lung, and liver support
May also help with digestive issues
Cons
It's one of the more expensive dietary supplements
The one thing we did note is that this isn't the cheapest product even in bulk orders. But the quality of the organic ingredients may justify the price tag.
How We Tested Best Liver Supplements
Here's how we chose the best liver detox supplements:
Ingredient Quality and Verification
The foundation of our testing protocol is a thorough verification of ingredients. We send each supplement to an independent laboratory to confirm that the actual contents match the product label.
This step ensures that the supplements contain the advertised active ingredients in the correct dosages. We also test for the presence of any contaminants or adulterants that could compromise the product's purity and safety.
Real-World User Experience Trials
To complement our scientific analysis, we conduct real-world trials with volunteers who use the supplements under controlled conditions. We monitor their liver health markers before and after the supplementation period to objectively assess the impact.
Additionally, participants are asked to report on their subjective experience, including any changes in well-being, ease of use, and side effects.
We then compare the performance of each supplement against established industry standards. This involves a detailed examination of how the ingredients in each supplement interact with one another and whether they support or inhibit each other's effectiveness.
Price Evaluation and Cost-Effectiveness
We conducted a thorough price analysis to determine the cost per serving of the supplements. This helps us assess the cost-effectiveness of each product, ensuring that consumers are getting their money's worth.
We consider not just the upfront cost but also the dosage required to achieve the desired health benefits, providing a clear picture of the supplement's value over time.
Natural Liver Detoxes
As you can see, the most effective products we found are also not the cheapest.
But that's for a very good reason.
Unfortunately, we found quite a few supplements that didn't do much at all because of crappy ingredients or a formula that was too weak. We listed down the best ones we could find (more on this below).
But you could also try to include some natural ingredients into your daily meal plan.
Here are some ideas.
1 - Green Tea
Even though I don't like the taste, I still have at least one cup of green tea per day. It might be one of the easiest ways to get a wide range of antioxidants into your system [3].
One thing I have done is to get a flavored one with peppermint and green tea, which makes it a lot more enjoyable.
But you could also buy the extract and mix a small amount into your morning smoothie.
The best green tea we've found is from a brand called Herbal Tea.
2 - Turmeric
This Asian magic spice is very commonly used in Indian curries. The active micronutrient is called curcumin, and you could buy it as a separate supplement.
However, if you like experimenting with different types of international meals, then try to use the spice in its raw form in some sauces you mix up.
It's tasty without being too spicy or overpowering.
The best turmeric supplement we've found is from a brand called NatureWise.
Recommended Post: Best Turmeric Supplements
3 - Beetroot
We found some interesting research that linked red beetroots to some potent detoxification processes [4]. It seems to work by making your liver more efficient at filtering toxins from your blood and increasing the oxygen concentration.
"Beetroot juice has gained popularity since Paralympic gold medalist David Weir announced that a shot of the juice was his secret to success."

 

- Jo Lewing, Registered Dietitian
But it might also help with your digestive system to filter out many toxins before they might even be absorbed into your body.
The best beetroot supplement we've found is from a brand called Natural Elements.
4 - Garlic
Yes, I know, you don't want to be the smelly person at the office or gym.
But if you plan some garlic into meals when you don't have to immediately face the public, then you could be gaining some major health improvements.
Research has shown that it's full of sulfur, which may help to better activate liver enzymes that are involved in the actual removal of toxins.
5 - Olive Oil
Don't go for the cheapest bottle you might find in a supermarket.
You'll enjoy the flavor and health improvements of a high-quality cold-pressed olive oil that might boost your intake of healthy fats.
Apparently, an increased intake of olive oil may produce more bile.
And as this bile is produced, more toxins that are stuck in the liver may also be flushed out in the process.
Other Healthy Liver Supplements:
Buyer's Guide
Here's a comprehensive buyer's guide to help you choose the most effective liver supplement for your needs.
Natural vs. Synthetic Supplements
Synthetic supplements are typically composed of man-made ingredients or natural ingredients that have been chemically altered. These supplements are designed in laboratories to mimic the way natural nutrients work in the body.
One of the main advantages of synthetic supplements is that they can be produced at a lower cost and with consistent potency. However, there are concerns about their bioavailability and the potential for unwanted side effects.
Natural liver detox supplements are derived from plants, animals, or minerals and are processed minimally. These supplements are favored for their 'whole food' benefits, as they often contain a broader spectrum of nutrients that work synergistically.
Natural supplements are generally considered to be more bioavailable, meaning the body can recognize and absorb them more efficiently. They are also less likely to cause harm, assuming they are sourced responsibly and taken in recommended doses.
Key Ingredients to Look For
Milk thistle: Known for its silymarin content, milk thistle is a potent antioxidant that supports liver cell regeneration.
Dandelion root: Traditionally used to support liver health, it may help with bile flow.
Turmeric/curcumin: Has anti-inflammatory properties and supports detoxification processes.
Artichoke leaf: Helps in protecting the liver and supporting bile production.
N-Acetyl Cysteine (NAC): A precursor to glutathione, a powerful antioxidant that is essential for detoxification.
Quality and Purity
Look for supplements that have been third-party tested for quality and purity. Certifications from organizations like NSF International, USP, or ConsumerLab can provide assurance that the product meets high standards.
Potential Interactions
If you're taking medications or other supplements, it's important to consider potential interactions. Consult with a healthcare provider to ensure that the liver supplement won't interfere with other treatments.
Vegan or Vegetarian Considerations
If you follow a vegan or vegetarian diet, look for supplements that specify they are plant-based and check for certifications confirming they do not contain animal products.
FAQs
Who Should Take Liver Detox Supplements?
Most people should occasionally take liver detox supplements. Liver health is a crucial factor in how well your body functions overall. Taking some simple supplements could help repair liver cells and avoid the unnecessary buildup of toxins.
Are Liver Detox Supplements Safe?
Yes, most liver detox supplements are safe. You shouldn't experience any side effects if the ones you take use scientifically proven natural ingredients and if you don't have any major underlying liver disease.
Our Verdict on the Best Liver Detox Supplement
We spent four weeks testing each of the above products among our team and with some clients as well. Based on a short vote, the majority of us all favored Dr. Anna Cabeca's product.
From the noticeable surge in energy to the gentle but effective detoxification, my experience with this supplement has been overwhelmingly positive.
It's not just about the high-quality ingredients or the added vitamin B complex; it's the real, tangible benefits that make it stand out.
Whether you're looking to kickstart your liver health journey or maintain optimal function, this is the supplement we recommend.
Our #1 Recommendation
Dr. Anna Cabeca's Keto-Alkaline Detox Support (Best Overall & With Vitamin B)
Click For Best Price

Pros
Should work well to introduce a range of antioxidants for better liver function
Includes vitamin B complex for increased cleansing
Seems to work well for boosted energy levels
Claims to support phase I and II detoxification processes
Get the BEST PRICE until the end of December
Cons
Free shipping is only available on subscription or bulk orders
Was this article helpful?