In my years as a trainer and fitness enthusiast, I've seen amazing results with fat burners firsthand and from my clients. But the choice of fat burner is crucial.
Recently, several clients asked my opinion on Stacker 2, so I decided to do a deep dive. I spent countless hours researching its ingredients, user reviews, and I personally tested this fat burner with a group of my clients.
Here's whether this truly is the "world's strongest fat burner."
What Is Stacker 2 Fat Burner?
Stacker 2 is advertised as "the world's strongest fat burner." It may help boost energy, curb cravings, burn fat, and aid weight loss in combination with a balanced diet and exercise.
More than two decades ago, this product was made in the USA by a New Jersey company NVE Pharmaceuticals.
It's been wildly popular, probably because it's been endorsed by celebrities, ubiquitously advertised on social media, in magazines, and elsewhere.
The original product formula contained ephedra. According to a study published on PubMed, the use of ephedra in supplements has been banned by the FDA [1]. This is why the Stacker 2 formula has been changed over time.
Although Stacker 2 is now ephedra-free, made with herbal ingredients, easy to get, and affordable, it still doesn't mean it's a completely safe and effective energy supplement.
Let's take a closer look at the key active ingredients of this supplement, their good and bad sides, and whether they can verify the manufacturer's claims with their effects.
What Are the Ingredients in Stacker 2?
The active ingredients in Stacker 2 are caffeine, yerba mate, kola nuts, Cassia mimosoides extract, white willow bark, green tea leaves, guggulsterone, and Gymnema sylvestre leaves.
Let's take a look at each of their benefits.
Caffeine Anhydrous (200mg)
This potent stimulant mimics the neurotransmitter adenosine to help improve mental alertness and exercise performance. According to several studies published on PubMed, it may provide an energy boost, reduce hunger and fatigue, and trigger thermogenesis to burn fat and stimulate weight loss [2] [3].
From my own use of Stacker 2, I found that while significant weight loss wasn't immediate, there was a notable increase in my focus and alertness throughout the day. This was akin to the effects I've felt from energy drinks or caffeine pills, a sentiment echoed in many online reviews.
Experts also say caffeine may be hazardous in this highly concentrated powdered form [4] [5].
Proprietary Blend (267mg)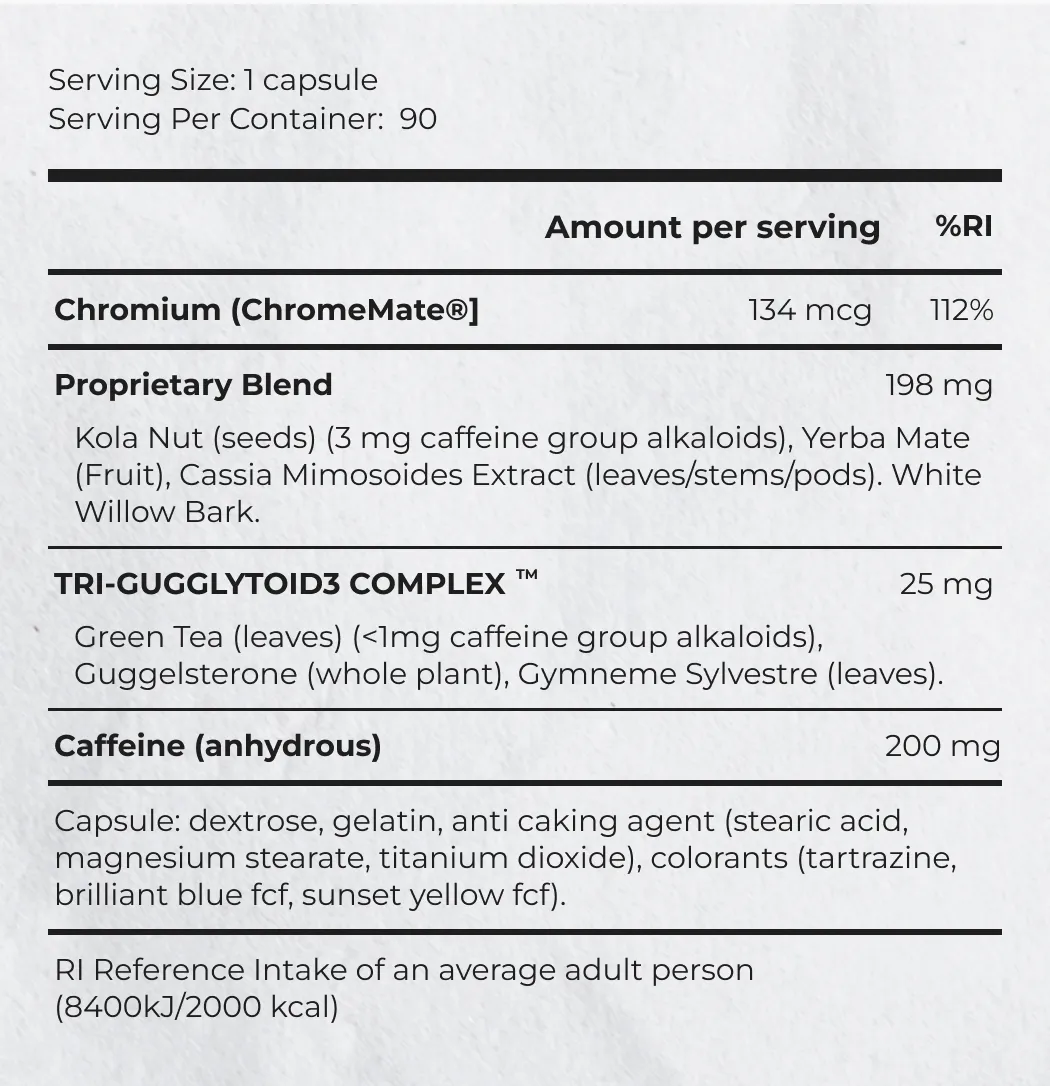 Yerba Mate (Leaves)
Apart from being rich in vitamins, minerals, antioxidants, and amino acids, Yerba Mate is another stimulant containing caffeine believed to improve mood and satiety or reduce tiredness [6].
When paired with exercise, Yerba Mate can have the potential to increase your metabolism and calorie burn, but there isn't enough research to support these claims [7] [8].
Most of my clients say that Stacker 2 works great for an afternoon pick-me-up, but not for longer sustained energy for workouts.
Kola Nuts (Seeds)
Primarily working as a central nervous system (CNS) stimulant, kola nuts are commonly used as additives in sodas, energy drinks, and performance enhancers like fat burners.
It contains large amounts of caffeine and theobromine, which act as stimulants to increase energy and reduce hunger. However, limited studies confirm this effect on humans.
Cassia Mimosoides Extract
Cassia Mimosoides Extract might support weight loss in some people by preventing the absorption of dietary fat in the intestines and promoting their excretion.
Yet, according to a WebMD article, there isn't enough reliable evidence to confirm its safety and effectiveness, especially when its dose is hidden behind proprietary blends [9].
White Willow Bark
White willow bark has natural anti-inflammatory, antioxidant, and analgesic effects like Aspirin.
Although its tannins and flavonoids may benefit your health, white willow bark is a blood thinner that might damage your liver and brain. Plus, no human studies can directly prove its benefits [10].
Our dietician highlights that it's best to choose a fat burner that contains scientifically proven ingredients for a more effective and safer weight loss.
Green Tea Leaves
Green tea might be slightly effective in weight loss supplements, but there's conflicting evidence about its benefits.
It's abundant in antioxidants and other important nutrients but also contains caffeine said to improve mental alertness and trigger thermogenesis [11].
My two cents:
They tried to replace ephedra with crazy amounts of caffeine in hidden doses.
Guggulsterone
Although Guggulsterone contains plant steroids that might regulate your triglycerides, cholesterol, and appetite, most research can't validate its effectiveness in weight loss [12].
Plus, it can mess with your hormones and cause blood clotting disorders [13].
Gymnema Sylvestre (Leaves)
Recent studies suggest that this ancient herb has anti-diabetic properties that may help reduce sugar cravings and regulate blood sugar levels to aid in appetite suppression and weight loss [14].
Gymnema Sylvestre has been widely used in Indian Ayurvedic medicine to treat diabetes and malaria. It has anti-inflammatory and anti-diabetic properties due to its tannin, saponin, and gymnemic acid content.
Our clients who tried this now ephedra-free fat burner noticed that it helped control their appetite to curb cravings and snacking.
How Does Stacker 2 Work?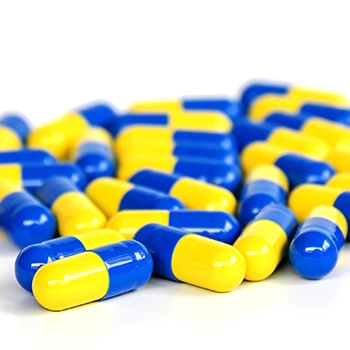 Stacker 2 works by promoting appetite suppression, boosting your metabolism, and increasing your energy levels. This supplement also aids fat-burning and enables you to train harder, thereby helping you lose weight faster.
It must be combined with a restricted diet, regular workouts, and other supplements to help people see any results, i.e., reach their fitness and weight loss goals more effectively and quickly.
However, there isn't sufficient scientific research to back up the claims on the effectiveness of this ephedra-free formula.
Moreover, Stacker 2 may also influence psychological aspects, such as mood and focus. Its ingredients can affect neurotransmitter activity, potentially enhancing alertness and concentration.
However, these same components might also impact stress levels. For instance, excessive caffeine intake can lead to increased anxiety or jitteriness in sensitive individuals. This dual effect underscores the importance of understanding one's psychological response to Stacker 2, as it can vary greatly among users.
Pros
The brand has been present on the market for a few decades
Updated ephedra-free formula
Some users have said it can increase energy
It might help control your appetite
Affordable
Cons
Formula not studied enough to verify the manufacturer's claims
It contains a proprietary blend with non-transparent doses of ingredients
Too high in caffeine
High chance of experiencing adverse reactions (as many people have complained)
It contains some controversial, artificial inactive ingredients
Other fat burners worth checking out:
Possible Side Effects of Stacker 2

These are the possible side effects of Stacker 2, according to users' experiences:
Severe headaches
Upset stomach
Jitters
Crashes
Short breath
Anxiety
Irritability
Dizziness
Shaking
Rapid heartbeat
Increased blood pressure
Insomnia, etc.
Customer Reviews

Besides expert opinions and numerous studies, we've gathered customer reviews from those who use(d) this product.
As expected, individual results vary.
Interestingly, most positive reviews praise the supplement for the energy increase it can give, while only a few users seem to be satisfied with its weight loss assistance.
Here are some typical experiences people have shared online:
"I haven't lost any weight using these as I tend to use them to keep me awake through the day, so I don't take them consistently. However, as a pick-me-up, they work great. Just don't take them on an empty stomach."

- Derek 
"Been using this product for years. I only take one a day for energy that last all day! Can't do the stacker 3 or xlt they make me shaky and give me the jitters but Stacker 2's are perfect." - Pamela 
"It really gives me energy to get through my day." - James 
"Definitely helps curb the appetite and increases energy." - Tia
"I used this years ago and lost a lot of weight this one the newer version I haven't lost a lbs." - Katelyn
"Helps with energy not weight loss." - Oya
Most side effects occur due to the high caffeine amount, so be extra cautious if you're oversensitive to it or consuming it from other sources as it may cause serious adverse effects [15] [16] [17]. If that's the case, we highly advise you to opt for a caffeine-free weight loss product instead.
"Caffeine in powder or liquid form can provide toxic levels of caffeine, the U.S. Food and Drug Administration has cautioned. Just one teaspoon of powdered caffeine is equivalent to about 28 cups of coffee. Such high levels of caffeine can cause serious health problems and possibly death." - Mayo Clinic
I found that I had some jitters and crashes in the afternoon after taking this in the morning. Since we're not exactly sure how much caffeine Stacker 2 has, I can't say whether I'm just sensitive to caffeine or the dosage is really high.
These capsules may interact with alcohol and some medications, so you should avoid alcohol and seek medical advice first if you're using any other pills. Also, minors, pregnant, or nursing women shouldn't use this product, but you can try one of the proven fat burners for women.
Fat Burner Alternatives
Now that we have looked in-depth at what Stacker 2 is, let's see how it compares to three industry-leading fat-burning supplements.
PhenQ
PhenQ is a fat burner packed with all-natural, scientifically-tested ingredients that target everything from stored fat to energy levels, appetite, and fat production.
While both Stacker 2 and PhenQ use caffeine, PhenQ also includes capsimax and L-carnitine to increase metabolism and boost energy.
Additionally, PhenQ's formula includes nopal and chromium to regulate appetite, a benefit that our test group applauded because there was a significant decrease in snacking and food cravings over several weeks of use during the testing phase.
Though PhenQ may be pricier than Stacker 2, its transparent label and effective all-natural, vegan-friendly formula make it worth the price. Plus, order from the official website, and you'll get a 60-day money-back guarantee, making your purchase risk-free.
LeanBean
The manufacturer has formulated Leanbean to help boost thermogenesis and control appetite, making it easier for women to lose weight effectively.
Compared to Stacker 2, Leanbean is very light on caffeine, making it suitable for those sensitive to stimulants, including some users in our test group. Stacker 2 contains 200 mg of caffeine Anhydrous, whereas Leanbean uses green coffee beans to provide just a fraction of that.
Our test volunteers yielded positive results that we determined by comparing body measurements before and after several weeks of use.
The heavy hitter for Leanbean is Glucomannan, a fiber that does a great job at increasing satiety and, as a result, reducing snacking, making weight loss easier.
I like the addition of B vitamins and choline to promote good energy and metabolism levels.
The dosing of six pills daily for Leanbean is a bit higher than Stacker 2's maximum of three. Some users felt six was a bit much, while others felt this gave them 24/7 benefits.
Instant Knockout
Instant Knockout, unlike Stacker 2, is a vegan-friendly fat burner initially formulated with maximum ingredient doses to target bodybuilders and athletes.
Boosting metabolism and promoting thermogenesis with a hefty 300 mg of caffeine compared to the 200 mg in Stacker 2, Instant Knockout can help you shred fat. Still, those sensitive stimulants may want to find an alternative.
Additionally, Instant Knockout uses appetite suppressants like Glucomannan and chromium, yielding positive results from our test group for reduced snacking.
I like the addition of L-theanine for improved mental alertness and focus to power through a hard workout.
With higher ingredient doses than many other fat burners available, Instant Knockout is a top choice for professional athletes looking to maximize muscle growth and strength and everyday gym-goers who want the most out of every workout.
FAQs
Where Can You Buy Stacker 2?
You can buy Stacker 2 from the company's official website and other retailers. However, it's better to buy from the former since it ensures you never receive any fake or expired products. Another benefit of buying from the website is the deals you might get from time to time.
How Should You Take Stacker 2 Weight Loss Supplement?
Stacker 2 should be taken three times a day after meals. The manufacturer suggests not taking more than the recommended dose per day.
Do Stacker 2 Weight Loss Pills Provide Energy Boost?
Yes, Stacker 2 weight loss pills provide an energy boost and allow you to train harder at the gym.
How Much Caffeine Is in a Stacker 2 Pill?
One pill of Stacker 2 contains 200mg of caffeine plus an unknown amount from other ingredients in the proprietary blend, such as yerba mate and green tea.
Are Stacker 2 Diet Pills With Ephedra?
No, Stacker 2 diet pills don't contain ephedra. This substance has been banned in dietary supplements by the FDA for causing potential life-threatening side effects, especially when combined with caffeine.
How Long Does Stacker 2 Stay in Your System?
Stacker 2 may stay in your system for a couple of days.
Our Verdict on the Stacker 2 Fat Burner
From my personal experience with Stacker 2, I've found it to be a mixed bag.
While I did notice an uptick in energy levels, the weight loss results were not as significant as I had hoped. This aligns with the experiences of many users who report increased alertness but less impact on weight reduction.
This is where PhenQ steps in – a scientifically backed fat burner known for its effectiveness and safety. PhenQ stands out with its transparent formula and potent thermogenic ingredients.
It's not just about burning fat; PhenQ also helps suppress appetite, boost energy, and improve mood. If you're looking for a reliable, all-in-one solution, PhenQ could be the game-changer in your fitness journey.
We Recommend This Instead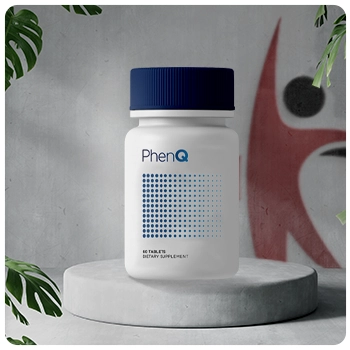 Click For Best Price

Pros
Suppresses your appetite
Blocks body fat production to stop weight gain
Improves your mood and energy levels
High-quality, all-natural formula
Get the BEST PRICE until the end of December
Cons
Can be only purchased through the company website
Was this article helpful?