Let's face it, the FDA has a limited role in regulating dietary products.
Drawing from my experience as a certified personal trainer, I have established a practice of rigorously testing various products to determine their efficacy and alignment with promised outcomes.
In this comprehensive review, I aim to provide you with a thorough understanding of RSP Liquid Burn. I researched and tested this product with my team over 10 weeks.
By delving into its ingredients, benefits, and potential side effects, I aim to empower you with the information needed to make well-informed decisions that safeguard your health.
Join me in examining whether Liquid Burn lives up to its advertised promises.
What Is RSP Liquid Burn?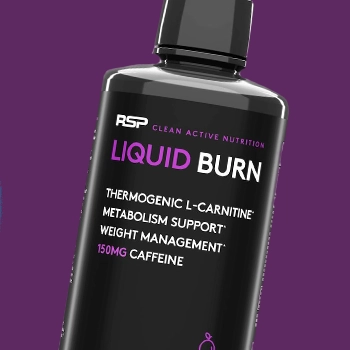 RSP Liquid Burn is advertised as an all-in-one fat-burning product containing natural flavors and a synergistic ingredient combination. It supports cellular health, enhances metabolism with its thermogenic L-carnitine matrix, burns fat, improves athletic performance, and shortens post-workout recovery.
Made in the United States by RSP Nutrition, it's supposedly designed to increase calorie burn and provide clean energy without jitters.
It supports healthy, natural weight loss to improve lean body composition (relying on three ingredients in effective doses).
Additionally, if you're a female, you can check out our list of the best fat burners for women.
Benefits
Liquid Burn is one of the few thermogenic fat burners in a liquid form. It has a very short ingredient list to improve lean body composition by targeting your energy, focus, and metabolism.
Based on its product page, the specific benefits of Liquid Burn are:
Increased metabolism and fat burning
Enhanced athletic performance
Improved recovery after workouts
Better cellular health
Active Ingredients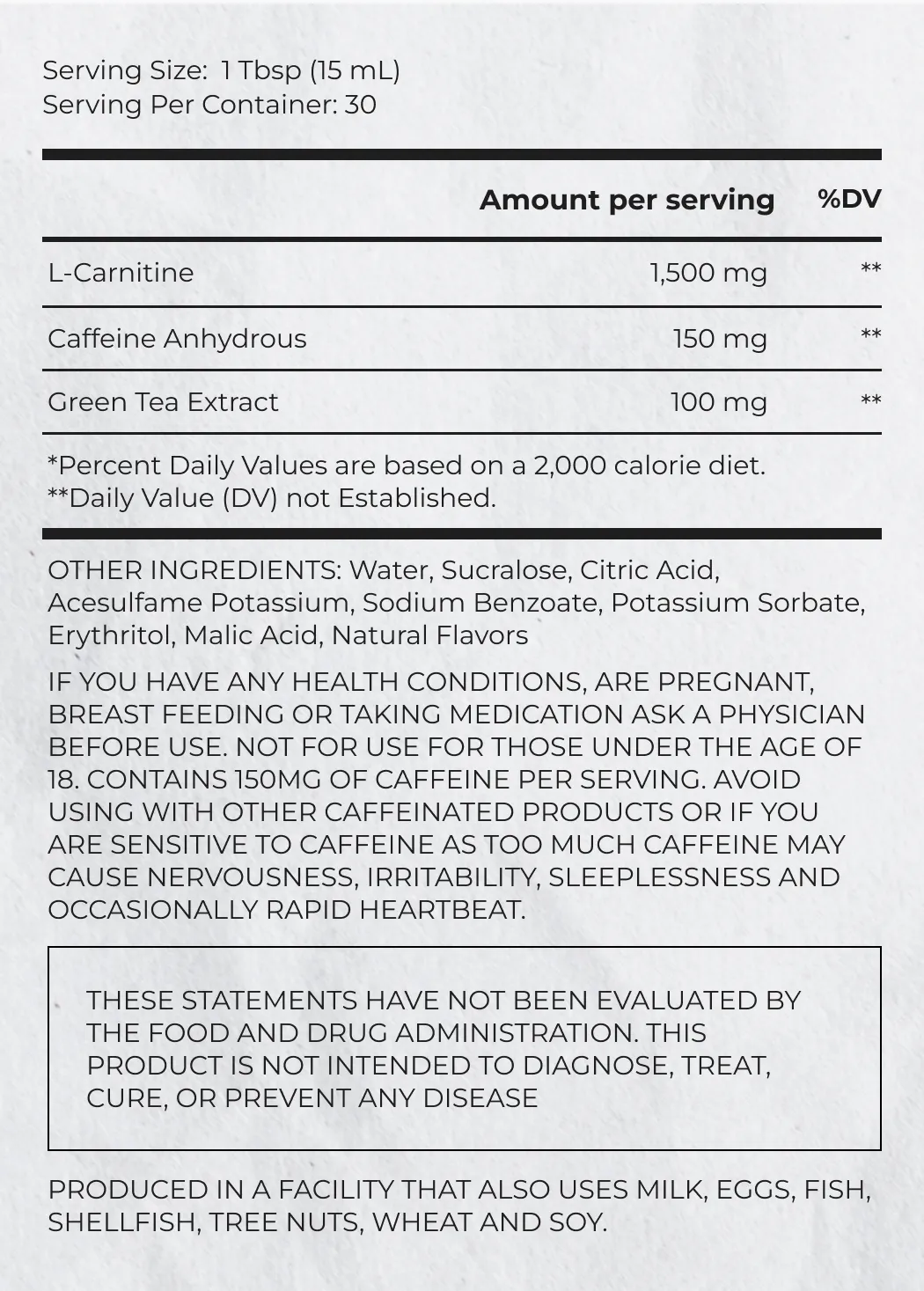 The content of this weight loss formula includes L-Carnitine, Caffeine Anhydrous, Green Tea Extract, Water, Sucralose, Citric Acid, Acesulfame Potassium, Sodium Benzoate, Potassium Sorbate, Malic Acid, Natural Flavors, and Erythritol.
Here's more info about the key compounds.
L-Carnitine (1,500mg)
L-carnitine is an amino acid critical for transporting fatty acids into our cells, where they get burned to produce energy.
According to the study found on the PubMed website, L-carnitine can prevent lactic acid buildup and enhance blood flow, supplying muscles with more oxygen, which translates to better endurance, reduced muscle soreness, and faster recovery after workouts [1] [2].
According to another study found on the National Center for Biotechnology Information website, L-carnitine helps the brain, heart, and other disease prevention [3].
Some of our testers say that it effectively burns extra pounds, but only if you are in a calorie deficit, meaning you should burn more calories than what you consume.
Caffeine Anhydrous (150mg)
Research shows that this stimulant can increase energy, focus, metabolism, and exercise performance, reduce fatigue and appetite, and enhance weight loss by stimulating thermogenesis [4] [5].
But pure, highly concentrated powder or liquid caffeine forms can be dangerous [6]. Plus, it becomes less effective as you get used to high doses over time, so we recommend you opt out for caffeine-free pre-workout instead [7].
Our clients find the amount of caffeine in Liquid Burn just enough to cause a significant energy boost without the nasty side effects.
Green Tea Extract (100mg)
Besides antioxidants, Green Tea Extract contains caffeine, which influences fat oxidation and stimulates thermogenesis to support weight management slightly [8] [9].
It can also aid in preventing cell damage and protecting overall health.
Related Product: Lipo 6 Black - Review
Pros
Marketed as a natural fat-burning formula
Claimed to boost metabolism, burn calories and fat, increase energy
Liquid form promises better absorption
Without sugars, carbs, calories
Convenient for on-the-go usage
Affordable
Cons
Newly-launched product without enough information and real user testimonials to support the company's claims
Many people have complained its berry taste is too sweet, like cough syrup
Positive reactions are more about feeling energized than losing weight
Unsuitable for caffeine-sensitive people, vegans, and vegetarians
It may contain some common allergens
Side Effects
Liquid Burn is new on the market without substantial evidence of its benefits and negative effects.
The manufacturer has warned potential customers that this product's been produced in the same facility as other products containing tree nuts, soy, eggs, milk, (shell)fish, and wheat.
So, it can trigger allergic reactions, and it's not vegetarian-/vegan-friendly.
Minors, pregnant, nursing women, and people taking any medications or other dietary supplements shouldn't use this fat burner.
This fat-burning supplement also contains Caffeine Anhydrous, so a sensitive person should avoid taking it with other caffeinated products.
Excessive amounts of caffeine may cause increased heart rate, high blood pressure, irritability, insomnia, nervousness, and many other severe adverse reactions.
"Caffeine in powder or liquid form can provide toxic levels of caffeine, the U.S. Food and Drug Administration has cautioned. Just one teaspoon of powdered caffeine is equivalent to about 28 cups of coffee. Such high levels of caffeine can cause serious health problems and possibly death." - Mayo Clinic
Based on our tests, many users have experienced a huge energy boost for their workouts without any jittery feeling or crashes later on in the day.
How Do You Take RSP Liquid Burn?
RSP Liquid Burn should be taken once a day. It's best to use one serving (one tablespoon or 15ml), and remember to shake the bottle well before pouring out the solution. Advanced users could increase the dosage to two daily servings.
I find that one serving works for me to give the boost and focus I need throughout the day, but not for losing weight.
Customer Reviews
Few genuine customer reviews are available online with a not-so-high average product rating.
Some websites displaying product recommendations offer money and rewards in return for a product review, making me question the honesty and trustworthiness of those mostly generalized praises.
Here are some excerpts of customer statements with more details:
"Decent supplement addition, not life-changing [...] this product has an awful taste [...] a decent addition to whatever your supplement stack may be to continue energy gain and weight loss. The effects aren't there unless you're already sticking to a caloric deficit in your diet." - Adam, United States
"It's too soon to tell regarding results but I have noticed a boost of energy when I take it at least x2 a day. The flavor is manageable just a bit too sweet for me maybe but would love to try this is another flavor." - Memsag, United States
"Decent caffeine lift without the stomach pain from coffee. Make sure you follow the serving size listed on the bottle, especially if you are sensitive to caffeine. Tastes okay." - Jason, United States
"Good L-carnitine, average dosage, normal price. The taste is pleasant, not very sweet." - Suzanne, United States
Fat Burner Alternatives
PhenQ
PhenQ is a 5-in-1 all-natural fat burner that aims to burn fat, inhibit fat production, suppress appetite, boost energy, and improve overall mood.
Unlike Liquid Burn with only three ingredients, PhenQ contains six ingredients as well as a licensed weight loss formula to approach weight loss in different ways.
It has lower doses of caffeine and L-carnitine compared to Liquid Burn, but it has added capsimax, nopal, and minerals for better appetite control, making it suitable for individuals who want to lose more excess weight, reduce cravings, and enhance overall mood.
LeanBean
Our tests shows that LeanBean is one of the best all-natural fat burners for women that also acts as an appetite suppressant to maximize weight loss results.
It contains a whopping 3g dose of glucomannan as well as fat-burning ingredients like green coffee bean extract and turmeric.
Unlike Liquid Burn that uses caffeine to boost metabolism, it doesn't heavily depend on stimulants such as caffeine to enhance thermogenesis without the nasty side effects. It's an ideal female-friendly fat burner and appetite suppressant that can be coupled with a healthy diet and regular exercise to get to the body of your dreams.
Instant Knockout
Instant Knockout is a powerful, vegan-friendly weight loss formula designed with bodybuilders and performance athletes in mind.
Similar to Liquid Burn, it contains caffeine and green tea extract to promote thermogenesis, but it has added L-theanine and cayenne to speed up fat burning.
Our tests also indicate that it also has a good dose of glucomannan and vitamins to regulate appetite and support muscle growth, which you won't find in Liquid Burn.
While it's originally formulated for professional athletes, it also works wonders for active people who want to lose excess weight and achieve a toned body in no time.
FAQs
What Happens When You Stop Taking Fat Burners?
If you stop taking fat burners, you may experience adrenal exhaustion, leading to burnout and lethargy.
What Happens if You Take Fat Burners Without Working Out?
If you take fat burners without working out, you'll have a lot of energy but no outlet. This might result in agitation, mood changes, frustration, sleeplessness, and jitteriness.
What Makes Liquid Formulation of RSP Liquid Burn More Effective Than Pills or Powders?
RSP Liquid Burn's liquid formulation is believed to offer enhanced absorption compared to pills or powders. This could lead to faster and more effective results in terms of weight loss and energy boost.
How Does RSP Liquid Burn Specifically Benefit Female Users?
While RSP Liquid Burn is suitable for both men and women, it has specific benefits for female users, such as targeting fat in common problem areas and balancing energy levels. These gender-specific benefits make it a unique choice for women seeking weight loss supplements.
How Does RSP Liquid Burn Compare with Other Popular Fat Burners?
RSP Liquid Burn stands out in its comparison with other fat burners like PhenQ, LeanBean, and Instant Knockout by offering unique features such as its liquid form and specific ingredients. This comparative analysis helps users understand its distinct advantages in the crowded fat burner market.
What Are the Key Ingredients in RSP Liquid Burn and Their Roles?
The key ingredients in RSP Liquid Burn, such as L-carnitine and Caffeine Anhydrous, play vital roles in weight loss and energy boosting. L-carnitine aids in fat metabolism, while Caffeine Anhydrous provides a significant energy surge.
What Do Experts and Users Say About RSP Liquid Burn's Effectiveness?
Expert opinions and user testimonials included in the review suggest that RSP Liquid Burn is effective for weight loss and energy enhancement, with a balanced view of its potential side effects. These insights offer a comprehensive understanding of the product from multiple perspectives.
Our Verdict on Liquid Burn
Based on my experience and months of client testing, we find it a bit lacking in weight loss results.
While it comes in a liquid form for maximum absorption and provides clean energy that lasts for hours, it might not increase your calorie burn to see a significant weight reduction unless you get serious about your diet.
If you're searching for a safe, effective all-in-one fat burner, appetite suppressant, energy booster, and mood enhancer, PhenQ may be exactly what you need.
PhenQ has been around for longer with tons of social proof, and it contains a superior science-backed thermogenic formula. The a-Lacy's reset is something revolutionary that most people find effective in helping them lose weight.
We Recommend This Instead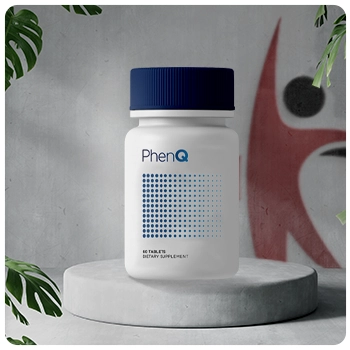 Click For Best Price

Pros
Boosts energy for better gym performance
Suppresses appetite
Improves overall mood and brain function
Replenishes body's lost electrolytes
Get the BEST PRICE until the end of December
Cons
Can be only purchased through the company website
Was this article helpful?