I was introduced to hyaluronic acid supplements a few years ago because I still have recurring joint pain from an old college injury. And as a personal trainer, I often help injured people recover and regain strength, and I've advised them to take it too.
However, I've had mixed results with hyaluronic acid nutritional supplements, so we decided to have our dietitian help with some research to come up with a list of the best hyaluronic acid supplements.
I'll also show you below exactly what you need to focus on to get the right results.
Editor's Choice
Now Foods
Check Current Price
#2nd Best Choice
NatureBell
Check Current Price
#3rd Best Choice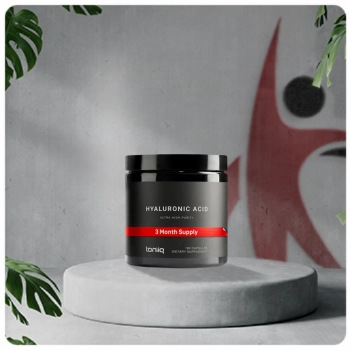 Toniiq
Check Current Price
Our Top Products (September 2023)
1 - Now Foods Hyaluronic Acid (Editor's Choice)
New Foods has landed top of our list of best hyaluronic acid supplements, mainly because it has a good dose of 100 mg, suitable for people with regular joint pain.
The premium hyaluronic acid capsules also contain some additional ingredients that support healthy joints. One study showed that alpha-lipoic acid is suitable for reducing joint inflammation [1], which explains why it seems to work so well.
We also found that it may help people who regularly suffer from dry skin to relieve some of that tension.
Pros
This oral hyaluronic acid comes as a veggie capsule suitable for vegans
It's a regular-strength product favored by people with degenerative joint disease caused
Positive reviews about the impact on healthy skin moisture
Added alpha-lipoic acid, L-proline, and grape seed extract to further relieve joint pain
Cons
The capsule is quite large, so make sure you drink plenty of water with it
2 - NatureBell Hyaluronic Acid
This NatureBell hyaluronic acid supplement is one of the strongest dosages we could find. That makes it ideal for anyone with significant joint problems requiring a double-strength product.
We also saw a few comments from women who say it improves skin hydration better than a typical hyaluronic acid serum. This may be down to the fact that it also includes a good dose of vitamin C, which is vital to keep your skin plump [2].
And athletes have had similarly positive things to say for damaged joints that were causing issues. The only downside is that I would have liked to see some other added ingredients to boost the effect more.
Pros
Contains added vitamin C for immune and skin health
Many women prefer this product for better-hydrated skin
Positive feedback from athletes who found it helped with joint lubrication
Cons
Some other added joint health ingredients, like L-proline, would be great
3 - Toniiq Ultra-High Purity Hyaluronic Acid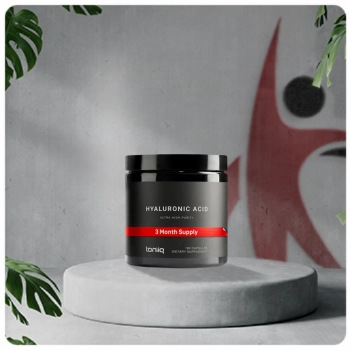 Next on our list of best hyaluronic acid supplements is a product from Toniq that comes in capsule form. What I like is that the full dose is split over two capsules to make adjusting the dose to your needs that much easier.
People have commented that it significantly increases skin moisture, along with relieving soreness in joints.
But you need to consider the price of the Toniiq hyaluronic acid capsules. It's a bit more expensive, and you probably pay for the brand name and fancy packaging.
Pros
Each bottle contains 180 capsules to keep you going for months
Full dosage is split over two capsules which makes adjusting the dose easier
The company claims that it's the most highly purified product for easier absorption
Cons
It's more expensive than most other products
4 - Nusa Pure Hyaluronic Acid
This is probably the simplest hyaluronic acid supplement we could find, as Nusa has focused on making it all about one high-quality ingredient. That's an advantage for many people as they may be taking other supplements and medication to deal with joint issues.
And based on comments from elderly users, it seems to work well for joint lubrication to avoid that bone-on-bone pain.
From a skin perspective, we also saw lots of women switch to this supplement because it has twice the hyaluronic acid content of most other products while keeping it at a reasonable price.
Pros
A very simple formula that only delivers hyaluronic acid
Many women have made this part of their beauty regimen for healthier skin
Recommended by many elderly people with arthritis
Cons
I found that the capsules were a bit difficult to swallow
5 - Jarrow Formulas Hyaluronic Acid
The formula on this Jarrow option is simpler than many other hyaluronic acid nutritional supplements. And that makes it so much easier to stack with other products, which many athletes do.
While it has a smaller dose than many others, that suits some people better, but that also means that it's not the best option for connective tissues.
If you're looking for something to add to your anti-aging routine for healthy skin, then many of the online reviews would suggest that you should try it out.
Pros
Lower dose option for people who may not have significant joint or skin problems
The hyaluronic acid pills are small and easy to swallow
Ideal for stacking with other dietary supplements because of the simple formula
Cons
It's quite a small bottle, and there don't seem to be bulk order options
6 - Forest Leaf Hyaluronic Acid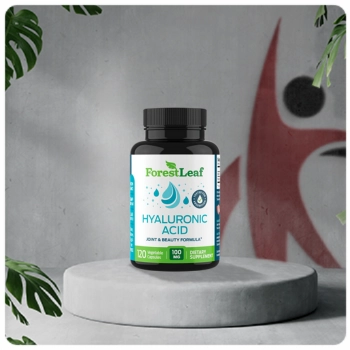 Forest Leaf is another one of our best hyaluronic acid supplements, and again it's a product with a lower dosage that might suit some people a bit better. These smaller capsules can be a great option if you don't have significant joint problems or just want to plump up your skin a bit more.
There's also some added vitamin C, which may explain why people have reported a positive effect on their skin within just a couple of weeks.
Just keep in mind that increasing the dosage for arthritis would make it more expensive than some of the above stronger products.
Pros
Recommended by many female users for anti-aging benefits
People have reported results within three weeks of starting
Has some added vitamin C for general health and skin benefits
Cons
It's not the right option if you need help with chronic joint inflammation
7 - Amazing Formulas Hyaluronic Acid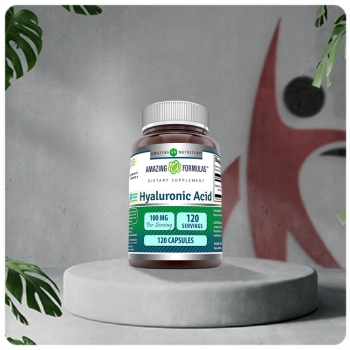 And the final one of our recommended best hyaluronic acid supplements is this stronger option from Amazing Formulas.
Looking through all the online comments and it's clear that many people take this one specifically for the higher dose to help them with sore joints.
What we like about this one is that it comes in a large bottle giving you enough supply to keep going for four months. And it's a made-in America product with a guaranteed seal for purity and quality.
Pros
This is a strong dose formula designed for people with connective tissue and joint problems
It comes in a large bottle with a 4-month supply
Made in the USA with a quality and purity seal
Cons
The capsules are large, so make sure you get them down with a lot of water
Buyer's Guide

Here are a few things you should keep in mind before you make a final decision on the best hyaluronic acid supplement.
Dosage
You can quickly notice differences in the price of products. Sometimes it's down to fancy advertising, packaging, and brand names.
But in most cases, it's all about the dosage in each serving.
Choosing the right amount all depends on what you're trying to achieve. If you have significant joint problems, 200 mg or more is a good place to start. But if you just want a small anti-aging effect, then 100 mg of hyaluronic acid works just fine.
And if you think you need some more, you can always double your intake of some of the lower-dose ones.
Capsule Size
Like other supplements, hyaluronic acid capsules come in different sizes depending on the formula and dosage. We generally prefer to see smaller capsules, even if that means that you need to swallow two of them.
The reason is that we have found some of the larger ones that go up to 1 inch in size can be uncomfortable to swallow. And because they aren't tablets that you can break in half, you can really end up struggling to get them down.
We've mentioned above on our list of best hyaluronic acid supplements, which ones have particularly large capsules.
Other Ingredients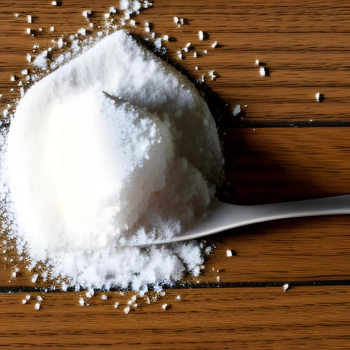 Out of all the best hyaluronic acid supplements, the one we liked the most has some added ingredients that further improve the beneficial effects.
The most beneficial ones are a-lipoic acid and L-proline, which have both been studied for arthritis [3], and collagen production for connective tissue [4].
Another good option would be chondroitin sulfate [5], but it's a bit more difficult to find mixed in with hyaluronic acid supplements.
And finally, from a skin benefit perspective, we have found that added vitamin C seems to be the favored ingredient for skin elasticity [6].
"The results of the trial demonstrated that participants taking Altrient C had significantly improved their skin elasticity over the 4-week period of the clinical trial, compared to those taking the placebo."

- Businesswire.com
Price
I generally tell people not to focus too much on the price. Or at least not do this until after you've analyzed all the ingredients and the dosage.
Here's a little trick you can do for hyaluronic acid supplements.
Look at the label of each bottle and then multiply the dosage per pill by the number of pills in the bottle. Then divide the price by the total mg in the bottle, so you get a price per mg. Then you can fully compare the prices of supplements.
But there's one other step.
You might still find that some products seem very expensive. In that case, check for additional ingredients that might justify that price.
If there are no other ingredients, then you're probably paying for branding and marketing.
Why Should You Use Hyaluronic Acid?

You should use hyaluronic acid because it has numerous benefits for the skin and other areas of your health.
Here is a quick summary of what it's often recommended for:
Improved skin health
Faster wound healing
Support connective tissues in joints
Reduce acid reflux
If you have any doubts about taking a hyaluronic acid supplement due to significant health issues like severe arthritis, then talk to your doctor first about taking hyaluronic acid. They may be fully in favor of it.
"Hyaluronic acid (HA), the main component of extracellular matrix, is considered one of the key players in the tissue regeneration process. It has been proven to modulate via specific HA receptors, inflammation, cellular migration, and angiogenesis, which are the main phases of wound healing." - hmpgloballearningnetwork.com
Possible Side Effects
The good news is that hyaluronic acid capsules that you take orally have not been shown to have any side effects [7]. But people still have this idea that it can cause itching, nausea, and even painful irritations.
This is because these are side effects of hyaluronic acid injections, and those should only ever be considered after consulting with a doctor.
Personally, I have yet to encounter a client who has had any kind of side effects, and I have some with arthritis who take quite high doses.
FAQs
Is It Good to Take Hyaluronic Acid Orally?
Yes, it is good to take hyaluronic acid orally. It's the only way to experience its benefits on the joints without injections. It can also rejuvenate your skin from the inside.
Is It Better to Take Collagen or Hyaluronic Acid?
It's better to take hyaluronic acid and collagen together if you have severe joint issues. Both of these substances may help contribute to the development of connective tissue like cartilage, so using them together is bound to deliver more favorable results.
How Many Milligrams of Hyaluronic Acid Should You Take a Day?
You should take about 200 mg of hyaluronic acid a day. This is already a good dose for anyone looking to relieve their painful joints.
But if you just want to rehydrate and plump up your skin, a lower dose of 100 mg should work.
Is Hyaluronic Acid Bad for Your Liver?
No, hyaluronic acid isn't bad for your liver. There is a misconception that it may cause liver issues, but elevated hyaluronic acid is a symptom, not a cause of liver problems [8].
Have You Ordered Your Hyaluronic Acid Supplements Yet?
If you've been thinking about taking hyaluronic acid supplements for your joints or just a youthful appearance, then I would highly recommend Now Foods Hyaluronic Acid. It might not be the highest dosage, but that gives you a lot of flexibility in getting the right amount.
And the reason it's at the top of the list of our best hyaluronic acid supplements is that the added ingredients like a-lipoic acid may further improve any painful joints from natural aging or injuries.
And we had many people tell us that it made a significant difference in dry and sensitive skin by making it feel much more hydrated.
Our #1 Recommendation
Now Foods Hyaluronic Acid
Check Current Price

Pros
This oral hyaluronic acid comes as a veggie capsule suitable for vegans
It's a regular-strength product favored by people with degenerative joint disease caused
Positive reviews about the impact on healthy skin moisture
Added alpha-lipoic acid, L-proline, and grape seed extract to further relieve joint pain
Cons
The capsule is quite large, so make sure you drink plenty of water with it
Was this article helpful?