28
Supplements
Considered
183
Hours
of Research
97
Reviews
Examined
12
Experts
Interviewed
Probiotic supplements are one of the best ways to address many of the most common female health issues right at the source.
Many women completely underestimate how taking probiotics could impact not just their gut health but also many other areas like immunity and vaginal PH levels.
The problem with many probiotics on the market is that they don't have the right amount and quality of colony forming units (CFU).
They are likely to just be a waste of money.
So, we got together with a registered dietitian to see if we could come up with a list of the best probiotics for women that maintain digestive health, keeps the digestive system running, and protects vaginal flora.
We were looking for the best probiotics for women and here's what we found.
Table of Contents
Editor's Choice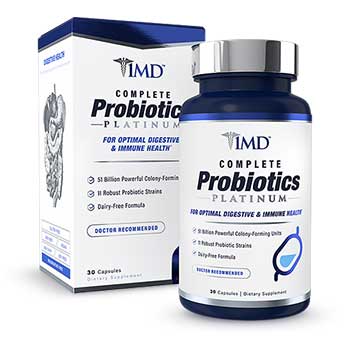 1MD
Total Probiotic Cultures
51 Billion CFU
Click For Best Price
#2nd Best Choice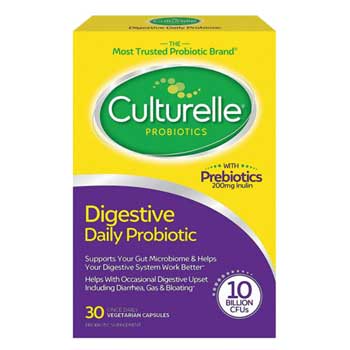 Culturelle Daily
Total Probiotic Cultures
10 Billion CFU
Check Current Price
#3rd Best Choice
Garden of Life
Total Probiotic Cultures
50 Billion CFU
Check Current Price
Our Top Probiotics For Women
1 - 1MD Complete Probiotics Platinum (Editor's Choice)
The best option we tested out is the 1MD Platinum from a quality and dosage perspective.
It should provide a good combination of 11 strains of bacteria and 51 billion CFU.
The added prebiotic fiber may also help to strengthen the new colonies.
Dosage amount: 51 billion
Pros
Capsules are designed to release probiotics slowly
Includes 11 strains of bacteria for a more balanced gut flora
People like that they may get good discounts for bulk orders
Claims to have added prebiotic fiber to help feed good bacteria
Cons
May contain some traces of dairy
2 - Culturelle Daily Probiotic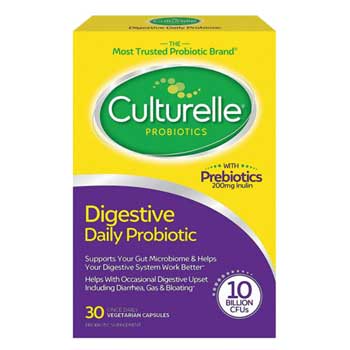 This probiotic supplement might be a good choice for women who may have a sensitive stomach. The lower dosage focuses mainly on one strain of bacteria that could often be negatively affected by antibiotics.
Dosage amount: 10 billion
Pros
Contains some prebiotics that may help the growth of new cultures
Limited reports of side effects like gas and bloating
Seems to be suitable for people taking strong doses of antibiotics
Cons
Only contains lactobacillus rhamnosus, which may be a bit limited
3 - Garden of Life Dr. Formulated Probiotics
This Garden of Life probiotic supplement is a stronger option with 50 billion CFU from 16 different strains. And the strains have been chosen to help with vaginal PH balance and general health improvements.
It might also be the best probiotic for those who suffer from common food allergies.
Dosage amount: 50 billion
Pros
Claims to contain 16 different strains of probiotics
Soy, gluten, and dairy free for less risk of allergies
Specifically designed for vaginal health
Cons
Despite being shelf stable, it may require refrigeration
4 - Vitamin Bounty Pro Daily Probiotic
Vitamin Bounty has created this supplement to focus on good bacteria from 5 specific strains. It should help to reduce the chances of gas and bloating by limiting it in this way.
Many of the review comments seem to point out a lot of health benefits, especially for digestive discomforts.
Dosage amount: 10 billion
Pros
Specifically designed for female health benefits
Five strains of bacteria may support vaginal health
Doesn't seem to cause gas or bloating even on an empty stomach
Cons
Might not be strong enough for some
5 - NatureWise Probiotics
Our dietitian has been recommending this product for females who might suffer from a more significant imbalance in their gut flora.
It certainly is one of the strongest products with 90 billion units. And the online reviews seem to be quite positive about the slower release design, which might take 8 hours or more.
Dosage amount: 90 billion
Pros
One of the strongest options available
May work well for unbalanced gut flora
Claims to slowly release over about 8 hours
Cons
Requires refrigeration for the maximum expiration date
6 - Lovebug Probiotics
This might be the best probiotic for vaginal health and PH level improvement.
But it might also work well for those who regularly suffer from urinary tract infections, thanks to some cranberry extracts.
Dosage amount: 10 billion
Pros
Positive reports that it may work well to balance vaginal health and PH
Includes a small dose of D-Mannose and Cran-GYN for urinary tract health
Shelf stable so you don't have to keep it refrigerated
Cons
May not be best suited for severe gut issues
7 - Nature's Way Probiotic Pearls
If you have some milder gut issues, then Nature's Way might be a good option for introducing some gut balance.
It has no added fillers or artificial ingredients, and many women like that the capsules are smaller, which may make them a bit easier to swallow.
Pros
Might be a good choice for common stomach issues
Contains no fillers, additives or unnecessary artificial ingredients
Softgel capsules seem to be easy to swallow
Cons
Quite a limited supply of probiotics in each dose
8 - Flora Bloom Probiotic For Women
One thing we noted with this product is that many women with IBS issues [1], including diarrhea, have added positive comments about these capsules.
The added cranberry extract may also help if you tend to get urinary issues on a regular basis as well.
Dosage amount: 10 billion
Pros
May work well for symptoms of IBS
Added cranberry may help with urinary tract health
Positive reviews about it balancing vaginal PH
Cons
It doesn't have the broadest range of probiotics
9 - Klaire Labs Ther-Biotic Complete Probiotic
This supplement should also be a good option for a more significant impact on your bacterial balance as it may provide 12 of the more important strains.
We also liked that it arrived in a cooled and insulated bag to ensure more of the bacteria might stay alive
Dosage amount: 25 billion
Pros
Aims to provide 12 strains of probiotics
Comes with prebiotic fiber to feed the new bacteria
Ships in an insulated cool bag to ensure best results
Cons
It will require refrigeration to ensure the culture remain alive
10 - Renew Life Ultimate Flora Extra Care Probiotic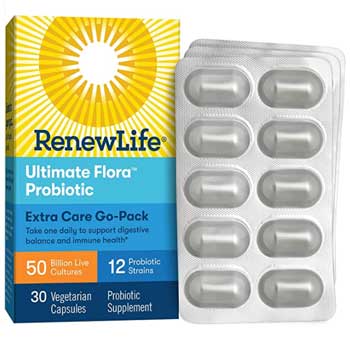 The final product on our list has also seen a lot of positive comments that it might work well for issues like constipation and diarrhea.
And it also seems to be favored for more severe bacterial imbalances that may otherwise result in continuous discomfort.
Dosage amount: 50 billion
Pros
Claims to have a broad range of 12 strains
Positive comments about the impact on common bowel issues
High potency may make it suitable for more severe stomach complaints
Cons
Might be a bit limited for vaginal PH
Buyer's Guide

Amount Of Probiotics
There are two things you may need to focus on before you make a final decision.
First, is the quality of the colony forming units.
We encountered many products that simply didn't result in any significant changes in the body. This could be due to too few of the bacteria arriving alive to grow into significant colonies.
The second thing to look at is the number of bacteria. If the number is too low, then it could take months before the supplement makes any significant health improvements.
Probiotic Strains
There are hundreds of probiotic strains in your body [2], but there are some that may be more important than others.
One that is commonly out of balance is lactobacillus rhamnosus, so it's always good to check if it's on the nutrition label. 
Unless you have some very specific issues that were diagnosed by a doctor, then it might be best to go for a supplement with a broad range of strains.
Which Is The Best Probiotic For Women?
The probiotics for women that we liked the most is the 1MD Platinum due to the choice of different strains and the effects that we saw with clients and team members.
Our registered dietitian also said that it might be one of the fastest to start working as the quality of the colonies seems to be very high.
Order yours today and then let us know in social media comments how well it worked for you.
Our Best Probiotics For Women
1MD Complete Probiotics Platinum
Total Probiotic Cultures
51 Billion CFU
Click For Best Price

Pros
Capsules are designed to release probiotics slowly
Includes 11 strains of bacteria for a more balanced gut flora
People like that they may get good discounts for bulk orders
Claims to have added prebiotic fiber to help feed good bacteria
Cons
May contain some traces of dairy
About the author
You may also like