As a personal trainer with over ten years of experience, I can tell you that most of the aggressively advertised fat-burning supplements don't deliver on their promises.
True Shred is one such product that I suddenly saw more people taking, and it appears everywhere in online advertising.
So I got together with my dietitian and a few clients to research this fat burner and see how well it actually worked. That meant testing it for four weeks, measuring the results, and comparing those to products that we know work well.
Here's what we found.
What Is True Shred?
True Shred is a fat-burning supplement from the company Hard Rock Supplements.
It claims to be one of the most effective fat burners on the market and was listed as one of the best products by Men's Journal.
It's marketed as a natural and legal anabolic that supercharges your metabolism, increases protein synthesis, and helps you build more defined and harder muscles.
It uses natural ingredients that the company claims have scientific proof to deliver results. And that's where we focused our attention on research and testing.
Let me show you what our testing revealed.
True Shred Benefits

Here is an overview of the results our testing team had with True Shred. We went through one cutting week without any fat burner, followed by two more with True Shred to compare the results.
Fat Burning
The True Shred marketing material promises improved metabolic rates that help to get rid of stored body fat and show your lean mass.
However, we didn't notice an increased fat burning during our testing, and my dietitian pointed out that the included ingredients aren't actually designed for metabolic benefits.
Muscle Endurance And Strength
The other thing that it promises is improved strength and endurance during training. What we found was that there was some improvement during exercise, and my dietitian pointed out that this was most likely due to the included DHEA [1].
However, the effect was not significant and not as strong as a typical pre-workout would deliver.
Pros
Provides some improved training strength and endurance
It's easy on the stomach and doesn't cause side effects
Cons
There's a limited effect on fat burning
You need to take four capsules a day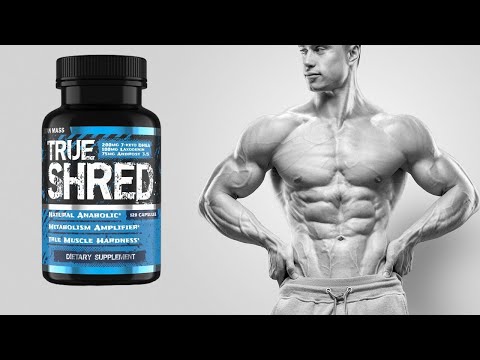 Does It Have Downsides?
It promises to deliver fat burning, strength, and muscle building, but our testing results revealed that it only delivered modest strength increases with almost no additional fat burning.
It did help with maintaining lean muscle mass, but you'd be better off taking a good pre-workout to achieve the same at a lower price.
And you also need to take four capsules a day, which is quite a lot.
How Does It Compare To Other Products?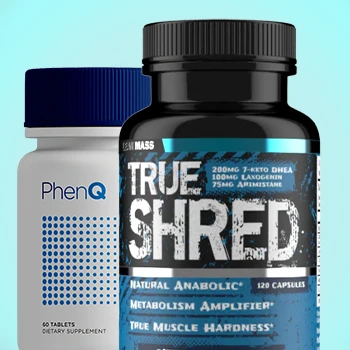 The next thing we did was compare the results to two other products.
First of all, we've seen much better strength, endurance, and fat burning with Instant Knockout.
It has a strong dose of caffeine, which helps to burn more fat during exercise [2].
And the other product we compared the results to is PhenQ weight loss pills.
It has a great formula of proven ingredients, which includes caffeine and L-carnitine to help with consistent weight loss [3].
The last product is LeanBean, a female-centric fat burner that enhances muscle hardness and improves body mass index. With its all-natural ingredients, it accelerates fat metabolism, leading to a chiseled physique.
"Overall, the research team found that taking a dose of caffeine 30 minutes before an aerobic workout increased fat oxidation during exercise regardless of the time of day."

- Carolyn Crist, Writer at WebMD.com
Other Fat Burners we've reviewed:
Who Shouldn't Take True Shred?
Anyone with underlying medical conditions shouldn't take True Shred and should consult a doctor instead.
Also, if you need to speed up your cutting phase significantly, or break through a weight loss plateau, then True Shred is not going to give you the best possible results.
It's an expensive supplement with limited results for fat burning, and I would also suggest that you take separate supplements for metabolic boosters and training performance so that you can get the timing right for both effects.
Other User Reviews

Here are two reviews that we got from the official website that seems to have the same experience we did.
"Seeing some body changes , not much weight loss feeling good"

- Joe G, Company Website
"2 weeks in. So far so good. No side effects, improved workouts, and improved energy (got rid of my afternoon slump). Maybe a slight improvement in muscle definition."

- Matthew, Company Website
FAQs
Can You Take True Shred Every Day?
Yes, you can take True Shred every day. It contains natural ingredients that are classified as generally safe to take. But you should consider taking an off-cycle after 6-8 weeks.
Does True Shred Contain Stimulants?
No, True Shred Doesn't contain stimulants. It's a caffeine-free option that makes it suitable for anyone who tends to get jittery or if you need to take it later in the day and avoid sleepless nights.
Should You Invest In True Shred?
Based on our research and testing results, we have decided not to advise clients and readers to buy True Shred. It's an expensive supplement with limited results for training performance and fat loss.
If you need to kick-start your cutting phase or break through a weight loss plateau, then I would suggest that you try PhenQ. It has a formula that has a lot of credible science supporting it.
And we have seen many clients achieve much faster results within weeks.
Order your first supply today and see how much of a difference it will make in your next cutting phase.
We Recommend This Instead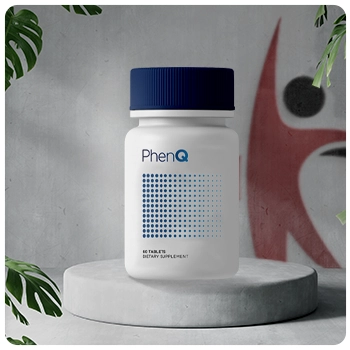 Click For Best Price

Pros
Suppresses your appetite
Blocks body fat production to stop weight gain
Improves your mood and energy levels
High-quality, all-natural formula
Get the BEST PRICE until the end of September
Cons
Can be only purchased through the company website
Was this article helpful?