As a certified personal trainer, I tried a lot of different fat burners, and I know deciding which fat burner to pick could be a difficult task.
A product that's recently fallen into my hands was Alpha Lean 7. Few of my new clients use it for weight loss, so I decided to do a complete Alpha Lean 7 review to test its effectiveness and show you the actual price-quality ratio.
Four of my clients agreed to be part of a study, so we teamed up with our dietitian and conducted detailed 3-week research.
Here are our insights.
What is Alpha Lean 7?
Alpha Lean 7 is a fat burner supplement developed by the Hard Rock Supplements.
The company claims this weight loss product is created with all-natural ingredients combining herbs, vitamins, and minerals with the primary goal of activating the thermogenic effect.
On the official website, they call it 'body fat blow torch' and claim this weight loss supplement initiates many benefits such as:
Severe fat burning
Energy production
Brain function
Mood improvements
Let's see how it lived up to the cited benefits in our testing.
Tailored for Men and Women
Benefits and Highlights
Hard Rock Supplements say this product should be used by experienced exercisers only.
We assumed this was a marketing maneuver, so the two of my new female clients also took it.
We used it for three weeks and, after each week, recorded our overall experience and potential results. We took two capsules daily, one in the morning and one at noon.
Let's take a closer look at the test results.
Fat Loss
For most of us, the first results with fat loss came between the second and the third week. After measuring the fat percentage decrease and the total BMI, we didn't notice any impressive fat-burning effect with our clients.
The reaction we all had in common in the first three days was frequent urination. Clients excreted around 1.5 gallons of urine daily, so Alpha Lean even outdid some diuretics I've used before.
This effect initially led to the loss of some temporary water weight, but that's not the goal of taking this supplement as the subsequent weight gain is inevitable.
Appetite Suppression
The company also claims this product provokes appetite suppression, but most of us didn't notice any major reduction in cravings.
Just one client reported the supplement initially suppressed his appetite almost for a whole day.
Our opinion is that Alpha Lean 7 lacks certain appetite suppressant ingredients that keep you from overeating, as we couldn't find any potent ones in this proprietary blend.
Energy Levels Boost
We did experience a slight increase in energy, and the important thing was that there were no jitters or the crush. I felt it carried us through one more set during the workouts.
That was no surprise for me since this supplement has stimulants among ingredients which explains why some clients had also reported mood enhancement effects.
Ingredients List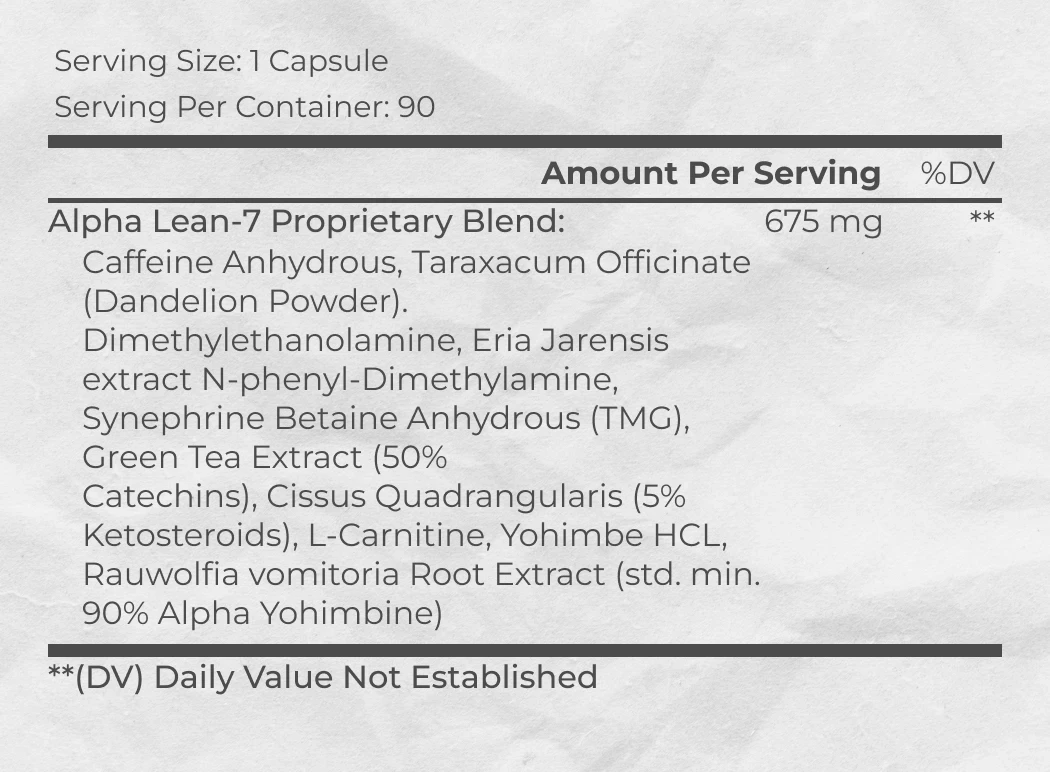 Before the hands-on approach, our dietitian carefully went through the ingredients list to see if components have scientifically proven dosages or potentially harmful effects.
Here we focused on the key ingredients.
Dandelion Powder
According to the study found on the PubMed website, this ingredient has a diuretic effect that helps the body get rid of redundant water, which may aid in bloating relief and water weight loss [1].
One study from the National Center for Biotechnology Information website also suggests that Dandelion powder may lead to lower fat absorption, blocking the enzyme released during fat breakdown and keeping the liver healthy [2].
Betaine Anhydrous
This amino acid which is commonly found in pre-workout supplements, might improve body composition and increase strength [3]. It may also aid protein synthesis and help maintain a healthy liver [4].
Green Tea Extract
Green tea extract contains high catechins that may boost metabolism and thermogenesis [5]. Green tea also increases fat oxidation leading to more significant stored body fat decomposition [6].
Dimethylethanolamine
It may aid in neurotransmitter acetylcholine production and therefore lead to improved cognitive functions (focus and concentration) and increase physical energy, oxygen efficiency, athletic performance, and muscle reflexes [7].
L-Carnitine
A substance that might aid in burning fat utilizing fatty acids as the primary energy source.
One study from 2016. showed that participants who took L-Carnitine experienced a substantial weight loss [8].
It can also increase exercise performance and enhance lipid oxidation, leading to muscle growth and lean muscle mass [9].
Caffeine Anhydrous
This stimulative ingredient is also common for pre-workouts in its pure, dehydrated form. It mobilizes stored fat and turns it into the body's energy [10].
Caffeine anhydrous showed the best results in fat-burning when used before training sessions [11].
Alpha Yohimbine
The form of Yohimbine taken from Rauwolfia vomitoria could affect fat loss and metabolic rate as it may improve mobilization of fatty acids and increase blood flow.
Besides these ingredients, this product also contains Eria jarensis extract, Cissus Quadrangularis, N-phenyl-Dimethylamine, and Synephrine.
Pros
Has some scientifically-proven fat loss ingredients
Has nootropic benefits
Low price
Caffeine and Green tea for the energy boost
Cons
Proprietary blend
Contains some questionable ingredients
Tailored for Men and Women
Does Alpha Lean 7 Have Any Shortfalls?
Alpha Lean 7 has a few shortfalls worth mentioning. First of all, doses of some stimulant ingredients are unknown since it's a proprietary blend.
There isn't a single ingredient dose since everything is packed-up into a 675 mg formula.
We want to mention that Alpha Lean 7 has some questionable ingredients like Synephrine, Yohimbe, or Dimethylethanolamine, which are potentially harmful to some.
Also, some of my clients couldn't swallow capsules, so they had to pull them apart and mix them with water.
How Alpha Lean 7 Compares to Other Fat Burners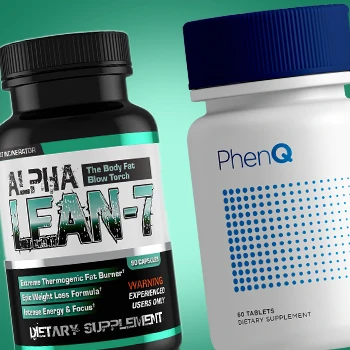 To ensure that we recommend the best fat burner for your needs, we have compared it to other weight loss supplements that we tested here at Total Shape. Here are our findings.
PhenQ
As a fitness trainer, I highly recommend PhenQ to clients struggling with weight loss. Its all-natural formula includes A-Lacys Reset® to boost basal metabolic rate, L-carnitine to burn fat, and chromium to curb hunger cravings.
Our own testing showed remarkable results within a few weeks, including improved body composition confirmed with measurements.
I personally used PhenQ with our test group. I was impressed with its ability to improve energy levels without causing any interference with other daily caffeine intake, thanks to its lower caffeine content of 75 mg compared to other fat burners that rely heavily on caffeine.
There are two significant differences between PhenQ and Alpha Lean. First, Alpha Lean 7, unlike PhenQ, is not vegan and vegetarian-friendly because it uses a gelatin capsule.
Second, PhenQ offers a fully transparent label, whereas Alpha Lean hides individual ingredient amounts behind a proprietary blend.
Although PhenQ is pricier than other fat burners, its transparent label, effective formula, and proven results make it a sound investment.
LeanBean
As a personal trainer, I understand the frustrating experience many women face when trying to shed unwanted pounds. As a result, in our thorough research, we recommend Leanbean, a vegan thermogenic fat burner specifically designed to address the unique needs of women.
Unlike many fat burners, like Alpha Lean 7, that hide behind muddled blends, LeanBean is transparent about all its ingredients, including turmeric, Glucomannan, zinc, and green coffee bean extract. Together, these ingredients target fat receptor cells and effectively suppress appetite [12].
Our test group found LeanBean to be highly effective at tackling hunger cravings and snacking, which our dietitians attribute to adding choline to the formula.
While initially, our test group, including myself, was concerned about the six-pill daily dose, positive reviews from our participants demonstrated that these benefits are sustained throughout the day.
Moreover, LeanBean contains minimal caffeine, making it an excellent option for those sensitive to stimulants. However, I would love to see more caffeine included to boost energy.
Instant Knockout
Instant Knockout Cut's formula is a tough one to top as it is loaded. with high concentrations of stimulants, metabolism boosters, mood enhancement, and quality-sourced ingredients, this supplement guarantees to shred body fat.
Unlike Alpha Lean 7, Instant Knockout is contained in a vegan-friendly capsule. The caffeine and L-theanine combo boosts mental and physical performance.
I was interested in Instant Knockout's promise of appetite suppression. I am prone to snacking, so I set out to specifically test how Instant Knockout could help that. The 1800 mg of Glucomannan is effective because I barely snacked during our testing phase.
Our test group users who could tolerate the 300 mg of caffeine experienced good results in reduced body fat over the several weeks of testing and enjoyed the energy kick. Others struggled with the high caffeine content.
Where to Buy Alpha Lean 7?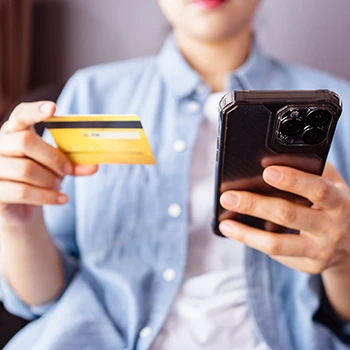 You can buy Alpha Lean 7 on their official or Strong Supplements website. The cost of this product is interestingly 38.95$ on their official website and 2$ less if you decide to buy it from the Strong Supplements website - 36.95$
There is no money-back guarantee.
It's shipped worldwide, and the shipping fee depends on the type of shipping speed, location, and weight.
If you live in the USA or Canada, there is an option of fast shipping for an extra cost. In our case, we got ours in three days.
Who Should Buy It?
Gym-goers who've already used products containing Yohimbe, DMAE, or Synithol and had no negative experience with them can buy Alpha Lean 7.
Also, gym-goers who want to get familiar with the thermogenic effects for the first time could benefit from Alpha Lean 7 since it does produce a mild thermogenic effect.
It could also be suitable for people on their budget since it's reasonably priced (two capsules daily cost 80 cents).
Tailored for Men and Women
Who Shouldn't Buy Alpha Lean 7?
Anyone who had a bad experience with Yohimbe, DMAE, or Synithol and has health issues with kidneys, heart, or high blood pressure shouldn't buy Alpha Lean 7.
Experienced gym-goers used to these supplements could barely benefit from Alpha Lean 7 since it probably doesn't contain doses high enough for a notable fat-burning effect.
Other Users Testimonials
To find some unbiased testimonials, we looked at the social media user's experience with this product.
"Unfortunately, this made me sick to my stomach. Within 2 hours after taking it I was throwing up and felt dizzy and shaky. I've done Hydroxycut and Oxyelite in the past, so thought I could handle it, but my body didn't do well with this."

- Kydea1970, YouTube
"I'm trying to take this now, but for some reason, it just makes me tired...dizzy/lightheaded feeling...palms and feet clammy...and have to go to the bathroom within 20-30mins of taking the first pill. It definitely cuts out the food because I don't be wanting to eat at all almost all day...is this supposed to have these types of effects or not?"

- Christpusha, YouTube
FAQs
For How Long Should I Take Alpha Lean 7?
Alpha Lean 7 should be taken for three consecutive weeks and cycle off for four weeks. It's recommended to take one capsule in the morning and one 6-8 hours later.
You double the capsules intake with time (2 in the morning and 2 in a few hours later).
How Much Caffeine in Alpha Lean 7?
Alpha Lean 7 has an unknown dose of Caffeine since it's a proprietary blend, and the ingredients list doesn't show the amount of each ingredient separately.
This way, it's hard to tell if it has a dose high enough for cited benefits.
What Is the Role of Each Ingredient in Alpha Lean 7 and How Do They Contribute to Fat Burning?
Each ingredient in Alpha Lean 7 is selected for its potential to aid in fat-burning and weight loss. For instance, caffeine increases metabolism and energy expenditure, while other ingredients like green tea extract may enhance fat oxidation, providing a comprehensive approach to weight management.
What Are the Long-Term Effects of Using Alpha Lean 7, and Is It Sustainable for Continuous Use?
The long-term effects of using Alpha Lean 7 can vary, with some users experiencing sustained weight loss results while others might see diminished effects over time due to tolerance development. It's important to use the supplement in conjunction with a healthy diet and exercise and consult a healthcare professional for advice on sustainable, long-term weight management strategies.
Our Verdict on Alpha Lean 7 Fat Burner
Based on our testing, we can't say Alpha Lean 7 is a good choice, and we wouldn't recommend it to our clients and readers.
It contains some doubtful ones, such as DMAE and Synephrine, and since it's a proprietary blend, doses could be insufficient to promote weight loss or too high to trigger side effects.
For a supplement in this rank, we would recommend PhenQ instead as it has science-backed ingredients in proven doses, all transparently listed on the label. You can also read more about this supplement in our Phenq review.
We Recommend This Instead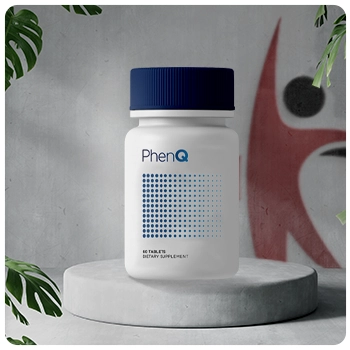 Pros
Suppresses your appetite
Blocks body fat production to stop weight gain
Improves your mood and energy levels
High-quality, all-natural formula
Get the BEST PRICE until the end of December
Cons
Can be only purchased through the company website
Was this article helpful?