As someone who's been taking pre-workout supplements for years now, I can say that I know them pretty well.
And while they definitely help increase my energy, I've observed that I tend to develop a tolerance towards them over time.
This forced me to increase my dosage, which I try to avoid as much as possible.
So, I decided to test the Vintage Blast Pre-Workout by Old School Labs, the world's first two-stage natural pre-workout energy drink that claims to steadily enhance exercise performance.
Let's get on with the review.
What is Old School Labs Vintage Blast Pre-Workout?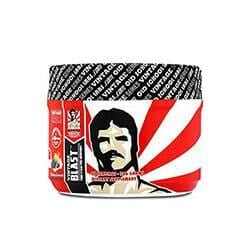 Old School Labs Vintage Blast Pre-Workout is dubbed as the world's first two-stage natural pre-workout supplement for men and women.
Its premium ingredients are specifically formulated to digest more slowly than others, so your body can have constant energy production and delivery that will help you power through your entire workout.
This product is noted for improving your overall exercise capacity, mental focus and drive, reducing soreness and lactic acid buildup, all while working against dependency.
A hard body requires hard work. Enjoy the challenge and respect the time it takes to see the change.

- Michael Wittig, Personal Trainer
Its manufacturer, Old School Labs, claims that this pre-workout supplement can improve recovery by providing key electrolytes and micronutrients that aid with hydration, pH levels, and decreased oxidation.
Launched in 2013, Old School Labs is relatively new in the nutritional supplements realm, but it's already one of Amazon's fastest-growing brands.
The company sponsors various personalities in the sports industry, including boxers and NFL athletes.
SUITABLE FOR MEN & WOMEN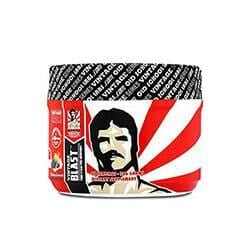 Vintage Blast
Check Current Price

We earn a commission if you click this link and make a purchase at no additional cost to you.
Old School Labs Vintage Blast Ingredients
The Old School Labs Vintage Blast ingredients are divided into two stages: the Start Strong and the Finish Strong.
Stage 1 Group: Start Strong
L-Citrulline Malate (5000 mg): This ingredient is a naturally-occurring amino acid that can help open up your veins and arteries. It is a nitric oxide precursor that helps boost blood flow and improve blood pressure, leading to enhanced athletic performance [1].
Beta-Alanine (1,000 mg): Beta-alanine has antioxidant, immune-enhancing, and anti-aging properties that can improve your exercise capacity and decrease muscle fatigue.
L-Arginine AKG (1,000 mg): This element turns into nitric oxide and helps your body build protein. It also aids in muscle growth, improved heart health, and faster wound healing.
L-Carnitine Tartrate (250 mg): L-Carnitine Tartrate has a rapid absorption rate, which is why it's added to the best workout supplements. Plus, it helps alleviate muscle soreness and aid your recovery during exercise.
5. Caffeine Anhydrous (150 mg): This powerful substance is often the go-to pre-workout supplement ingredient for many athletes because of its positive effects on exercise performance. It significantly increases blood flow and endurance, improves focus, and enhances fat burning.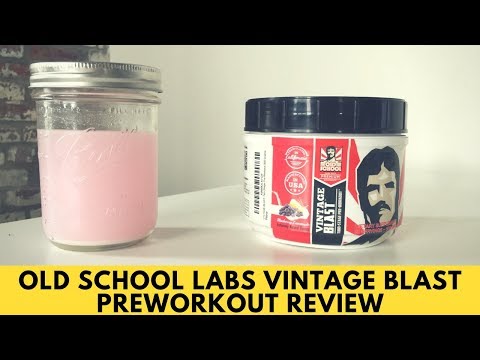 Stage 2 Group: Finish Strong
D-Aspartic Acid (2,000 mg): This amino acid plays a role in increasing testosterone production, therefore, improving athletic performance, reducing feelings of tiredness, and increasing the size and strength of your muscles.
N-Acetyl-L-Tyrosine (250 mg): This ingredient is noted for its higher absorption and efficacy. It's also said to help boost your physical and mental performance.
Microencapsulated Caffeine (100 mg): As the name suggests, this component provides a controlled caffeine release to results in a time-released energy matrix. This will prolong its stimulating effects on your body, helping you stay alert and energized even towards the end of your workout minus the caffeine "crash."
It's also important to note that this product is non-GMO, 100% vegetarian, gluten-free, and contains zero sugar and artificial ingredients. However, the only flavor of this supplement is Blue Lemonade, which might be too sour for some.
This pre-workout also has added vitamins and minerals like vitamin C, B vitamins, magnesium, and potassium.
Pros
Naturally sweetened with stevia leaf extract
Improves stamina for a longer and better workout
Gives a clean energy boost without the jittery and fatigued feeling
Contains no artificial colors or ingredients
With added vitamin C, B vitamins, and minerals
Cons
The flavor may be too sour for some
Pricier than other pre workout drinks
May take a bit of time to dissolve completely
How Does Old School Labs Vintage Blast Taste?
The Old School Labs Vintage Blast Pre-Workout is only available in a Blueberry Lemonade flavor. Users often compare it to the taste of homemade lemonade.
So if you're not a fan of sour drinks, you might want to mix a scoop of this pre-workout with a good amount of water or opt for other good-tasting pre-workout supplements.
Old School Labs recommends taking Vintage Blast by mixing a scoop with 14-16 oz water 30 minutes before your workout.
To test how well you can handle the product, you can first mix a half scoop with the same amount of water and drink it 15 to 30 minutes before exercising.
SUITABLE FOR MEN & WOMEN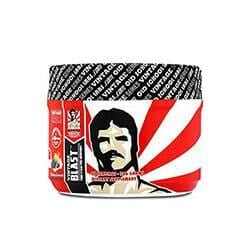 Vintage Blast
Check Current Price

We earn a commission if you click this link and make a purchase at no additional cost to you.
Any Side Effects?
Honestly, I haven't noticed any side effects while taking this two-stage formula pre-workout supplement.
However, as I checked other user reviews, I discovered that some people complain about it being too sour.
This downside may cause digestive issues, so if you have sensitive stomachs, this might not be a good option.
Another thing to note is that it contains caffeine. If you're allergic to caffeine or prefer something caffeine-free, you better steer clear of this supplement.
Customer Reviews
We found some mixed reviews about this product online:
"Vintage blast not only improves my workout performance but also enhances my endurance and overall cardiovascular health."

- D Keller
"There are no crashes or early jitters! I love it. I notice a huge difference right after taking it."

- J Myles
"It's natural, it energizes me in the morning, and gives me laser focus when I'm in the gym."

- Carrie L.
However, these feedback are worth nothing as well:
"It's a good product, but the blueberry lemonade flavor is too sour. I can't take it in the morning. It makes me acidic."

- Liz
"Expensive and does not work. The texture is grainy, and the taste is too strong."

- Mike Z
FAQs
Does Vintage Blast have creatine?
No, Vintage Blast doesn't have creatine.
I believe Old School Labs were right to skip this ingredient.
According to some users, the drink requires a lot of water and mixing to fully dissolve. The addition of creatine would have certainly made its solubility worse.
Also read: Best Pre-Workouts Without Creatine
Yes, Vintage Blast is safe.
This supplement is 100% vegetarian, gluten-free, non-GMO, and contains no artificial ingredients. It's also manufactured in an FDA-certified facility in the USA.
Do I Recommend the Old School Labs Vintage Blast Pre Workout?
In my personal experience, I can say this supplement's two-stage formula delivered on its promise of providing a steady and long term boost of endurance through my entire workout.
However, I didn't notice a lot of difference in my stamina especially during strength training and cardio days.
I also would agree with the weird texture -- it just doesn't dissolve nicely even with a blender.
If you're looking for a quality pre-workout supplement made with all-natural ingredients, tastes good, and improves your exercise performance, I recommend using 4 Gauge instead.
I do develop tolerance with it over time, but with proper cycling and dosage, I think it's one of the best pre-workouts in the market today.
Our #1 Recommendation
Click For Best Price

Pros
No recurring charges
Discreet shipping
All Natural
Cons
Some more flavor options would be great to avoid getting bored of it
About the author
You may also like