Recently, some parents asked me if pre-workout was safe for their teens. While my answer was yes, I added that choosing the right supplement is what matters the most.
Since many teens are getting into sports, I decided it'd be helpful to curate a list of the best pre-workouts for teens currently available.
As a gym bro who's tried many pre-workouts over the years, it's safe to say some are better than others by a longshot.
So, with the input from our dietician, I listed down the best ones that we tested ourselves with the help of our youngest clients. Ten made the cut.
Let's take a look.
Editor's Choice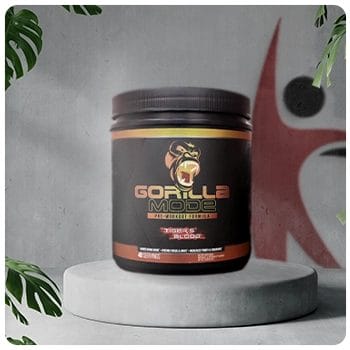 Gorilla Mode
Click For Best Price
#2nd Best Choice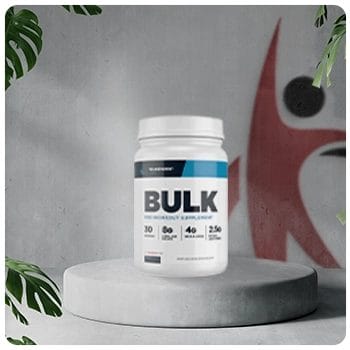 Transparent Labs
Click For Best Price
#3rd Best Choice
Pre-Kaged
Check Current Price
Top 10 Pre-Workout Supplements for Teens (June 2023)
1 - Gorilla Mode Pre-Workout (Editor's Choice)
Teens looking for raw energy and total focus should try Gorilla Mode pre-workout. After some of my younger clients tested it for 30 days, it became an instant favorite.
First, they loved the taste, especially Tiger's Blood; a mix of strawberry, watermelon, and coconut proved to be the winning combination that made them look forward to drinking it.
Another top feature is how quickly it works. My clients and online users report feeling the effects just 30 minutes after taking it.
With 4,500 mg of pure L-citrulline, Gorilla Mode significantly reduced their post-workout muscle soreness, allowing them to focus on other activities the next day [1].
It's packed with creatine monohydrate, agmatine, and betaine, which is enough to supply your muscles with blood flow to maximize pump and gym performance [2].
In terms of progress, we found Gorilla Mode allowed clients to squeeze in those extra last reps during a strenuous workout.
L-Citrulline : 4500 mg
Creatine Monohydrate : 2500 mg
Caffeine : 175 mg
Pros
Provides a relatively strong workout pump
Effects come in after only 30 minutes of taking it
Gives teens a gentle edge on heavy lifting days, allowing them to squeeze in extra reps
Has one of the best post-workout recovery effects
Cons
Some flavors are periodically out of stock as the demand is high
Get 10% off using coupon code: TOTALSHAPE
2 - Transparent Labs PreSeries Bulk Pre-Workout
Transparent Labs has been on the dietary supplements market for quite some time now, and they've always delivered quality products.
Loaded with 200 mg of caffeine, BCAAs, vitamin D3, and zinc, BULK Pre-Workout is an excellent combination of caffeine and nutritional support.
Unlike most supplements on the market, BULK doesn't skimp out on beta-alanine (4,000 mg), which is known to help increase muscle size and decrease fat [3].
Since it has a fairly high caffeine content, we had our youngest clients who were trying pre-workout for the first time take half a scoop during their first week on this supplement.
Those who responded well to the supplement doubled their dosage in the second week and noticed a significant improvement in their mental focus and physical energy during workouts
All ingredients work toward reducing fatigue, increasing your workout pump (with nitric oxide), decreasing muscle soreness, and enhancing workout performance.
Teens who are joining sports teams or working out for the first time will really benefit from BULK.
Citrulline Malate : 6000 mg
Beta-Alanine : 4000 mg
BCAA : 4000 mg
Pros
Contains clinical doses of ingredients
High in beta-alanine, making it a good choice for teens looking to shed fat
Works as a great starter supplement for beginners
Cons
Might be on the pricier side
Get 10% off using coupon code: TOTALSHAPE
3 - Pre-Kaged Premium Pre-Workout
Kaged is a company that has forged its legacy in creating supplements with label transparency. They go as far as giving their product for third-party testing to ensure it's free from any banned substances, making it a pretty good choice for teens.
Kaged contains 188 mg of caffeine, a dosage that exceeds the 100 mg caffeine limit recommended by the American Academy of Child & Adolescent Psychiatry for children aged 12–18 [6].
However, we didn't seem to notice any side effects based on our Pre-Kaged pre-workout review when testing it out on our young athletes.
I noticed the combination of high caffeine dose and natural ingredients really worked wonders to improve athletic performance in users. We recommend taking it during morning or afternoon workouts.
With a low dollar-per-serving rate, Kaged was one of the most reasonably priced supplements.
Betaine Anhydrous : 2500 mg
L-Citrulline : 6500 mg
Creatine Hydrochloride : 1500 mg
Pros
High-caffeine levels for enhanced athletic performance
Goes through third-party testing to ensure the absence of banned substances
Very reasonably priced
Cons
Not the best option for caffeine-sensitive teens
4 - Do Vitamins PurePump
The Do Vitamins brand was created to manufacture supplements for people with highly active lifestyles while upholding the highest quality standards.
It's certified keto, vegan, and free from dairy, gluten, soy, and wheat. Teenagers with food sensitivities or who are on a keto/vegan diet can safely take it.
This vegan pre-workout supplement features — as its name suggests — a variety of vitamins. Some of these include vitamins C, B12, and B6. Vitamin B6 is especially important for proper muscle growth, which is crucial for developing teens [4].
Another great feature of this supplement is that it contains carnitine, which is known to reduce blood sugar [5]. So, one client edging on prediabetes responded quite well to it.
L-Citrulline : 2000 mg
Beta-Alanine : 2000 mg
Niacin : 20 mg
Pros
Perfect option for teens on a keto or vegan diet
Contains a blend of various vitamins for proper development
May be the best option for teenagers with prediabetes
Cons
Some users have complained about the bitter taste
5 - Naked Energy – Pure Pre-Workout
Naked Energy was specifically designed for those looking to gain quick results with their strength and hypertrophy. It contains top-quality ingredients to ensure these and other benefits.
Naked's ingredients are completely natural, non-GMO, and free of any toxins that might be threatening to teens.
Naked also contains a powerful dose of vitamins B6, B12, and C, folate, as well as calcium. Calcium and B vitamins are some of the most important and essential micronutrients for teenagers' growth and development [7].
To top it off, Naked contains beta-alanine and arginine, two essential amino acids used for protein synthesis, which help build muscle [8].
We usually recommend this to clients who are specifically looking to build muscle quickly, and in the majority of cases, we observed noticeable changes in muscle building within one to two months of use.
Caffeine : 200 mg
Beta-Alanine : 2000 mg
L-Arginine : 1000 mg
Pros
Unflavored option available for teens with sensitive palates
Formulated with nutrients beneficial for teens, like calcium and B vitamins
100% natural and free from banned substances
Cons
Doesn't give the same workout pump as other supplements on the list
6 - Legion Pulse Pre-Workout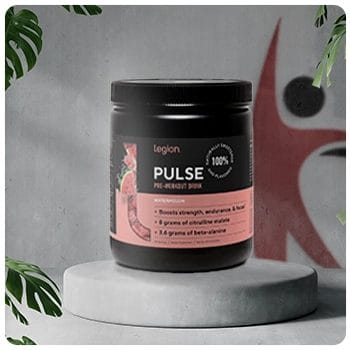 Legion Athletics was founded by Mike Matthews, a fitness enthusiast who was tired of seeing low-quality pre-workouts on the market. So Pulse, his brainchild, was born as a result.
He put together all the ingredients that worked and significantly upped the dosage. Pulse has a whopping 350 mg of caffeine per serving.
While it can be overwhelming for teens trying it for the first time, we did a little experiment with both half a dose and a full serving, and we found this supplement helped two nineteen-year-olds on days they weren't motivated.
We started them off with the half dose on their first week and then upped the dosage the second week. Their transition to a full scoop went without any side effects.
The amazing thing was that a very small number of our clients suffered from caffeine crashes after taking this supplement.
Caffeine : 350 mg
Citrulline Malate : 8000 mg
L-Theanine : 350 mg
Pros
Few to none caffeine crashes for first-time users
Great for low-energy days
Contains high doses of premium ingredients
Cons
May give first-timers a very jittery feeling
7 - Genius Pre-Workout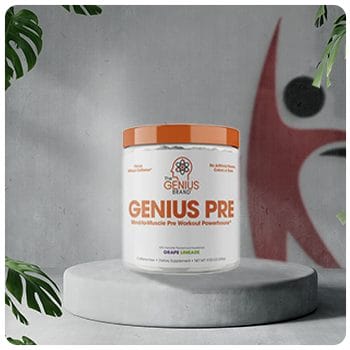 The Genius brand dubs itself a nootropic company (any substance with a positive effect on mental skills).
Their pre-workout is an unusual one because it contains no caffeine anhydrous.
However, that doesn't make it less effective than the other supplements on this list.
Genius pre-workout contains high doses of effective ingredients like citrulline malate, beta-alanine, and betaine, which can increase exercise performance [10]. These make up for the lack of caffeine.
This was the most preferred option by teenagers who suffered from sleep-related issues and still wanted to use pre-workout. It allowed them to get into intense exercise, gain muscle, and shed excess body weight.
It's one of the best pre-workout powders that contains no caffeine.
L-Citrulline : 6000 mg
L-Tyrosine : 1000 mg
Taurine : 1000 mg
Pros
Best pre-workout for teens who don't want to consume caffeine
Contains many nootropics to naturally increase focus
Allows teens to get a pure pump in their workout
Cons
Flavors might be too mild for some tastes
8 - Redcon1 Total War
Redcon1 is one of our most trusted brands on account of its full label transparency.
Their Redcon1 Total War pre-workout has been a favorite among many young athletes who've just begun using pre-workouts.
In fact, this award-winning pre-workout can reduce muscle fatigue and help you lose weight by giving your cardio workouts that extra boost.
One little drawback with Redcon1 was that it didn't give the same mental boost as the other supplements on our list. The physical boost was nonetheless incredible and crash-free.
Redcon1 packs a lot of value per serving. So, it's an excellent money-saver option for teens looking for quality and fair prices.
Beta-Alanine : 3200 mg
Agmatine Sulfate : 1000 mg
Taurine : 1000 mg
Pros
Full label transparency
Speeds weight loss and increases muscle endurance
Highly cost-effective
Cons
Doesn't contain the best ingredients for boosting mental focus
9 - Ora Organic Natural Pre-Workout
Ora claims that it was founded to provide its users with supplements that would help them live their healthiest lives. And they've delivered well with their new organic pre-workout.
Teens who suffer from dairy or gluten allergies can really benefit from this high-quality organic pre-workout. All its ingredients are natural, non-GMO, and vegan, making it the perfect option for vegan lifters or those teens who live an organic lifestyle.
Ora is a rich source of epigallocatechin gallate (EGCG), which is known for its antioxidant effects, improving cardiovascular health, enhancing weight loss, with many other benefits [11].
While perfect in almost every way, Ora's only drawback is its 90 mg caffeine content. While it can give you a small energy boost before working out, in our experience, it has the same effect as a pre-workout meal.
Organic Energy and Electrolyte Blend : 6240 mg
Organic Nitric Oxide Blend : 1500 mg
Organic Focus and Endurance Adaptogens : 385 mg
Pros
Best for teens living an organic lifestyle or on a vegan diet
Contains EGCG for added health and weight loss benefits
Comes in three delicious flavors
Cons
Caffeine dosage is a little low compared to other pre-workouts
10 - Red Leaf Pre-Workout
Red Leaf prides itself on putting out some of the highest-quality supplements on the market. One of their best products for adults and teenage athletes alike is the Pre-Workout Energizer.
This supplement is good for high school students during sports seasons. It contains 1,500 mg of BCAAs to boost endurance levels throughout practice [12].
It's also excellent for putting on muscle mass. Read Leaf contains 500 mg of arginine, which plays a major role in muscle growth and development [13].
The best part about Red Leaf is the price. It's one of the cheapest options that delivers good value. So, it's perfect for those of you on a tight budget.
L-Glutamine : 1000 mg
Beta-Alanine : 1000 mg
L-Arginine : 500 mg
Pros
One of the most cost-effective options
Contains nitric oxide booster and choline for muscle pump
Great for long sports practices and events
Cons
Ingredient list could be better overall
Buyer's Guide
While we strongly recommend starting teenage athletes with pre-workouts from this list, we also suggest you do some research before making a purchase.
We've put together a buyer's guide for parents and teens so they can make the best and safest purchase.
What Should Teens Look For in a Pre-Workout Supplement?
Teens should look for a pre-workout supplement that has fairly low caffeine and contains little to no artificial ingredients and sugar.
Let's go through these in some more detail:
Lower caffeine content: Supplements with less than 250 mg of caffeine are ideal for teens. They don't overload your system with caffeine leading to high caffeine tolerance.
No artificial ingredients or harmful ingredients

: Avoid supplements that contain artificial ingredients like fillers, artificial food coloring, or any banned substances

(like 1,3-DMAA, 1,3-DMBA, octodrine, oxilofrine, and DEPEA)

. Studies show that artificial food coloring may lead to ADHD in younger people [

14

].

Little to no sugar: Sugar isn't the best dietary choice for adolescents. Studies show that it may impair brain development in some cases [15]. You're more likely to suffer a sugar crash if your supplement has high sugar content.
"Whether or not a pre-workout supplement is unhealthy will depend on its formulation. Pre-workout supplements containing added sugars, artificial flavoring, or artificial sweeteners are likely unhealthy, and I would recommend avoiding products containing these additives."

- Andrea Paul, MD
Teens should use pre-workout supplements that contain the following ingredients:
Branched-chain amino acids
Other amino acids
Creatine
Caffeine
Beta-alanine
L-citrulline malate
Arginine
We've noticed that all the best pre-workout supplements with these ingredients heavily contribute to muscle growth in many teenagers.
"The main ingredients include taurine, arginine, caffeine, creatine, and beta-alanine. These mainly give you energy and increase muscle strength during your workout."

- Dr. Jennifer Schlette, Registered Dietician
Who Should Take Pre-Workout?
Healthy teenagers who participate in sports or go to the gym regularly can take pre-workouts.
As we previously mentioned, it can be highly beneficial for them, allowing teens to get the best out of their workouts.
Who Shouldn't Take Pre-Workout?
Teenagers who have heart-related problems shouldn't be taking pre-workout because they could do further damage.
Additionally, teenagers with a history of sleep problems or sensitivity to any of the common ingredients should also avoid pre-workout.
FAQs
Is Pre-Workout Safe for Teens?
Yes, pre-workout is safe for teens. However, teens should be careful by following the supplement dosages very closely. Also, teens with certain pre-existing medical conditions (especially heart-related) shouldn't consume pre-workout.
Are Energy Drinks a Safe Pre-Workout for Teens?
Yes, some energy drinks may be a safe pre-workout for teens. However, many energy drinks contain sugar and unwanted chemicals that don't have the same effect as a high-quality pre-workout supplement.
Can Protein Powder Be Used for a Pre-Workout Drink?
Yes, some protein powders can be used as a pre-workout drink. If you also add beta-alanine, creatine monohydrate, or a small amount of caffeine anhydrous, you can make a good DIY pre-workout supplement. However, they won't be as effective as a well-established pre-workout supplement.
Which Is the Best Pre-Workout Supplement For Teens?
We voted Gorilla Mode as our best pre-workout because both the testing data and the subjective client reports placed it at the very top.
Excellent workout pump, minimal soreness, and great taste made it a favorite among our younger clients.
In fact, most of our test subjects, regardless of age and gym experience, seemed to prefer Gorilla Mode over other supplements, which also aligns with the dietitian's assessment.
Try it out for yourself and see where it takes your fitness goals.
Our #1 Recommendation
Click For Best Price
Pros
Provides a relatively strong workout pump
Effects come in after only 30 minutes of taking it
Gives teens a gentle edge on heavy lifting days, allowing them to squeeze in extra reps
Has one of the best post-workout recovery effects
Get the BEST PRICE until the end of June
Cons
Some flavors are periodically out of stock as the demand is high
Was this article helpful?