We all know how disappointing it is to try a new supplement, only to end up wasting money on a product that's full of fluff.
That is why I always advise my clients to research the product before purchasing it.
Some clients asked me about the Pre-Kaged, so I spent weeks testing out this popular pre-workout with our expert team.
In this Pre-Kaged pre-workout review, I'll share with you clinical studies on the effectiveness of its ingredients, side effects, and my personal experience.
What is Pre-Kaged Pre-Workout?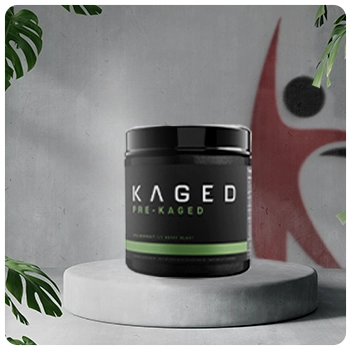 Pre-Kaged pre-workout is a full spectrum pre-workout designed to tackle every aspect of your exercise needs: energy, focus, power, hydration, and recovery. It is manufactured by Kaged Muscle Pre-Kaged, a well-established brand that offers excellent protein powders and other supplements founded by Kris Gethin.
Pre-Kaged has an extensive list of ingredients and contains a vast scoop size of 30.8 grams. Kaged Muscle claims it has super high quality, clean, and fully-dosed ingredients, including:
Stimulants
BCAAs
Antioxidants (which you don't typically see in other pre-workouts)
Kaged Muscle Pre-Kaged also prides itself in doing third-party testing of their supplements. That means trusted independent organizations reviewed and certified their products to be effective.
This supplement also claims to contain no artificial flavors or colors.
Let's talk about the main ingredients and what they do.
Ingredients

Organic Caffeine - 274 mg - Most pre-workout supplements have caffeine as a stimulant to increase energy, boost focus, and extra pump.
Pre-Kaged contains 274 mg of caffeine, which is approximately the same amount of caffeine in 2.5 cups of coffee. The manufacturer claims that this is the appropriate amount that does not cause anxiety.
Moreover, it is formulated with organic caffeine PurCaf from organic green coffee beans, which means it is of natural origin.
L-Citrulline Malate – 6.5 g - If you react well with L-Citrulline, then this supplement is for you. L-Citrulline helps in nitric oxide production, enhancing blood flow, increasing oxygen supply, and improving cardiovascular health [1].
This helps improve exercise performance by increasing energy production, improving endurance, and enhancing recovery [2].
BCAAs (2:1:1) – 3.5 g - Another great ingredient here is the Branched-Chain Amino Acids, the three amino acids leucine, isoleucine, and valine. These are essential proteins that help in muscle recovery and muscular growth.
Pre-Kaged claims to provide fermented versions of BCAAs- all vegan, naturally sourced, with better bioavailability (it effectively reaches the system).
It had a bitter aftertaste (I tried the fruit punch), but that's because of the BCAAs. I have tried the krisp apple flavor, and it tastes fine. You may try other flavors, such as berry blast, grape, pink lemonade, fruit punch, and orange krush.
L-Leucine – 3 g - L-Leucine is an amino acid that kickstarts protein synthesis and promotes the repair and regrowth of new muscle tissues.
BetaPower Betaine – 2.5 g - Betaine helps in the cellular hydration of the muscles. It keeps your body going for longer when muscles are well-hydrated. Research shows that betaine helps increase endurance and improve the quality of reps [3].
CarnoSyn Beta Alanine – 1.6 g - Another ingredient that aids in recovery is Beta-alanine. Beta-alanine helps in the production of carnosine which helps reduce lactic acid buildup that causes muscle soreness.
Beta-alanine is known to cause a tingling effect, but it may not cause much of the tingling impact with a relatively low 1.6 g dosage.
Creatine Hydrochloride – 1.5 g - Creatine supplements are popular among gym-goers. Creatine HCL is another ingredient in the power matrix, which helps the muscles produce energy so that you can perform an intense exercise for longer.
Coconut Water Powder – 500 mg - I'm pleased to see they've added coconut water powder in Pre-Kaged because it helps keep you hydrated during training and provides electrolytes.
It's essential to stay hydrated throughout your workout (not only post-workout) because it affects your endurance.
It's a pretty colossal label, so we only mentioned the main ingredients. But, other than that, it also contains:
B vitamins, such as Niacin (or B3), an essential B vitamin to support normal psychological function
Taurine to boost endurance
N-Acetyl-L-Tyrosine and L-Tyrosine for focus
Spectra Total Orac blend for antioxidants
Leucine is an anabolic activator (increases muscle protein synthesis).
Benefits

Provides Smooth and Sustained Energy
Pre-Kaged powers up your training sessions with ingredients like: 
Caffeine
Pure L-Citrulline
Creatine HCL
It's a solid supplement that gave me super clean energy, better focus, and power output. This supplement helped me finish my grueling training schedule. I felt no pre workout supplement nor jitters, just the right pump I needed.
Boosts Mental Focus
There are tons of positive reviews on its effectiveness in improving focus. Thanks to its neuro focus matrix of caffeine, taurine, and l-tyrosine, it can give you a clear direction that helps enhance muscle-mind connection (conscious muscle contraction).
I noticed that I'm more concentrated on lifting weights and performing my reps.
It Pumps You up for Your Workouts
Pre-Kaged can also increase the muscle pumps for more effective workouts. While the L-Citrulline is increasing oxygen supply during training, Beta-alanine is reducing muscle soreness.
I was also able to do more reps, lift heavier weights, and perform better movements with improved concentration.
I sometimes train on an empty stomach, so I love that they included BCAAs here. It helps kickstart the protein synthesis, helping repair and rebuild the damaged muscles.
"BCAAs improve exercise performance and recovery and promote healthy brain function and immunity for peak athletic performance."

- Michael A. Smith, MD, Director of Education at Life Extension
It's hard to judge this aspect here, but I've noticed a reduction in muscle fatigue and increased recovery while taking this supplement. I also love that my body gets additional support with its antioxidant and immunity components.
Pros
Tons of positive reviews on boosting energy and focus
Great for vegans and vegetarians
Clinically effective and premium ingredients
No proprietary blends, artificial flavors, or colors
Cons
Has bitter aftertaste (due to the BCAAs)
A bit pricey
Where Should You Buy It?
You can buy Pre-Kaged Pre-Workout on their official website, where you can also save a few bucks from discounts. You can also check this product on Amazon.
It is a bit expensive, but the price is reasonable if we consider the pure and super-effective ingredients used in this blend.
Are There Any Side Effects?

Pre-Kaged Pre-Workout has some potential side effects, including drowsiness and energy crash. Let's discuss them in more detail below.
May Cause Sleeplessness
Some people who are caffeine sensitive may experience restlessness when using this supplement. It may be best to try a quarter of a scoop or half a scoop first to let your body adjust to the stimulants and limit your caffeine intake.
However, in my case, I haven't experienced sleeplessness, jitters, and other stimulant effects due to caffeine.
It Might Cause an Energy Crash
I found a few users who experienced a crash in their workouts, another possible effect of the stimulants. Luckily, in my experience, I had a peak in energy that lasted for a long time, with no crash at all.
How to Take Pre-Kaged Pre-Workout?
Here's how to take Pre-Kaged Pre-Workout:
Mix one scoop of this dietary supplement with 12-16 ounces of cold water in a shaker bottle.
Shake the bottle lightly as you take sips, and drink the pre-workout entirely after 25 min of shaking.
Take this supplement 30-45 minutes before your training. 
If you have any medical condition or are currently on medication, make sure to see your physician before taking any supplements. Or, if adverse reactions occur, immediately discontinue taking the supplement.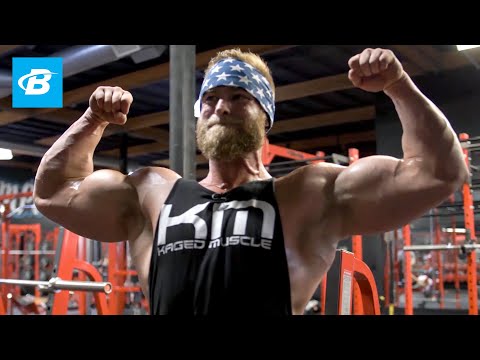 How Does It Compare to Other Pre-Workouts?
Let's take a look at how Pre-Kaged stacks up against three leading pre-workout supplements.
Gorilla Mode is a top-quality pre-workout supplement from the makers of the popular nootropic Gorilla Mind Rush. Packed with essential ingredients like L-citrulline, creatine monohydrate, and betaine, it's scientifically proven to boost nitric oxide levels and give you the extra edge.
Our test group can confirm the effectiveness of Gorilla Mode, which is not only loaded with key ingredients but also easy to mix and fast-acting. I tested Gorilla Mode along with our volunteers and found the 175 mg of caffeine the sweet spot for an energy boost without adverse effects.
With the one scoop (31 g) serving of Pre-Kaged, you get 6500 mg of L-citrulline. With Gorilla Mode, you will get 4500 mg of L-citrulline in one scoop (15.425 g) and 9000 mg in two scoops (31 g).
Gorilla Mode is a stand-out pre-workout with a range of delicious flavors to choose from (my favorite is Tiger's Blood). I ordered from the website for our testing and received a good discount for a multi-tub order.
Transparent Labs PreSeries Bulk pre-workout is a popular go-to to enhance muscle growth, energy levels, and endurance.
The L-citrulline content in PreSeries Bulk is comparable to Pre-Kaged at 6000 mg.
Our test group found that PreSeries Bulk mixed perfectly without clumping and significantly boosted focus and energy during their workouts. Strawberry Lemonade was the overwhelming favorite flavor during testing. However, the sour grape was my personal favorite.
Like Pre-Kaged, PreSeries Bulk contains Beta-alanine, which caused some of our users a common tingling sensation that is a little bothersome but subsides on its own.
During testing, I found the combination of 200 mg of caffeine and 200 mg of L-theanine a great combination to boost my energy and focus beyond my workouts throughout the day.
I went to the official website to purchase PreSeries Bulk for our testing and found the pricing competitive, along with auto-delivery options, special deals, and free shipping.
A collaboration between the manufacturer, nutrition experts, and top athletes brought about the pre-workout 4 Gauge.
Our test users reported impressive results with boosted focus and energy during intense workout sessions. I found the 150 mg of caffeine to be enough to energize my workouts without causing any jitters or crashes, and the included L-theanine helped my focus throughout the day.
Like Pre-Kaged, 4 Gauge has a good amount of L-citrulline with 6000 mg, which is a little less than Pre-Kaged, 6500 mg.
It is common for beta-alanine to cause a tingling side effect in many users. Pre-Kaged includes this ingredient, but 4 Gauge does not, so this was not an issue for our testers.
Pre-Kaged and 4 Gauge have similar price points; however, I ordered 4 Gauge from the official website for our testing and received a 3-for-1 deal and free shipping.
Other pre-workouts we've reviewed:
Pre-Kaged Pre-Workout User Reviews

Here are positive reviews on this supplement:
Drei gave this popular pre-workout a try, and he was delighted with the results. He claimed he could do more sets and lift heavier weights. He also noticed some muscle gains.

- Drei, Virginia, USA
Mark loved the pump and the enhanced focus he had while taking this product. As he stated, fruit punch was his favorite taste.

- Mark, Tennessee, USA
However, some users weren't that satisfied with their experience:
Railey was satisfied with the taste. Pre-Kaged had a better taste than other pre-workouts he tried, but he did not feel more energetic or pumped up for his exercises.

- Railey, Florida, USA
Craig loved the dosage of the vital pre-workout ingredients, but he didn't feel any changes in energy or focus. He concluded that this product was not for him.

- Craig , Illinois, USA
Should You Try Pre-Kaged Pre-Workout?
We can conclude that Pre-Kaged delivers its promises - as evidenced by scientifically based claims, third-party tests, and positive user reviews.
Though other supplements aim to tackle every aspect of our exercise needs, unlike Pre-Kaged, some of them underdosed the key ingredients.
I love the clean and well-dosed quality of ingredients in Pre-Kaged. In terms of effectiveness, my experience seems to confirm that it provides the power, focus, endurance, and muscle recovery it claims.
If you're looking for a supplement that's clean, vegan, and offers well-rounded benefits like concentration, hydration, immunity, and fitness improvement, this pre-workout is for you.
I would also recommend looking into Gorilla Mode as it has a clever combination of all-natural ingredients.
It is a great pre-workout for extended strength exercises, has little to no side effects, and overall it's a great deal for the price.
Check out my full Gorilla Mode pre-workout review.
We Recommend This Instead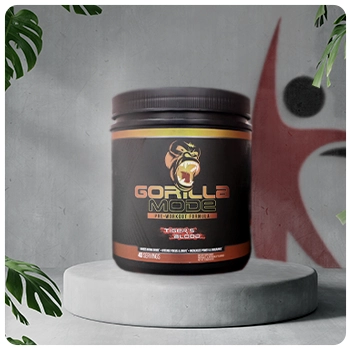 Click For Best Price

Pros
Contains nitric oxide for insane pumps
Many positive comments about good endurance and energy boost
High dose of caffeine may help with mental focus and fat burning
Tastes good
Get 10% off using code:

TOTALSHAPE
Cons
Does not list calorie count
Was this article helpful?