Our team here at Total Shape has researched and tested dozens of pre-workouts over the years so that we're able to recommend the best possible products to our clients.
And as a personal fitness and strength coach, I simply cannot afford to recommend bad products. So, when a few people asked us about a product called Superhuman, we were a bit skeptical about the hype (although I was impressed by the name).
As always, we got together with a few clients and our dietitian to thoroughly research and test it out.
Here's what we found.
What Is Superhuman Pre?
Superhuman Pre is one of Alpha Lion's pre-workout supplements. This product aims to improve focus, enhance athletic anaerobic performance, and prevent fatigue with its scientifically proven formula.
Those are always big claims to make, and we'll get to the ingredients shortly to see if they really are proven.
This company has a long track record of creating sports and dietary supplements, and many athletes will likely have encountered some of them.
Looking at the history of this product, the dosage and amounts have been relatively unchanged over the years.
The main thing removed over the course of the product's development was tyramine, which may have been a good decision as there is evidence that it may cause a few unpleasant side effects like headaches and chest pain [1]. Besides that, nothing has really changed, and the ingredients are more or less the same.
Superhuman Pre is a powdered product that you mix with water, and it's available in some strange flavors like Hulk Juice, Unicorn Juice, and Miami Vice.
Suited for Men & Women
Superhuman Pre Pre-Workout
Check Current Price

Benefits of Superhuman Pre
The first thing that our clients commented on was that this product seemed to be one of the better pre-workouts for pumps.
A single scoop delivered 3,500 mg of citrulline, which seemed to help swell muscles better from the increased blood flow [2].
We also like that it comes with a small scoop. That way, you can easily adjust the dose for your performance needs, and it may also help avoid some side effects.
There is some caffeine in this pre-workout, but it's only about the same as a regular cup of coffee. That shouldn't make you jittery, but it's still best to avoid taking it later in the day, especially if you're caffeine-sensitive, since it might make you unable to sleep during the night.
Downsides
In our assessment of the Alpha Lion Superhuman Pre pre-workout, one noticeable downside is its reliance on 1,600 mg of beta-alanine for the strength component of the formula.
While beta-alanine can be beneficial, the best pre-workout supplements we've encountered tend to incorporate higher doses, suggesting a need to consider increasing the dosage for optimal results.
Moreover, while Alpha Lion's Superhuman Pre boasts intriguing flavor names like Hulk Juice and Miami Vice for their flavors, we found them to fall short of expectations.
The artificial sweetness can be overpowering, leaving much to be desired in the taste department.
Despite these drawbacks, it's worth noting that the Alpha Lion brand has gained a reputation for its commitment to enhancing athletic performance through their pre-workout supplements.
Superhuman Pre, with some adjustments in ingredient dosages and flavor profiles, has the potential to cater to a wider audience and solidify its position as a top contender in the competitive pre-workout market.
By addressing these areas of improvement, Alpha Lion can elevate their pre-workout offering to new heights and satisfy the needs of fitness enthusiasts seeking an exceptional pre-workout experience.
Pros
Seems to produce good pumps due to a hefty dose of citrulline
Easy to adjust the dosage to get the best results for your body size and goals
Reasonable dose of caffeine anhydrous not to make you too jittery
Added black pepper extract may help with faster absorption
Cons
Formula for energy and strength boost doesn't look strong enough for beta-alanine
Flavors aren't great; especially Hulk Juice, which is overly sweet
Our Overall Rating
Here is our overall rating for our primary research criteria.
Ingredient Quality: 4/5*
Taste: 3/5*
Price: 3.5/5*
The ingredients are well-chosen, just not strong enough, and it's mainly the flavor that lets it down.
How Superhuman Pre Ingredients Work

Unlike many other pre-workouts, Alpha Lion has decided to combine a load of different ingredients. Personally, my research has generally revealed that the more ingredients the companies include, the less likely they are in the ideal dose.
But I'll show you what my dietitian had to say.
1. Energy And Focus Formula
Alpha Lion Superhuman Pre pre-workout contains:
Caffeine anhydrous
Dicaffeine malate
Theobromine
Caffeine is definitely a good ingredient, as studies have shown that it may influence your metabolism through thermogenesis and boost your muscle strength as well [3]. There's also the mental focus similar to that morning coffee, and it's helpful to keep you motivated.
However, theobromine has been shown through clinical studies to have little or no effect despite having a similar chemical structure to caffeine [4].
2. Pump And Performance Formula
The Superhuman Pre supplement also has these ingredients for pump and endurance:
L-Citrulline
L-Taurine
Nitrosigine
Green coffee bean extract
Green tea extract
Citrulline is a good ingredient, and there's a decent amount in Superhuman. It boosts your nitric oxide production for improved blood flow [5]. That makes your muscles swell up more and may also help with muscle recovery.
"Greater blood flow to working muscles also helps to increase cell volume, which, along with mechanical tension generated from lifting heavy weights, comprise a large part of the early 'go' signal for muscle adaptation."

- Kamal Patel, Co-founder of Examine.com
L-taurine is also positive, as it has been linked to muscle performance as well as recovery through clinical trials [6]. The only thing I'd say here is that the dose of 500 mg is low, as the same study used a dose of 1,000 mg to 6,000 mg.
The other ingredients are okay, but again, I don't think the dosage is going to be strong enough to make a real difference. And in my experience and research, that's a common thing with products that have this many ingredients.
3. Strength Formula
The next part of this Superhuman pre-workout review is about the ingredients that apparently help with strength:
Beta-alanine
Betaine anhydrous
First of all, the beta-alanine dose is too little, and our testing revealed that you get the common tingling feeling [7]. But it doesn't seem to be a strong enough dose to really make a difference.
Betaine is a bit of a questionable ingredient. Some people believe it's one of the greatest things, but a meta-study has revealed that only two out of seven clinical trials were able to prove a link with muscle strength [8].
4. Anti-Fatigue Formula
This pre-workout supplement also contains an ingredient that may help with reducing premature fatigue: L-theanine
This ingredient that has been shown to influence brain chemistry to reduce mental fatigue [9]. Our personal experience with clients has been positive for the impact on mental fatigue, as many of us agreed that we were a bit more motivated.
Overall, our ingredients research conclusion is that not everything on the label has a clinical study to prove that they work. And for some, like L-taurine, the dosage doesn't seem to be at an optimum level to make a significant pre-workout impact.
How Superhuman Compares to Other Pre-Workout Supplements

We tested Superhuman with three popular pre-workout supplements to provide a comprehensive review. Here's what we learned.
Gorilla Mode is a pre-workout crafted by makes of the popular nootropic Gorilla Mind Rush and has a highly effective formula, jam-packed with essential ingredients.
Gorilla Mode contains high doses of L-citrulline, creatine monohydrate, and betaine. During testing, I recorded a 5% strength boost that our dietitians said was likely due to the creatine, which matches what studies have shown [10].
Many in our test group experienced similar strength boost results. The consensus in our group was that Gorilla mode is one of the best mixing pre-workouts and fast-acting. Additionally, the flavors tasted much better than the Superhuman offerings.
Gorilla Mode contains 175 mg, which is the sweet spot for me to get a good kick of energy without any jitters.
I ordered from the official website, and yes, it included the fan favorite Tiger's Blood flavor, and I received a generous discount for my multi-tub order.
Transparent Labs promises that its PreSeries Bulk pre-workout will help you enhance muscle growth, energy levels, and endurance.
The formula is packed with L-citrulline, beta-alanine, and a good dose of BCAAs, which relieves muscle soreness, according to extensive research studies on athletes [11].
While using PreSeries Bulk during the testing phase, I noticed a considerable improvement in muscle recovery and soreness, particularly after intense workouts.
Our test group loved the significant improvement in focus and energy. And while the group's consensus was that the strawberry lemonade was the top flavor, I couldn't get enough of the sour grape.
Transparent Labs is another pre-workout formula that utilizes caffeine (200 mg) and L-theanine (200 mg) for a powerful energy and focus boost beyond your workouts throughout the day.
When I placed the order, I found the pricing competitive and received free shipping, and my order arrived very quickly.
Suppose you're looking for an effective pre-workout supplement that delivers results with crashes and jitters. In that case, 4 Gauge, the result of a collaboration between top athletes, nutrition experts, and the manufacturer, might be for you.
Our test users rave about the boosted focus and energy they experienced during intense workout sessions, likely due to 4 Gauge's blend of caffeine and L-theanine.
I experienced a noticeable improvement in exercise capacity while testing 4 Gague, and according to our dietitians, I've got the 6000 mg of L-citrulline to thank.
What really sets 4 Gauge apart from Superhuman is its lack of beta-alanine, a common cause of tingling side effects. Our testers reported no discomfort with 4 Gauge, allowing them to work out without distractions.
At a similar price point as other leading pre-workouts, 4 Gauge offers excellent deals on its website, which I took full advantage of when ordering for our testing.
Other pre-workouts we've reviewed:
Where Can You Buy Superhuman?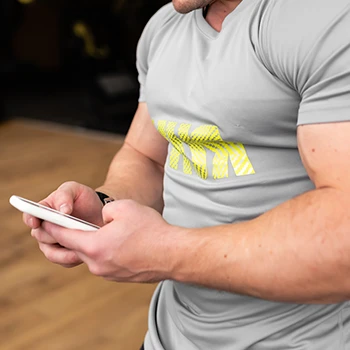 You can buy Superhuman on Amazon and the official company website. Our experience with ordering on Amazon wasn't as good as the website.
When we ordered this pre-workout from Amazon, the delivery time was about three days, which is a bit slow when using a Prime account.
Just keep that in mind if you start running low.
Even so, avoid buying Superhuman from unofficial outlets since you might run the risk of receiving a counterfeit product. The unwanted side effects from these products are not worth the expedited shipping.
Suited for Men & Women
Superhuman Pre-Workout
Check Current Price

Superhuman User Reviews
The last thing we did for this Alpha Lion Superhuman review was to look at hundreds of online comments to see what others were saying. Here are two people that summed it up the best.
Hillary is an amateur powerlifter, and she was looking for something to help her with a bulking phase before competitive events. She did notice better energy levels, but it didn't make enough of a difference to speed up her bulking efforts.

- Hilary, Kansas City
Patrick was working on his body composition for several months and did achieve some fat loss for a lower BMI. But after three months, he hit a plateau. He then switched to products with high caffeine doses and other proven ingredients for long-lasting results.

- Patrick, NYC
FAQs
Does Superhuman Pre-workout Contain Any Stimulants?
Yes, Superhuman pre-workout contains stimulants. It has 200 mg of caffeine, which is about the same as you would get from a large cup of coffee.
When Is the Best Time to Take Superhuman Pre-Workout?
The best time to take Superhuman pre-workout is roughly 20 minutes before starting your warm-up. Your body will need about 30 minutes to absorb the ingredients, which should be the exact time you need for peak exercise performance.
Is Superhuman Pre-Workout Healthy?
Yes, Superhuman pre-workout is healthy. Alpha Lion Superhuman pre-workout is considered a safe and reliable product, even though it's not FDA-approved.
What Does Superhuman Pre-Workout Do?
Superhuman pre-workout provides long-lasting, all-day energy powered by our novel SXT™ Energy and Focus System. It combines 3 different caffeine to promote a fast-acting and sustained energy experience that minimizes the "spike and crash" effect with traditional pre-workouts.
Our Verdict: Should You Buy Superhuman?
While we did get some good results from Superhuman Pre, our clients and readers reported that it didn't meet their expectations.
All our testing and research showed that it wasn't effective enough to boost physical performance to a significant level.
The one product that still stands out in the supplement industry is Gorrila Mode.
With a great dose of creatine that you get with just one scoop, it just has that edge that amateur and professional athletes could gain traction with.
Order yours today.
We Recommend This Product Instead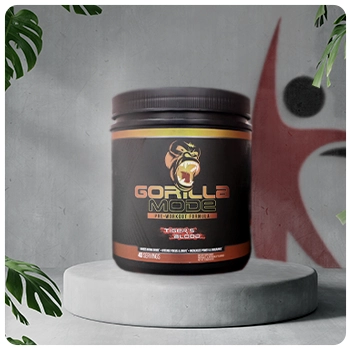 Click For Best Price

Pros
Contains nitric oxide for insane pumps
Many positive comments about good endurance and energy boost
High dose of caffeine may help with mental focus and fat burning
Tastes good
Get 10% off using code:

TOTALSHAPE
Cons
Does not list calorie count
Was this article helpful?