Breakfast is the most important meal of the day.
It becomes the least important meal when you're in a rush trying to get out the door.
That's where an easy-to-make protein shake comes in handy.
But just because it's a great breakfast help doesn't always make it the best breakfast routine.
To find out whether a breakfast protein shake is a good part of your diet, we've delved into the science behind them to analyze their effects on the human body.
Quick Summary
A protein shake is good for breakfast as it's an excellent way to boost your nutritional needs.
The benefits of protein shakes include body weight management, maintenance of muscle tissues, blood sugar control, and energy boost.
According to Oprah.com, taking protein shakes for breakfast can boost your metabolism by 25%.
In my professional opinion, incorporating a protein shake into your breakfast routine is an effective and convenient way to enhance overall health and wellness.
Is Having a Protein Shake for Breakfast a Good Idea?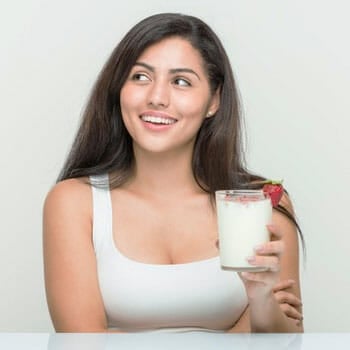 Having a healthy protein shake for breakfast is a great way to get your day started with a boost in nutritional value.
As a medical doctor, I've observed patients using protein shakes as a convenient meal replacement on busy mornings, which not only aids in managing their time but also improves their digestive health, reducing issues like bloating and indigestion.
These shakes also serve as an effective pre-workout boost for those who exercise early.
This is because the nutrients inside the shake also contain everything needed for the effective repair and building of muscle mass.
What Are the Benefits of a Protein Shake?

Proteins, the building blocks for muscles, bones, skin, hair, and hormones, offer numerous benefits when added to your diet through a protein shake.
Body Weight Management
As a doctor, I've seen protein shakes work wonders for weight management. I've seen them do wonders in this regard by doing the following:
Increasing basal metabolism rate: By increasing metabolism, fat is broken down more quickly into energy, leading to overall weight loss.
Providing a feeling of fullness: Proteins keep you full for long. This helps curb hunger and food cravings, thereby minimizing calorie intake.
Acting as an alternative to snacks:  They're a nutritious swap for snacks that often pack on pounds. A shake in the morning or before bed can keep you nourished and away from junk food.
Maintenance and Repair of Muscle Tissue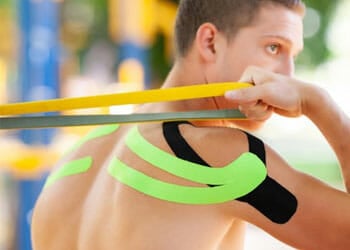 Protein, packed with amino acids, is crucial for building and repairing muscle fibers and tissues.
It boosts recovery and endurance in athletes, leading to stronger, larger muscles.
In my practice, I've seen remarkable results, like an amateur athlete who experienced improved muscle recovery and endurance from post-workout protein shakes.
This real-life example underlines the importance of amino acids in muscle health.
Blood Sugar Control
According to research published in the National Library of Medicine,
"A high-protein diet lowers blood glucose postprandially in persons with type 2 diabetes and improves overall glucose control. [1]"

- Mary C. Gannon, Metabolic Researcher
Protein shakes help by stimulating insulin secretion and keeping blood sugar levels stable.
In my practice, recommending protein shakes to type 2 diabetes patients has consistently led to better blood sugar control, mirroring Gannon's findings.
These shakes are not only beneficial for diabetics but also for anyone aiming to maintain a stable glycemic index throughout the day.
Energy Boost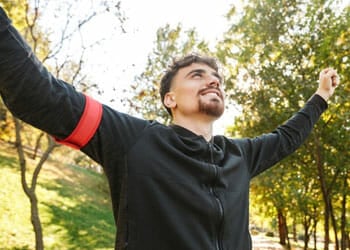 I've observed in some of my patients how a morning protein shake can dramatically boost their energy levels.
Oprah.com notes that a protein-rich breakfast can ramp up metabolism by 25%, boosting both workout energy and mental sharpness [2]
Beyond physical energy, these amino acids play a crucial role in mental performance, enhancing cognitive functions such as focus and memory, making them an excellent choice for a breakfast routine.
What are the best protein powders?
Can Protein Shakes Replace Breakfast?
Swapping carb-heavy breakfasts like white bread and cereal with a protein shake can significantly aid weight loss and improve overall health.
However, it's crucial to remember that a daily shake, typically made with whey protein powder and milk or water, might not meet all nutritional needs.
Almond milk is low in calories and fat compared to ordinary milk. It also adds creaminess and flavor to the shake.
Vegetables such as kale, spinach, and chard provide a rich source of vitamins, minerals, and fiber.
Fruits are a great choice to add sweetness to the shake. Popular options include bananas, strawberries, pineapple, avocado, mango, and blueberries for antioxidants and vitamins.
Nuts or nut butter provides a healthy dose of fatty acids such as omega 3, omega 6, Vitamin E, and fiber.
FAQs
Is It Okay To Drink Protein Shakes on an Empty Stomach?
It is perfectly okay to take protein shakes on an empty stomach.
In fact, many people prefer to drink their shakes on an empty stomach to avoid indigestion and bloating.
Can I Drink a Protein Shake for Breakfast Without Working Out?
Drinking a protein shake for breakfast without working out is perfectly fine.
Using a protein shake as a meal replacement helps with blood sugar control and weight loss by reducing your calorie intake.
Is It Bad To Drink a Protein Shake Every Day?
Drinking a high-protein shake every day without working out on a daily or consistent basis can lead to side effects.
Normal protein intake requirements are 0.36 grams of protein per pound of body weight.
For people who do not work out regularly or exceed this amount, taking protein shakes daily can lead to weight gain.
---
References:
https://pubmed.ncbi.nlm.nih.gov/14522731/
https://www.oprah.com/health/boost-your-declining-metabolism-dr-oz_1/all
Was this article helpful?