There are so many choices on what to fill in a punching bag with.
But as you may know, not all material is made the same. Done incorrectly, you might even damage your brand new punching bag and need to get another one.
After hours of research, we've come up with this guide on what to fill in your punching bag. Read on to learn what should and should not go in.
Quick Summary
The punching bag can be filled with sand, sawdust, and old clothes, provided you feel the resistance of the bag when working out.
Freestyle heavy bags, and standard heavy bags are examples of punching bags that you can purchase.
The punching bags vary depending on their sizes, cover material, and discipline.
Beginners should prepare punching bags that are light and are easy to swing.
What Do You Fill a Punching Bag With?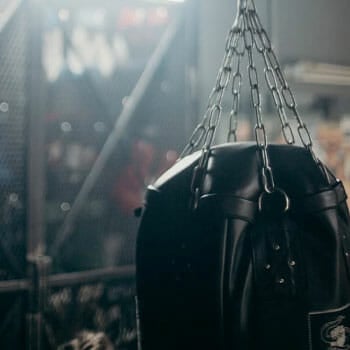 To begin, you'll want to fill your punching bag to match your fitness goals.
Firstly, classify yourself by the stage of training experience you have.
For beginners, it's best to prepare those that are light and swing easily, while professionals should seek harder bags for more resistance.
Types of fillings to use for your punching bag include old clothes, sawdust, or sand.
Whether you're a boxer or an MMA beginner, these fillings should do the trick.
Additionally, filling your punching bag at home allows you to change the density of the material easily.
This is important to customize the feel and resistance of the bag to match your specifications.
What Is the Difference Between a Boxing and a Heavy Bag?
A boxing and heavy bag differ in terms of resistance and the type of material with which they can be filled.
Each one of them is aimed at different skill levels, and having a good knowledge of each of them helps you make the right choice.
Boxing Bag

Boxing bags vary from 80 to 200 pounds and are usually hung from ceilings to withstand high impact and allow for ease of movement.
You can stuff it with clothes, rugs, towels, fabric strips, or even foam padding for the filling. If you're looking to add weight to the bag, opt for cotton batting, sand, or even metal pieces.
How to fill a boxing bag:
Start by compacting each layer with a thick broom or bat to make the surface lean and uniform.
For stability, use a cardboard or PVC tube with filler such as sand or sawdust filling.
From there, if you're aiming to create a lighter bag, clothes and rags are good fillers to use.
Just be sure to remove miscellaneous objects such as buttons, zippers, and parts of metal from clothes!
To create a heavier bag, you'll want to add sand or sawdust directly.
Pour the material into a resealable plastic container and wrap it up with duct tape. Then, proceed to place it in the middle of the bag and surround it with something like clothes to hold it up.
Lastly, continue till the bag is full and zip it up.
Heavy Bag

There is no ideal punching bag to look for when it comes to heavy bags, as it depends on the user's weight, striking power, and expertise.
Heavy bags are often made of cloth and can weigh anywhere from 70 to 150 pounds. As they are often hung from ceilings, you'll also want to ensure the chain or rope you use can withstand its weight.
They also hurt a lot more when you hit them. But as you may know, the tougher the bag is, the tougher you become [1].
"Do not pray for an easy life, pray for the strength to endure a difficult one."

- Bruce Lee, Martial Arts Legend
How to fill a heavy bag:
When it comes to filling a heavy bag, one tip we have is to hang it up before filling it, as it may be too heavy afterward to lift.
Picking one of the materials mentioned above, you'll want to place it into a sturdy bag such as a rubble sack.
From there, stuff it down, layer by layer, until the filling is compacted nicely together.
Fillings that work well include medium-sized particles made of rubber mulch and sawdust.
If using sand filling, water, or other liquid materials, ensure you seal the top of your rubble sack well with duct tape.
What Types of Punching Bags Exist?
Besides the traditional cylindrical-shaped punching bag, there's also a variety of other training bags out there.
Here, we're listing the main kinds of punching sacks out there based on features like size, discipline (MMA, martial arts, boxing), and cover material (vinyl, plastic, nylon).
Freestanding Heavy Bag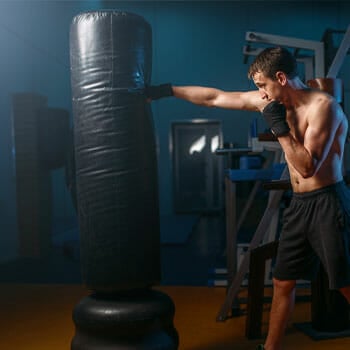 The main reason people love freestanding bags is the lack of need for hanging.
These bags fit perfectly wherever you have space at home.
Their heavy bases are often filled with sand or water, which keeps the bag attached to the ground.
They're mostly found inside homes and less often in gyms, as they can't offer much resistance.
Standard Heavy Bag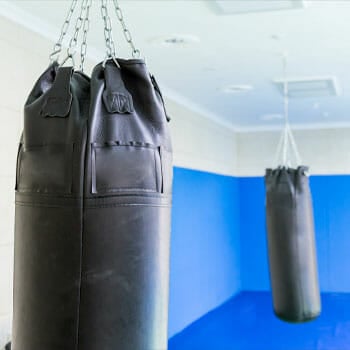 If you're a practitioner of western boxing, kickboxing, Muay Thai, or any other contact discipline, standard heavy bags are the go-to choice.
These cylindrical-shaped bags range from 4 to 5 ft and offer equal shapes on the sides, top, and bottom.
It can be used for practicing different methods of kicking or punching that require resistance and less movement.
To utilize properly, hang the bag up, so it reaches just below your waist.
How to Make Your Own Punching Bag?
If you're on a budget, you can take an old duffel bag and put in some clothing, sheets, or other materials we've mentioned above.
Inspect the bag for holes, and make sure to seal the bottom and top to avoid leaks of material.
The second method for making a punching bag yourself starts with buying an empty punching bag and then completing it yourself with filling material.
There are different brands for you to choose from, such as Everlast, FITVEN, Ringside, etc.
From there, pack them according to our instructions, and start punching that bag!
FAQs
What is the best thing to fill a punching bag with?
The best thing to fill a punching bag with are clothes, sand, or foam, depending on the resistance you are after.
What Is Everlast Punching Bag Filled With?
The Everlast punching bag is pre-filled with synthetic and natural fibers and sand.
Most boxers prefer Everlast punching bags because they come pre-filled or not filled at all.
Are You Going to Fill Your Own Punching Bag?
The punching bag needs to be carefully chosen if you want to get the most of it and improve your skills.
Adults and heavy hitters prefer those with heavier weight; hence choosing heavy materials is crucial for a challenging experience.
However, if you're working out for more flexibility, a lightweight punching bag helps you master basic moves and improve punching speed.
After determining your skills level, decide on one of the options that suit you and create your own punch bag! Start punching it today, and let us know how it works for you!
---
References:
https://www.wsj.com/articles/SB10001424052702303496104575560261828332840#:~:text
Was this article helpful?