After almost a decade in the fitness and nutrition industry, I've found one thing that both fitness enthusiasts and trained athletes swear by — branched-chain amino acids (BCAAs).
BCAAs can help you build muscle and reduce exercise fatigue.
Today I'm going into depth on BCAA supplements — from what are BCAAs, what are their benefits, to most importantly, when should you take BCAAs.
Quick Summary
For maximum effectiveness in muscle building and reducing exercise fatigue, BCAAs can be taken either before or after workouts.
The recommended daily dosage of BCAAs is between 5 to 10 grams, tailored to individual needs and workout intensity.
NIH research indicates that BCAA supplementation, particularly leucine, plays a key role in stimulating muscle synthesis, essential for muscle growth and recovery.
Based on my experience as a fitness professional, incorporating BCAAs into your fitness regime can significantly enhance recovery and boost energy levels during workouts.
BCAAs - an Overview
I always advise my clients that by taking BCAA supplements before and after their workouts, they can support a "muscle-sparing" effect. This is crucial because it helps in maintaining muscle mass while still allowing the body to recover effectively.
In particular, according to the National Institute of Health (NIH), Leucine, a component of BCAA, plays a pivotal role in stimulating muscle synthesis. It acts as a signal to key enzymes involved in this process, making it an essential part of the supplement [1].
From my experience, clients who incorporate BCAA supplements as part of their fitness regime often report better recovery and improved energy levels.
When To Take BCAAs - The Studies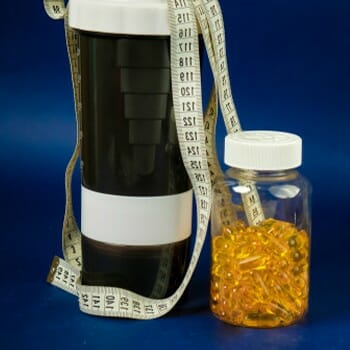 I understand you might be wondering about the best time to take BCAA supplements for maximum effectiveness. Let's look at what the latest scientific research suggests to make sure we're optimizing your supplement intake.
Study #1: BCAA Intake Is More Advantageous Pre Exercise
15 young men were given a placebo or BCAAs before and after exercise in three groups:
The control group — Were given a placebo
The pre-group — Were given BCAAs before and placebo after exercise
The post-group — Were given a placebo before and BCAAs after exercise
The study aimed to compare BCAA supplements before and after exercise delayed onset muscle soreness (DOMS) and exercise-induced muscle damage (EIMD).
The study from the National Library of Medicine found that taking BCAA supplementation before exercise had a better effect on the men and more benefits than supplementation taken post-exercise [2].
Study #2 And #3: Pre Workout & Post Workout BCAA Intake Has Similar Results
The second research focused on men who do endurance training and resistance training. Twenty-one men were assigned to two groups. The first group took 5 g protein and 1 g carbohydrate before workouts, and the second group took the same post workouts.
The protein had 5.5 grams of BCAAs per serving.
"What makes BCAA potentially beneficial for increasing skeletal muscle mass is the BCAA, in particular leucine, 'turns on' muscle protein synthesis."

- Pamela Hinton, Ph.D., Associate Professor of Nutrition & Exercise Physiology at the University of Missouri
NIH researchers discovered that the timing of meals affects the length of the post-exercise anabolic window, impacting strength, muscle growth, and energy. This finding emerged from comparing two groups with similar outcomes [3].
Take Them at Different Stages of Workout
If you've decided your exercise routine is missing some amino acid supplements, here's when to take them for optimal exercise performance:
1. Pre Workout
From my own routine, taking BCAAs pre-workout has been a game-changer. I take about 7 grams, 30 minutes before hitting the gym, and the difference in my endurance and energy is noticeable. This personal strategy aligns with the general recommendation of 5 to 10 grams of BCAAs before a workout.
2. During Workout
Take BCAAs during workouts if you're doing resistance training. Also, having a dose of BCAAs during workouts can help you see it through to the end if you have longer workouts.
If you're doing endurance training, such as getting ready for a marathon, this is the optimal time to take BCAAs. A study by NIH on people marathon training showed that BCAA intake during the exercise improved runners' mental and physical performance [4].
3. Post Workout
Same as with pre-workout training, taking BCAA post exercising has benefits, no matter what kind of exercise you do. Amino acids proteins will lessen muscle damage and contribute to muscle maintenance.
If you can't decide which BCAA brand to take,  here are our recommendations:
Take BCAAs at Different Times of Day

1. In The Morning
I've seen firsthand how taking BCAAs in the morning benefits my clients, particularly those who practice intermittent fasting. They report less hunger, more energy, and reduced fatigue.
For my clients who are bodybuilders or into fast-paced cardio, I've noticed that BCAAs in the morning help prevent muscle breakdown during tissue repair. Based on this experience, I recommend having BCAAs before morning workouts.
2. In The Evening
Experts also recommend taking BCAAs before you go to bed, as it aids the recovery process. Because sleep is the time when our bodies recover, by taking BCAAs before going to bed, I've discovered that I feel much better the morning after.
Note: If you combine BCAAs with other supplements, such as caffeine, avoid taking BCAAs before bed. While caffeine is an excellent supplement for pre-workouts, it should be avoided before bed, as rest is crucial to help your muscles repair.
How They Work
The Long-term Effects of BCAA Supplementation
Long-term BCAA supplementation can enhance muscle protein synthesis, aiding muscle growth and strength, especially in athletes.
It may improve muscle recovery and reduce soreness post-exercise by lowering muscle damage markers.
BCAAs could assist in weight management, as a 2010 NIH study link higher intake with lower obesity rates [5].
They may also influence blood sugar regulation, benefiting insulin function and glucose metabolism.
However, the body might adapt to continuous BCAA use, potentially leading to reduced effectiveness over time. Excessive, prolonged use could cause amino acid imbalances.
FAQs
How Much BCAA Should I Take Per Day?
You should take 5 to 10 grams of BCAAs.
What Foods Are High In BCAA?
BCAA food sources are eggs, soy, meat, cheese, fish, milk, poultry, cashews. Food is also a great source of protein intake and will contribute to your body mass.
Should I Take BCAA Powder Or Tablets?
You can take either BCAA powder or tablets. Both products are a great supplement option. The powder can be plain or flavored, and you can mix it into a liquid, but some protein powder products can have a bitter taste. Tablets are easier to carry, and you can use them before and after training.
---
References:
https://www.ncbi.nlm.nih.gov/pmc/articles/PMC6348179/
https://pubmed.ncbi.nlm.nih.gov/28944645/
https://pubmed.ncbi.nlm.nih.gov/28070459/
https://pubmed.ncbi.nlm.nih.gov/1748109/
https://www.ncbi.nlm.nih.gov/pmc/articles/PMC3021443/
Was this article helpful?