As a certified personal trainer, I often work with people who have different sorts of injuries or joint issues. Arms and shoulders can be particularly troublesome, and I have found that Indian club exercises are particularly effective.
So, I got together with a physiotherapist who has been using Indian clubs with his patients for many years. He showed me some techniques that allow you to do these exercises even if you're sitting at a desk.
Let me show you how to put these tools to great use.
Quick Summary
Indian club exercises are a fun and effective way to improve upper body mobility and strength, and movements like wrist circles and windmills are easy to master.
Swinging Indian clubs can also be combined with other bodyweight exercises to make it a lower and upper-body routine.
When you're doing such exercises for improved mobility, it's also a good idea to consider taking certain amino acids to help with overall exercise recovery.
Best Indian Club Workouts
Indian club training doesn't have to be complicated.
As a matter of fact, with just four simple exercises and some light clubs, you can introduce a simple daily mobility routine.
1. Indian Club Shoulder Workout
This is the most basic go-to exercise with Indian clubs that is very gentle on the rotator cuff [1]. It's mainly a front movement that can also help stretch stiff muscles.
Here's what you do: 
Stand up tall with your feet about hip-width apart.
Hold an Indian club in each hand with your elbows at a right angle.
Your hands should be at the very bottom of the clubs, with your fists pointing straight forward.
Raise your right hand while keeping the angle on your elbow until the club is behind your right shoulder.
Now bring your right hand back towards the starting point while you move your left hand up.
Keep repeating this alternating movement 20 to 25 times.
Related Posts:
2. Wrist Circles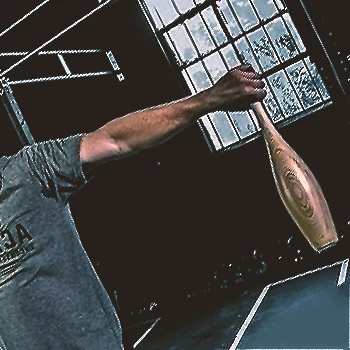 The wrist circle movement with Indian clubs is a great way to loosen stiff wrists and strengthen your forearms.
You can also easily adjust the strain with a slightly heavier club.
Here's what to do: 
Stand up tall with a club in each hand.
Raise your hands up, and with straight arms, point the clubs directly forward.
Slowly start circling your wrists clockwise in the same direction.
Complete ten full circles clockwise, and then switch to counterclockwise for another ten.
Read More: Reasons Why You Have Wrist Pain When Bench Pressing
3. Indian Club Swings
Now we're getting into a bit more movement to exercise and rotate the shoulder joints a bit more.
This is what you need to do: 
Stand up tall with your feet shoulder-width apart and pointing straight forward.
Hold the Indian clubs by your side with a straight wrist and pointing down.
Lift the right one up and hold it horizontally behind your head, shifting your weight to the right foot.
Let the weight of the club drop and rotate behind your back.
When it's pointing straight down, parallel to your spine, bring your hand forward and back to the starting position in front of you.
Do the same movement with the other arm and repeat 15 times on each side.
4. Windmill Rotation
Now we're getting to the stage where you can fully rotate the shoulder in one movement.
Windmill exercise is a great way to increase the range of motion in the shoulder, which is something that many people lack [2].
This is what you need to do: 
Get into a martial arts stance with the left foot pointing forward and the other perpendicular and slightly behind.
Hold the Indian clubs with a hammer grip while keeping your shoulders, elbows, and wrists loose.
Shift your weight to the back foot and bring your right club up and behind your head.
Rotate your body and hips forward while swinging the club out in front.
This should look and feel like a windmill rotation, and you want to do the same on the other side.
What Muscles Do Indian Clubs Work?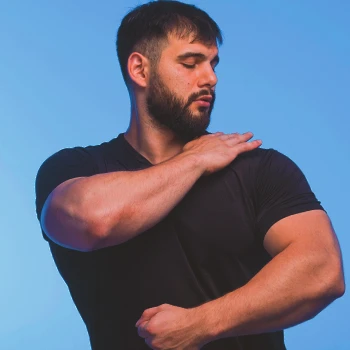 Indian clubs will work the muscles in your shoulders, upper arms, and forearms.
They will essentially target any muscle that's involved in moving your shoulder, elbow, and wrist joints.
The great thing about Indian club training is that it's low-impact and also does a great job of stretching your thigh muscles, ligaments, and tendons.
This can be helpful for a warm-up routine but also for anyone who might have an injury in these areas.
By gradually increasing the weight and speeding up the movement intensity, you can also gain strength in these muscles, especially if they have been wasted due to an injury.
What Are the Benefits of Indian Club Training?
The main benefit of Indian club training is improved mobility and flexibility in the shoulder, elbow, and wrist joints.
You'll also gain some strength in the muscles around these joints and develop better coordination.
Unlike normal stretching exercises to loosen stiff joints, swinging clubs in this way adds a bit more strain and activates the muscles.
For people recovering from injuries, that can be a major help in actively engaging muscles.
Indian club swinging ultimately leads to a better range of motion, and that can have a profound impact on reducing stiffness [3].
My physiotherapist highlighted that he recommends this kind of training for anyone with joint issues, whether it's from surgery or other injuries, because it's such a low-impact exercise with great muscle activation.
What Weights Should You Choose?

You should ideally choose two sets of different-weight Indian Clubs. Most of the time, you'll find two types of wooden clubs.
The light club will usually be about one pound, and the slightly heavier one will be two pounds.
I wouldn't recommend trying to find anything heavier, as you don't want to create too much strain on the joints you're trying to train.
"Today, Indian clubs are made of wood or plastic, varying in weight from 1 to 2 pounds depending on the strength and capability of the person using them. Swinging heavy weight is not the objective with this exercise."

- Perry Nickelston, DC, FMS, SFMA.
Integration With Other Workouts
What I have done with a few clients is either create slightly more intense training by adding some plyometrics or expand the amount of stretching involved for other body parts.
Here's what I mean.
In between each of the above exercises, you can add a cardiovascular exercise like jumping jacks, burpees, and even crunches for improved core strength.
Alternatively, you can add some lower body stretches and actually use these clubs for a general warm-up routine. With a few simple yoga poses, you can fully activate your muscles and be ready for some intense weight training.
FAQs
Are Indian Clubs a Good Workout?
Yes, Indian clubs are a good workout for increasing mobility, range of motion, and strength in the muscles around your shoulders and arms. They also have a low impact on joints, making them ideal for dealing with injuries.
Are Indian Clubs Good for Shoulders?
Yes, Indian clubs are good for the shoulders. There are several exercises that will help you rotate the shoulder joint in different ways. And that will help to gradually improve the range of motion.
---
References:
https://www.physio-pedia.com/Rotator_Cuff

https://bmcmusculoskeletdisord.biomedcentral.com/articles/10.1186/s12891-020-03665-9

https://www.ncbi.nlm.nih.gov/pmc/articles/PMC7497479/
Was this article helpful?