A vegan patty is becoming a regular menu item in many fast-food chains, and Subway is no different.
But are vegan patties completely plant-sourced and 100% vegan friendly?
We consulted our dietitian and took a closer look at Subway's Veggie Patty to discover if it contains any sneaky animal ingredients.
Let's find out.
Quick Summary
Subway veggie patty isn't purely vegan because some of the ingredients used are animal products.
Eggs and milk are the ingredients that evidently state that subway veggie patty isn't vegan.
The best vegan alternatives at Subway are veggie delite, malibu garden patty, black bean patty, and subway vegan bread.
Is Subway Veggie Patty Vegan?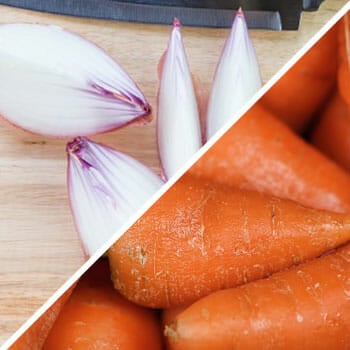 No, it's not vegan. Let's look into the ingredients list on why it's a no in the vegan menu.
Ingredients
Although the name would make you think it's a promising vegan option, Subway Veggie Patty is not entirely free from animal products.
Here is what the recipe includes:
water

water chestnuts (water chestnuts, water, citric acid)

onions

carrots

cooked brown rice (water, brown rice)

whole grain oats

mushrooms

egg whites

wheat gluten

soy flour

corn oil

calcium caseinate (from milk)

green peppers

soy sauce (water, soybeans, salt, wheat),

red bell peppers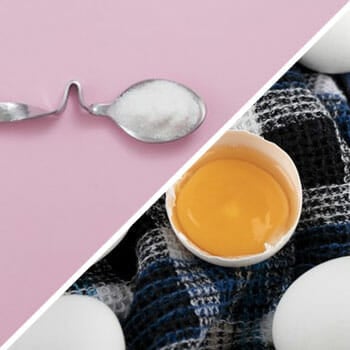 All looks good, except egg whites and calcium caseinate - these ingredients will make vegans pass on this veggie patty.
Although the presence of eggs and dairy byproducts makes this veggie patty unsuitable for vegans, it might appeal to ovo-lacto vegetarians.
But, let's see what else is inside the Subway Veggie Patty.
The rest of the ingredients include:
Vegetables (Mushrooms, Water Chestnuts, Onions, Carrots, Green Bell Peppers, Red Bell Peppers, Black Olives)

Textured Vegetable Protein

Soy Protein Concentrate

Wheat Gluten

Water For Hydration

Egg Whites

Cooked Brown Rice (Water, Brown Rice)

Rolled Oats, Corn Oil

Calcium Caseinate

Soy Sauce (Water, Soybeans, Salt, Wheat)

Cornstarch

Onion Powder

Salt, Black Olives

Hydrolyzed Vegetable Protein (Corn, Wheat, And Soy Protein)

Sugar

Soy Protein Isolate

Spices

Yeast Extract

Garlic Powder

Dried Jalapeno Peppers

Natural Flavors

Sunflower Oil

Cottonseed Oil

Dextrose
Due to alternate product availability may also contain:
Zucchini

Leek

Celery

Herbs

Spices

Potato starch

Palm fat
It also may contain 2% or less of onion powder, corn starch, salt, hydrolyzed corn, soy, and wheat protein, autolyzed yeast extract, natural flavors from non-meat sources, sugar, soy protein isolate, spices, garlic powder, dextrose, jalapeno pepper powder, celery extract.
The egg is in the form of egg whites, and the milk comes in the form of calcium caseinate.
Nutrition Facts

Okay, so even if you opt for this vegetarian patty, what is the nutrition value that comes with it?
One serving size of 187g/ 3 oz. will get you:
Carbohydrates: 8 grams
Protein: 13 grams
Dietary Fiber: 3 grams
Sugar: 2 grams
Sodium: 520 mg
Total fat: 8 grams
Trans fat: 0
Cholesterol: 0
Compared to most offers in other mainstream fast-food chains, this doesn't look so bad health-wise. But is this the best option? We'll get to that in a minute.
Listed Allergens
If you are prone to allergies, you should avoid Subway's veggie patty since it contains the following allergens:
Egg
Milk/Lactose
Soybeans
Wheat/Gluten
Is It Healthy?

Yes, one may consider it healthy. The absence of cholesterol and trans fats, low sugar content, only 160 calories, 3 grams of fiber, and 13 grams of protein, make it a pretty decent choice health-wise.
Water chestnuts, which are one of the main ingredients, are a good source of fiber. They're also low in calories, fat-free, and are a great source of vitamins and antioxidants [1].
Just like other vegetables in this patty, making the veggie patty one of the healthy and nutritious options at Subway.
But let's not forget that it's still highly processed food without a single organic ingredient. And here are some reasons why it's not the healthiest choice.
Excessive sodium
With 520 mg of sodium per serving, this patty is not something you should infrequently indulge if you are conscious about eating super-healthy food.
And when you pair it with condiments and the nine-grain whole-wheat bread, the sodium level jumps to 930mg.
The Subway Veggie Patty also contains synthetic ingredients, including hydrolyzed protein and "natural" flavors.
Healthy Food Might Be a Relative Term
Deciding what's healthy depends on your lifestyle and dietary restraint you may have. If you are a strict clean eater, you'll pass on all processed foods anyway.
However, if you occasionally enjoy "cheat days", ordering a veggie patty at Subway is not that bad.
For example, the high amount of sodium might be a deal-breaker for people with heart and kidney problems, while it may not be a big deal for others.
Choosing Healthy Vegan Fast Food

Starving, being in a hurry, and being a vegan is not a promising scenario with a healthy outcome.
Your best bet is to go with vegetables, low-fat, and low-carb choices with limited healthy food options.
"[Opt for] smaller-sized sandwiches on whole-grain bread with vegetables, and low-fat condiments, like mustard.[2]"

- The American Academy of Family Physicians 
Ordering a big salad or a DIY sandwich full of veggies is another healthy fast food option.
5 Vegan and Vegetarian Options At Subway

So, now that we have crossed out the veggie patty from the vegan-approved menu, what's left for a hungry, on-the-go vegan?
The vegan-friendly selection may be limited, but there are still a couple of choices:
1. Veggie Delite
You can always resort to good old Veggie Delite - the only pre-made vegan sandwich at Subway.
For instance, you can order the Veggie Delite on the nine-grain wheat bread with no cheese.
Then you can load it up with vegetables like cucumbers, banana peppers, black olives, green peppers, lettuce, pickles, jalapenos, spinach, tomato, and red onions.
2. Malibu Garden Patty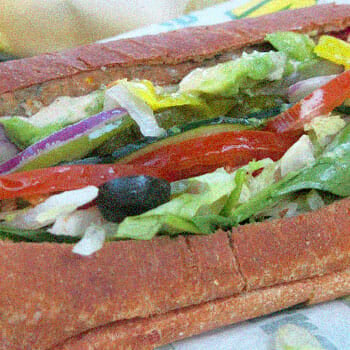 This is a vegan-safe option. If you're lucky enough to find Malibu Garden Patty at your local Subway, that is.
It's packed with whole grains such as brown rice and rolled oats, crunchy veggies, plus super-tasty signature roasted tomato sauce.
Subway Malibu Garden Patty Ingredients include cooked brown rice (water, organic brown rice), water, all organic corn, carrots, onions, green peppers, rolled oats, canola oil, high oleic sunflower oil, red bell peppers, and soy protein flour.
3. Black Bean Patty
If you're going for something more substantial and protein-packed, this vegan patty can be a good choice.
The main ingredients in this black bean vegan patty include brown rice, bell peppers, corn, garlic, and cilantro, topped with a vegan sweet potato curry sauce.
4. Beyond Meat Meatball Sub
Subway made a deal with the Beyond Meat company to produce vegan meatballs for the Subway Beyond Meat Meatball Marinara sub sandwich.
It's usually made with Italian white bread topped with vegetable-based meatballs, rich marinara sauce, and super-delicious vegan cheese and drizzled with vegan garlic mayo.
The plant-based sandwich is another addition to vegan choices at restaurants.
However, not all Subway locations have this meatball sub on their menu [2].
5. Subway Vegan and Vegetarian bread
If none of the above options works for you, you can always opt for a DIY sandwich with vegan bread, or wraps, such as:
Hearty Italian bread
Subway's Garlic bread - aka Roasted Garlic bread
Sourdough bread
Ciabatta
Tomato basil wrap
"The white and whole wheat flatbreads (on Subway) are labelled as containing dairy, making them both unsuitable for vegans." -Sage Williams, futurekind.com [3]
My Final Thoughts on the Subway Veggie Patty
For now, the answer to the question, "Is the Subway Veggie Patty vegan?" is "No." and thus remains off-limits for vegans.
Still, it's possible to order a quick and simple vegan lunch version, especially in those Subway restaurants that offer more than just a plain veggie sandwich.
Do you think Subway's vegetarian and vegan patty options are worth a trip to your local Subway restaurant?
What vegan options are available at your local Subway? Tell us in the comments below.
---
References:
https://www.webmd.com/diet/health-benefits-water-chestnuts
https://www.livestrong.com/article/289376-the-ingredients-in-the-subway-veggie-patty
https://www.futurekind.com/blogs/vegan/subway-vegan-options
Was this article helpful?