From my years of training and personal workouts, I've found that when it comes to building strength and power in the hips and glutes, few exercises compare to the hip thrust.
This simple yet effective movement has gained popularity thanks to its effectiveness in training your gluteal muscles, activating your core muscles, and strengthening your lower body overall.
When performing this exercise, it is essential to have a reliable and dedicated piece of equipment.
Over the years, both as a fitness enthusiast and a personal trainer, I've seen the transformative power of the hip thrust. That's why I dedicated weeks of research to find the best machines out there for this powerhouse exercise.
The Best Hip Thrust Machine
Editor's Choice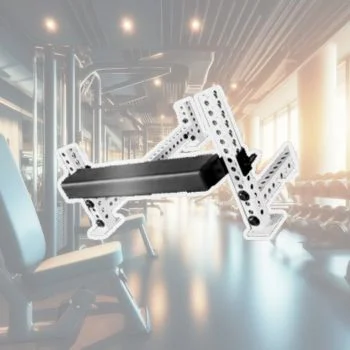 Rogue Fitness
Click For Best Price
#2nd Best Choice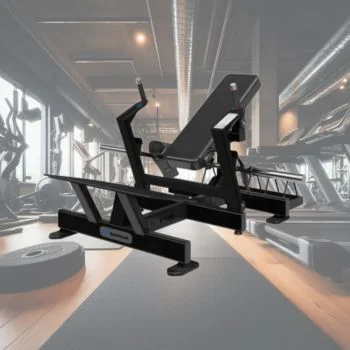 Nautilus
Check Current Price
#3rd Best Choice
Core Home Fitness
Check Current Price
Our 5 Top Hip Thrust Machines (December 2023)
1 - Rogue Fitness Monster Hip Thruster Bench
(Best Overall)
Having tried various setups for my hip thrusts, I was pleasantly surprised by this rack-mounted bench. It offers such a stable and comfortable platform, making my barbell hip thrust exercises feel more confident and smooth.
Made from a strong 2x4" 11-gauge steel tube welded to 5/16" thick formed end plates with an MG Black powder coat finish, this bench is built for lasting durability.
Unlike many other gym benches that require extensive assembly upon delivery, the Rogue Fitness Monster Hip Thruster is shipped fully assembled - mount it and get ready for your routine.
Many users reported a noticeable improvement in their hip thrust form when using the bench.
Brand: Rogue Fitness
Product weight: 36 lbs
Length: 50.2"
Width: 8.5"
Pros
Explicitly designed for hip thrusts
Very sturdy and well-designed
Easy set up
Budget-friendly
2 - Nautilus Glute Drive
(Cheapest Option)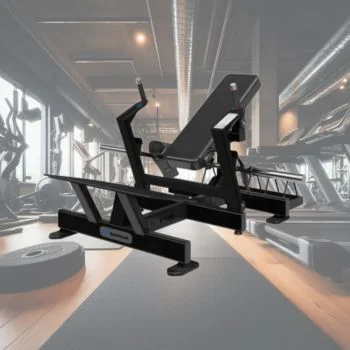 The Nautilus Glute Drive is an exercise equipment used to perform hip thrusts.
Its heavy, reinforced padded waist harness and dual-sided safety catch and release mechanism provide optimal lifting application with ease while also ensuring complete spinal stabilization and support.
The machine can hold a maximum weight load of 360 lbs, and users can load up to four plates on each side.
Further, its oversized angled foot platform can accommodate users of all sizes, making this machine truly universal in its user base.
Many athletes who used the Nautilus Glute Drive mentioned its comfort and support for their lower back.
Brand: Nautilus
Product weight: 202 lbs
Length: 62"
Width: 60"
Pros
Full spinal stabilization and support
Heavy reinforced padded waist harness to provide optimal lifting application
Easy to use due to the dual-sided safety catch and release mechanism
Cons
Expensive hip thrust machine
3 - Core Home Fitness Glute Drive
(Best Multi-Functional)
One of my workout buddies recommended the Core Home Fitness Glute Drive. Its unique pivoting bench design caught my attention, and after using it, I appreciated the full spinal stabilization it offered.
It allows users to confidently and safely engage in weighted glute bridge and other hip thrust alternatives to level up their glute training, helping them work the gluteal muscles, decrease the likelihood of hamstring injuries, and improve jogging and sprint performance [1,2].
Core Home Fitness Glute Drive converts into a flat bench for versatile exercises such as chest presses and dumbbell curls.
Some of my clients loved that they could use it for chest presses and dumbbell curls.
Brand: Core Home Fitness
Product weight: 62 lbs
Length: 63"
Width: 21"
Pros
Multi-functional as it can convert to a small flat bench
Easy to move as it comes with transportation wheels and a user-carrying handle
Adjustable waist belt to accommodate various types of users and resistance loads
Cons
More expensive than other hip thrust machines
4 - RitFit Multi-function Hip Thrust Machine Bench
(Best Heavy-Duty)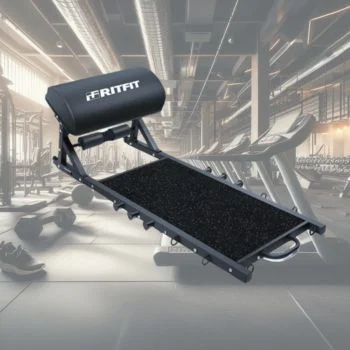 I came across RitFit's Multi-function Hip Thrust Machine Bench during one of my gym visits. It's clearly designed for those serious about their workouts, and after a few sessions, I could see why.
It provides a wide range of exercises to help increase strength and size in the gluteus maximus muscles, enhancing overall athletic performance.
Perfectly sized to fit in any home or gym, RitFit's hip thrust machine bench measures 62.5" x 27" x 21" and can make an invaluable contribution to any workout routine.
Brand: RitFit
Product weight: 62 lbs
Length: 62.5"
Width: 27"
Pros
Allows various movements, such as hip thrusts with resistance bands, squats, sit-ups
Weight limit of 800 lbs
Easy to assemble and move
5 - Signature Fitness Hip Thrust Machine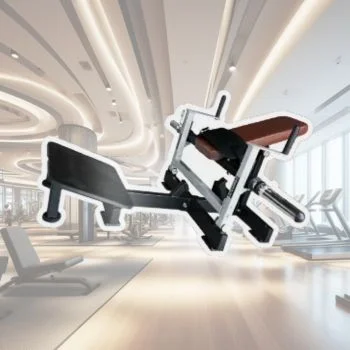 I've trained both beginners and pros on the Signature Fitness hip thrust machine. What's great is how both groups find it easy to get into position, thanks to its intuitive setup and that secure industrial-grade seat belt.
Its articulating back pad helps to ensure you stay safe while performing hip thrusts by supporting your entire spine and keeping your form in check.
Beginners love its support and how it maintains correct posture throughout the movements.
Brand: Signature Fitness
Product weight: 80 lbs
Length: 57"
Width: 27"
Pros
Easy to set up
Safe on the back due to the presence of an articulating back pad that supports the entire length of the spine
Easy to use because of the dual-sided safety catch and release mechanism
Cons
More expensive than other hip thrust machines
How We Tested the Hip Thrust Machines
Our team of fitness experts, personal trainers, and experienced users collaborated to shortlist the top contenders based on initial criteria such as build quality, user feedback, and brand reputation.
Durability and Build Quality: We assessed the construction materials, welding quality, and overall build of each machine to ensure they can withstand intense and frequent use.
User Comfort and Safety: The comfort of the padding, adjustability of the equipment, and safety features were meticulously examined to guarantee a secure and comfortable workout experience.
Ease of Assembly and Use: We evaluated the assembly process, user manuals, and the intuitiveness of the design to ensure users can easily set up and use the machines.
Effectiveness: Each machine was tested for its effectiveness in targeting the glutes and other lower body muscles, ensuring users receive optimal workout results.
Buyer's Guide for Hip Thrust Machines

Before you finalize your decision on which hip thrust machine to order, allow me to guide you through the proper usage of a hip thrust machine.
How to Use Hip Thrust Machines?
Hip thrust trains the Gluteus minimus, gluteus medius, gluteus maximus, hamstrings, adductors, and quads [3].
Here is how to use hip thrust machines effectively and benefit as much as possible from its benefits:
First, adjust the bench height so that when sitting on it, your knees are bent at a ninety-degree angle, and your feet are flat on the floor.
Make sure your back is straight and supported by the bench as you do this exercise, and place the loaded bar in the hip crease.
Next, slowly lower yourself until your glutes barely touch the bench.
Then, push through your heels and drive up with your glutes until you reach full extension of both hips and knees.
It's important here to keep your core tight throughout the entire motion to maximize the effectiveness of this exercise.
Once you reach full extension, hold for one to two seconds before slowly returning to starting position.
"The long end of the bench should be positioned against a solid surface like a wall so that it cannot move while you are lifting. Also, you may want to use a pad or sponge on the bar. Position the pad on the center of the bar so that both hip bones are protected. Some exercisers use a towel, but a towel can slip and is less secure." - Malia Frey, Editor at Verywellfit
You can add a weight plate once you have mastered proper form with body weight only.
When using weight plates, always start low and work up as needed, ensuring that good form is maintained throughout all repetitions.
How much weight you should use depends on your strength and goal.
Performing hip thrusts can be a valuable addition to any lower body routine as it helps recruit larger muscle groups while strengthening stabilizer muscles.
They can efficiently enhance hip extension by engaging the hamstrings and gluteal muscles.
In addition to using them for strength, they can also help improve hip flexors' flexibility, leading to improved dynamic performance in activities like running or jumping.
Who Should Buy Hip Thrust Machines?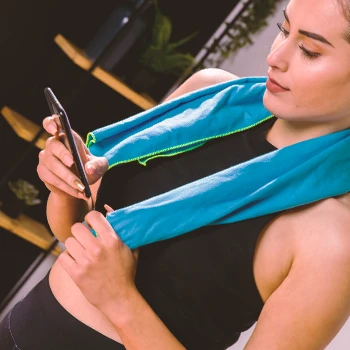 Anyone serious about building strength and power in their hips and core should buy hip thrust machines.
The targeted movements they allow can profoundly affect your overall athleticism and help develop movements like jumping or sprinting.
They are perfect for athletes who want to take their performance to the next level.
Related posts:
Who Shouldn't Buy Hip Thrust Machines?
Those with limited space shouldn't buy hip thrust machines because of their large size.
Additionally, many of them require weights to use, and if you don't already own weights or lack the necessary storage space, they may not be a practical purchase.
Furthermore, hip thrust machinery can damage floors if used on any surface other than protective mats that are designed to handle their weight.
Before making a decision to purchase one, make sure to consider your individual circumstances and situation.
The Science Behind Hip Thrusts
Hip thrusts are a potent lower-body exercise with a focus on gluteal development. Biomechanically, they involve hip extension against resistance, activating the gluteus maximus, the major muscle responsible for hip extension.
Additionally, hamstrings and lower back muscles assist in the movement. When performing hip thrusts regularly, muscle hypertrophy occurs in the glutes, contributing to a more defined posterior.
This exercise also enhances muscle activation patterns, potentially improving athletic performance and posture. Physiologically, hip thrusts increase neuromuscular efficiency and may reduce the risk of lower back injuries.
They're a valuable addition to strength training routines, targeting aesthetics and functional strength.
Nutrition for Muscle Gain
Nutrition plays a vital role in building and strengthening the muscles targeted by hip thrusts, particularly the glutes and associated muscle groups. Protein is the cornerstone of muscle development, as it gives the necessary amino acids for muscle growth and repair.
Foods rich in lean protein like beef, chicken, turkey, fish, and plant-based sources like tofu and legumes are essential. Adequate carbohydrates are also important as they fuel intense workouts, ensuring sufficient energy for optimal performance during hip thrusts.
Healthy fats support overall muscle health and should be included in the diet. Avocado, nuts, and olive oil are good sources.
Supplements can also enhance muscle development when used wisely.
FAQs
Are Hip Thrust Machines Efficient?
Yes, hip thrust machines are efficient; hip thrust variations are more effective at activating the gluteus maximus muscle when compared to the squat, the deadlift, or the Romanian deadlift. This may be especially important for athletes who need to generate speed.
What Are the Muscles Worked by the Hip Thrust?
The muscles worked by the hip thrust are primary hip extensors (gluteus maximus, hamstrings, and hamstring part of adductor magnus), secondary hip extensors (adductors and posterior fibers of gluteus medius and gluteus minimus), posterior vertebral stabilizers (erector spinae), and knee extensors (rectus femoris and vasti muscles).
How Many Times Should You Hip Thrust a Week?
You should hip thrust three times a week. That's because the in-between recovery days are just as crucial for your glute strength.
Which Hip Thrust Machine Is More Effective?
Our team thought that the most effective classic hip thrust machine was the Rogue Monster Hip Thruster Bench due to its unique features.
It is built from tough steel, allowing heavy weights to be loaded safely onto its oversized frame.
Not only does it provide a full range of motion for your workouts, but its stability also prevents any unwanted tipping or wobbling during use.
With multiple front handle positions and adjustable padding, you'll be able to perform dynamic exercises with precise control.
What's more, it helps to reduce strain on knee joints and maximize strength gains, helping you reach your fitness goals.
Our #1 Recommendation
Rogue Fitness Monster Hip Thruster Bench (Best Overall)
Click For Best Price

Pros
Explicitly designed for hip thrusts
Very sturdy and well-designed
Easy set up
Budget-friendly
Get the BEST PRICE until the end of December
Was this article helpful?