28
Products
Considered
72
Hours
of Research
36
Reviews
Examined
6
Experts
Interviewed
As we get older, staying active and keeping fit becomes increasingly difficult. But that shouldn't stop us from looking our best, now should it?
In fact, finding a great way to exercise at home can dramatically improve your quality of life.
Recumbent exercise bikes are a perfect solution as they offer a wide range of adjustable resistance levels and are quite convenient to use and store.
Keeping in shape has never been easier or more comfortable, but one question hangs in the air:
What are some of the best recumbent bike for seniors?
As a certified fitness trainer, I teamed up with our team in TotalShape and placed dozens of recumbent bikes into the test. We came up with a list of the 10 best in the market.
Read our handy guide on some of the best exercise bike models currently on the market and decide for yourself.
Editor's Choice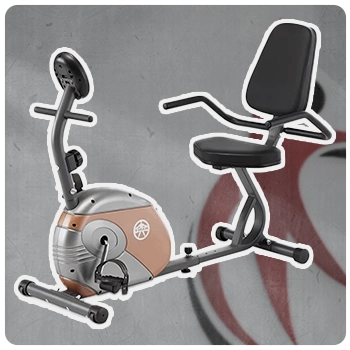 Marcy
Check Current Price
#2nd Best Choice
Sunny Health & Fitness
Check Current Price
#3rd Best Choice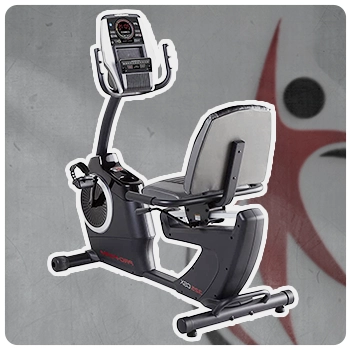 ProForm
Check Current Price
Our Top Recumbent Bike For Seniors (September 2023)
1 - Marcy Recumbent Exercise Bike (Editor's Choice)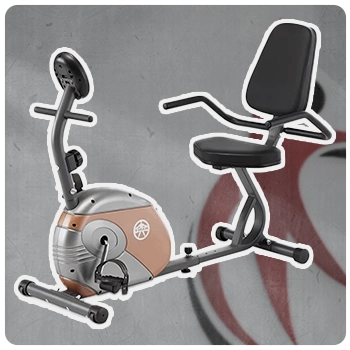 The Marcy Recumbent Exercise Bike is specially designed for maximum comfort and ease of use.
This means that it is ideally suited to older users, and it's step-through design makes mounting and, more importantly, dismounting after exercise as easy as possible.
We liked that the pedals and different levels of magnetic resistance provide a customizable workout that you can look forward to even on a rainy day.
The sturdy frame is compact but designed for maximum legroom, and the lack of confusing added features means you can get to working out straight out the box.
Pros
Easy to set-up and use
Counterbalanced pedals provide foot support and control
Step-through design for easy mount and dismount that's easy on the knees and back
Easy-to-read LCD screen to track your progress
Cons
Not as customizable as other models
2 - Sunny Health & Fitness Magnetic Bike
The Sunny Health Recumbent Bike is one of the tallest exercise bikes on the list. It is also one of the most compact.
We liked that this recumbent bike is floor friendly. The floor space it takes up is significantly smaller than some of its competitors, and its unique design also provides adjustable and varied ways to mount and use the pedals.
The upright handholds at the top of the bike provide a decent workout for your arms, or you can slide the seat back and use the seat-mounted handholds in typical recumbent style.
It offers magnetic tension or resistance to accommodate the level of fitness of the user.
The frame is also incredibly sturdy making it an excellent option for heavier users at a higher weight capacity.
Pros
Optional front-mounted handholds for light upper body workout
Wide and comfortable seat that adjusts backward for recumbent use
Sturdy frame supports heavier user weight capacity than other bikes
Cons
The arm workout resistance can be noisy and also doesn't feature in the workout feedback metrics
3 - ProForm 325 CSX Bike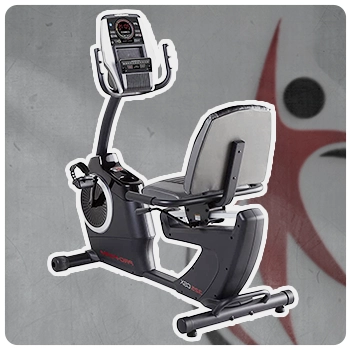 This may be just me, but I absolutely love the retro-looking design of the ProForm 315! It looks like what might happen if Knightrider designed exercise bikes. Moving past the pure aesthetic appeal, it also provides a smooth, sleek, and comfortable ride.
The chair-like seat is among the comfiest I've tried providing lumbar support, and it's ideal for those planning longer sessions. It comes standard with 20 levels of resistance and, like all others, pre-installed with exercise apps and workout programs for you to try out.
Pros
Gorgeous retro sci-fi design
Super comfortable padded seat for lumbar support
Comes with optional installation and features 20 levels of resistance
Cons
Complicated set up tries to scam customers to sign up for iFit membership they don't need
4 - Velocity Gray Bike
The Velocity Recumbent Exercise Bike is straightforward and simple. There aren't too many bells and whistles, but this means it's as easy to set up as it is to use. It's also one of the cheaper models on the market and ideal for beginners.
It isn't the most comfortable bike, nor does it boast the most compact design. We also found a few reviews complaining about parts breaking and the magnetic resistance being a bit too tough, even at the lowest setting.
Pros
Great starter bike
Easy to set up and use
Affordable price for the features it offers
Cons
Resistance levels are reported to be a little high even at the lowest settings
5 - Avari A150-335 Conversion II Rower Bike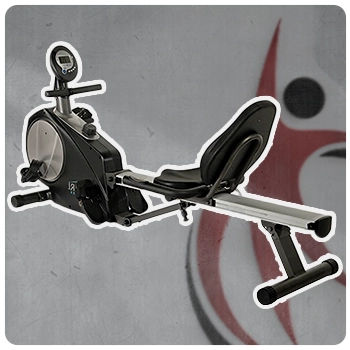 Why settle for just one exercise bike when you can get the best of both worlds? This cleverly designed recumbent bike for seniors easily switches to a rowing machine whenever you want to switch up your workout programs.
We found a lot of praise in the reviews for the super simple instructions and assembly as well as the fact that the bike offers a smooth and silent ride.
Make sure you check our list of the best rowing machines here.
Pros
The 2-in-1 design is perfect for those who want a little variety
Super clear instructions for easy assembly
Sturdy and adjustable in seat support for those with back problems
Cons
Longer than most recumbent bikes and takes up more floor space
6 - Merax Magnetic Recumbent Exercise Bike
The Merax Magnetic Exercise Bike is the very picture of the perfect modern machine. It's super comfortable and smart design means you can recline and pedal away all while enjoying your favorite shows on your phone or tablet thanks to the handy holder.
We liked that the bike comes with a 3-year warranty and provides support for users up to 380 pounds meaning it's ideal for those trying to get back in shape in the comfort of their own home.
Pros
Provides a sturdy and comfortable base even for heavier users
Easy to use in-app fitness tracker that syncs effortlessly with the machine
One of the best bikes for seniors due to ample LCD display space and superb back support
Cons
The 3-year warranty is challenging to navigate should you need it
7 - Schwinn 270 Bike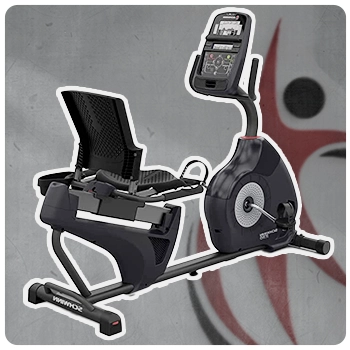 The Schwinn 270 Recumbent Bike is a top of the line recumbent bike for seniors and younger users alike. They have a wide variety of different models providing different specific features, but all of which feature the same sturdy design and comfort of use.
The Schwinn 270 is a bulky bike for seniors, but we like that it provides a smooth and secure ride, nonetheless - one that can't be matched by some of the lighter models. The Schwinn 230 recumbent bike is also another great option from the brand, but it has lesser speed and resistance options than the 270.
Pros
Unparalleled design and construction provide a sturdy and secure ride
A vast array of different resistance levels and workouts perfect for any user
Inbuilt charger powered by the bike itself to keep your devices working as long as you are
Cons
Warranty requires the user to wait for parts and repair themselves if the machine breaks
8 - Nautilus R616 Recumbent Bike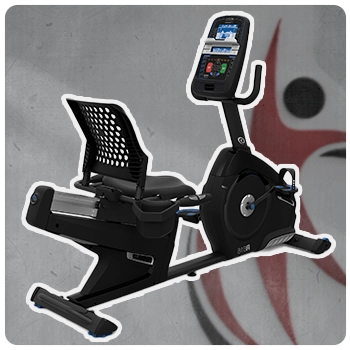 The Nautilus, like the name implies, supplies luxury alongside functionality. It might not be quite ready to take you 20 Thousand Leagues Under The Sea, but if it did, it would be a comfortable ride.
We appreciated the fact that it comes equipped with all the standard features of every other bike on the list, but with a great deal of customization and extras on top of that. It has 25 levels of resistance, more recumbent bike workout programs, and greater comfort and adjustability.
Pros
Luxury recumbent bike for seniors with 25 levels of resistance
Inbuilt fan to keep both you and the bike cool
Super silent running and sleek design
Cons
Luxury comes at a price, and that price is high
9 - Exerpeutic 900XL Recumbent Exercise Bike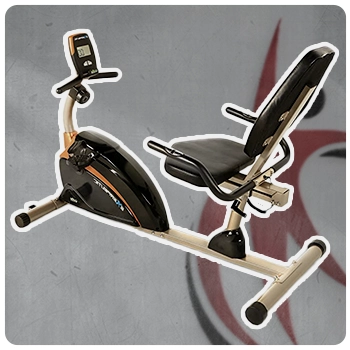 This model from Exerpeutic aims to prove a small and unobtrusive recumbent bike can still provide the sturdy and safe functionality of the high capacity recumbent bikes. We like that it takes up less room while still being fully adjustable and providing the user with a comfortable ride.
The large LCD screen connects easily to your devices to provide great feedback and workout metrics, and the bike is perfect for the less tech-savvy amongst us.
Pros
Super small footprint taking up less space than other recumbent bikes
Easy to use and connect to your devices to track your fitness routine and improvement
Adjustable padded seat and handholds offer sturdy support for any size user
Cons
The instruction manual is less easy to understand, and you might need help with assembly
10 - MaxKare Recumbent Exercise Bike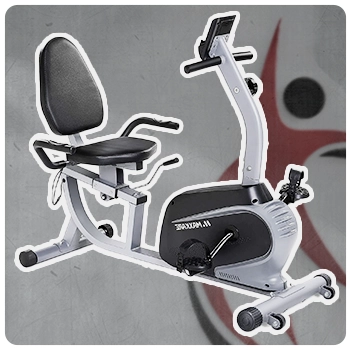 The MaxKare looks and feels like you're riding in style. The sturdy frame and ergonomic design provide a safe, comfortable, and adjustable exercise experience at an affordable price.
The comfortable handholds will help you stay in place while also serving as a heart rate monitor.
We like that the magnetic resistance levels runs practically silently, meaning it won't disturb other members of your home, no matter which room you choose to workout in.
The design also features transport wheels allowing you to move it in and out of different rooms with ease.
Pros
Silent running and adjustable levels of magnetic resistance
Transport wheels for ease of storage and movement
Handheld heart rate monitor that feeds into LCD screen display
Cons
The instruction manual and assembly can be confusing or difficult to understand
What to Look for in a Good Recumbent Bike for Seniors?

In a good recumbent bike for seniors, you should look for the seat design, size, stability, feedback screens, and ease of transport. We explain each quality in more detail below.
Seat Design
When choosing the best recumbent bikes for seniors, they tend to boast a wide range of different adjustable seat styles.
It ultimately comes down to a choice between comfort and ergonomics. Smaller bikes offer seats with less cushioning and adjustability while the larger ones offer more cushioned seats and high density foam with a bit more flexibility and support.
If you wish to find the right seat for your bike, consider how long you expect to be sitting in it and how much comfort and support you need. It also ensures you don't end up injuring yourself or putting unnecessary strain on specific muscle groups.
Size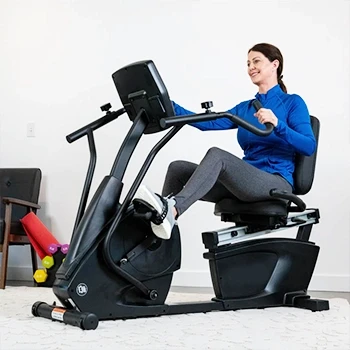 Size really does matter when it comes to choosing between the best recumbent bikes for your home.
You need to consider how much space you have, which room it can fit in, and whether or not it will have to be moved in and out of that space with ease.
It stands to reason that the larger machines are a little more sturdy and can also provide support for heavier users.
A larger machine can also provide greater comfort and adjustability in the ride while lighter recumbent bikes is much easier to move while possibly a little less stable, which brings us to our next point.
Stability
Stability is key if you intend to use your bike at any kind of resistance level. Any wobble you encounter on the machine will make you feel a lot less secure, and what was initially a comfortable ride quickly becomes a terrifying experience of gripping onto the handles and hoping you don't fall over.
Make sure the exercise bike for seniors stays stable on the carpet or hard floor. See if other users experienced any shaking when the resistance levels are raised. Stability shouldn't be an issue for heavy duty bikes.
Other than the stability itself, you should also consider your own sense of balance. This goes back to how the adjustable seat is designed and if the handholds are available. Make sure the bike offers both comfort and support necessary for an enjoyable and stable ride.
"Although no amount of physical activity can stop the biological aging process, there is evidence that regular exercise can minimize the physiological effects of an otherwise sedentary lifestyle and increase active life expectancy by limiting the development and progression of chronic disease and disabling conditions."

-American College of Sports Medicine
Feedback Screens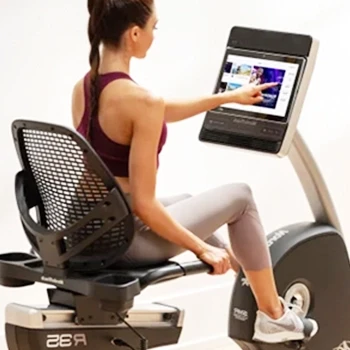 The feedback LCD screen that is usually inbuilt on almost all modern recumbent bike designs offers a great deal of information (ie distance, time, speed, heart rate) and motivation during your workout.
It helps you gauge whether you are achieving your fitness goals every day and pushing yourself harder. The approximate heart rate measurement is also a great way to gauge the improvement in your fitness level.
For seniors or those of us who aren't so tech-savvy, the Bluetooth connectivity, easy to read display screen and integrated link to apps on other devices can seem a little daunting.
The best recumbent stationary bikes for seniors will provide easy set-up of workout programs and software that will quickly dispel any possible worries.
Look for accounts of how useful and user-friendly the bike is for integration with existing apps or devices, but also how clear and easy to understand the screens are themselves.
Transport
If your home is a little low on space or if you are planning to use the recumbent bike a little less frequently, you want to be sure it's easy to move around.
This consideration is even more important for seniors who might struggle with the weight of bigger machines, and you bought the bike to stay fit, not enter weight-lifting competitions.
A well-designed recumbent bike will offer a range of different features that make it easier to transport or compact when necessary and search out reviews that mention how easy it is to move from room to room or put away after use. Some of these have extra wheels and ergonomic designs that make them easier to move around while others are lightweight but sturdy.
Why Should You Invest In A Recumbent Bike?
You should invest in a recumbent bike because it can help you exercise more in the safety of your own home.
It goes without saying, regular exercise is incredibly important, especially as we get older. Studies show that exercise bikes are particularly helpful to seniors as they can aid with gait and balance, thus improving the quality of life [1].
A recumbent bike is a significant investment, and you want to make sure you pick the best, most long-lasting design that provides you with all the functionality you need. Before you commit to purchase, don't forget to consider your individual needs, your health, and the confines of your home. 
There's nothing like a little high speed resistance workout on a sliding rail as each stride increases the number of calories burned on your LCD screen.
Now that's progress, regardless of your age.
While the machines featured on this list aren't designed with seniors specifically in mind, they are all functional machines than an older person can take advantage of. It's essential to explore the recommended exercises for seniors to ensure safety and effectiveness.
Remember that certain exercise bikes provide more features or greater adjustability, while some don't provide the same level of simple and straightforward support. Most bikes measure certain metrics like heart rate, time, speed, distance, among others.
Related topics:
FAQ
Is a Recumbent Bike or Exercise Bike Better?
Recumbent bikes are better than exercise bikes for seniors or users with stiffer legs or back problems. They take up a little more room, are easier to use, and are designed to be more stable and supportive.
What Is the Best Exercise Machine for Seniors?
The best exercise machine for seniors is a recumbent bike or an elliptical machine. They provide excellent support and ease of use, allowing you to exercise harder and for longer to stay in shape.
Is A Recumbent Bike Good for Your Knees?
A recumbent bike is good for your knees as well as your back. They have lower impact than a regular upright bike, and the seat provides excellent spinal support and posture for a high intensity, low impact workout.
Does a Recumbent Bike Burn Belly Fat?
A recumbent bike may help you burn belly fat as it is an excellent piece of exercise equipment for burning calories. If you want to burn belly fat, be sure to monitor your diet and increase the levels of resistance to provide a great cardio workout.
The Best Recumbent Bike For Seniors?
One of the best recumbent bikes for seniors, in our opinion, is the Marcy ME-709 Exercise Bike.
It's a fairly obvious choice due to the simple fact that it is purposefully designed to accommodate the needs of elderly folk.
The seat provides excellent support and comfort for longer sessions, and the innovative step-through feature stands out above all else, making it an ideal exercise recumbent bike for seniors.
The bike is expertly designed to improve the ease of use in mounting and dismounting for both seniors and individuals with leg or back injuries.
Our #1 Recommendation
Marcy Recumbent Exercise Bike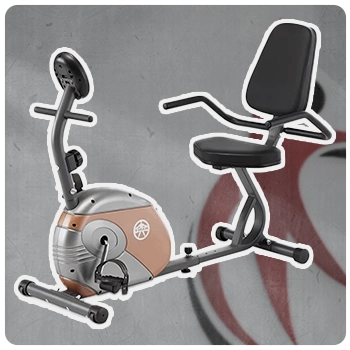 Check Current Price

Pros
Easy to set-up and use
Counterbalanced pedals provide foot support and control
Step-through design for easy mount and dismount that's easy on the knees and back
Easy-to-read LCD screen to track your progress
Cons
Not as customizable as other models
Was this article helpful?