Gone are the days of boring routines and pricey gym memberships. Tonal combines top-of-the-line technology with streamlined physical training to help you build strength, increase endurance, and achieve your desired results.
After putting Tonal through its paces, we are excited to share our findings with you. We spent weeks testing Tonal's adjustable pulley system, interactive touchscreen, and personalized workouts.
Even with its convenience, guidance, and tailored exercises, Tonal may not be the perfect fit for everyone; we'll delve into its weaknesses and weigh its pros and cons so you can make an informed decision.
Keep reading to learn more.
What Is Tonal?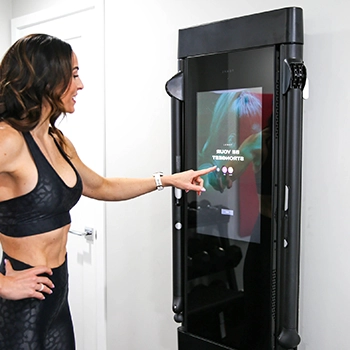 Tonal is an innovative machine (like Peloton, Mirror, and similar devices) that allows you to experience personal training in the comfort of your home.
Most other bulky weight lifting and home workout equipment pieces like a workout mat clutter up your space.
This smart, sleek, space-saving strength training machine looks like a vertical flat-screen TV (with smart handles and arms that can be hidden) when attached to your wall.
It seems like having a virtual personal trainer and a weight room's worth of equipment in one compact machine that looks great on your bedroom or living room wall.
No more need for free weights like barbells, dumbbells, or racks.
Now you can have personalized high-intensity weight lifting and strength training sessions in the comfort of your home, doing hundreds of exercises to work your entire body.
Here's what Tonal team members say about the smart home gym for their strength training:
"All of the weight resistance is being created through our electromagnetics motor that is controlled by software. We can change the weight dynamically, coupling it to the video feed and unlocking all these new experiences."

- Nate Bosshard, Tonal CMO
The Tonal system is designed by a fitness tech company founded by an experienced engineer Aly Orady, and is meant to be used by adults over 18 for strength training and other fitness goals.
Our #1 Recommendation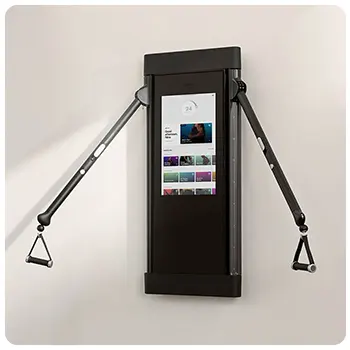 Click For Best Price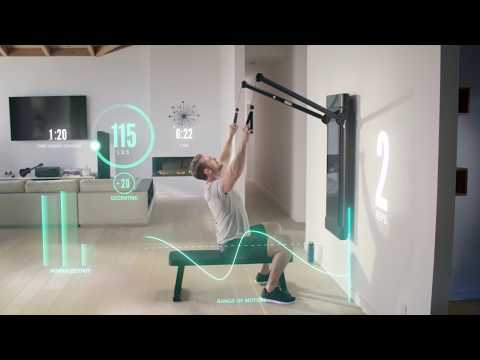 Pros
Offers a wide range of challenging workouts and programs
Provides basic real-time feedback
Automatically sets and adjusts the resistance during your workouts as needed
The pulley system allows a wide range of motion even for taller users (over 6ft)
Cons
Quite expensive
May miss your reps if you're not close enough to the sensors
How Does Tonal Work?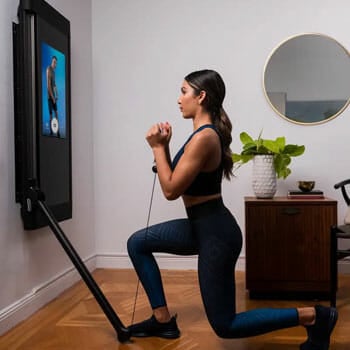 Tonal works through digital weight, offering up to 200 pounds of magnetic force resistance (100 pounds per arm), which might be limiting for advanced weight lifters but is sufficient for most people.
Unlike traditional weight gravitational force, electromagnetic force resistance Tonal smart home gym uses are constant and smooth. Plus, the personal trainer automatically adjusts to your fitness abilities and strength.
That's why you need to perform a strength assessment before you start strength training with Tonal itself [1]. It includes fitness equipment like a deadlift, a shoulder press, a bench press, and a seated lat pulldown. You need not get a workout mat with this smart home gym.
These parameters help the machine determine your starting strength training and provide weight recommendations for each exercise.
You'll also be asked to choose how often you want to work out, as well as select your weight training goal(s) like: get lean, lose weight, build muscle and upper body strength, boost energy, tone up, maintain fitness, and others.
The smart gym trainers give video walk-throughs on setup and exercises, providing all the necessary tips and guiding you through the workouts via the interactive easy-to-navigate touchscreen, which also allows you to customize your strength training workouts.
As the trainers talk you through the exercises, a video shows you how to adjust the machine's arms to get ready for the next movement.
You can narrow and widen the pulleys to adjust them for various uses and add on the accessories bundle (including Smart Handles, Smart Bar, a rope, roller, bench, and mat).
Plus, you can (de)activate the resistance with a simple click on the buttons on each side of the Smart bar, making it easier to get into the right position and get ready before each strength training rep scheme.
As you push or pull, the machine prepares the weight and counts your reps, beeping at the last three reps to signalize the end. It also lets you pause or skip a section.
Tonal continually tracks your workout progress and reps in real time, including the data like sets, reps, volume, load, time under tension, and range of motion.
It ensures your workouts are always challenging enough and helps you understand your fitness abilities and set future goals to find that intrinsic motivation.
Now that you know the basics of how to use Tonal let's say a bit more about its available workouts.
What Are the Benefits of Tonal?
The benefits of Tonal are cost-effectiveness, edvanced features, reduced distractions, and 24/7 access.
If you're serious about lifting, strength training, or working out, Tonal may provide you with everything you need to keep your body goals on track.
1. Save money over time
Tonal is a good investment in health and fitness because it provides everything you need for a smart home gym while saving you money on a monthly basis.
A commercial gym membership can be expensive, and you might even have to pay a monthly fee for guided workouts with instructors.
Tonal has the option to pay a monthly subscription fee or not. If you don't want to, you can definitely work out in Tonal and still have your workout figured out.
Simply go to the workout mode, and it will list all of the exercises that Tonal has to offer; you can even curate your own workout, like bicep curls and other exercises for upper body strength.
2. Access to your home gym 24 hours a day for a total body workout
If you have a spare bedroom or area in your home, consider professional installation for your Tonal so that you can simply step in and begin your workout. You have entire household access at any time of day.
We are all aware that commercial gyms may limit people coming in over the pandemic, preventing you from completing your fitness routine. If you're committed to a rigorous strength training schedule and committed to making steady progress, you don't want to skip a beat.
Additionally, Tonal saves you money and time wasted traveling. You can save money on fuel if you live a considerable distance from your gym and are often traveling back and forth. Take into account the amount of money and time you can save from traveling to make Tonal worth your investment.
From my personal experience with the Tonal home gym system, I've seamlessly integrated a diverse range of workouts into my routine, including strength, cardio, and yoga.
3. Experience cutting-edge home gym equipment without interruptions
Working out in a commercial gym may require waiting for some pieces of equipment to become available for use by someone else. It applies even for the smallest things, such as a workout mat.
However, it can be frustrating when you arrive at the gym and are ready to begin, only to find that someone is curling on the cable machine. You may be forced to rethink your entire workout routine, which is always inconvenient.
With Tonal, you can experience cutting-edge smart accessories without interruptions. Weights are modified dynamically, so they will increase or decrease in response to your performance. It ensures your routine is manageable with your current strength score.
Furthermore, this smart home gym is very easy to use; at first, you may need to get used to repositioning the tone arms, but it gets easier after that.
It even has an on-screen tutorial for correct placement, and adding the various attachments is a breeze. The weight is activated and deactivated by a button on the side of the handle and is easily controlled using a little sensor on the smart bar.
The resistance feels natural, and there are a plethora of exercises that can be performed without experiencing interface lags or interruptions.
4. You are always in charge of making your own rules
When working out in a commercial gym, you have no control over what is going on around you.
Sometimes the sounds you hear around irritate you. There are gyms that do not play music in the background, so you will hear people running, breathing, and frequently conversing.
Furthermore, some people play the music that you do not like.
At home by using Tonal, you can play whatever music you want.
You can choose your preferred genre from the Tonal playlist, but if you want to play your own music, you can merge your Apple Music playlist.
You can go about your routine without interruptions because you have the option not to use the built-in external speakers and other smart accessories if you want to use or connect your wireless earbuds.
In addition, you can pause at any time to get your basic needs, such as towels, water bottles, or protein supplements, in between sets.
5. Take advantage of one of the best smart home gym
Tonal's adjustable arms provide a total-body exercise program with over 170 different movements and up to 200 pounds of magnetic resistance.
This smart home gym delivers real-time data, allowing you to determine whether you're making progress or not.  It can also calculate and quantify all of your data, allowing you to track your overall workout progress.
You may receive software upgrades at least once a month, as I do. I like that it now includes a virtual group workout option, which enables you to exercise with a friend who also owns Tonal, and the best part is that your performances are tracked individually.
I enjoy that Tonal Home Gym also pairs with the Apple Watch, which tracks my workout performance automatically.
Furthermore, Tonal displays real-time heart rate statistics on the screen through the Apple Watch's sensor. And, the watch can be used to adjust the resistance, activate and deactivate the weight as necessary.
Related: Best Smart Home Gyms
6. You can choose an instructor that fits your workout style
If you're not the best at working out efficiently, having instructors lead you through your workouts can really be beneficial.
There are a lot of instructors to choose from in the Tonal smart home gym, so you should be able to find one that matches your training and the personal workout style.
Tonal instructors may also provide you with pointers on how to enhance your technique while you're working out. The clever artificial intelligence identifies your deficiencies and provides you with recommendations on how to improve your performance.
7. You don't get too many distractions
The nicest thing about exercising in your own place is that you avoid distractions.
When you're at the gym with your friends and begin conversing in between sets, you may be unaware that you're disrupting the entire workout.
When you train in your own comfortable space, you may arrange it in such a manner that you are entirely focused on your workout.
Tonal includes a large screen that makes it simple to use, as well as a quick, responsive touch that keeps your workout mood high.
If you've never worked out in your own home and have the resources to invest in cutting-edge smart home gym equipment, now is the time to get started.
What Are Tonal Workouts Like?
Tonal offers different exercises for an effective and fun home workout (new being added regularly). These include partner or group sessions, Yoga, Pilates, kickboxing, HIIT, and even dancing cardio guided by encouraging expert coaches in dynamic, pre-recorded step-by-step videos.
"Future concepts include live 1:1 training as well as a more social feel, through boot camp-style group workouts. We are constantly generating new content and loading it onto the device." - Natalie Carey, Tonal Coach
Tonal doesn't currently offer live training sessions (unlike popular Peloton, for instance). Still, it offers a wide variety of on-demand workout programs on different fitness levels created by professionals, as well as free lifts and hundreds of movements targeting all body areas.
Using its responsive screen, you can browse and select workouts by category, level, goal, duration, and coach.
Besides joining one of their programs or selecting the workouts from their home screen, you can also build your custom workouts. Just pick the exercises and assign your own sets, reps, and rest periods. This option is useful for advanced athletes already working with their personal trainer.
Most workouts typically start with a quick warm-up, followed by a few blocks with several exercises in each, and a five-minute cooldown.
You do bodyweight exercises like planks, push-ups, mountain climbers, bicep curls, and active recovery moves like lying hamstring stretch or runners lunge between big lifts.
Advanced enthusiasts may enjoy the additional lifting modes - Chains and Eccentric.
As they provide extra resistance on both the lifting (simulating the effects of lifting with chains) and lowering (eccentric) movements that help you get stronger by increasing your time under tension.
Tonal also features a built-in spotter.
The Spotter Mode intuitively decreases the load on the last few reps when it feels you start slowing down and struggling through a set, enabling you to finish it even fatigued.
The workouts are 10 to 45 minutes long and easy to follow, which makes your home workout routine even more efficient.
But:
It's challenging to look at the screen from certain angles while doing some exercises, so you may have to adjust the machine between the moves in the middle of your workout, which might be frustrating.
Although Tonal workouts don't come with music, it allows you to listen to various built-in radio stations, including hard rock, yoga ambient, hip hop, country, techno remix, the '80s or early '00s pop, etc. or add your own motivating music.
How Is Tonal Installed?

Tonal is installed by a professional, and the process takes less than an hour.
You pay (more on the pricing details below), and the company sends its trained technicians to install and set up the machine for you.
But, before the delivery, when you confirm your order, you need to fill in and submit a survey to confirm the placement of your machine.
For a smooth Tonal installation experience, BEFORE you purchase this strength training machine, make sure you've met all their professional installation requirements, such as:
Proper wall surface material and thickness
Adequate surrounding space(7x7ft), floor and ceiling height (7ft10in)
Plumbing and electrical location
WiFi signal strength, etc.
(You can see all the details on the company's website following the link above or in this Tonal Guide.)
When the professionals install your Tonal, they connect it to your WiFi and set it up to adjust it to your strength score requirements. It's a straightforward four-step process that includes:
Sign-up, i.e. creating your Tonal account
Entering your data -  age, height, weight
Personalizing your fitness goals
Selecting your current fitness level
Then, the machine can recommend custom workouts based on your specific fitness goals and needs.
How Much Does Tonal Cost?
Tonal costs around $3,000 if you pay for it in full. You can buy it on the official website or from an authorized US retailer.
Honestly, Tonal is a huge investment because you're paying for all the elements separately - the device/hardware, smart accessories, monthly subscription, delivery, and professional installation, plus taxes depending on your place of living.
I would advise against buying a used machine from random people online. It could be tempting, sure, but you're unlikely to receive the same level of support and exercise experience from a brand-new Tonal.
Now, let's see where you can save a few bucks if possible:
Since you need the Smart accessory package (smart bar and the like) to get the most out of your Tonal workouts, buying and using the machine without them seems pointless.
Also, all of the accessories get connected to the Tonal machine using a special T-lock system.
Luckily, you can buy the T-lock adapters separately if you already have some smart accessories you want to use with your Tonal.
The monthly membership, which is mandatory for the first year, allows you to set up an unlimited number of user profiles in one household and provides access to the library of on-demand strength training video sessions and "Coach AI" features.
Tonal doesn't let you install the device yourself but requires a trained technician to install it professionally for you, so you can't avoid those costs.
Even though the company offers 12 to 36-month financing plans, the price is still up there, very close to some fancy gym memberships.
Tonal also offers a three-year warranty if you buy the machine from an authorized US retailer. And if you're not happy with the purchase, you may return your device within 30 days.
Still, I dare say the price is far from affordable, and you can't save much on all those extras.
But, if the price is not a dealbreaker for you, you can buy your Tonal device directly from the company's website.
How Does Tonal Compare to Other Smart Home Gyms?
Here are three other alternatives you might want to consider:
BodyBoss Home Gym 2.0
The BodyBoss 2.0 Home Gym is a versatile strength training system that relies on resistance bands instead of traditional weights.
Tonal is a wall-mounted digital weight system, while BodyBoss is a portable home gym designed to be portable and can be used anywhere but lacks technological features.
Lewin Fitness Platform
Lewin Fitness Platform is a multi-functional fitness platform that offers a variety of workout options but is less advanced in terms of technology than Tonal.
Tonal offers up to 200 lbs of magnetic resistance, while Lewin uses resistance bands
NordicTrack Commercial Studio Cycle
NordicTrack presents a stationary exercise bike with advanced technological features, including built-in screens and interactive training options.
While both Tonal and NordicTrack offer technology-driven workouts, they serve different purposes.
Tonal focuses on magnetic resistance for weightlifting, whereas NordicTrack offers 22 levels of digital resistance designed for cycling enthusiasts.
Customer Reviews

Although the company's official website boasts hundreds of 5-star ratings, we always take those raving user reviews with a pinch of salt and tend to delve deeper elsewhere, too.
That's how we've found many genuine Tonal reviews Reddit members have shared and found out there's also a Facebook group where Tonal users share their experiences, tips, progress, and more.
Many people have compared it with other smart home gyms like Peloton fitness equipment and mostly complained about the machine:
High price
Specific installation requirements and limitations
The lack of live classes
Multi-week classes becoming repetitive over time
Mandatory one-year paid membership (if discontinued, you lose the machine essential AI functions, spotter mode, eccentric mode, adaptive digital weights, etc.)
The disturbing noise it makes (users said it sounds more like a chainsaw than a dishwasher)
Also, some former Peloton users are happy that they're finally able to do real strength training at home on their own schedule and have seen the results after four weeks of regular Tonal use.
They say it's a great hardware combined with excellent content and are looking forward to the Tonal content library expanding.
They're satisfied with the machine, its convenience and compact design, the fitness programs offered, reasonable resistance, help with weight selection and progression, and many other features.
In our search for tonal reviews online, we came across two that were both intriguing and noteworthy.
"Tonal's automatic weight increase takes the guesswork out of picking weight as you progress.  While some of the starting weights were a little light for me, they were simple to adjust during the workout. The workouts are straightforward and not too time-consuming."

-Boogerbasket, Reddit
"Working on Tonal is more similar to playing against pressure and resistance than working with weight stacks. Furthermore, some of the content and instructor recommendations become repetitive after a while."

-Jim, Youtube
FAQs
Does Tonal Have a Monthly Fee?
Yes, Tonal has a monthly fee. It provides access to expert coaching and all its innovative features such as personalized weight suggestions, unlimited household accounts, on-demand workouts, progress tracking and logging, heart rate monitoring, music stations, and more.
Can I Install Tonal Myself?
No, you can't install Tonal yourself because proper Tonal installation includes more than just mounting the machine onto the wall. The DIY approach isn't recommended because professionals need to connect your Tonal to WiFi, pair your Bluetooth Smart accessories, and set up your Tonal account so that you can make full use of the machine.
Can Tonal Be Installed in a Garage?
No, Tonal cannot be installed in a garage or basement. I mean, it can theoretically, but it's meant for a safer environment inside your home. It becomes more urgent when it has a smart accessories bundle like the smart bar. Unlike other bulky home gym equipment, this sleek, compact workout machine looks beautiful in your living room or elsewhere inside your home.
You can try Tonal in retail showrooms throughout the USA. Another option is to book a live video demo with a Tonal expert, who will provide a one-on-one virtual tour to teach you the basics and answer your questions about the machine.
Does Tonal Have a Camera?
Yes, Tonal has a camera. The manufacturer claims this smart home gym won't jeopardize your privacy as it's turned off by default and will only be switched on for personal live training sessions.
Yes, Tonal has yoga (but not for complete beginners) designed to help you advance other Tonal programs for strength training and increase flexibility and enhance muscle recovery. Before you commit, consider taking a strength assessment to determine where you stand.
Tonal is as loud as a dishwasher, so it shouldn't be too bothersome.
How Much Weight Does Tonal Go Up To?
Tonal goes up to 200 pounds of digital weight that uses a magnetic force.
Is Tonal Worth the Money?
Tonal may be worth the money if you're an intermediate athlete with a restricted home gym space who wants to build muscle and doesn't mind the hefty price tag. It may offer decent guided home workouts to help you build strength, get lean, and fit.
But as you've seen from this in-depth Tonal review, this machine won't fit everyone's wallet, wall, fitness level, and goals.
If you need a portable smart home gym that is versatile and effective in a full-body workout for 10+ times lower price, I would wholeheartedly suggest another solution- BodyBoss 2.0.
You may use BodyBoss 2.0. for various fitness goals, muscle building, and high-rep cardio workouts. Aside from being affordable and practical, BodyBoss 2.0. supports safe exercise with light rubber-based resistance bands for good form, making this smart gym suitable for physical rehabilitation and strength assessment.
Let us know how you liked it.
We Recommend This Instead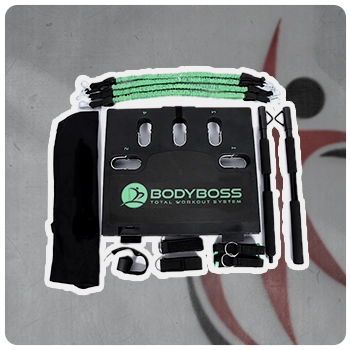 Check Current Price

Pros
Fully portable gym for upper and lower body workouts
Includes a video workout program for beginners
Allows over 300 workouts
Compact and inexpensive
Was this article helpful?