What's the best way to stay motivated and focused on your gym goals, even on your days off? Well, sometimes, a comfortable sofa, popcorn, and Netflix are all you need.
Whether you are after knowledge, inspiration, or just fun, each of these bodybuilding movies can offer that, in a unique way.
Here's a list of 17 amazing films that you can stream on Amazon Prime or Netflix, the movies you definitely shouldn't miss.
17 Must-watch Bodybuilding Documentaries
1. Generation Iron 1-3 (2013)
Director: Vlad Yuding
This documentary series is a modern version of Pumping Iron that features some well-known names, like Phil Heath, Rich Piana, Kai Greene, Branch Warren, and their preparation for Mr. Olympia 2012 competition.
Along with some more recent bodybuilding names like Jay Cutler, Generation Iron also features legends like Schwarzenegger and Lou Ferrigno, whereas the appearances of Mike Katz, Roelly Winklaar, Hidetada Yamagishi, Dennis Wolf, and other big names add to the appeal of this documentary.
Generation Iron 2 (2017) focuses on the influence that the younger generation of bodybuilders and social media have on this sport.
Released in 2018, Generation Iron 3, just like part 1, documents the Mr. Olympia competition through the eyes of bodybuilders from around the world who try to achieve the goals of physical perfection.
''Through the biggest global names' journey, the movie included all the relevant information and the best possible details of what makes a perfect physique and the perfect bodybuilder?"
It highlights the good and the wrong sides of bodybuilding, so it will be an amusing watch for both professionals and newbies. These documentaries allow for insight into the evolution of bodybuilding, a sports world that the average person does not know anything about.
2. Pumping Iron 1-2 (1977, 1985)
Director: George Butler, Robert Fiore
This classic docudrama that made Arnold Schwarzenegger a household name documents the golden era of bodybuilding, focusing on the 1975 IFBB Mr. Universe and 1975 Mr. Olympia competitions.
The movie switches between different athletes and their stories. The first half covers the contest for the amateur section of Mr. Universe, with the major focus on Mike Katz.
After becoming a box office success, Pumping Iron had a significant impact on the culture of bodybuilding and inspired the fitness craze of the 1980s.
The film's release impacted the increase in commercial gyms in the US, thus, earning its place in the evolution of bodybuilding.
In Pumping Iron 2, female bodybuilders like Bev Francis, Rachel McLish, and Carla Dunlap and judges try to define femininity at the 1983 world championship in Las Vegas.
This legendary film deserves credits for breaking stereotypes about women in bodybuilding by focusing on essential areas of women's bodybuilding from the right angle.
3. Dorian Yates - The original mass monster (2019)
Director: Vlad Yudin
This comprehensive story sheds light on the dark side of the legendary bodybuilder's intense training, which goes beyond and documents his life in Costa Rica after retirement, following his mental breakdown.
The movie dives deep to understand the mindset of the man who changed the face of bodybuilding forever.
It offers a compelling look at the life and career of one of the greatest bodybuilders of all time and his signature ''blood and guts'' routine that revolutionized bodybuilding.
4. Muscle and medals (2017)
Director: William Gleed
Success stories are usually not a straight line, which is what Muscle and Medals is all about.
IFBB pro-Romane Lanceford had a promising career until he ended up in the hospital due to a foot infection. Will he be able to beat the odds and make a comeback?
The movie depicts his highs and lows and his journey through the fitness industry, starting from when he was just a novice in the world of bodybuilding.
5. Ripped: Inside Women's Bodybuilding (2017)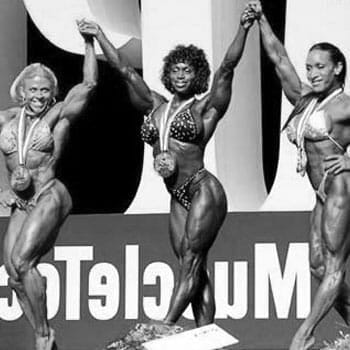 Director: Neil Grahn
The documentary takes you through the personal experiences of two female bodybuilders while training for a national competition.
Teresa Popowicz and Krystia Petrossie both share their personal, emotional backgrounds behind their decision to enter the world of bodybuilding that makes them push their physical and emotional limits.
With just a 20-minute runtime, this movie doesn't fail to inspire and send more than one meaningful message.
6. Iron and Beyond: The Story of Arnold (2002)
Directors: George Butler, Robert Fiore
Another classic bodybuilding documentary that tells a story about how the movie Pumping Iron changed the fitness landscape.
While it's mainly focused on Arnold Schwarzenegger as a rising bodybuilding star, the film also offers some interesting background information on the sport and spectacle of the bodybuilding culture.
If you're a fan of Pumping Iron, you definitely shouldn't miss this one.
7. Bigger Stronger Faster (2008)
Director: Christopher Bell
Unlike other bodybuilding documentaries on the list, this one specifically focuses on the use of steroids in sports and the bodybuilding industry.
This entertaining and informative film deserves credit for painting a fairly unbiased picture of both legal and illegal use of performance-enhancing drugs in sports.
The plot follows the events surrounding the Bell brothers, for whom this is a family matter.
8. Ronnie Coleman: The King (2018)
Director: Vlad Yudin
What does it take to become the best in the world and win the Mr. Olympia title eight times?
Only a few athletes can compare to Ronnie Coleman, whose astonishing determination pushed him to his absolute limits to get to the top and become a bodybuilding legend.
The King focuses on his legacy while also documents the consequences of his refusal to quit working on his physique, even when he faced severe challenges.
9. Stand Tall (1997)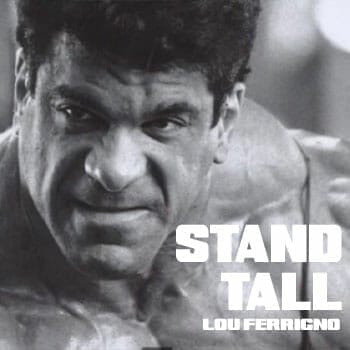 Director: Mark Nalley
Another movie that involves a true bodybuilding legend. This film chronicles the return of Lou Ferrigno to competitive bodybuilding after 19 long years of absence.
It also showcases the events around Ferrigno's resurgence, while appearances from Arnold Schwarzenegger and other champions add to the value of this film.
Similar in style to Pumping Iron but set in a different time, Stand Tall offers an exciting look into the 90s bodybuilding scene.
10. The Bodybuilder and I (2007)
Director: Bryan Friedman
The director of this heartwarming documentary reunites with his estranged father, Bill Friedman, a bodybuilder in his late 50s who is preparing for a Masters Competition.
As the preparation progresses, so does the relationship between the two men as they discover more about each other.
11. Man Made (2018)
Director: T Cooper
It's hard to find a powerful and realistic story about transgender bodybuilders such as the one told in this movie.
Man Made challenges the traditional outlook on bodybuilding and tells a story from the perspective of transgender bodybuilders and their journeys:
''Bodybuilding offers a ready metaphor for personal transformation, and the film embraces it, showing how exhibiting one's strength, after years of privately embodied pain, can be freeing—even euphoric. ''

- R. L. Lipstein newyorker.com [1]
But it goes beyond bodybuilding and expands on gender, compassion, and humanity.
12. A Skin So Soft (2017)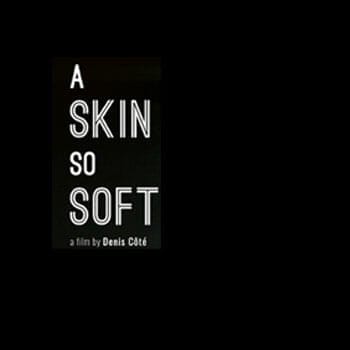 Director: Denis Côté
This Canadian documentary tells a story about a group of six men dedicated to a rigorous workout routine with just one aim: to overcome the limitations of the human body.
The group consists of an ex-champion-turned-trainer, high-level bodybuilders, and a strongman.
Unlike other bodybuilding documentaries, the film also touches on the sentimental side of the story.
It explores the concept of beauty and proportions in bodybuilding, hovering somewhere between idealization and reality, which makes the delicate title appropriate.
13. Kai Greene: A Day in the Life (2012)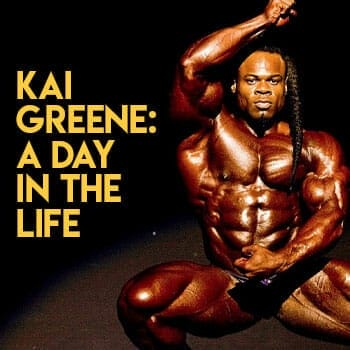 Director: Mike Pulcinella
No bells and whistles and cinematic gimmicks, only the raw reality of rigorous daily training and struggles that come with it.
An excellent source of workout advice from the legendary Kai Green, this three-part documentary motivates and inspires with its simplicity.
Whether you are just a fan, an aspiring bodybuilder, or a veteran, this documentary should definitely be on your list. It's available for free on YouTube.
14. Born Strong (2017)
Directors: Ross Hockrow, Gary Cohen
The documentary tracks both the physical and emotional journeys of the four strongest men on the planet, depicting their training and life in detail.
The journey starts in each athlete's home country, following them on their quest to win The Arnold Strongman Classic.
The movie is packed with compelling interviews with Eddie Hall, Hafthor Bjornsson, Brian Shaw, and Zydrunas Savickas, and high-quality visuals, making it appealing to a broad audience.
15. Eddie: Strongman (2015)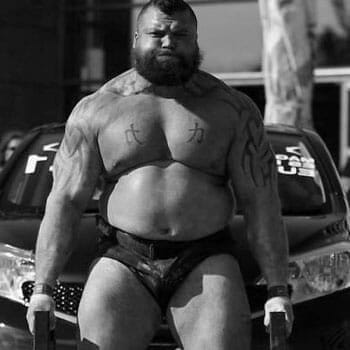 Director: Matt Bell
This inspiring British documentary tells the story of a truck mechanic, husband, and father of two, Eddie Hall, who wants to be the World's Strongest Man.
The documentary vividly portrays an astonishingly driven man and the sacrifices he made to achieve his goals.
The movie features footages from the Arnold Classic, World's Strongest Man events, and UK Strongman competitions, and it's packed with great interviews, showing what motivates Eddie to be the best.
But what gives this movie additional value is Eddie's flamboyant character.
16. No Pain, No Gain (2005)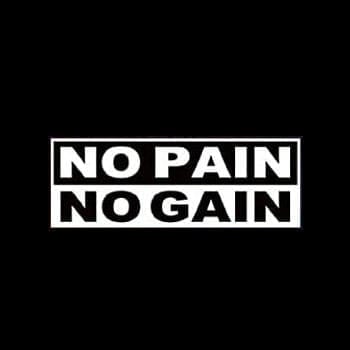 Director: Samuel Turcotte
The film tells the story of a bodybuilder who desires to be respected for his intellect.
A small-town Ohio champion bodybuilder, Mike Zorillo, with a genius IQ, sets on a journey to the Mecca of bodybuilding, Los Angeles, determined to beat his nemesis by using science instead of steroids.
Unlike other bodybuilding documentaries on the list, this one is closer to the comedy-drama genre.
But what gives this movie additional value is Eddie's flamboyant character.
17. The Game Changers (2018)
Director: Louie Psihoyos
The Game Changers focuses on the benefits of a plant-based diet covering a number of success stories of plant-based athletes.
There's a lot to learn about this food protocol, and the documentary references scientific studies and touches on other arguments for plant-based diets that extend to non-athletes.
It's a great source of information on diet plans, training methods, and workout routines adjusted to fit a plant-based lifestyle.
What Are Your Favorite Bodybuilding Documentaries?
So, now that you have enough information and a long list of awesome films to enjoy on your days off, which one would be your first pick?
If you have already seen some or all the documentaries on the list and are feeling inspired to get into bodybuilding, check out some of our recommended high-quality whey protein powders that you can incorporate in your diet.
---
References:
https://www.newyorker.com/culture/culture-desk/man-made-a-film-about-transgender-bodybuilders-upends-the-traditional-documentary-gaze
Was this article helpful?