Looking to stay lean or bulk up but short on motivation or time?
While your phone can't pump iron for you, it sure can spice up your workouts.
Think of a bodybuilding app as your pocket-sized trainer—cheaper and always ready. It helps plan workouts, track gains, and guide you, whether you're at the gym or home.
So, let our team do the testing, find the perfect app for your device, and get you closer to that dream body.
Editor's Choice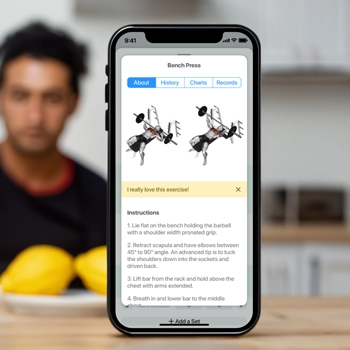 Strong
Click For Best Price
#2nd Best Choice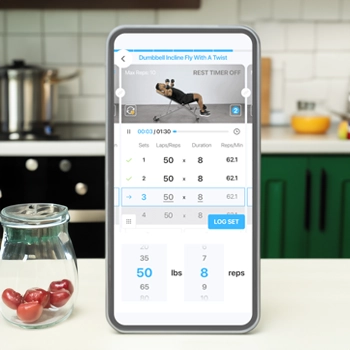 JEFIT
Click For Best Price
#3rd Best Choice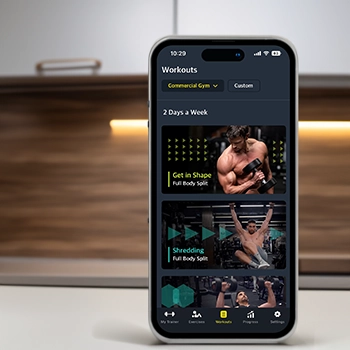 Fitness22
Click For Best Price
Our Top App Recommendations (December 2023)
1 - Strong
Whether you're just starting out in bodybuilding or looking to elevate your weightlifting game, Strong stands out as a top-tier bodybuilding app.
It boasts an extensive library of exercises, complete with meticulous instructions and video workout plans that are easily customizable to fit any fitness regimen.
My clients have consistently given this app rave reviews.
They particularly appreciate its user-friendly interface and the plethora of features it offers. These include a built-in timer, warm-up routines, plate calculators, seamless cloud backup, in-depth analytics, and support for Supersets, among others.
Pros
Clean UI makes it user-friendly
Share sheet for easy sharing of your workout with friends
Records helpful data
Available on Android, iOS, and Apple Watch, syncs with Apple Health and Google Fit
Cons
A limited free version, offering no more than three routines
Google Play Store rating: 4.8/5
Apple App Store rating: 4.9/5
2 - JEFIT
JEFIT's expansive exercise library, coupled with its robust community engagement, has breathed new life into their workout routines.
In our evaluation, we were particularly impressed by the accessibility of over 1,300 high-definition instructional videos, a feature available even to users of the free account tier.
Moreover, JEFIT fosters a sense of motivation by integrating users into a vast social network. This platform encourages members to participate in fitness challenges, exchange feedback, share advice, offer support, and track their progress alongside peers, enhancing the overall fitness journey.
Pros
Pre-built and customized lifting routines, easy tracking, and logging
An impressive database of 1,300 exercises with HD video, even with the basic free plan
Paid plans offer good value for the money
Cons
Annoying ads with the free plan
Google Play Store rating: 4.4/5
Apple App Store rating: 4.8/5
3 - Fitness22
This app is a versatile tool for users across all fitness levels, whether they're on Android or iOS, and caters to a range of goals, including strength training, slimming, toning, and cardio. It's an excellent resource for tracking your sessions and finding inspiration.
It's replete with an array of exercises and routines meticulously crafted by professionals, each accompanied by clear photos and a selection of high-quality video tutorials to guide beginners and seasoned gym-goers alike.
What I found most beneficial was the convenience of the audio cues for rest times between sets. This feature allowed me to maintain focus on my workout without the need to constantly check my phone.
Pros
Multiple specific muscle-focused and full-body workout routines to choose from - time-based, machine-based, free weight, or body weight workouts
Apple Health integration for building customized bodyweight training workouts, plus supports time-saving Supersets for maximized gains
Rest time audio cues between sets to stay focused
Cons
You can't create new exercises without including an image, which takes time to find and download, and is unnecessary if you're familiar with the exercise plan
Google Play Store rating: 4.5/5
Apple App Store rating: 4.9/5
4 - FitNotes
The app's functional design and the array of customization options have struck a chord with users, making it a staple in their fitness regimens.
My clientele particularly enjoyed the app's appealing minimalist and straightforward interface, which is user-friendly enough even for those seniors who may not be as tech-savvy.
The flexibility to select from pre-set categories or to craft custom ones—such as Ab Training, Plyometrics, Olympic Lifts, and more—allows users to tailor the app to their specific training programs and skill levels.
Adding comments and exercises, editing routines, filtering, and navigating through the workout log is a breeze with the integrated calendar feature.
Moreover, the app provides options to back up, export, and scrutinize your workout data across daily, weekly, monthly, or annual timelines through detailed statistics and graphs. This not only helps in tracking progress but also in overcoming mental blocks related to lifting milestones.
Pros
Straightforward tracking of exercises, weight, reps, results, and other important aspects of your workouts
A simple and clear user interface, without flashy features
Free, no commercials
Cons
Android devices only, without body measurement tracking or plate calculator
Google Play Store rating: 4.7/5
Apple App Store rating: n/a
5 - Powerlifter
This app has won over the powerlifters on our team, and it's not merely due to its catchy name but its robust features.
It offers essential customizable workout routines, tracking capabilities, and data logs tailored for weightlifting enthusiasts. The app includes a graph to visualize weekly improvements, a rest timer, and a one-rep max calculator that helps you begin with appropriate weights and systematically increase them each lifting cycle.
However, the cardio aficionados in our group were less impressed, noting the app's lack of dedicated sections for cardio activities.
Pros
Wendler 5-3-1 calculator allowing you to create your custom lifting program
Tracking and exporting your complete lift history sorted by date, lift type, reps, and one rep max
Affordable, although the free version also includes most of the features
Cons
Not for iOS users, a bit clunky interface, no cardio activities
Google Play Store rating: 4.2/5
Apple App Store rating: n/a
6 - Pro Gym Workout
This bodybuilding app provides an extensive range of exercises suitable for all levels, from beginner to professional, encompassing weightlifting, HIIT, and targeted workouts for belly fat reduction.
It's designed for those looking to sculpt their physique, build muscle, enhance strength, and mentally challenge themselves.
In addition to a calorie counter, the app includes calculators for tracking fat and protein intake, as well as monitoring your BMI, ensuring you stay informed about crucial health metrics.
What stood out to me during the evaluation was the app's ability to send daily notifications with fitness-related insights—ranging from diet advice to motivational quotes and supplement information—even when I didn't have internet access.
Pros
Workout tracker, summary, and timer in with precise reps, set, speed, load, and rest
Daily notifications about health advice, fitness and diet tips, motivation, supplements, etc.
Internet connection not required to use the app
Cons
Pricey, can't be used on your iPhone or any other iOS device
Google Play Store rating: 4.6/5
Apple App Store rating: n/a
7 - Fitness Point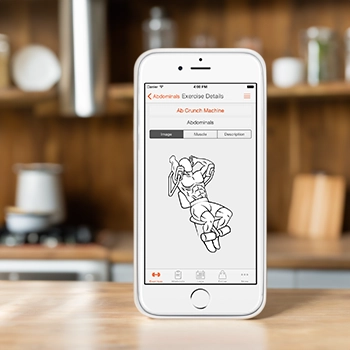 The app's workout customization and logging features are impressively organized.
It enables you to tailor workouts, seamlessly integrate new exercises, and meticulously compile your gym log, including details like weight, reps, and dates, complete with notes. Your data is automatically backed up to the cloud and can be shared with friends for an extra dose of motivation.
Moreover, the app includes a calorie counter and goal-setting features, while the integrated workout and rest timers help you make the most of your time in the gym.
However, during our evaluation, some team members expressed frustration with intermittent ads that occasionally interrupted their workout sessions. It's something to keep in mind if you like to stay hyper-focused on your sets and reps.
Pros
Allows buying personalized plans and programs crafted by professional trainers.
Quick and simple workout log, plus a calendar view and graph for better log data visualization and understanding
Available in 16 languages
Cons
Too many ads disrupting workouts, and they have locked most of the exercises with the free version
Google Play Store rating: 4.25
Apple App Store rating: 4.45
8 - Gymaholic
Gymaholic stands out as an exceptional weightlifting app, boasting over 65 personal training and progression records, 70 tracking features, and a library of 600 exercises. It's an ideal choice for serious weightlifters who demand meticulous workout tracking.
You can personalize an avatar to mirror your physical attributes—height, gender, body measurements, etc.—acting as a virtual trainer. This avatar demonstrates exercises with precision, shows which muscles are being worked, and offers additional guidance.
From my team's experience, the avatar feature added a personalized touch to our sessions, making complex exercises more approachable and ensuring proper form, which is crucial for effective training and injury prevention.
Beyond the realms of weightlifting and bodybuilding, the app also accommodates a variety of training programs, including TRX, HIIT, cardio, and strength training, providing a well-rounded workout experience.
Pros
Minutely detailed log and 3D-animated exercises
Integrates with the Apple Health app and Apple Watch
Up to six family members can share the app
Cons
Unavailable for Android users, plus accessing the unlimited workouts isn't possible without a subscription
Google Play Store rating: n/a
Apple App Store rating: 4.6/5
9 - Sworkit
Besides JEFIT, Sworkit is on the list of a few popular free fitness apps that you can use safely and effectively, respecting the guidelines of the ACSM (American College of Sports Medicine) [1].
The app's extensive database boasts over 800 unique exercises, encompassing cardio, strength, weight loss, HIIT, yoga, Pilates, and more.
Upon upgrading to premium, we were pleasantly surprised to receive genuine support from a certified coach, offering guidance on both exercise routines and dietary choices.
Sworkit is particularly beneficial for extremely busy individuals—be they parents, professionals, or travelers—who may not have access to equipment or ample space.
It provides a variety of pre-designed or customizable workout programs that can be tailored to fit any schedule, fitness level, and objective, all of which can be executed at home or while on the move.
Pros
One-on-one fitness and nutrition support from certified experts (for paid users)
Available for Android, iPhone, or web users from absolute beginners to advanced athletes of all ages
It can integrate with MyFitnessPal, Strava, and Google Fit
Cons
Active subscription required even for the seven-day free trial
Google Play Store rating: 4.⅕
Apple App Store rating: 4.7/5
10 - Fitbod
At a recent fitness convention, the topic of AI-driven workout customization sparked considerable interest. I introduced Fitbod as a standout example, emphasizing its application of A. S. Prilepin's renowned table to develop personalized workout plans [2].
These plans have yielded good results for some of my clients during the testing phase, demonstrating the practical benefits of AI in fitness.
Fitbod excels at creating customized weightlifting routines, whether you have access to equipment or not. It provides clear instructions on the exercises, weights, repetitions, sets, and rest intervals, making it easier for users to achieve their fitness goals with assurance and ease.
The app takes into account various personal factors such as skill level, objectives, strength, weight, and height and then crafts a daily workout regimen for the gym or home.
Pros
Customized weight training programs ideal for beginners
Big exercise library including workout video demonstrations and descriptions
Simple training log (but limited with the free version)
Cons
Not available for Android users yet
Google Play Store rating: n/a
Apple App Store rating: 4.8/5
Other fitness apps worth trying:
How We Tested
To ensure authenticity and depth in our evaluations, our testing team engaged in hands-on experiences with both the premium and free versions of each app.
Our diverse team included clients spanning various ages and fitness levels to provide a broad perspective. We meticulously selected the 10 most popular and widely downloaded fitness apps, putting them through a rigorous testing process.
This process focused on key aspects such as:
Interface and Usability: We scrutinized the user interface for clarity, ease of navigation, and the intuitiveness of the app's design. This ensured that users of all tech levels could utilize the app effectively.
Feature Set and Customization: We delved into the variety and depth of features offered by each app, such as workout libraries, exercise customization, and additional tools like nutrition tracking and community engagement.
Real-World Application: Our team actively used each app during their training sessions, assessing how well the app integrated into a typical workout routine and its practicality in a gym environment.
Safety and Instructional Quality: We evaluated the quality of instructional content, ensuring that exercises were demonstrated safely and effectively, reducing the risk of injury.
Effectiveness of Workouts: Each app was tested for the effectiveness of its workouts, ensuring that the routines provided were capable of delivering results when followed consistently.
Cost vs. Value: We compared the cost of each app, including subscription fees and in-app purchases, against the value it provided in terms of features and content.
What to Consider When Choosing the Best Bodybuilding App
Below are the essential factors you need to consider when deciding on the best bodybuilding apps for your needs.
1. Your Fitness Goals and Level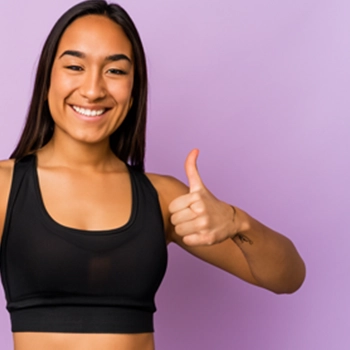 Make sure bodybuilding apps support target goals and align your fitness level and experience. Otherwise, it's useless.
Are you a beginner, intermediate, or experienced fitness enthusiast?
Does the app you like offer workout programs for your level?
Build muscle mass? Gain strength? Lose or gain weight? Get shredded?
Do you want to do full-body exercise, focus on engaging particular muscle groups, or simply get your heart rate going?
Does your typical routine involve higher or lower weights and a rep scheme?
Do you need a nutrition plan or other extra features?
All these bits and pieces fit into the same puzzle—achieving your primary goal.
If you match the app to your mini-goals and the main one—your needs and level—it can improve your training sessions and inspire you to produce results faster [3].
2. The App Features and Integrations

How much a good bodybuilding app can improve your workout performance, efficiency, and gains greatly depends on the variety of features and integrations it offers.
The functions of modern fitness apps are numerous, such as:
Plans for all fitness levels, from beginners to advanced bodybuilders
Workout logs to keep track of your fitness progress, weight gain or loss, and other parameters based on your targets
Step-by-step visual exercise plans
Gamification elements that make workouts more engaging (turning them into challenges, awarding points or badges)
Recommending nutritional information—learning resources, meal plans, food diaries, calorie counters, supplements, health and sleep trackers, etc.—to support your training level
Integration with wearable tech, like smartwatches or fitness bands, to track your workouts
Offline access is very beneficial, especially in gyms with bad connectivity
Finding places for training near you (parks, gyms, stadiums, etc.) based on your geo-tags
Playing music in the background
"Discipline is the bridge between your bodybuilding goals and bodybuilding success."

- Felicity Luckey, Fitness Motivational Author
To find your ideal app, consider:
How important is connecting with a community to you?
Do you prefer training at home or in a gym?
With or without equipment?
3. Pricing
It's important to consider pricing plans when choosing the best app to support your bodybuilding training, as combinations are countless.
Typically, apps offer one or more different paid plans, allowing a free trial or free access to limited features unless you subscribe. Consider whether the premium features are worth your money before subscribing to them. Also, check some online reviews to determine whether these perks are what they seem.
Most are free with or without additional in-app purchases. The good news is that the free ones are often enough for your basic needs. However, if you have enough money to spare, consider getting the full functionality of your chosen workout app.
"Heavy lifting doesn't need to be heavy spending if we do the job right."

- Buzz Aldrin, Astronaut
This fitness buddy shouldn't cost you more than a coach, so consider every option carefully to get the most bang for your bucks.
What Is the Best Bodybuilding App for Android and iOS?
After thoroughly testing and reviewing a myriad of bodybuilding apps, my verdict is clear: Strong app takes the top spot for Android and iOS users alike. Its user-friendly interface, comprehensive exercise library, and detailed workout plans make it a standout choice.
The app's intuitive design and robust feature set offer everything from warm-up routines to in-depth analytics.
Strong not only helps plan and track workouts but also motivates with its social network integration, making it my top recommendation for anyone looking to enhance their bodybuilding routine.
Other than having a handy bodybuilding app, you can also incorporate high-quality whey protein powders into your diet.
Our #1 Recommendation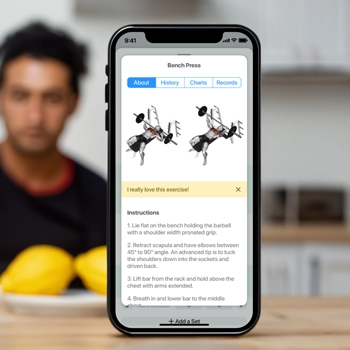 Click For Best Price

Pros
Clean UI makes it user-friendly
Share sheet for easy sharing of your workout with friends
Records helpful data
Available on Android, iOS, and Apple Watch, syncs with Apple Health and Google Fit
Get the BEST PRICE until the end of December
Cons
A limited free version, offering no more than three routines
Was this article helpful?