For those looking to reach their weight loss goals and maintain a healthy lifestyle, the Noom app is an invaluable tool.
I have guided countless people in their weight loss journeys during my ten years as a fitness instructor. The Noom app has helped many of those clients stay on track by measuring macronutrient intake and offering personalized diet coaching.
In this Noom review, you'll find all the details about what makes this program good and whether there are any drawbacks so you can decide if the subscription fee is worth paying.
What Is the Noom Diet?
Noom diet is a weight loss application that allows people to easily keep track of what they eat, find ideas to improve their diet and break bad habits, based on 1st hand experience.
According to research, using this smartphone app successfully helps the majority of app users lose weight by tracking their diet and weight on a continuous basis [1].
Looking at the app Noom feature list, it's not just the calorie counting and meal ideas that stood out the most. The company also offers a personal coaching service with a dietitian.
The Noom Diet Plan emphasizes the inclusion of green foods and yellow foods in a balanced and healthy eating approach, promoting healthy habits and supporting a healthy body weight.
Over time, Noom's psychology-based weight loss approach has evolved to include features such as water intake monitoring, goal setting, mood enhancement, self-care, and even breathing exercises.
Additionally, the program now offers a more personalized and collaborative one-on-one coaching experience to guide you through your journey. Also, you may now track your weight loss improvements in just five minutes every day.
Our #1 Recommended Health App
How Does Noom Work?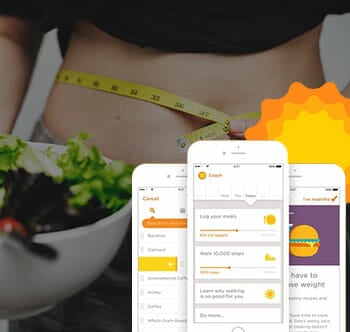 How Noom works is pretty simple. Here's a short overview.
First, download the app for free either on the App Store or Google Play. You will need to register for a free account when you first launch it.
During the sign-up process, you'll be asked a few simple questions about your goals, current weight, age, etc. This is needed to get your profile set up so that the app can make more tailored recommendations.
On the main screen, you can then easily see your daily calorie intake, meal logs, and step tracker (if linked to a Noom pedometer).
Through my own experience, you can also manually add any training you did, or connect to activity tracking services.
Related Article: What Apps Does Noom Sync With?
By signing up for the subscription, you gain unlimited access to the features, support group, and communication with your personal health coach, which can help you navigate your Noom journey and stay on track with your goals, based on 1st hand experience.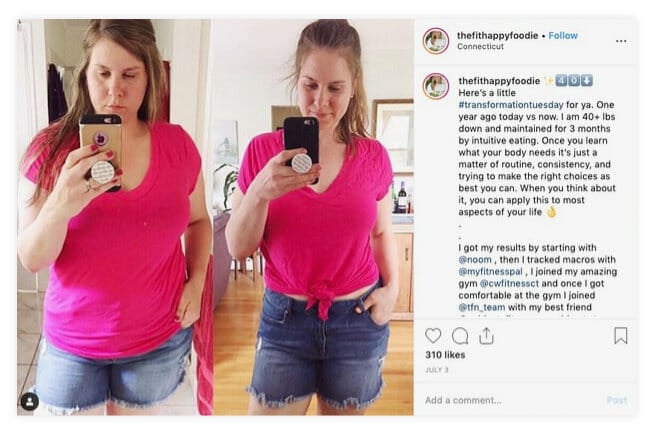 What We Liked About Noom
1. Behavior Change Approach
Achieving long-term sustainable goal weight loss is all about creating healthier eating habits [2]. And this is something that Noom users seem to understand, especially when you review their blog posts and the way the weight loss app is designed.
Your Noom diet journey includes helping you identify, understand, and monitor the calorie content of your meals.
Understanding that each food contains a specific number of calories and how this affects your overall health may change your habits and enable you to make healthier meal choices [3].
Also, having a specialized coach advise you on healthy weight loss meals will keep you motivated and optimistic about your overall improvement.
2. Food Database
According to Noom, their database has grown to over 3.7 million options. I don't think I could list out a thousand different foods one could eat, so it looks like they should have every possible edible product available.
Different foods are color-coded in green, yellow and red, with green foods having the lowest calorie count, red foods the most, and yellow foods fall somewhere in between.
A lot of users say that this functionality alone is helping them reduce their calorie intake enough to start losing some bodyweight. As long as you go for green foods and yellow foods, your weight loss goals are achievable.
You can see the full Noom food list here.
Our #1 Recommended Health App
3. Programs
Within the app, you can choose from two different programs:
1. Healthy Weight Program
In this program, the main focus is to help you lose weight by reducing your calorie intake, eat more green foods and dense foods, and avoid the red ones. You're assigned a daily calorie budget, and you have to stay below it.
With a subscription to Noom's Healthy Weight Program, they will send you daily articles about healthy green foods and exercise habits and regular challenges to get you into a mindset of changing your lifestyle for your weight loss goals.
2. Diabetes Prevention Program
In this program, the focus is less on calories and more on carbohydrates. This doesn't mean you can simply ignore the counter, but if you suffer from diabetes, then tracking and maintaining your blood glucose levels through limited carbs throughout the day will be a lot more important.
4. Individualized Coaching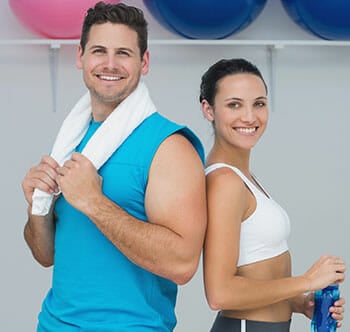 By signing up for the subscription, you will have a personal health coach analyze your current habits and diet, identify any nutritional deficiencies, and keep you updated on your progress toward your weight loss goal.
All coaches have to go through training provided by "Noomiversity." This might sound like just some clever marketing, but there are very stringent criteria to qualify for the program.
Applicants must have an associate's degree or higher, as well as health-related certifications (e.g., nursing, registered dietitian or nutritionist, paramedic). It does look like they are very strict on who they want on the team.
5. Group Support
Another feature that is advertised a lot is the group chat support community. While having a dietitian available for all types of questions is great, a lot of people find that being able to reach out to others that might have the same problems is another great way to find support and advice [4].
It's also an option that many customers use to hold each other accountable. You can share your goals with other people and post updates as you achieve milestones. In many cases, reporting about your successes will motivate others to keep moving towards their own goals as well.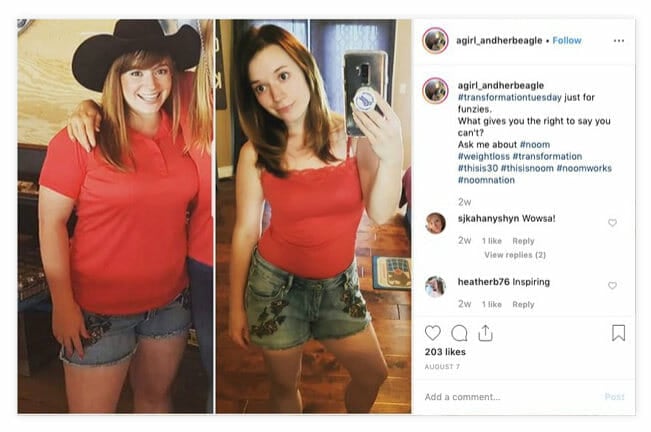 6. Fitness Tracker Syncing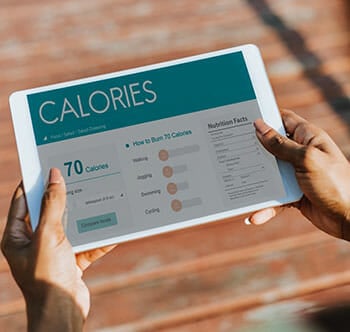 Within the settings area of the app, you can connect the Noom app to other activity tracking services.
Noom will count the steps you take if you have a Noom pedometer, but more advanced devices like Fitbit can monitor a lot more types of activities.
Based on the customer service page, all you need to do is link your activity tracker through the settings area in Noom, and it will download the data on a regular basis.
As a result, you have all your energy in and energy out all in one place to see whether your net is actually negative. Watch more in this video below.
How Much Does Noom Cost?
Noom subscription costs vary depending on the program you choose.
The weight loss program with professional diet advice costs $59.99 per month.
There are options available where you can save money by choosing a 2-month subscription for $99 and a 12-month subscription for $199.
In my opinion, the 12-month subscription is worth it because, in addition to saving a significant amount of money, you will have the opportunity to test the product thoroughly and determine if it meets your needs.
Weight Loss Program Alternatives
The Noom Diet Plan aims to help individuals achieve their weight loss goals by promoting healthier habits, such as counting calories and focusing on foods with lower calorie density, which can lead to fewer calories consumed and improved weight loss success, while addressing and changing unhealthy eating habits.
Over the years, my fitness clients and I have discussed many weight-loss programs, and three names consistently come up; Nutrisystem, Jenny Craig, and Weight Watchers. Let's look at how Noom compares to these other weight-loss programs.
Nutrisystem
Nutrisystem began over 50 years ago and is a four-week plan that offers pre-made meals to aid weight loss. Users can repeat the four weeks as many times as they wish.
The idea of this program centers around six smaller, calorie-controlled meals per day to help curb hunger, reduce snacking and promote weight loss.
The program is expensive, with a daily cost of $10-$17, depending on your chosen option. Additionally, my clients who participated in Nutrisystem liked some add-on options, like protein shakes and side dishes but acknowledged that the program price makes it a short-term weight-loss option. Noom offers a better free trial period of 14 days, whereas Nutrisystem's is seven days.
First-time users can request a refund if they are unsatisfied. Also, Nutrisystem offers options for individuals with specific dietary needs like diabetes management and vegetarian.
All-in-all, Nutrisystem is a good choice for users who like the idea of pre-made meals to jump-start their weight loss journey.
Jenny Craig
Jenny Craig is another weight loss program that centers around pre-made meals and weekly virtual or in-person meetings with a consultant.
The program offers three tiers of meal service ranging from a cost of $14-$30 per day:
Simple: Seven breakfasts and lunches per week with free shipping for ordering two weeks or more worth of meals
Essential: Seven breakfasts, lunches, and dinners per week plus free shipping
Max Up Weight Loss Plan: Seven breakfasts, lunches, dinners, protein bars, and seven snacks or desserts per week, including free shipping
Add-ons like protein shakes are available for an additional cost. My clients who participate in Jenny Craig give the food a mediocre rating because of its sodium content and price.
Jenny Craig comes in pricier than Noom because of the meals; Noom ends up having a substantial discount if you pre-pay for six or twelve months.
The program's design is a short-term solution to weight loss, with users moving to a maintenance plan when they reach their goal weight and begin transitioning to healthy food and meal prep independently.
Weight Watchers
Where Noom is relatively new, Weight Watchers (WW) is another decades-old popular weight loss program. Though the program has evolved over the years, its central focus, using the PersonalPoints system, remains the same.
In this program, each food and drink has a point value, and no food or drink is off-limits, which appealed to many of my clients. They found the point system encouraged them to pick lower-point nutritious food options.
A PersonalPoints survey about preferences, habits, and lifestyle allows for a more personalized plan.
You have three options when subscribing to the program, which is available on their website and through an app with pricing starting at around $20/month:
Digital: Basic access, including limited access to live support
Digital 360: Includes Basic tier plus access to online coaches and events like cooking demos, workouts, and nutrition classes
Unlimited Workshops plus Digital: Includes Digital 360 tier plus unlimited access to virtual or in-person coaching and in-person workshops
Also, you might want to check our list of bodybuilding apps.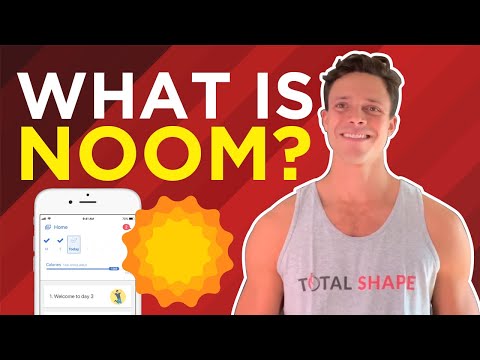 What We Didn't Like
Like any other weight loss program, the Noom diet app for lost weight still has its pros and cons.
Some of the customer reviews say that syncing with other fitness trackers can have some delays.
In most cases, it will update within about 5 minutes, but according to Noom, there are some services that have delays of up to an hour. Apparently, this is imposed by other services and not something Noom can influence. Despite this, you will have a full picture of your activity by the end of your day.
Also, downloading the app from Apple store won't make all the useful add-ons available to you.
And in some reviews, consulting your coach only once a week is seen as an inconvenience, as well as the fact that group conversations don't start till week three of your weight loss journey.
Another pro is that Noom addresses social eating and allows you to do things like plan ahead for events—like a party, holiday, or vacation. This is also something I address with clients that fosters true long-term behavioral change.
- Cynthia Sass, Registered Dietitian
Let's find out what the customers have to say about Noom
"I lost 2 pounds in two weeks of using Noom, and I noticed my stomach was a little flatter and my clothes were a touch looser. If I'd kept on using the app, I probably would have continued to lose weight. " -Lauren Bedosky on Smart Health
"I'm a few months into Noom, and I'm feeling better in general with some of the diet changes I've made, but the actual weight is extremely slow to come off. I know in my case, it's a mix of some health issues and still being stuck at home." - Katie on YouTube
Frequently Asked Questions
Is Noom Good for Losing Weight?
Yes, Noom diet is a good service for losing weight as well as making long-term lifestyle changes.
Whether you sign up for the Noom weight loss program or simply use it to keep a food log and find new ways of cooking healthier dinners, endless reviews point to the fact that it's a great way to keep yourself accountable while developing healthy habits.
The Noom Diet Plan encourages the adoption of healthy eating habits by emphasizing the consumption of low-calorie dense foods rich in healthy nutrients, while also promoting food tracking and discouraging the intake of calorie-dense processed foods.
Yes, the Noom app itself is free. However, the Noom meal plan and coaching services require a subscription.
The company does offer a 2-week trial period for only $1 where you don't get billed the full amount if you cancel within 14 days. It's an excellent way to test out the benefits before you commit. Read more about how this works here.
Yes, Noom is easy to use. Users receive easy-to-follow tasks and timely reminders to track their progress throughout the day.
Unfortunately, food logging in Noom is still done manually,  but its friendly user interface makes it less problematic than similar weight loss programs like Weight Watchers and MyFitnessPal.
Noom is not an acronym or name but simply "moon" spelled backward, according to its president and co-founder Artem Petakov.
He mentioned that "the moon is calm, wise, and always there for the whole world", which means that the moon is always there to guide you in the right direction when you are lost. In this context, this weight loss program will help you lose weight. He also said that Noom works in many languages.
Noom: Worth for All Potential Pounds Lost
Noom offers a fresh perspective on weight loss, merging expert coaching with an extensive food database.
Its goal is sustainability over short-lived results. Despite a few drawbacks that we've noticed, I can say that this app is a positive force for your diet.
Use it to enhance your workout and break bad diet habits while learning about meal combinations to improve your performance.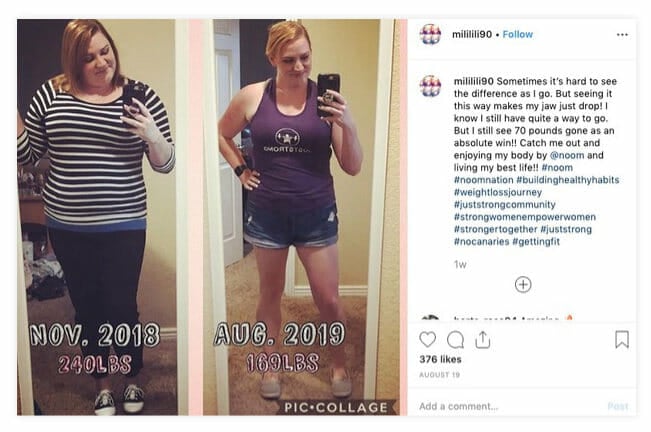 Our #1 Recommended Health App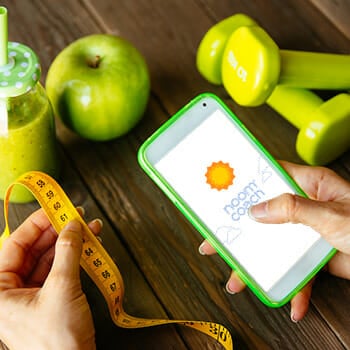 Pros
Personalized calorie breakdown based on a several lifestyle questions
In-app 1-to-1 health coaching during business hours
Track the foods you eat by searching a database or scanning barcodes
Get the BEST PRICE until the end of September
Cons
Limited integration with wearable fitness trackers
Was this article helpful?