Ever since we first heard about the Pact app a few years ago, we have been suspicious of the concept that you could get paid to work out.
But we have a few clients who have used it and said they earn cash every week.
So rather than completely dismiss the concept, we had everyone on our team sign up with the app and give it a try for a month.
In this Pact App review, we'll tell you exactly what it's about and how it works, as well as give you some information on the limitations we found.
What Is Pact?
Pact is a smartphone app that claims to work as a motivational tool to help people achieve their health and fitness goals.
The best way we can describe it is that it takes a kind of carrot and stick approach.
What do we mean by that?
Essentially, you commit to certain levels of activity and eating habits per week, and you back it up with a pledge of money. What happens then is that if you don't meet the goals you set, then the money is taken off your credit card.
However, if you do make the committed number of trips to the gym, then you get a share of the money pledged by all users who didn't succeed.
It seems like a simple concept, but we're a bit suspicious of how you would actually be able to verify that people were at the gym.
So we set out some tests to see if we could "trick" the app and still get some cash.
Let's take a closer look.
1 - Register An Account
The first thing you need to do is install the app from Google Play.
For some reason, it doesn't seem to be available anymore on iOS, which is quite a limitation.
When you first open it, you'll need to register, and we used our PayPal account information to set up Pact.
Then you just need to confirm the account with the email you receive. It took less than 2 minutes to set up so it's pretty straightforward.
2 - Set Goals For The Week
On the home screen of the app, you're presented with three choices.
We'll focus on the first one here.
GymPact is where you would indicate how many times per week you plan to work out. The options range from 1 to 7 days a week. And you can change this on a regular basis as well.
Just make sure you base your choice on the fitness goals you have. Also, keep in mind that things might come up, and you'll need to skip a day.
Based on your choice, you can see an estimate of how much you can earn per day below.
3 - Set Some Diet Goals
There are two ways of doing this.
First, you could use the Veggie Pact option, where you commit to eating a certain amount of vegetables per day. You need to take a photo of your plate before eating to verify each serving.
Or you could use the Food Logging Pact, which requires MyFitnessPal to be linked. It requires you to log at least three meals and 1,200 calories per day to be counted.
4 - Set A Wager For Each Goal
This is the interesting part.
For each of the goals you set, you would wager a certain amount of money for every time you don't achieve the goal.
The amount you can pledge ranges from $5 - $50 in $5 increments.
What does this mean?
Let's say your goal was to go to the gym three times, and each missed trip was set to $10. If you missed going to the gym one time, you would be charged $10.
The same concept applies to food goals. Note that the amount you would receive for hitting your goals depends only on the number of sessions you've committed to per week. So even if you increase your wager, it won't increase your potential payout.
5 - Search For Gym Near You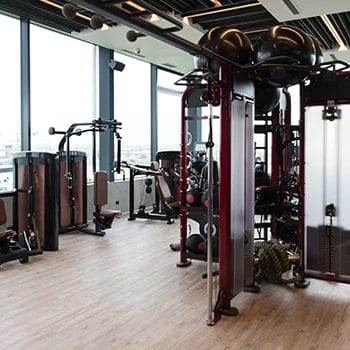 OK, so your goals are set, what do you do now?
You have two options.
Either you use the gym search feature once you arrive at the gym or choose to work out at home.
The gym search is a cool idea, as it claims to use your GPS location to verify that you're at a gym.
Then you start the activity tracking, which would link up to either the phone or a tracker like a Jawbone Up and FitBit.
6 - Workout At Least 30 Minutes
Here's the important part: you have to make sure that you register physical activity for at least half an hour [1].
We tried to trick it by just starting the tracking session and then leaving the phone on a bench, but it seems smart enough to tell when people are active.
You would have 90 minutes to complete the 30-minute workout requirement for it to be counted, so don't start tracking unless you plan to go all in.
Also, even if you workout twice a day, only the first 30-minute activity will be recorded and counted.
7 - Connect To Other Activity Trackers
Another thing you can do is connect the app to say your Fitbit.
If you took at least 10,000 steps in one day, that should count as a workout session and a completed goal.
But it could also work by syncing it with other wearable devices that monitor your activity to verify that you worked out.
Some people don't like having bulky phones on them all the time. And on some gym equipment, a phone might not register activity.
We decided to use an armband and FitBit to track our movements, but it didn't track all the movements, so we had to move a little more to hit 30 minutes.
8 - Track Your Food Intake
For the Food Logging Pact, you need to use MyFitnessPal to log all the food you eat. And for the Veggie Pact, it expects you to take a selfie with the portion, which is then verified by a member of the Pact team.
This could be a good way to get your five veggie portions a day [2].
"Depending on their age and sex, federal guidelines recommend that adults eat at least 1½ to 2 cups per day of fruit and 2 to 3 cups per day of vegetables as part of a healthy eating pattern."

-Center for Disease Control
We only tried this for a couple of days, as it just seemed to be a lot of effort. But it was fairly easy to have your photo approved, which takes an hour on average.
9 - Get Paid
At the end of each week, the app will check if you registered a sufficient amount of days at the gym. If you missed one, then you would get charged, and the money goes into a pool to be shared out with those that succeeded.
In our tests, we got paid between $0.80 and $1.20 per gym session. It's not a huge amount but might be enough for a cup of coffee or two.
Pros And Cons Of The Pact App
We're big fans of all types of motivational tools to help folks make progress with weight loss. And the idea of losing some money if you don't exercise enough seems to work for a lot of users.
We also liked that it set the minimum exercise time to 30 minutes as this is quite achievable. Research also suggests that it's a good minimum per day to create healthy fitness levels [3].
Based on our testing, we didn't find an easy way to cheat the system. I guess you could just shake your activity tracker and see if that works, but for the money you could earn, it's really not worth it.
Pros
Seems to be a good motivational tool
Daily steps can be counted as a completed workout
Doesn't seem to be easy to cheat
Cons
You can't track multiple workouts per day
Some people reported issues with being billed even when they completed goals
Not available on App Store
Doesn't provide workout recommendations
Pact App Disadvantages
Our own testing was based on about four weeks of use, but we also wanted to check user reviews from people who have been using it for a longer time.
It seemed like some of our suspicions about the service were experienced by others.
One of the main disadvantages is that the app won't give you any kind of exercise recommendations. All it does is check if your motion tracking actually registered the required amount of activity.
It would have been nice to see workout suggestions that you can actually accomplish for extra rewards.
The second issue we read a few times was people not receiving their rewards and being billed on their PayPal accounts.
This didn't happen to us, and I would say that you need to make sure every workout appears fully logged.
Remember that you only have 90 minutes from the moment you click 'Start' to finish the 30-minute requirement.
How Much Does The Pact App Cost?
The Pact app is free to download, and registering a new account is also free. You will need to link to your Paypal or credit card account, and here's why.
You should only be charged if you pledge a certain amount of money and then don't log the number of gym sessions you committed to.
Also, you'll need to make sure that you upload a good-quality image of any veggie portions you committed to as well. If the picture isn't good enough and doesn't show the full portion, you could end up being charged.
The same goes with food logging, so always check if the connection to your MyFitnessPal is working.
Here are other recommended apps you can try as alternatives to Pact:
Pact Reviews
We noticed on Google Play that the average review rating was less than three stars. That's pretty low, so we had a look if there was something that stood out in the comments.
Here are four summaries of reviews that should give you a better idea.
Dan seemed to have been using the app for different pacts on a regular basis. He found it forced him to make more healthy lifestyle choices during the day and was pretty happy.

-Dan

Atlanta
Chris liked the extra motivation he got from seeing the occasional money come out of his account when he didn't log all his pacts. But after a while, he noticed charges even when he had completed all goals.

-Chris

Houston
While she found it did make her think about her lifestyle on a daily basis, after a month, she gave up on it as it just lacked features for suggesting exercise routines.

-Michelle

Vancouver
JJ seemed to have problems from the start. His phone didn't seem to register all the motion activity at the gym. He ended up paying even after checking in with the app at the gym.

-JJ

Palo Alto
FAQ
Yes, Pact is free to install. Once you launch it for the first time, you'll need to register an account. You should only end up paying if you don't complete all the pacts on a weekly basis.
Do you really get paid for using Pact?
Yes, you really get paid for using Pact, but don't expect to make much money. Even if you worked out seven days a week for 30 minutes, it would make you less than $10 a week.
How much can you earn with Pact?
You can earn about $1 per gym session with Pact. This mainly depends on the number of people that have pledged and failed, as the charges are shared between all those who succeeded.
No, Pact isn't a scam, but some people have reported issues with being incorrectly billed. You would have to ensure that your phone tracks all the motion activity correctly to avoid missing out on the money rewards.
Do We Recommend Pact?
We weren't overly impressed with it. Yes, the money aspect could motivate you, but you might achieve the same if you start similar pacts with some friends at the gym.
There is a significant lack of features, and you won't be given any advice on how to plan your workout sessions.
There's also no dietary advice, so very little that impressed us.
From a motivation and support perspective, you should try out Noom instead (check out our review here).

You get access to a real personal trainer and diet expert to help you exercise and eat in a way that gets you to your goals.
We Recommend This Instead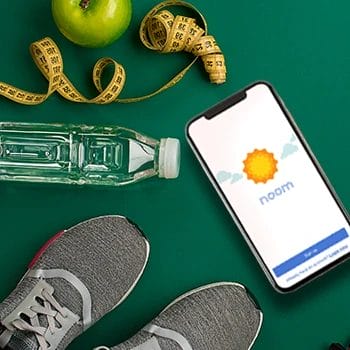 Click For Best Price
Pros
Personalized calorie breakdown
In-app 1-to-1 health coaching
Calorie and macronutrients tracker
Get the BEST PRICE until the end of June
Cons
Limited integration with wearable fitness trackers
Was this article helpful?