In my years as a fitness instructor, I often used the wellness app Fooducate with my clients to guide their diet and nutrition.
I have personally used it for five years as well, and it proved useful to record and track my own calorie intake as well as that of my clients.
In this Fooducate review, I will share my experience in great detail, so read on to learn what the app can do for you, how it works, and whether it is worth the investment.
Let's begin.
What Is The Fooducate App?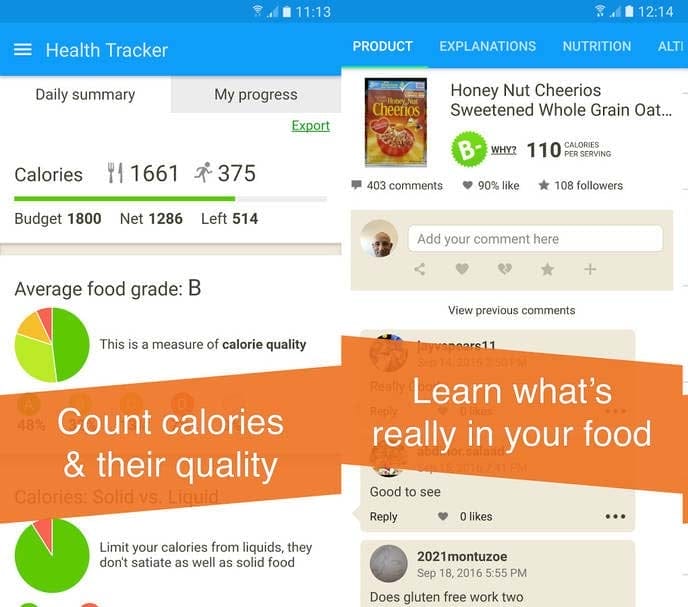 The Fooducate app is a tool that allows you to track all the food you eat and provides you with information about the calories and macros you consume.
The idea is simple.
The more information you have throughout the day about how well you're sticking to the food you eat and your overall diet, the more likely you are to succeed with your health and nutrition goals [1].
One of the main benefits is that you could set up the app for many of the more common diets, including paleo, keto, and the Mediterranean diet, to name a few.
This gives you easy feedback on your daily nutritional intake to avoid loading up on the wrong or processed foods and maintain healthy eating habits.
How Does Fooducate Work?
Fooducate works by allowing you to search for different food products. You could also scan the barcode on a product, which accesses a huge food database to pull in the macros and calories per serving.
You then enter the amount of food you're consuming, and the app automatically calculates how many calories, protein, carbs, and fat you have eaten.
What people also like about the pro version of the app is that it may help you find healthy food products that are more suitable for your dietary goals.
But even the free version has enough features to make this a pretty decent diet journaling app. With this app, you can develop healthier eating habits in the long run, allowing you to reach your health and fitness goals.
One of the best features of Fooducate is its automatic grading system for foods and beverages based on their intrinsic nutritional value.
Ranging from A to D, the algorithm assigns a grade based on the ingredients list and nutrition facts on a product's package.
For instance, minimally processed and nutrient-dense foods will have higher grades (A to B) than highly processed and junk foods (C to D).
You can also see directly below the grade why it got that score.
When we tried to scan the barcode of whole wheat bread, it only got a score of B.
The app says that despite having lots of fiber, it also has added salt and sugars.
So the next time I went out for groceries, I searched for whole wheat bread with the lowest sodium content.
I did like having old-fashioned oatmeal (A) with oat milk (B+) and blueberries (A) for breakfast.
It seems pretty accurate, but the cost of the product can sometimes skew the grade, which shouldn't be part of the criteria, in my opinion.
As mentioned, the Pro version allows you to opt for healthier alternatives for a certain product, which I really appreciate since I tend to eat the same meals every time.
Other recommended food and nutrition apps:
Pros And Cons
We went through a few hundred reviews to confirm these pros and cons.
Many users liked how they can easily see their calorie intake, macros, and food points for the day, especially for those with restricted intakes.
The premium features sound pretty good, but you'll likely hit limitations once you start using them.
We also found some comments about the scan feature not working on all phones, and the subscription also seems to lack some more direct coaching. This is unfortunate since coaching from a professional could make all the difference to your weight loss efforts.
Pros
An easy database search feature that brings up great results and new products
Many people say they like the quick feedback about macros to make better choices
Cons
The free version seems to lack info on micronutrients
Some reports of the barcode scanner not working on certain Samsung models
The coaching and community features are pretty limited
"For the dieting newbie, meal planning by counting macros is a good way to get a handle on portion control."

-Elena Donovan Mauer

Health and Diet Writer
How Much Does the App Cost?
The Fooducate app itself is free, but you could choose to pay for some of the premium functions.
Like other nutrition apps, this is based on a monthly or annual payment.
If you want to set up a monthly rolling service, then it's $3.99 for the basic pro plan. Adding the gluten and allergen info would cost another $4.99 per month.
Overall, that isn't the cheapest option, and you can find better diet tracker apps. This is based on current pricing, and it may change in the future.
Do Other Weight-Loss Apps Outperform Fooducate?
Other weight-loss apps that my clients and I have tried, such as Noom, SparkPeople, and Weight Watchers, may outperform Fooducate in terms of data information and access to individualized coaching.
SparkPeople aimed to combine nutrition and physical activity tracking into a single app. Weight Watchers, on the other hand, may help you develop healthy habits more effectively by using a simplified calorie counting system.
Finally, the Noom app, like Weight Watchers, allows you to easily record and monitor your caloric intake from the foods you eat, but their premium version may offer more personalized collaborative coaching.
Because of the app's frequent updates and positive feedback from their customers, our team believes that Noom may be the best investment out of the bunch.
If you're into bulking, you might want to check our best bodybuilding app list.
What Customers Think of the Fooducate App
There are a number of online reviews that offer varying opinions about the app. Here are three that we believe are significant.
"I like the Fooducate app because it recognizes common packaged products and allows you to do more than just analyze your diet. You can track your hunger levels to figure out how certain foods specifically affect your body," - Tiffany Wright

Weight loss expert in Los Angeles
"What the Fooducate app will let you do is track what you're eating and it allows you to search tons of different recipes." - Marion

YouTube
"I've been using the Fooducate app on and off for about 8 years and I love how you can add hunger level, mood, sleep, and extra notes. I've come to believe that calorie counting in the foods I eat may be beneficial to me over time." -Lindt Blank

Reddit user
FAQ
How Do You Cancel Fooducate?
You cancel Fooducate by going either into your iOS App Store or Google Play settings and turning off the automatic renewal. You could do this at any time, as there is no minimum term.
Does Fooducate Work With Other Wearable Technology?
No, Fooducate doesn't currently sync up with other wearable technology like Fitbit or smartwatches. This is one of the limiting things that we think needs to be addressed.
Do We Recommend Fooducate?
As we've discussed in this Fooducate review my team and I believe that its free basic functionality is limited by a lack of micronutrient data, personal coaching, and community support.
Also, the expensive upgrades in Fooducate may be less beneficial and feature-rich than other alternatives, such as the Noom app, which is why we recommend Noom as an overall better fit for our clients.
Noom offers over a million healthy eating tips, hundreds of interactive self-care lessons, and daily health habit tracking, allowing you to focus on your weight loss goals.
Additionally, Noom's premium feature includes a personal health coach who can help you improve your food choices, track your workouts, and motivate you to stay on track with your goals.
Finally, clients have consistently reported the best results and ease of use with this app over the previous three years, which coincides with our own experience.
Click here to visit Noom's official website to begin your free trial.
We Recommend This Instead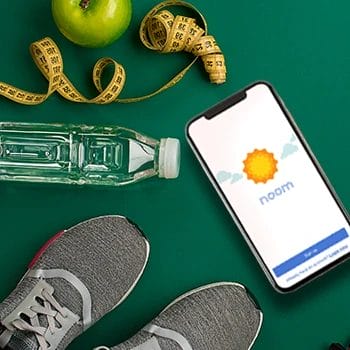 Click For Best Price
Pros
Personalized calorie breakdown
In-app 1-to-1 health coaching
Calorie and macronutrients tracker
Get the BEST PRICE until the end of June
Cons
Some reports of the barcode scanner not working on certain Samsung models
Was this article helpful?