SparkPeople is one of the latest online programs that promises to make it easier for people to get fit, eat healthily, and lose weight.
But let's be honest and say that every other app and service that has come out over the past couple of years has been promising the same.
Unfortunately, many of them don't live up to those promises, and users end up wasting a load of time, effort, and money.
So, our team signed up for SparkPeople and tested it out for a couple of months with a few clients.
And in this SparkPeople review, we'll tell you what it's all about, what we liked and disliked, and what other users have been saying.
What Is SparkPeople?
SparkPeople is an online platform and app that allows you to track your diet and physical activities. It also gives recommendations for exercise and meal plans to help you reach your fitness goals. SparkPeople offers a free membership to its healthy living community, providing a weight loss program with access to free workout videos.
The best part about SparkPeople is its holistic approach, which includes different exercises and allows interaction with other members to set and achieve healthy goals based on how much time you have available.
Unlike many other apps, the company has aimed to combine both nutrition and physical activity tracking in one place.
And that does seem to make sense.
By keeping details of the calories you take in and the energy you burn on a daily basis, you should be in a much better position to achieve your weight loss goals.
By seeing how changes to your exercise routine and diet impact the scales, you could make it easier on yourself to plan what and when you eat and workout.
The database that has been included claims to contain over 2 million different foods.
In theory, that should help keep track of all meals and snacks you have throughout the day.
Let's take a closer look at how it works first.
Total Shape's Score : 4.1/5
Tracks your diet and physical activities
Recommended exercises and meal plans
Interaction with other members
How Does SparkPeople Work?
SparkPeople offers a free site where users can access a positive review and gaining knowledge about exercise regimen, calories burned, and body composition, without needing a gym membership. SparkPeople works by giving its members the tools to assess their current weight issues, come up with realistic goals, and then recommend and monitor dietary needs and exercises.
Here's how it's broken down.
1 - Weight Management
The first thing users need to do after their initial SparkPeople login is to enter some personal details about gender, age, height, and weight.
And this is important: you have to be honest about all this data.
What SparkPeople then does is try to determine how overweight you currently are and what your ideal weight would be.
Our testing found that SparkPeople calculates your resting metabolic rate using the Harris-Benedict Equation, a well-established formula used in the nutrition industry. This was confirmed through a direct comparison with manual calculations [1].
The end result is a recommended daily calorie intake that aims to help you lose weight at a rate of 1 - 2 lbs per week.
And the first step to achieving that comes down to what you eat.
2 - Diet And Nutrition
Once your base calorie rate has been established, the SparkPeople program makes specific recommendations for the macros you should be aiming for.
The general recommendation is 50% carbs, 30% fat, and 20% protein, which aligns with the USDA's dietary guidelines.
However, in my experience as a nutrition coach, this breakdown may not suit everyone, especially those on specialized diets like low-carb or ketogenic, which require a different macronutrient distribution.
With some suggested meal plans available on the website and in the community forum, you should then be in a position to change your eating habits [2].
And by logging everything you eat and drink using the database search feature, the program should be able to tell you if you're on target for the recommended calories.
Members also have access to educational resources for information and tips on dining out, avoiding snacking, portion control, and apparently hundreds of other topics.
3 - Exercise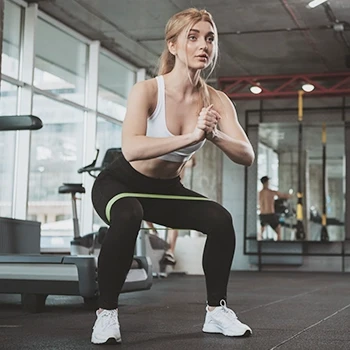 After fixing your diet and nutrition intake, the service claims to make exercise recommendations to help you get to your goals faster.
The recommendations are based on a health and fitness questionnaire that you have to fill out [3].
This should allow you to then pick exercises that are right for your current fitness levels.
Each of the recommended workout plans has been put together by certified personal trainers.
And the ones we have assessed seem to be well designed to gradually make improvements for members.
Technically, that should be a great recipe for losing some pounds.
"Following a low-calorie diet while exercising is one of the most successful ways to lose weight and keep it off. Even if you have a lot of weight to lose, try not to be intimidated."

- FamilyDoctor.org
Pros And Cons
Overall we found that the combination of diet tracking, exercise recommendation, and integration with your fitness tracker seems to be a suitable setup [4].
It should improve your motivation as well, which is often half the weight loss battle.
Pros
People seem to like the easy set up to get a recommended calorie intake
Claims that it's easy to find all the foods you eat in the database
Integration with activity trackers seems to work well
Cons
Not suitable for diets like Keto and Paleo with specific macro requirements
The choice of exercise programs is a bit limited
Some people said that improvements could be made on the meal plans.
The main issue we have with SparkPeople is that they only use one predetermined set of macros. So if you have a diet that requires more protein and fewer carbs, for example, then you'll hit some limitations.
But there are some other disadvantages we identified.
What are the Disadvantages?
The disadvantages of SparkPeople are limited personal coaching and insufficient information about actual meal plans.
The company makes a big deal out of the group of personal trainers and diet experts on their team. And based on our experience, you only have access to them once a week for questions. That's not really what I'd call personal coaching.
The other thing we found in a few reviews is that while there's plenty of website content about making healthy diet adjustments, the actual meal plans are a bit limited.
It seems like they haven't been adding enough new ideas and diet advice to keep people interested [5].
Other apps you can check out:
How Much Does SparkPeople Cost?
SparkPeople costs $4.99 per month for full access to all the services, online community, and to remove the ads.
Personally, the ads didn't bother me too much.
But we heard from some folks that the number of ads you see tends to increase at different times.
Turning those off for $4.99 seems a bit expensive to me, and we have used other services for a slightly higher cost that just seems to be a complete solution.
SparkPeople User Reviews
To give you a quick idea of what people in the community groups are saying, we've summarised a couple of reviews.
This user was trying to find ways to make healthy food choices and keep a closer eye on her calories. She thought it was great that she could see a rolling total so that she could make quick adjustments to her meal sizes.

- Emma, Las Vegas
Steve struggled from day one as his dietitian had recommended a lower carb intake to help deal with his diabetes. While he did get accurate macro numbers, he constantly got recommendations to adjust his meal plan.
- Steve, Albany
This is a long-time user who took advantage of one of the early offers for lifetime access at a lower rate. He seems to have lost a load of weight based on the advice, along with maintaining that weight.

- Patrick, Oakland
Chase lost the weight he had aimed for but ultimately found paying to remove the ads was just not the right solution for him. He also missed being able to get professional help.

- Chase, Springfield
Weight Loss App Alternatives
Countless apps are available that promise to help you lose weight fast, so we chose three of the most popular and tested their features against SparkPeople.
Noom
Noom, the wellness app that originated as a simple fitness and calorie tracker, has quickly evolved into a comprehensive behavioral change program.
Noom offers personalized plans, health coaches, and support groups to guide users toward healthy lifestyle habits rather than simply tracking their progress.
Our test group users took the quiz upon sign-up and paired with coaches based on their answers. Additionally, there is access to a recipe library which our volunteers appreciated to keep meals interesting and avoid a food rut.
SparkPeople and Noom sync with fitness trackers, though I found Noom's integration with my activity tracker delayed and inconsistent.
Several of my fitness clients have reported successful weight loss after committing to Noom's program, proving that behavioral changes can lead to long-term health benefits.
Pact Fitness
Pact is an innovative fitness app with a unique "carrot and stick" approach to motivating users to meet their health and wellness goals.
Unlike SparkPeople, where you pay a monthly fee for the premium features, users on Pact commit to specific exercise and dietary habits each week and pledge money.
Users have accountability for their progress because if they fail to meet their goals, the app deducts the pledged money from the payment method. But it's not all about punishment; if users meet their goals, they earn a share of the money pledged by all users who didn't.
Our testers tried to trick the app but were unsuccessful, as it seems pretty smart to know if you're active or not using fitness trackers or GPS location to verify you're at a gym.
You can also make a food pact but must use MyFitnessPal to log food.
Fooducate
In 2008, Hemi Weingarten started the Fooducate blog after moving to California and being struck by the confusing US food labels. Over time, the blog evolved into a food tracker app that uses a grading system to help users make informed decisions about what they eat.
Fooducate focuses on whole, nutrient-dense, minimally processed foods, the app rates these options with As and Bs, while processed and junk foods receive Cs and Ds.
One standout feature that everyone in our test group, including myself, appreciated was the barcode app that allows users to quickly identify healthier options, which is particularly useful at the grocery store.
Both SparkPeople and Fooducate have free and paid versions, which are at comparable monthly prices. With the free version, you need to contend with some ads, but it has enough features to get an idea of how the app works, if you like it, and if it's worth unlocking the premium features.
FAQs
Is SparkPeople Good For Weight Loss?
Yes, SparkPeople is good for weight loss. For most people, the service should provide the amount of information needed to make healthier choices. From fixing your diet to spending more time exercising, it's a positive program to shed some pounds.
Yes, the SparkPeople app is free. Many of the services and information on the website are available with the free account, but for some advanced features, you'll need to upgrade to a paid version.
SparkPoints are a reward system that allocates points when you achieve specific goals. These points claim to serve as a reward system where you can trade them for different badges of achievement.
Does SparkPeople Work With Fitness Trackers?
Yes, SparkPeople works with fitness trackers. This seems to be one of the main attractions that users in the community find helpful in losing weight. It should help you better understand your actual calorie intake and output.
Do We Recommend Sparkpeople?
Based on our hands-on experience and the hundreds of reviews we analyzed, SparkPeople is a solid option for those seeking a comprehensive tracking system.
However, the cost might not align with the features offered, especially compared to other apps in the market that offer similar functionalities at a lower price point or with more robust features.
Of all the weight loss apps and services we have tested, Noom still seems to be the best one. We have a full review of the app, too.

It also integrates with wearable technology, and the subscription program gives you access to a dedicated real personal trainer. We have a detailed review on the Noom app, go check that out if you'd like to know more.
Once you've used it for a few weeks, let us know on social media how it worked out for you.
We Recommend This Instead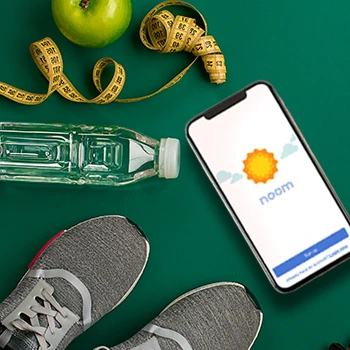 Click For Best Price

Pros
Personalized calorie breakdown
In-app 1-to-1 health coaching
Calorie and macronutrients tracker
Get the BEST PRICE until the end of September
Cons
Limited integration with wearable fitness trackers
Was this article helpful?