I've been a certified personal trainer for almost ten years and have always been looking into new ways to lose weight, including weight loss programs.
Recently, my clients and gym buddies have talked to me about Found weight loss reviews that are popping up across the internet.
So, I took some time to read all about this program I could find, and I actually signed up for the six-month fitness plan to test whether it could provide sustainable weight loss or not. My team of 6 colleagues did the same so the results would be considered more accurate in the end.
My Found weight loss review details the experiences, so keep reading to learn its pros and cons and if it's worth the investment.
What Is Found Program?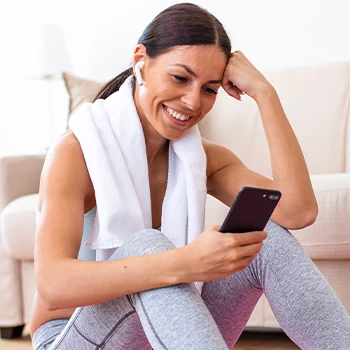 The Found program is a digital fitness program that is designed to make it easy for people to create healthy habits such as eating right, exercising regularly, and sleeping well.
The program is available through the Found app or the company's website, where members are paired with a personal health coach upon registration.
Our tests indicate that the program's main goal is to help people manage their weight and overall wellness by providing dietary advice, workout plans, and possibly fat loss medications.
How Does It Work?
Found plan works by improving the users' lifestyle over time through two weight-loss approaches, which include the Wellness Path and the Rx Path.
The Wellness Path is available to anyone because it does not involve prescription drugs.
Over the years, we found through our tests that the Found program has improved by including personalized diet and workout plans to guide you in your weight loss journey, and this is done with the help of a personal health coach.
Also, it gives you access to a community where only Found members are inside so that you can share daily updates about your journey to losing weight.
On the other hand, the Rx path has improved because it provides you with everything you can get from the Wellness path, plus access to a doctor who may prescribe medication to help you lose excess weight.
However, this feature is limited to only 31 states in the US, plus Hawaii and Alaska.
The program has also improved in that it allows you to cancel the Rx path and switch to the Wellness path if a doctor sees that you no longer need to remain on medication.
I find that some of the diet plans and workout guides they give in the program can also be found online with enough time and effort.
How Can I Benefit From Found Weight Loss Plan?
You can benefit from Found plan by potentially creating healthy eating habits, keeping an active lifestyle, and maintaining an ideal weight over the long term.
The psychology-based approach of Found can help many people who have difficulty breaking from their old, unhealthy lifestyles.
According to one of the studies found on the National Center for Biotechnology Information website, choosing healthier foods and increasing physical activity can help people maintain a healthy weight in the long run [1].
Also, having a group chat support community can help you stay motivated to reach your weight loss goals. When you're part of a group of people with similar goals, you can share your challenges and wins.
According to another study found on the National Center for Biotechnology Information website, this can help everyone reach their body goals faster [2].
Also, people who can't reach their weight loss goals by just making lifestyle changes can benefit from prescription weight loss medication [3].
As far as my own experience goes, it has been wonderful to connect with other people through the program and learn from their experiences.
What Medications Does Found Weight Loss Prescribe?
Found program prescribes FDA-approved medications that help suppress appetite, lower blood sugar levels and increase fat absorption for energy metabolism.
However, since weight depends on factors like age, gender, and hormones, the medication prescribed may vary, and the company's website does not list the drugs its doctors prescribe [4].
Furthermore, the doctor may prescribe off-label medications or use an FDA-approved drug in an unapproved way.
According to my experience, this is why Found provides its users the option of changing their medication or dosage upon experiencing side effects.
Is Found a Safe Tool for My Weight Loss Journey?
Yes, Found is a safe tool for your weight loss journey because it could lead to the development of a healthy lifestyle that you can maintain in the long run.
However, our tests and previous experience also indicate that getting prescription medications for fat loss based on an online evaluation might not always be the best idea for everyone.
Aside from the fact that the doctor doesn't see you in person, online assessments may not give doctors sufficient information about your complete medical history for proper drug prescription and dosing.
"There are a lot of factors that go into side effects -- not just the medication itself."

- Jim Owen, PharmD, American Pharmacists Association
After three months of following the program, I was able to slightly improve my diet and workout routine, which counted toward my long-term fitness efforts.
Pros
May help you keep a normal body mass index
Professionally curated meal to improve gut health
Workout guides to help prevent weight gain
Access to a personal coach who can help stay motivated
Cons
A limited number of people are eligible for the Rx Path, which includes prescriptions
Lack of transparency about the medications that company doctors prescribe
What Are Alternative Ways to Lose Weight?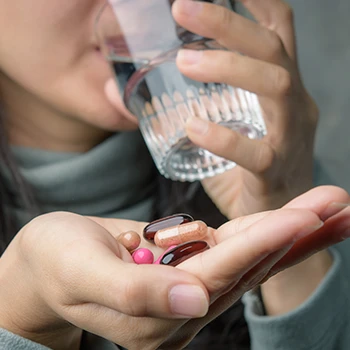 The alternative ways to lose weight include taking natural fat-burning supplements such as PhenQ, LeanBean, and Instant Knockout [5].
The main difference is that signing up for Found can help you develop healthy habits and talk to doctors online to get prescription weight loss medications.
Unlike PhenQ, LeanBean, and Instant Knockout, natural supplements with a proprietary blend of ingredients, Found is a digital fitness program that improves the user's fitness lifestyle by providing two weight-loss approaches: Wellness Path and the Rx Path.
Like the PhenQ, Instant Knockout, and LeanBean, men's fat burners or women's fat burners don't need a prescription because they have few or no side effects and are regulated by the FDA as over-the-counter (OTC) supplements [6].
Our tests indicate that they can naturally speed up your metabolism, cut the number of calories you eat and improve your physical performance, and all three of these proved quite effective for many of my clients, as I've been recommending them for quite some years now.
Who Should Choose Found Weight Loss Plan?
People who are trying to improve their body weight and composition but don't know how to start doing so should choose Found weight loss plan.
By starting to eat healthier, becoming more active, and taking prescription medication, they can reduce the number of calories consumed and burn fat faster. My experience tells me that it's reliable, as long as these people rigorously follow the plan. As such, it requires commitment to accomplish.
Who Shouldn't Choose This Weight Loss Program?
People who are taking blood thinners and are immunocompromised due to underlying medical conditions shouldn't choose this weight loss program.
Also, our tests indicate that women planning to get pregnant or are already pregnant and breastfeeding shouldn't choose this online fitness plan.
Customers Reviews
I sifted through all the online reviews I could find, and I encountered some interesting ones.
"I did it for several months last year, and it was okay, but it didn't work well even if I went up to the max dose. I lost very minimal weight, but it did curb cravings."

-Purple-Explorer-6701, Reddit
"The generic equivalent to Contrave that I was put on didn't work for me. Sickest I've ever been no matter what I did to try to stop the side effects, so I had to stop taking it."

- Gullible_Belt_1976, Reddit
"They only prescribe cheap, ineffective medication that your GP can give you for the cost of an office visit. Do yourself a favor and save your hard-earned money."

- Few_Friend_7784, Reddit
FAQs
Is Found Weight Loss Plan Legit?
Found is a legitimate weight loss program founded in 2019 by Jack Abraham, Emily Yudofsky, and Swathy Prithivi. It is supported by health coaches and certified medical experts who prescribe FDA-approved weight loss medication to members of the program.
How Do I Cancel Found Membership?
You can cancel your Found membership by sending an email to customer support or sending a cancellation message through the online portal. Found's program suggests doing this at least 72 hours before your next billing statement. That way, you won't end up incurring more charges than you'd like.
What Are the Benefits of Using a Telehealth Platform for Weight Loss Programs Like Found?
Telehealth platforms offer convenience and privacy, allowing individuals to access weight loss support from the comfort of their homes. This reduces the stigma or embarrassment that some might feel about seeking help for weight loss, making it a more accessible and comfortable experience.
How Does Found Provide Personalized Treatment Plans for Weight Loss?
Found focuses on creating individualized treatment plans that cater to each person's unique health needs and weight loss goals. This includes tailored medication management and guidance from health professionals, ensuring a more effective and personalized approach to weight loss.
What Role Does Community Support Play in Found's Weight Loss Program?
Community support in Found's program offers a platform for individuals to share experiences, challenges, and successes, fostering a sense of belonging and motivation. This communal aspect can significantly enhance the weight loss journey by providing encouragement and a sense of shared purpose.
How Does Found's Approach to Weight Loss Differ From Traditional Methods?
Found adopts a comprehensive approach to weight loss, addressing not just medication but also incorporating aspects of nutrition, physical activity, and stress management. This holistic method ensures a more sustainable and health-focused weight loss journey rather than just a quick-fix solution.
Can You Explain the Cost Structure and Accessibility of the Found Weight Loss Program?
Found's program has a clear cost structure, which includes fees for medication, coaching, and other services, with transparency about any additional or hidden costs. The program is also accessible in various states, making it a viable option for a wide range of individuals seeking weight loss solutions.
Our Verdict on Found Weight Loss Program
After six months of being in the program, I've concluded that the Found weight loss program can only help a small number of people lose weight because it takes longer to work, and its prescription drugs can cause side effects and health problems.
For this reason, I always encourage my clients and readers to use natural fat burners that accelerate fat burning with little to no side effects, such as jitteriness and sleeplessness due to caffeine content. These effects only happen when you're sensitive to stimulants, so think about it when picking your fat burner supplement.
For years, PhenQ proved to be effective at boosting metabolism, lowering calorie intake, and improving physical performance, allowing me to achieve safe and rapid weight loss success with most of my clients.
We Recommend This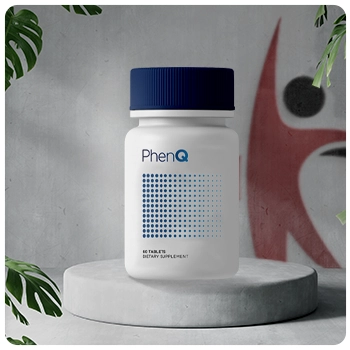 Click For Best Price

Pros
Suppresses your appetite
Blocks body fat production to stop weight gain
Improves your mood and energy levels
High-quality, all-natural formula
Get the BEST PRICE until the end of December
Cons
Can be only purchased through the company website
Was this article helpful?