For professional bodybuilders, it takes years of focused training, strict diet plan, and self-discipline to get the amazing physique they've been aiming, and then a couple more years to pack on muscle and strength. It especially applies to the likes of a Canadian IFBB professional bodybuilder and other similar individuals.
We've spent some time searching for the biggest bodybuilders all over the world to compile this list of 17 professional bodybuilders and settle the question: who is the biggest bodybuilder of all time?
17. Roelly Winklaar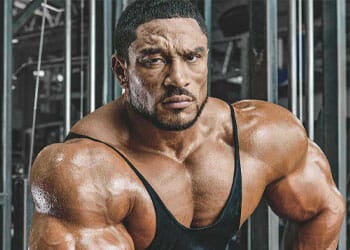 Nicknamed "The Dutch Beast," Roelly Winklaar is 5'6.5" tall and weighs up to 320 lbs offseason and 297 lbs in season.
Originally from Curacao, Roelly's family moved to the Netherlands, then to the U.S when he was still young.
He has been in competitive bodybuilding since 2009 and currently holds 5th place in the recent Mr. Olympia competitions. He is also considered to have the best arms in bodybuilding history.
16. Dennis James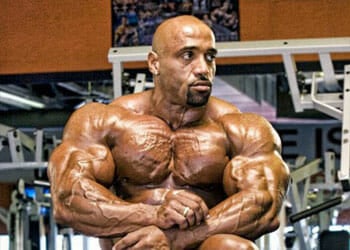 Dennis Tyron James, nicknamed "The Menace," was born in Germany in 1966. Dennis James is 5'8" tall with a competition weight of 265 lbs.
Dennis James first started training in the professional bodybuilders category when he was 18 years old.
He has been a professional IFBB bodybuilder until his retirement in 2012, where he placed 3rd in the Mr. Olympia competition.
15. Johnnie O Jackson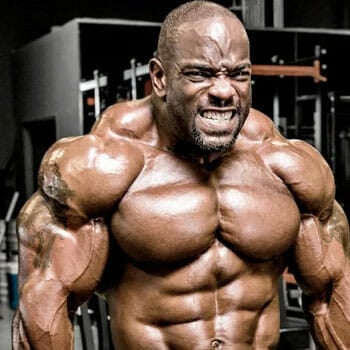 Born in New Jersey in 1971, Johnnie Otis Curtis is 5'8'' tall with a competitive weight of 255 lbs and some 275 lbs off-season.
He boasts a 57" wide chest and is one of many biggest bodybuilders to have the best developed upper body.
Jackson's career began when he won the National Physique Committee USA Competition in 2001.
Since then, he has competed in a number of annual events for bodybuilders, winning the title 'World's Strongest Professional Bodybuilder' at the 2009 Mr. Olympia stage.
14. Markus Rühl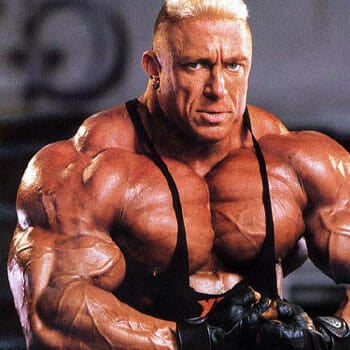 Hailing from Germany, Markus Ruhl is a retired bodybuilder who was born in 1972. He is 5'10" in height with a competitive weight of 282 lbs.
Initially, a football player, Rühl seriously injured his knee, which ended his dreams of becoming a football superstar.
At 18 years old and with his childhood dream crushed, Markus Rühl looked towards other avenues, with bodybuilding being a prime interest.
The rest is history, with some notable achievements, including placing 1st at the 2000 Toronto Pro, Top 3 at the 2006 Austria Pro Grand Prix, and 5th at the 2004 Mr. Olympia stage.
13. Jay Cutler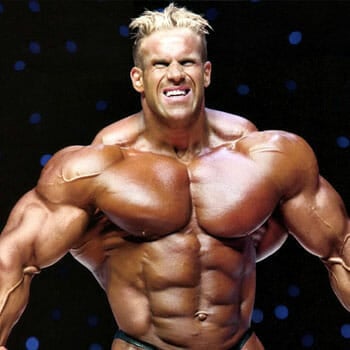 Jason Isaac Cutler, also known as Jay Cutler, is one of the most successful icons and biggest bodybuilders worldwide.
At 5'10", weighing some 290 lbs off-season, and a competitive weight of 260 lbs, Jay Cutler shows that he's got big body muscles and an even bigger bank account, being the 3rd richest bodybuilder in the world.
Jay Cutler stands as a four-time Mr. Olympia champion, an extraordinary feat achieved with consecutive victories in 2006, 2007, 2009, and 2010.
Like most retired bodybuilders, Jay is still in great shape and is currently pursuing personal business ventures, such as his own fashion line called Cutler Athletics.
12. Big Ramy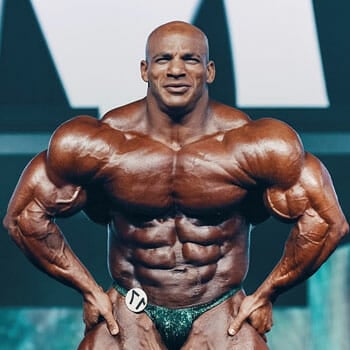 Mamdouh Mohammed Hassan Elssbiay, popularly referred to as Big Ramy, was born in 1984.
He is 5'10" tall with a competition weight of 290 lbs.
Big Ramy first started a competitive bodybuilding career in 2012 at Kuwait's Amateur Olympia.
He has since then won countless competitions and is currently Mr. Olympia's 2020 champion.
11. Dorian Yates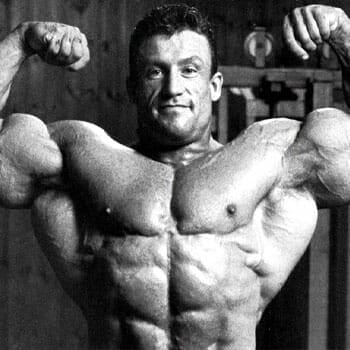 Nicknamed 'The Shadow,' Dorian Andrew Yates or Dorian Yates is considered one of the biggest bodybuilders in history.
Dorian Yates was born in 1962 and came from England. Dorian Yates is 5'10.5" tall with a competition weight of 275 lbs and boasts a 58" wide chest.
His achievements include holding the world record for the 5th highest number of Mr. Olympia wins (held for six consecutive years).
Dorian Yates has since retired from the bodybuilding world.
10. Lee Haney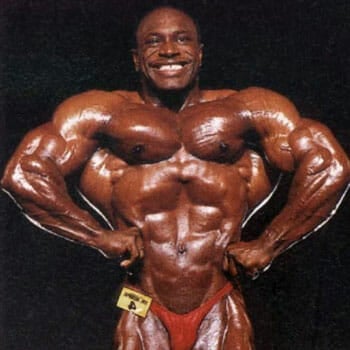 Born in 1959, Lee Haney has refused to be outclassed by the younger generation.  is still one of the most successful bodybuilders to this day.
Lee Haney shares the all-time record for most Mr. Olympia titles alongside Ronnie Coleman, at eight wins.
At 5'11" and with a weight of 248 lbs, Lee Haney is one of the biggest bodybuilders of all time.
Currently, he is the founder of the Lee Haney Games, a competition that judges both men and women on physique, fitness, wellness, and how well they can pull off a bikini.
9. Dennis Wolf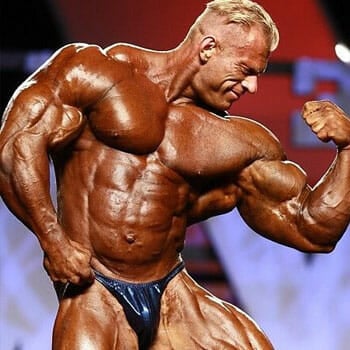 Nicknamed "The Big Bad Wolf," Dennis Wolf was born in 1978 in Kyrgyzstan to German parents.
He is one of the greatest bodybuilders worldwide, at 5'11" in height and a competitive weight of 275 lbs.
Growing up, Dennis took up martial arts, which ignited interest in bodybuilding and weight training.
He became a professional bodybuilder in 2005, with notable achievements such as becoming the Arnold Classic champion in 2014 and securing 4th place in 2015's Mr. Olympia stage.
8. Jean Pierre Fux
Jean Pierre Fux is a professional Swiss bodybuilder. He was born in 1968 in Switzerland and started his training when he was only 16 years of age.
In 1993, he entered the bodybuilding world and placed 4th at the IFBB World Amateur Championships.
Since then, he has participated in multiple competitions with varying wins and placements.
Jean is 5'11" and weighs 300 pounds off-season and 260 in season.
As of 2020, Jean is a personal trainer with a passion for saving cats.
7. Ronnie Coleman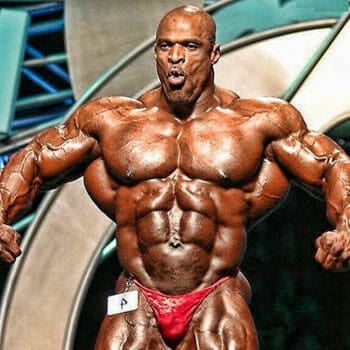 Ronnie Coleman was born in 1964 in Louisiana and has since retired from bodybuilding.
Ronnie is 5'11", boasts a 60" chest, and ranges from 287 - 300 lbs competition weight up to 320 lbs off-season.
Beyond his remarkable physical prowess, Ronnie Coleman holds a Bachelor of Science degree in Accounting, a testament to his multifaceted achievements.
He is regarded as one of the biggest bodybuilders of all time, having won the Mr. Olympia title for eight consecutive years since 2000.
6. Nasser El Sonbaty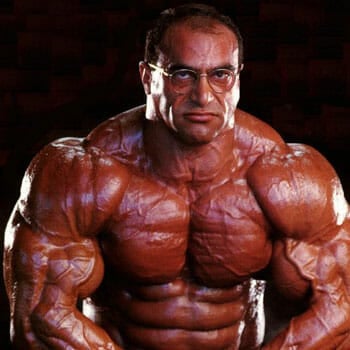 Nasser El Sonbaty was born in 1965 in Germany.
He earned the nickname 'The Professor' due to his trademark spectacles and ability to speak multiple languages fluently.
Nasser began his career as a bodybuilder in 1983 and made his debut appearance at the 1994 Olympia stage. Notable achievements include a 1st place win at the 1999 IFBB Arnold Classic and a 2nd place finish at 1997's Mr. Olympia stage.
He remained active as a bodybuilder until his passing in 2013 due to kidney failure.
Nasser was 5'11" tall, weighed up to 330 lbs off-season and up to 290 lbs during competitions.
5. Gunter Schlierkamp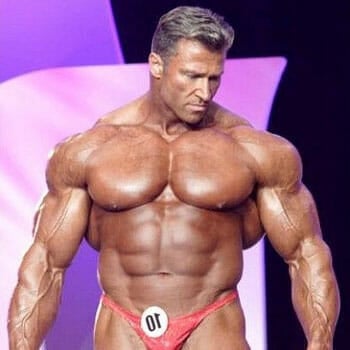 Gunter is a German IFBB professional bodybuilder. He is known as "The Gentle Giant," standing at 6'1" in height, weighing 330 lbs off-season and 300 lbs in season.
Born in 1970 in Olfen, Gunter has been involved in competitive bodybuilding since 1990.
He retired in 2006 and is currently pursuing personal business ventures.
He remained active as a bodybuilder until his passing in 2013 due to kidney failure.
Nasser was 5'11" tall, weighed up to 330 lbs off-season and up to 290 lbs during competitions.
4. Arnold Schwarzenegger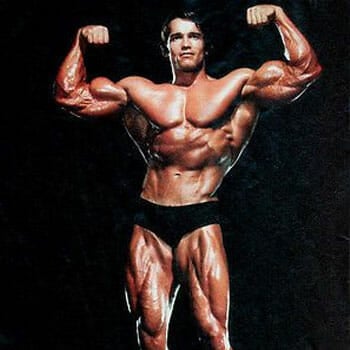 In the world of bodybuilding, perhaps none other is more infamous than Arnold Schwarzenegger.
At 6'2" tall and with a contest weight of 253 lbs, Arnold is most notable for winning the Mr. Olympia title 7 times.
Born in 1947 in Austria, Arnold has created much content about bodybuilding and cherishes the Arnold Sports Festival, a body-building event second to Olympia.
He has since retired from being a bodybuilder and has pursued other interests, including becoming a Hollywood movie star and becoming the 38th California governor (2003-2011).
Despite retiring from active bodybuilding, he still keeps himself in great shape and is loved by fans around the world.
3. Paul Dillett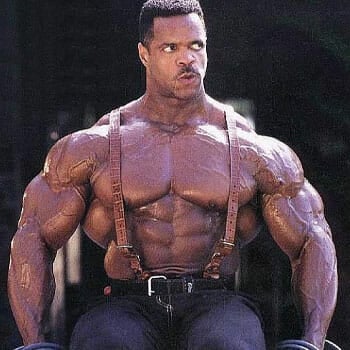 Paul Dillett originates from Quebec and was born in 1965. He is 6'2" tall with a competition weight of 285 lbs.
Dillett has participated in over 40 competitions with other bodybuilders, including a 4th place finish at 1994's Olympia contest.
Dillett worked out four days a week in his prime, with his workout routine focused on shoulders, hamstrings, quads, chest, arms, and back.
Currently, he is a businessman, working as current CEO and owner of the World Beauty Fitness and Fashion Inc.
2. Lou Ferrigno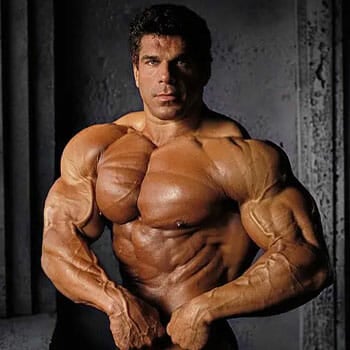 Louis Jude Ferrigno, aka the 'Incredible Hulk,' was born in 1951 in New York. He has won two Mr. Universe titles and is considered Schwarzenegger's greatest rival.
Lou Ferrigno is known as one of the most recognizable bodybuilders, at a tower 6'4" in height and 315 lbs.
He began his career in bodybuilding in 1969 and even appeared in a documentary called 'Pumping Iron.'
Lou Ferrigno's approach to building muscle mass is encapsulated in a rigorous 6-day weekly program, meticulously designed to target multiple muscle groups and sculpt his legendary physique.
These exercises target the chest, back, arms, shoulders, and legs, which he considers the most important physiques in bodybuilding.
Lou Ferrigno has since retired from bodybuilding wand is now settled in his acting career, personal training, and other businesses.
1. Greg Kovacs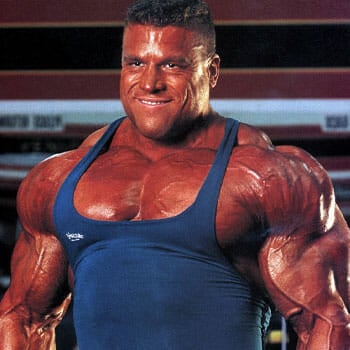 At 6'4", a competition weight of 330 lbs, and weighing up to 420 lbs off-season, Greg Mark Kovacs has undoubtedly earned the #1 spot on our list.
Greg Kovacs was known for performing incredible feats, with his brute strength allowing him to bench press 700 lbs easily.
He was born in 1968 and was in professional bodybuilding from 1996 until his retirement in 2005.
After his retirement, he moved on to run his businesses and coach competitive athletes until his passing in 2013 from heart failure.
Bodybuilders workout routines:
FAQs
Who Is the Biggest Mr. Olympia Ever?
The biggest Mr. Olympia ever is Greg Kovacs, who stood a towering 6'4" and weighed up to 330 lbs. competitive weight.
Since his passing, Big Ramy has taken the title, at the height of 5'10" and contest weight of 316 lbs.
Who Has the Biggest Muscles on Earth?
Ronnie Coleman is celebrated as the individual with the most colossal muscles on the planet, an accolade substantiated by his inclusion in the Guinness World Records as 'The Most Muscular Man in the World.
Was this article helpful?