As a personal trainer immersed in the sports world, I've curated a list of 16 iconic figures blending athletic prowess with undeniable charm.
These legends redefine 'hotness' with their exceptional skills and appealing charisma, making them the ultimate heartthrobs of all time in sports history.
Get ready to swoon over these remarkable athletes who set the bar high not just in the game but also in their irresistible appeal.
16 Sexiest Male Athletes
Being public figures, athletes are consistently in the spotlight on and off the field. It's widely known that they earn significant sums from their lucrative careers and brand endorsements.
Here are 16 of the most strikingly handsome male players who have caught the world's attention.
16. Ryan Lochte
Ryan Lochte, an 11-time Olympic medalist, is renowned for both his exceptional swimming career and his distinctive charm.
With five gold, three silver, and three bronze medals, he showcases not just prowess but also an undeniable appeal, placing him among the era's most attractive swimmers.
Originating from Rochester, New York, Lochte began swimming early, quickly rising to fame with his versatility across various strokes and distances, matching his charismatic persona.
 

View this post on Instagram

 
15. Tom Brady
Leading the pack is football icon Tom Brady, known as the most successful quarterback in NFL history, boasting seven Super Bowl victories.
His illustrious career of 20 seasons with the New England Patriots preceded his move to the Tampa Bay Buccaneers in 2020.
With his current contract running through the 2022 season, fans anticipate possible extensions beyond that, promising more from this accomplished quarterback.
 

View this post on Instagram

 
14. David Beckham
Securing the second spot on our list, David Beckham began his professional club career at Manchester United at the age of 17.
Notably, Beckham holds the distinction of being the first English player to win league titles in four countries: Spain, France, England, and the United States.
Despite retiring from soccer in 2013, Beckham's popularity remains as strong as ever.
 

View this post on Instagram

 
13. Cristiano Ronaldo
Cristiano Ronaldo, recognized as one of the most attractive men globally, has an illustrious sports career.
Alongside numerous domestic titles, he has secured five Champions League trophies (four with Real Madrid and one with Manchester United).
Notably, he holds the Guinness World Record for the highest number of international goals scored in men's football history.
 

View this post on Instagram

 
12. Kobe Bryant
Known as the "Black Mamba," Kobe Bryant was among the most accomplished players in basketball history, initially securing three championship victories in the early 2000s. His career peaked with the 2008 MVP title and leading his team to consecutive Finals victories, showcasing exceptional skills despite not having the same natural athleticism as some of his peers.
His legacy as a five-time NBA champion was defined by his precise footwork and distinctive fadeaway jump shot, epitomizing the ideal basketball player.
Tragically, Bryant's life and illustrious career were cut short when he passed away in a helicopter crash in 2020.
 

View this post on Instagram

 
11. Michael Phelps
Michael Phelps, renowned for his remarkable swimming abilities, holds a striking record of breaking world records 39 times, 29 of which are individual achievements.
His most exceptional feat stands as his collection of 28 medals, unmatched by any other Olympic athlete.
Standing tall at 6'4 with a strong physique, Phelps is recognized not only for his swimming prowess but also as one of the most accomplished and admired swimmers of our time.
 

View this post on Instagram

 
10. John Cena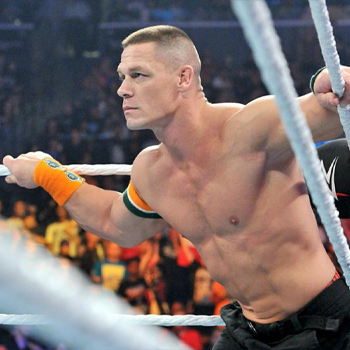 John Cena, known for his wrestling prowess, boasts a remarkable record: 16-time world champion, two-time Royal Rumble match winner, and 13-time WWE Championship winner.
His charismatic looks and physique have not only fueled his wrestling success but also led to a thriving Hollywood career.
Cena has also made appearances in TV shows like "Psych," "Saturday Night Live," and "Parks and Recreation."
9. Wayne Gretzky
Wayne Gretzky, recognized as the most dominant player in professional team sports history, has an impressive track record, which includes securing eight consecutive MVP awards.
Among just five players, he recorded 150 or more points in a season an impressive nine times.
Also, he's the only player to achieve a record-breaking 200-point season, a feat he accomplished four times.
 

View this post on Instagram

 
8. Usain Bolt
Usain Bolt, a charismatic sprinter standing at 6'5", gained fame as an eight-time Olympic gold medalist.
He earned the title "fastest man alive" after securing three gold medals at the 2008 Beijing Olympics.
Bolt continued his winning streak by claiming gold at both the 2012 London Olympics and the 2016 Rio Games in the 100- and 200-meter races and the 4x100-meter relay.
 

View this post on Instagram

 
7. Rafael Nadal
Rafael Nadal, who has an impressive record of 20 Grand Slam singles titles and 36 Masters 1000 titles, was honored with the Laureus World Sportsman of the Year award in 2011.
After claiming his 9th French Open victory, Nadal was dubbed "The King of Clay" due to his unbeaten record on clay courts.
Nonetheless, his successes are not limited to clay, as he has also achieved numerous victories on hard and grass courts.
 

View this post on Instagram

 
6. Penny Hardaway
During his career, Penny Hardaway played for the Orlando Magic, Phoenix Suns, New York Knicks, and Miami Heat, with his most significant years spent with the Magic.
Standing at 6'7, he primarily played as a point guard, but recurring knee injuries led to his early retirement.
Nevertheless, in just four years, Hardaway achieved a remarkable record, becoming a four-time NBA All-Star and a three-time All-NBA selection.
 

View this post on Instagram

 
5. Michael Jordan
Michael Jordan, a legendary figure on any list of hot male athletes, showcased numerous achievements throughout his remarkable 15-season NBA career.
Some highlights include securing the Defensive Player of the Year title in 1987 and 1988, winning five MVP championships, claiming six NBA championships, participating in the All-Star game 14 times, and achieving victory in the Slam Dunk contest.
Known for his strategic play and impeccable footwork, Jordan's dominance in the '90s remains unmatched.
 

View this post on Instagram

 
4. Randy Johnson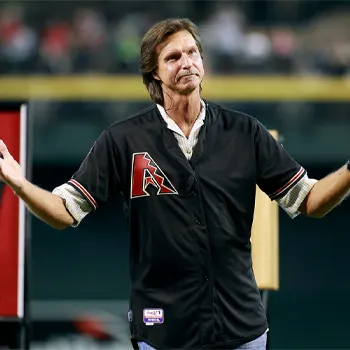 The towering figure of 6'8" baseball pitcher Randy Johnson commands attention, not just for his height but for his incredible pitching abilities.
Known as "The Big Unit," Johnson had a 22-season career across six teams, predominantly with the Seattle Mariners and Arizona Diamondbacks.
Renowned for his second-highest career strikeouts record (4,875) in MLB history, Johnson secured five Cy Young awards, ten All-Star appearances, and a World Series MVP title.
I became a good pitcher when I stopped trying to make them miss the ball and started trying to make them hit it.
- Sandy Koufax, Former Professional Baseball Pitcher
3. Henrik Lundqvist
Henrik Lundqvist, recognized for his captivating play as well as his iconic sparkly blue eyes and smile, served as the New York Rangers' goaltender.
Swiftly earning the title "King Henrik," he demonstrated dominant play with 30 wins in each of his first seven seasons. His achievements include securing the Honken Trophy three times consecutively from 2003 to 2005.
Beyond his appearance, Lundqvist's array of accomplishments truly speaks to his skill and depth as a player. After 15 successful seasons, he retired from hockey in 2019.
 

View this post on Instagram

 
2. Kevin Durant
Kevin Durant, celebrated as one of the NBA's exceptional talents, joined the Brooklyn Nets in 2019 following a successful stint with the Golden State Warriors.
His victories include claiming NBA championships in both 2017 and the subsequent year.
 

View this post on Instagram

 
Durant's reputation as the league's most prolific scorer solidifies his standing as an elite player in basketball.
1. Tiger Woods
Tiger Woods has secured his place on our list for his exceptional golfing skills and that million-dollar smile.
In 1997, at the age of 21, Woods made an indelible mark on the Augusta National field, finishing 18 under and triumphing by an incredible 12 shots.
This triumph marked his first Masters title, a monumental moment that reshaped the landscape of golf.
Continuing to make history, Woods became the youngest golfer to achieve a Career Grand Slam, setting a record that further solidified his place in golf's pantheon.
 

View this post on Instagram

 
Was this article helpful?