Many of my fitness clients look for a way to enhance their workout efforts and come to me for guidance on foods, supplements, and, more and more frequently, saunas.
The first question is whether to have a sauna session before exercise as a warm-up or after a workout for recovery.
To answer this question fully, I consulted our medical professional and invested hours in online research on what actually happens in a sauna.
Read on to find out when to sauna for the highest payoff.
Quick Summary
Taking a sauna bath before or after a workout depends on your personal preference, as both options have benefits.
A sauna increases heartbeat, increases body temperature, triggering fat burning, and blood vessel dilation.
Taking a sauna bath before a workout increases the oxygen supply to different muscles.
When to Use a Sauna: Before or After a Workout?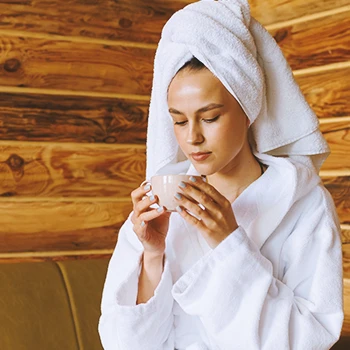 Using a sauna before or after a workout depends on your fitness goals and preferences, but both offer health benefits.
Most people prefer to use a sauna after a workout for mental and physical relaxation.
Let's look at what actually happens to your body in a sauna session.
One of the potential benefits many people believe is when they use the sauna for weight loss. However, any weight loss is likely just the water weight you will "regain" once you rehydrate.
Because of this, I recommend an all-natural fat burner to my clients trying to lose weight.
What's Actually Going On in Your Body?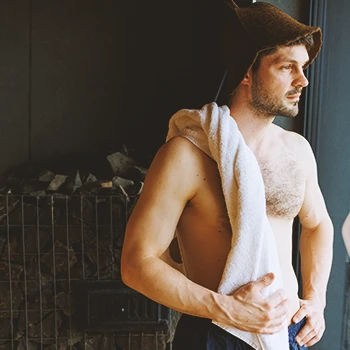 A lot is going on in your body with sauna use, like a rise in body temperature, increased heartbeat, blood vessel dilation, and sweating for fat burning [2].
The skin temperature can rise to 104 degrees Fahrenheit while in a sauna; this rise in temperature causes an increase in heart rate and blood flow as your body tries to cool down.
It is common to produce as much as a pint of sweat in just a few minutes of a sauna session [3].
Your pulse rate can increase by approximately 30 percent, causing your heart to pump as much as double blood volume per minute.
Most blood flow goes to the skin and away from the internal organs prompting your kidneys to increase Erythropoietin (Epo) and plasma volume, boosting overall blood volume and, thus, performance [4].
The dilation of the blood vessels and increased blood flow can make you feel energized and relaxed, relieve joint pain, and soothe aching muscles.
So, when do you reap the most benefits of sauna bathing, before or after a workout?
Let's look closer at both.
Benefits Before a Workout
Using a traditional sauna before your exercise routine can be part of your warm-up. Warming up before exercise dilates your blood vessels to supply your muscles with oxygen [5].
The hot environment of the sauna can jumpstart this process by raising your temperature and loosening your muscles.
I have found the key to sauna use for a warm-up before a workout is to keep it short and leave when I begin to sweat; at that point, I am ready for exercise.
Sauna After a Workout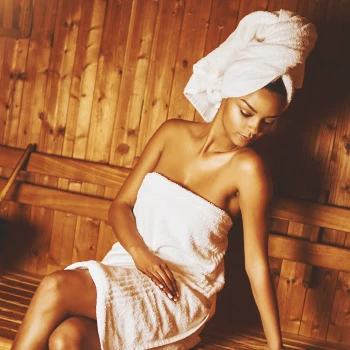 Post-workout sauna benefits can include muscle recovery, detoxification, enhancing lung and heart function, and mental relaxation.
During strenuous exercise, there is a certain amount of muscle tightening, and the sauna's heat can relax muscles and reduce inflammation, potentially reducing muscle soreness after a workout [6].
A sauna after your workout can promote your body's natural detoxifying process.
A comprehensive review shows toxins in sweat, but further research is necessary to conclude that sweating is an effective detoxifier [7].
Additionally, your heart rate returns to normal when you recover from exercise but sitting in a sauna for at least five minutes will keep your fat burning heart rate zone elevated, providing a passive workout.
For me, a warm sauna after an intense workout is the way to go. Because I am physically and mentally tired after a training session, the sauna promotes relaxation and boosts my recovery process.
"Whenever you increase the circulation of oxygen-rich blood, you're going to see improvements in cardiovascular function"

- John Gallucci, Jr., A.T.C., D.P.T.
Safety

With sauna use, you are exposing your body to high temperatures, and it is important to start with a short time, like five minutes, and see how your body responds.
If you tolerate it well, you can gradually increase your time until you reach the standard time of 15 minutes to as much as half an hour.
Dehydration can happen very quickly in a sauna because of the sweat produced by the high temperatures, so it's important to drink fluids before and after sauna use and know the signs of dehydration [8].
These symptoms include:
Mouth dryness

Lightheadedness

Extreme thirst

Headache

Dizziness

Fatigue

Confusion
Before adding sauna time to your routine, it is best to consult your doctor, especially if you have low or high blood pressure, cardiovascular disease, asthma, epilepsy, or take mind-altering drugs like stimulants or tranquilizers [9].
Leave the sauna immediately if any of these physiological changes occur: dizziness, headache, lightheadedness, or nausea.
FAQs
Does a Sauna Help Burn Fat?
A sauna may help burn fat because increased body temperature means increased metabolic rate, which equates to increased calories burned, thus potentially promoting fat loss but the evidence of this is limited.
Is It Good to Sauna Every Day?
It can be good to sauna every day as long as you can tolerate it and don't have certain medical conditions where it wouldn't be advisable.
Many sauna facilities suggest sauna sessions three or four times a week, which means if you tolerate those sessions well, going every day shouldn't pose any problems.
---
References:
https://healthyliving.azcentral.com/sweat-out-lactic-acids-11674.html

https://www.ncbi.nlm.nih.gov/pmc/articles/PMC5941775/

https://www.medicalnewstoday.com/articles/313109#what-is-a-sauna

https://www.health.harvard.edu/staying-healthy/saunas-and-your-health

https://www.heart.org/en/healthy-living/fitness/fitness-basics/warm-up-cool-down

https://www.byrdie.com/sauna-benefits-5190558

https://www.ncbi.nlm.nih.gov/pmc/articles/PMC6773238/

https://www.mayoclinic.org/diseases-conditions/dehydration/symptoms-causes/syc-20354086

https://www.healthline.com/health/fitness-exercise/are-saunas-good-for-you#next-steps
Was this article helpful?